As an Amazon Associate I earn from qualifying purchases.
Mexican cuisine never ceases to amaze me. Take this dish. These meat patties are called pacholas, and they are, in essence, a flattened meatball seared quickly and served with salsa. Brilliant!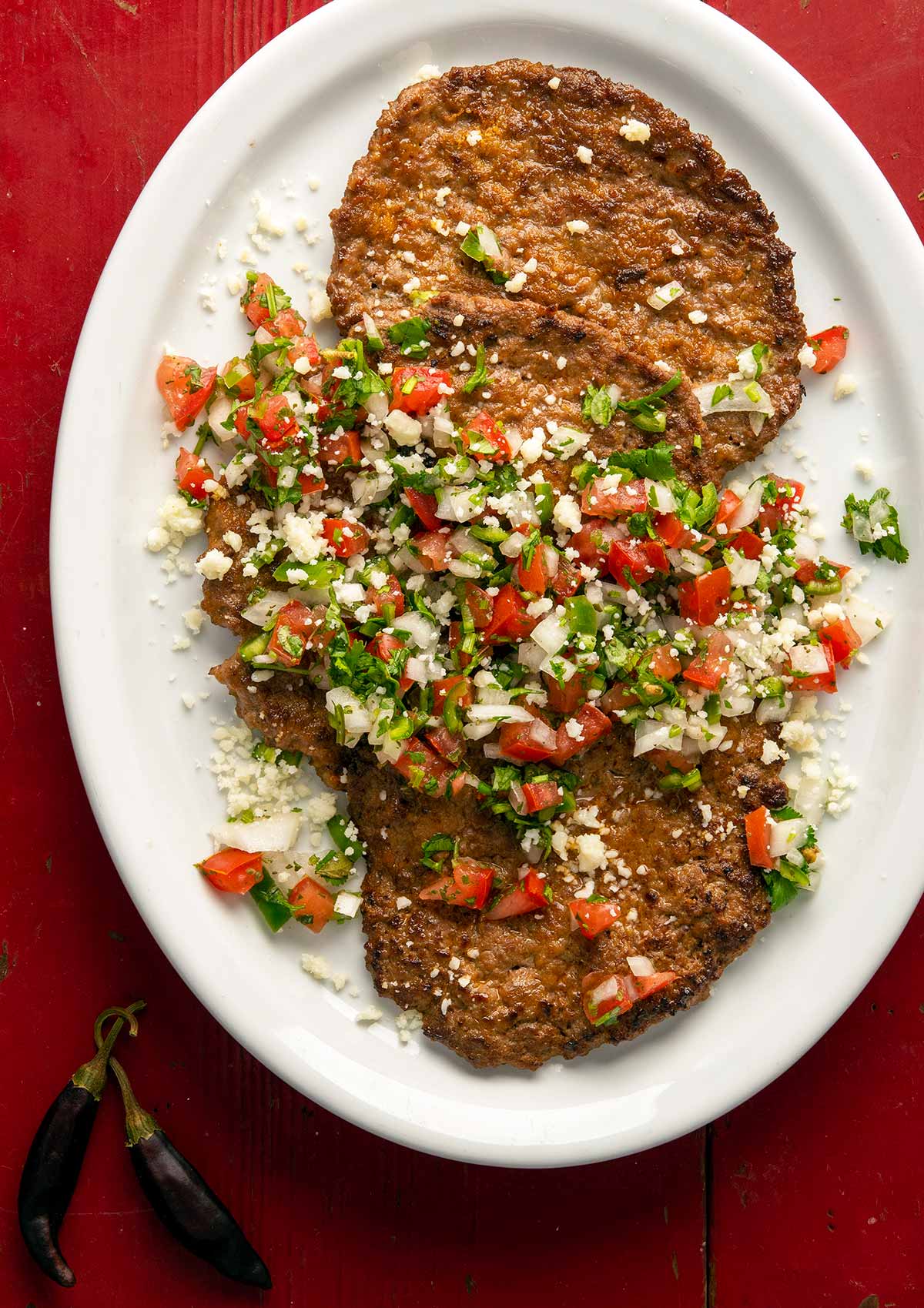 I had never heard of these glorious meaty treats until I read my friend Pati Jinich's new cookbook Treasures of the Mexican Table, which I absolutely recommend. This is not her recipe, but I wanted to let you know where I got my inspiration from.
It turns out that pacholas are common in central Mexico, not the North, where most of my experience lies.
According to the bible of Mexican cuisine, Larousse's Diccionario Enciclopédico de la Gastronomía Mexicana, pacholas are a very old dish, possibly pre-Hispanic.
They are most common in the Mexican states of Jalisco, Guanajuato, Michoacán, Queretaro and Zacatecas.
As a side note, I found it odd that I'd never seen them — because so many Mexican immigrants here in Sacramento are from either Jalisco or Michoacán — until I asked my friends about pacholas. They all said that pacholas are something you make at home, often for kids.
They are really easy to make, and definitely kid friendly, I can tell you that. Like I said, they are basically a flattened meatball, and who doesn't like meatballs? No one, that's who.
Traditionally, you make pacholas on a metate with a metatil, the grinding stone that comes with the metate. All the ingredients are finely ground together, and, as you do this, the finished mixture starts to slip off the metate in wavelets. When it's a few wavelets long, you very carefully pull it off the metate and set it on something while you make the rest.
Then you sear your pacholas on a very hot comal. (Check out this awesome video of the old way of doing it.)
I do own a metate and a metatil, but I am not going to walk you through that process. Pati, myself and most other cooks prefer to make our pacholas with a tortilla press. Way easier!
You can also simply put the mixture between two pieces of wax paper or plastic wrap and use a rolling pin (or an empty bottle) to make them.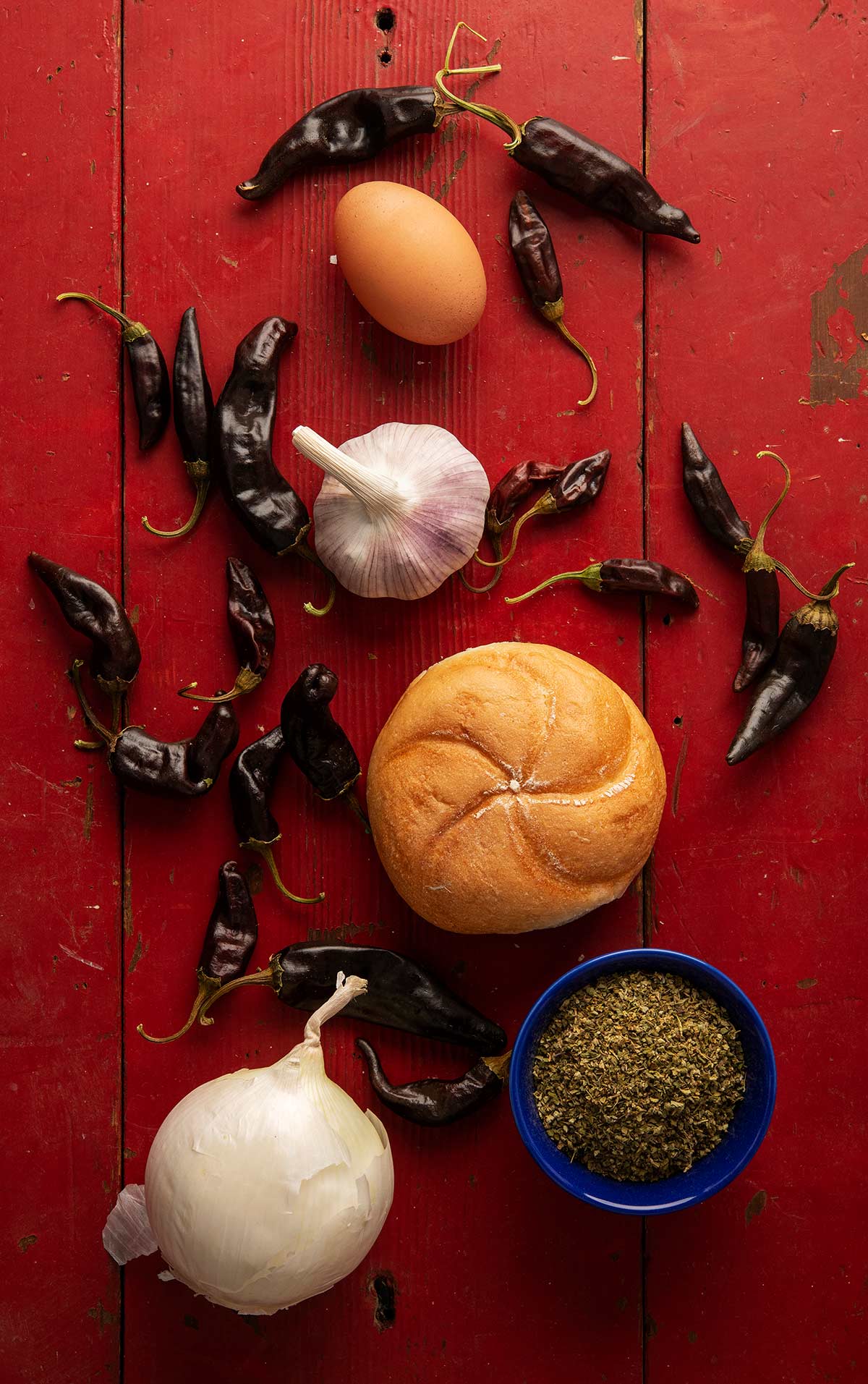 Tips for Better Pacholas
I use ground venison for my pacholas that has some fat in it. Any ground meat will work, and I suspect — although I have not tried it — that pure ground meat with no fat would also work because there is a grain binder in the mix.
Whatever you use, it needs to be finely ground! Pretty much any store-bought ground meat is fine, but if you are grinding your own, put the meat through something small, like a 4.5 mm die.
If all you have is coarsely ground meat, you will need to pulse it in a food processor with the other ingredients for your pacholas to come together.
Cook your vegetables. Otherwise you'll get a weird crunchiness in your pacholas you probably won't like. I char my onions and garlic on a comal to cook them — the blackening adds flavor and softens them.
Use mild chiles. Chiles colorados, a/k/a dried red Hatch chiles, or guajillos, pasillas, or anchos are all excellent choices. In the picture above, I'm using chocolate mirasol, an heirloom variety a lot like a pasilla.
You need a binder. Historically, freshly made masa was the binder, and you can certainly use that. But far more common is to use either breadcrumbs or stale bread, soaked in milk. An egg helps a lot, too.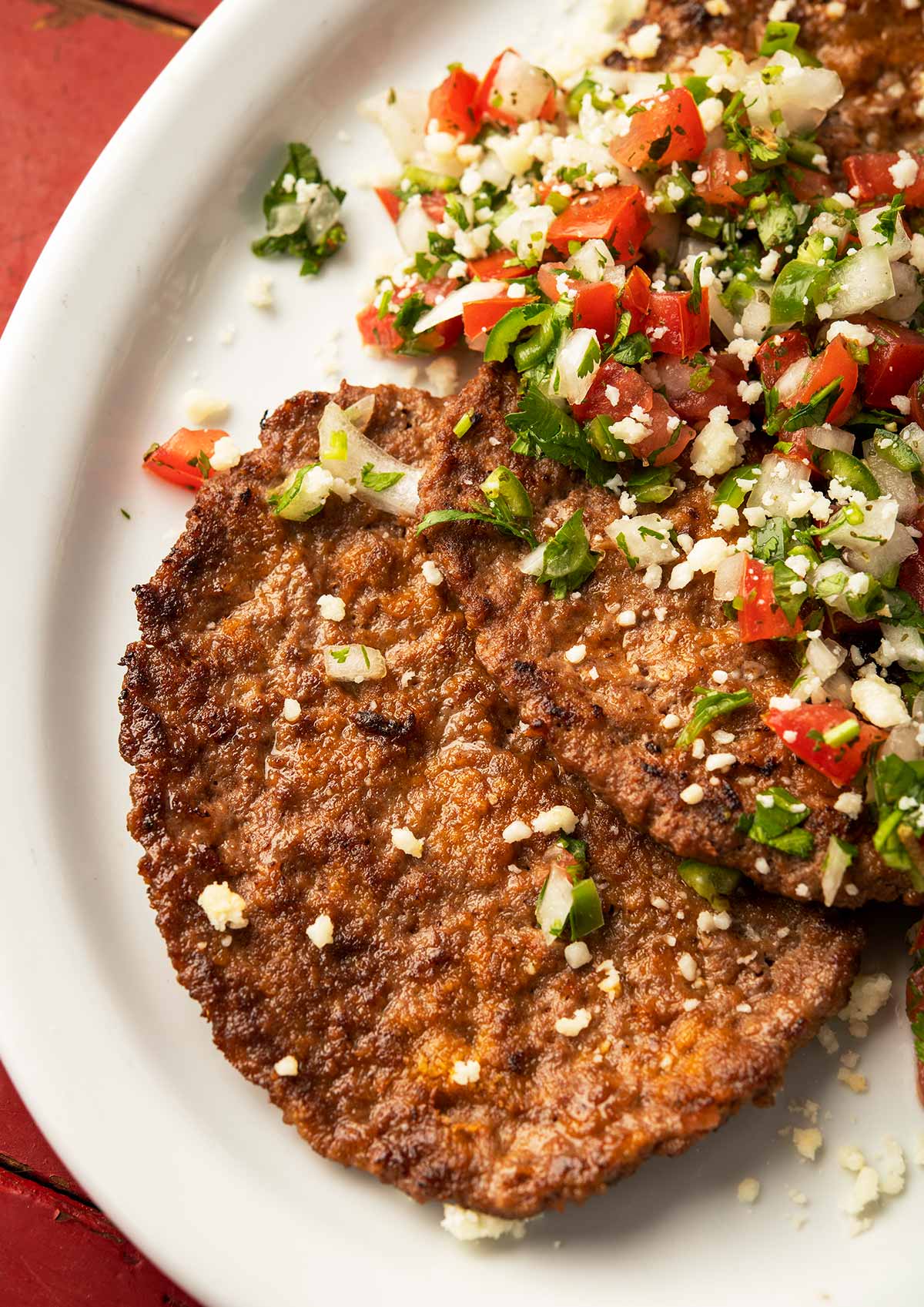 Accompaniments
Serve your pacholas with beans — freshly made or refried — maybe some nice Mexican rice, and a salsa of your choice. I did a pico de gallo and added cotija cheese for the photos, but a simple tomatillo salsa verde or fire-roasted salsa would be great options, as would a salsa morita for a bit of extra heat.
You can also put the patties in a bun to make a Mexican torta sandwich, maybe with a smear of refried beans and some salsa and shredded lettuce.
Or hell, just eat them solo.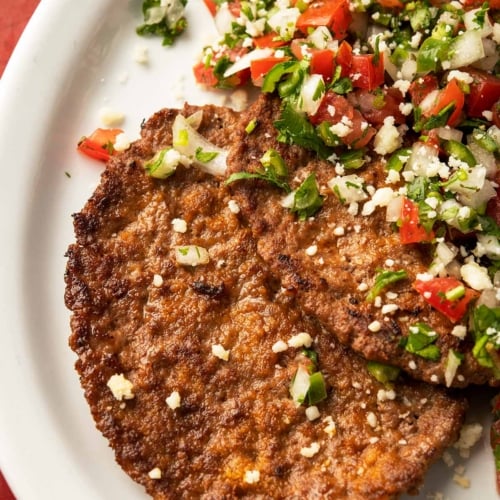 Mexican Pacholas
These are easy, tasty meat patties — basically flat meatballs — seared quickly and served with salsa, beans and rice.
Ingredients
1

ounce

ancho, pasilla or guajillo chiles,

stems and seeds removed

1

white onion,

peeled and sliced into quarters

3

cloves

garlic,

unpeeled

1

hamburger roll,

turn up

1/2

cup

milk

2

pounds

ground venison, beef or other ground meat

1

egg,

lightly beaten

1

teaspoon

Mexican oregano

Salt and pepper

Flour for dusting

Oil for frying
Instructions
Put the chiles in a bowl and pour boiling water over them. Cover the bowl while you do other things.

Get a comal or griddle or flattop or large frying pan very hot, and set the quartered onion and the garlic cloves down on them. You want to char them well on the cut sides of the onion, and whatever sides of the garlic cloves that can touch the pan.

Tear the hamburger roll into pieces and soak it in the milk.

By the time the onion and garlic are nicely charred, your chiles will be soft. Put them in a blender. Remove the bread from the milk and squeeze the excess milk out of it. Put the bread in the blender. Roughly chop the onion, peel the garlic, and put those into the blender, too. Puree. You will need to use a wooden spoon or tamper to get this done, because the mix won't be super liquidy. But this needs to be a homogenous puree.

Scrape the contents of the blender into a large bowl, add the ground meat and the egg, the oregano, a hefty pinch of salt — maybe a teaspoon or so — and a few grindings of black pepper. Mix this really well with your (clean) hands until it is one cohesive mass. You should be able to pick it up as one big blob of meat.

Clean off your comal or griddle, get it hot, and slick it with vegetable oil; I prefer canola here because it has a high smoke point.

Line a tortilla press with plastic wrap. Pull off a piece of the meat mixture about the size of a lime. Shape it into an oval, then carefully press it until the meat is about 1/8 inch thick. You can also do this with a rolling pin or an empty bottle.

Remove the top piece of plastic. Pick up the pachola and carefully remove the other piece of plastic, letting the meat rest in your open hand — this is exactly the move you make when making tortillas. Set the patty on a plate with about 1/2 cup of flour in it, to dust the outside. Flip to dust the other side.

Carefully set the meat on the hot griddle. If you have a bacon press, set it on top of the meat for 30 seconds, then slide it off. Cook the meat on high heat for about 1 minute per side. I like to put each pachola on a cooling rack set over a baking sheet in an oven set to 200°F while I make the rest.

Once they're all made serve with beans and rice and the salsa of your choice.
Notes
If you don't have hamburger rolls lying around, you can use 1 cup breadcrumbs or crushed Saltines. If you use the Saltines you won't need to salt the rest of the mixture. 
Keys to Success
If you end up using the breadcrumbs or Saltines, you will want to add just a little water or milk to the blender to help things puree. 
For a gluten-free option, use about 1 cup of prepared masa, either fresh or made from masa harina. If you're using masa harina, make the dough a little too wet. 
If you want things a little spicier, you can add some hotter fresh or dried peppers. One or two chipotles in adobo (from the can) is a nice touch. 
The flour helps the pacholas brown nicely. You can use gluten free flour. 
Nutrition
Calories:
460
kcal
|
Carbohydrates:
14
g
|
Protein:
54
g
|
Fat:
20
g
|
Saturated Fat:
9
g
|
Polyunsaturated Fat:
1
g
|
Monounsaturated Fat:
4
g
|
Trans Fat:
1
g
|
Cholesterol:
226
mg
|
Sodium:
258
mg
|
Potassium:
1035
mg
|
Fiber:
3
g
|
Sugar:
3
g
|
Vitamin A:
2653
IU
|
Vitamin C:
3
mg
|
Calcium:
109
mg
|
Iron:
8
mg
Nutrition information is automatically calculated, so should only be used as an approximation.