Wild Rice with Mushrooms
November 17, 2017 | Updated August 04, 2022
As an Amazon Associate I earn from qualifying purchases.
There are many ways to make wild rice salad, and most of them include sweet things or cranberries. This recipe isn't like that. It's a savory umami bomb, a heady mix of wild rice with mushrooms that's a phenomenal side dish for game or fish, or a vegetarian main course.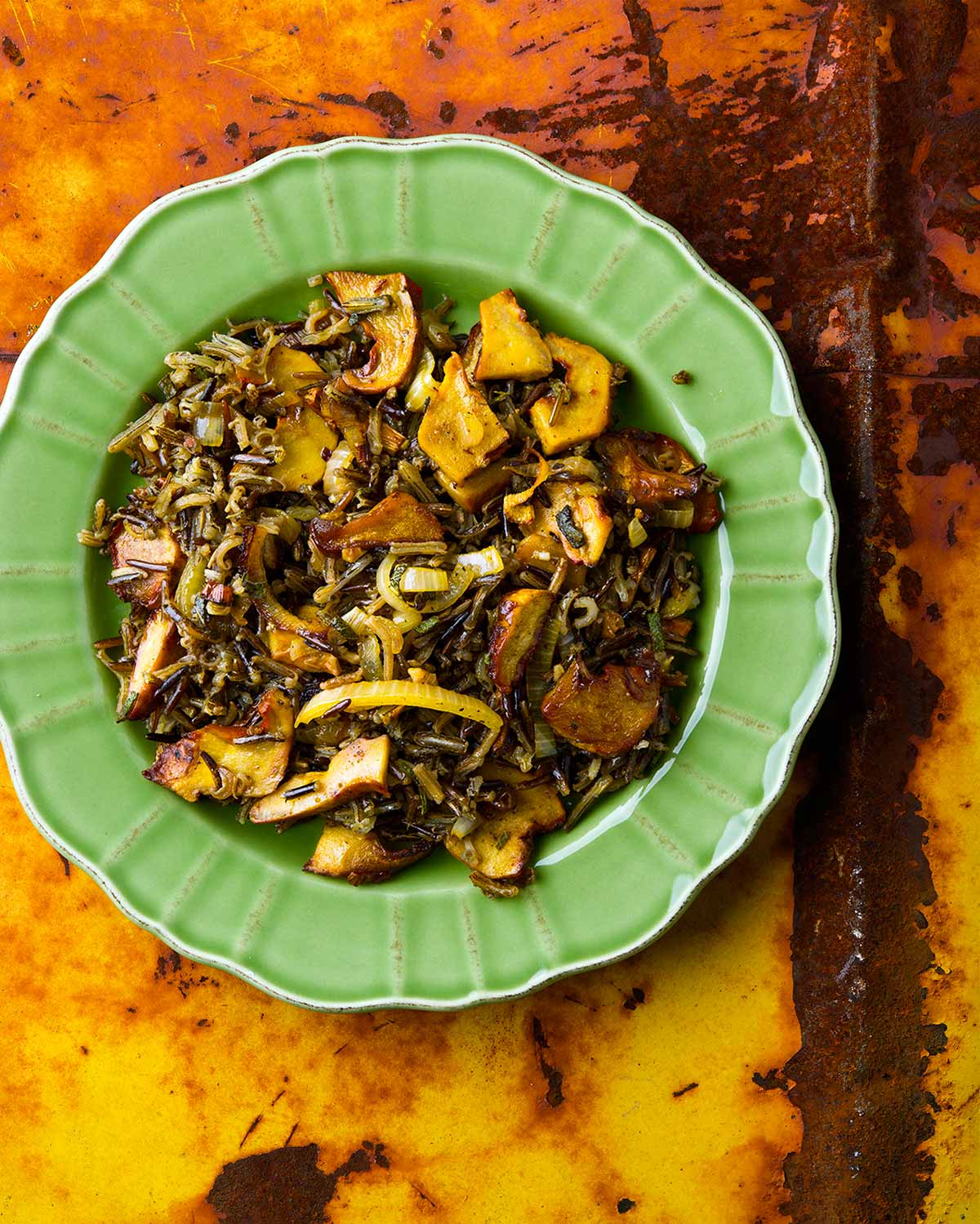 Rice with mushrooms is thing all over the world, from Japanese miso rice with mushrooms, to Chinese fried rice with mushrooms, Italian mushroom risottos, Spanish mushroom paella, and here in the United States, there are lots of variations on wild rice with mushrooms. I developed this recipe over the years as a gatherer of mushrooms — and as a connoisseur of wild rice.
Types of Wild Rice
The first thing you need to know is that there are two types of wild rice: Farmed and wild. I know that sounds weird, but wild rice is not actually rice. It's another species of plant called Zizania palustris that is native to the Great Lakes region in both the United States and Canada.
Actually, there are two other species of American wild rice, Z. texana in, yes, Texas; and Z. aquatica along the Eastern Seaboard from Florida to the St. Lawrence River in Canada. But I've never seen them for sale anywhere.
When farmed, wild rice grains are inky black and about the same size as basmati rice. This is almost always the variety of wild rice you be using for this wild rice with mushrooms salad, because that rice is in almost every supermarket.
However, the grains of real wild rice, as in that which has been gathered from the wild, are longer, more irregular, and lighter in color than supermarket wild rice. It also cooks in less than half the time. It often goes by the Ojibwe name Manoomin. Real wild rice is parched over fire, which lends a subtle smoky flavor to it.
How do you get it? That hotlink a paragraph up will take you to my friend Sam Thayer's website, where you can buy it. Or go to a gas station in the Upper Midwest, where I've seen it next to the smoked fish in places like Michigan's Upper Peninsula or northern Wisconsin or Minnesota.
This recipe will work with either truly wild or farmed rice.
My take on wild rice with mushrooms is deeply Northern. I use an oil well suited to wild rice: extra virgin canola oil, which is to the refined crap what a troll is to a supermodel. Golden, beautiful, grassy and bold. Wonderful stuff, but you'll have to buy it online. Any decent nut oil or unrefined sunflower oil would be other good choices.
Which Mushrooms with Wild Rice?
I find that mushrooms are a must with wild rice salad. They add heft, savoriness and texture. Any nice mushroom will do here, from porcini to morels, to chanterelles or oyster mushrooms.
A few varieties of mushrooms might not be ideal here, such as lion's mane or enoki mushrooms, or maybe those little yellowfoot chanterelles — but even those, or their cousins the cinnabar chanterelles, would probably work.
If you don't have access to wild mushrooms, my first recommendation would be shiitake mushrooms. They have a nice texture and are very savory. Cremini are a good option, and that "chef's sampler" pack you see sometimes in markets would be even better.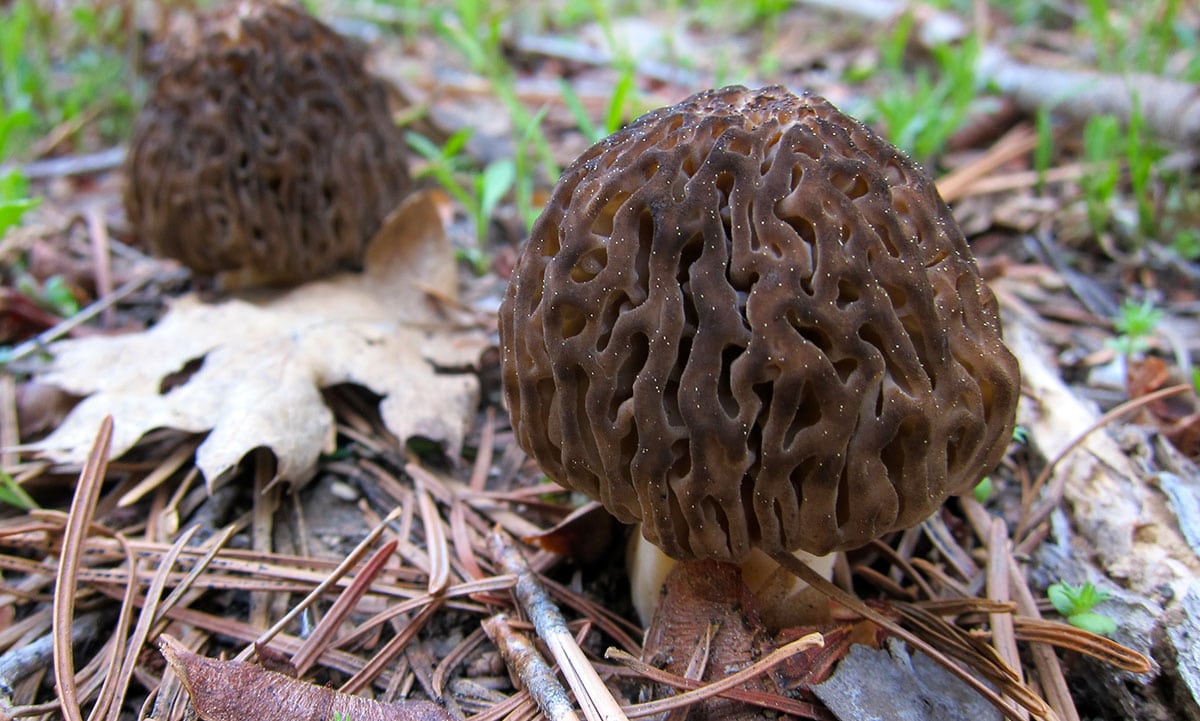 Dried Mushrooms?
Absolutely. To make this wild rice with mushrooms recipe with dried mushrooms, first get an ounce or two of dried ones and put them in a bowl. Any will do. Pour boiling water over them, cover the bowl, and let them steep for 15 to 20 minutes. Do this while you chop other vegetables.
When the mushrooms have rehydrated, chop them fine. Strain the soaking water through a paper towel to remove any debris, then use that water to cook the wild rice in.
This is a fantastic alternative, one I do in winter when I don't have fresh mushrooms.
Other Elements
You'll want some element of acidity here, too. Malt vinegar is a decent option, but I prefer homemade stout vinegar or even pontack, or homemade walnut ketchup. I realize you probably don't have any homemade vinegar, pontack or walnut ketchup kicking around, but Worcestershire sauce will get you close.
What's the net effect? Really, really savory. Balanced with the tart walnut ketchup (or Worcestershire), meaty from the mushrooms and pleasantly chewy with the wild rice. If you wanted to make things pop even more, yes, you could add a handful of cranberries, tart wild blueberries or lingonberries right at the end.
As I mentioned, wild rice with mushrooms is a worthy vegetarian dinner, but I designed it as a side dish for simply cooked duck breasts or venison backstrap. Either way, it's just damn good.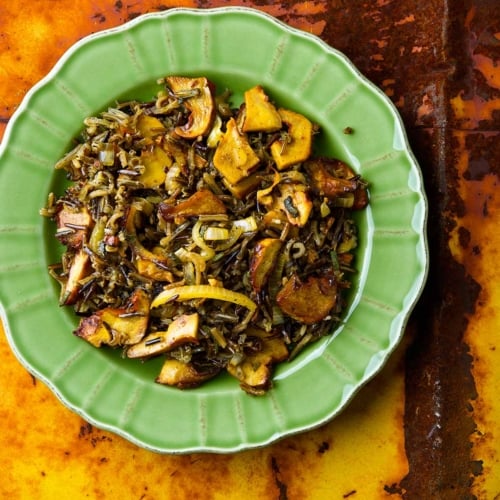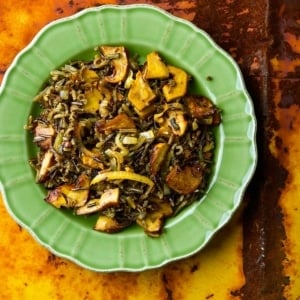 Wild Rice Salad with Mushrooms
Use this recipe as a guide, not dogma. You'll see options below. Once made, it's tasty either warm or at room temperature, and will keep in the fridge a few days.
Ingredients
1

cup

wild rice

1

quart

chicken broth,

or any other nice broth

1

pound

shiitake mushrooms,

or any other mushroom you like

Salt

2

tablespoons

butter or vegetable oil

1

yellow or white onion,

sliced thin

2

cloves

garlic,

minced

1

tablespoon

minced fresh sage

(or rosemary)

2

tablespoons

walnut oil,

or some other nice oil

2

tablespoons

dark beer vinegar, Worcestershire or walnut ketchup

Black pepper to taste
Instructions
Bring the broth to a boil and add the wild rice. Simmer this until the rice is done, checking after 20 minutes; real wild rice will be done, but farmed will likely need up to another 20 minutes. When the rice is done, drain it and set it aside.

Get a large sauté pan hot over medium-high heat. Add the mushrooms. Shake the pan and let the mushrooms sear until they start to give up their water. Once they do, sprinkle with salt. Once the water has mostly boiled away, add the butter or vegetable oil and the sliced onion. Toss to combine. Cook, stirring often, until you get some nice browning on both the mushrooms and the onion.

Add the garlic and sage and cook another minute or two. Add the wild rice and the remaining ingredients to the pan, toss to combine and let cook one more minute. Serve hot or at room temperature.
Notes
Note: Cook time reflects real wild rice. If you are using store-bought farmed wild rice, it will take another 15 minutes or so. 
Nutrition
Calories:
363
kcal
|
Carbohydrates:
45
g
|
Protein:
14
g
|
Fat:
17
g
|
Saturated Fat:
7
g
|
Sodium:
169
mg
|
Potassium:
840
mg
|
Fiber:
6
g
|
Sugar:
6
g
|
Vitamin A:
15
IU
|
Vitamin C:
4
mg
|
Calcium:
48
mg
|
Iron:
2
mg
Nutrition information is automatically calculated, so should only be used as an approximation.