As an Amazon Associate I earn from qualifying purchases.
As readers of this site know, I love curries in all their forms, from India to Africa, Southeast Asia to the Caribbean, which is where curry shrimp comes from. My version is Jamaican, and is as tasty as it is easy to make.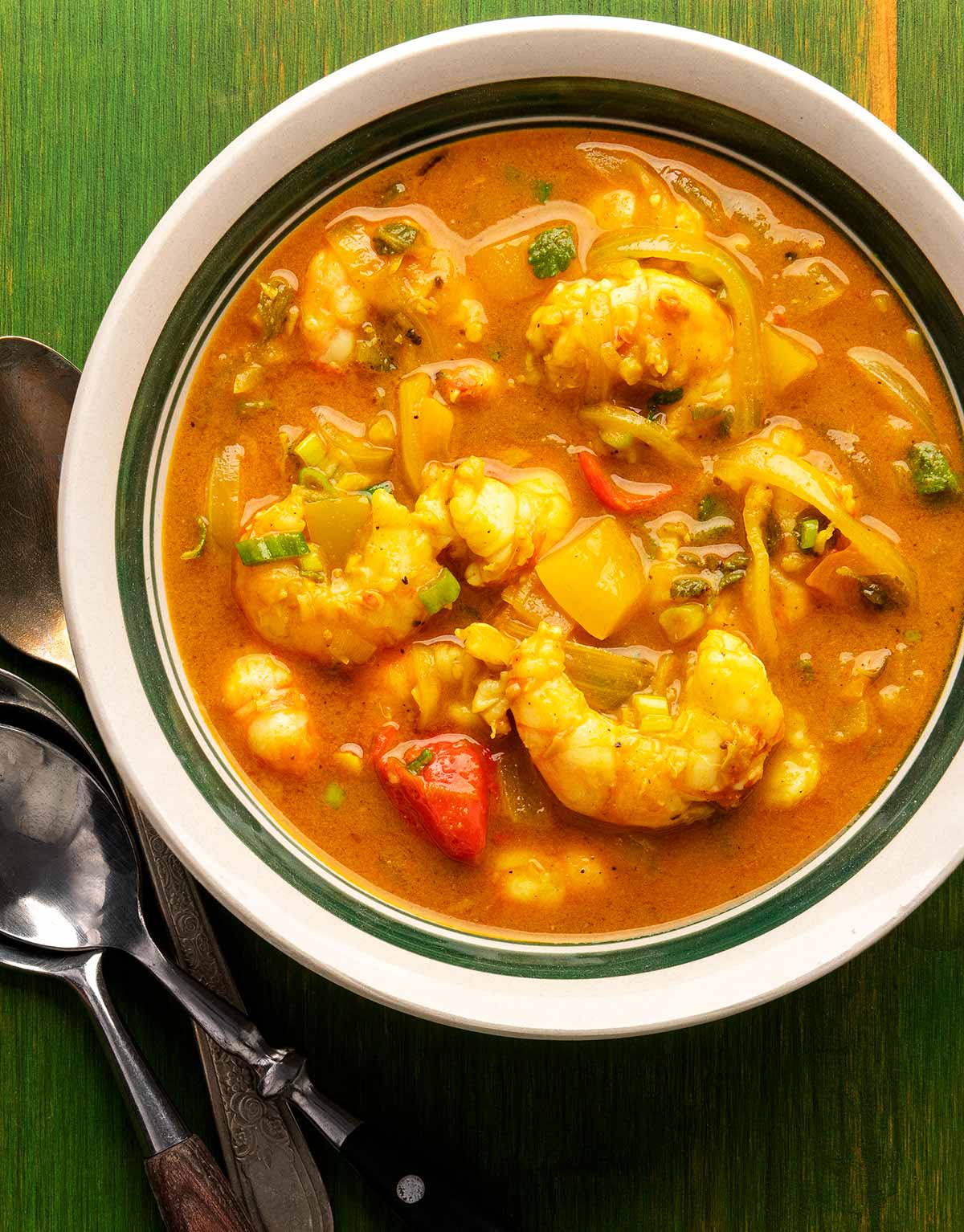 I call it "curry shrimp" for two reasons: first, because that's what the Jamaicans I know call it, and second, to differentiate it from shrimp curry, which in my head speaks more to India or Thailand.
You will see versions of curry shrimp all over the Caribbean, from Trinidad to Barbados to Belize. What makes this Jamaican curry shrimp is, largely, the special Jamaican curry powder I use — and this recipe uses a lot.
For me, the gold standard of Jamaican curry powder is Blue Mountain Curry Powder, and not the super hot version. Why? Not because I don't like it hot, but because I use several tablespoons of the stuff to make curry shrimp, and that heat adds up. Betapac is another good brand to look for.
Oh, and also because I happen to grow Scotch bonnet peppers, and I use a lot of those in this recipe, too.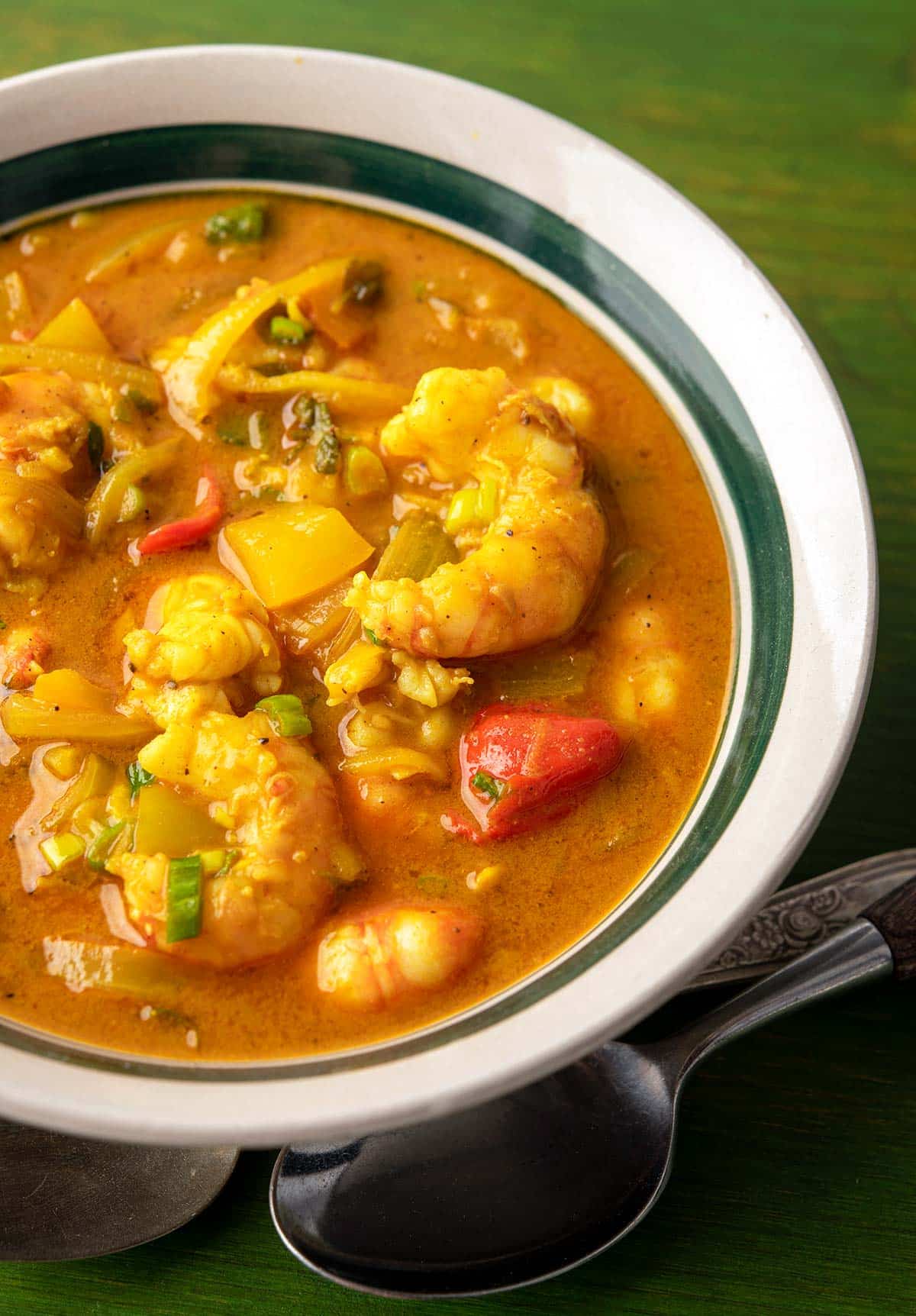 Keys to Jamaican Curry Shrimp
Other than the curry powder — incidentally, Jamaican curry powder uses more allspice (native to the region) and turmeric than Indian powders — the most important ingredients to get this recipe right are:
Thick coconut milk, either freshly made or from a can.
Scotch bonnet or habanero peppers. They have a floral aroma in addition to the heat that makes this curry.
A hint of tomato, either minced fresh or tomato paste.
Thyme, fresh or dried. I happen to grow Lippia micromera, which is a relative of thyme and oregano native to Jamaica that adds a special something to curry shrimp.
The broth is also important. When I make curry shrimp, I buy whole shrimp, peel them, and make a quick shrimp stock, only using coconut water and that Jamaican oregano. It adds a ton of extra flavor.
One note you might be interested in is that curry shrimp is off limits to Jamaica's large Rastafarian population, which forbids shellfish.
Shrimp is also expensive, moreso than chicken or goat, so it's a bit more of a restaurant dish in Jamaica — although I ate it often when I hung out with Jamaicans in New York City back in the day.
Serve curry shrimp with rice, or add potatoes or other starchy things like cassava or sweet potatoes or yams to it to bulk things up. It reheats well the next day, but does not freeze well.
If you like this curry, you might also like my recipes for a similar-tasting, African coconut curry chicken, a Thai red coconut curry that works with lots of proteins, another Thai green curry for fish, or an Indian crab curry.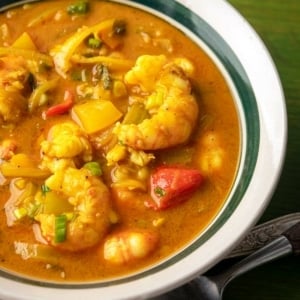 Jamaican Curry Shrimp
This is a pretty standard recipe for curry shrimp. Shrimp is easy to get, but if you'd rather, substitute crawfish, lobster, bay scallops, or hell, even chicken or rabbit. It'll work.
Ingredients
2

tablespoons

coconut oil,

or butter or vegetable oil

2

tablespoons

Jamaican curry powder

(see notes above)

1

large yellow onion,

sliced thin

3

cloves

garlic,

minced

1 to 4

Scotch bonnet peppers,

seeded and chopped

2

bell peppers,

seeded and chopped

2

teaspoons

thyme,

fresh or dried

1/2

teaspoon

ground ginger

1/2

teaspoon

ground allspice

1

tablespoon

tomato paste

1 13

ounce

can, coconut milk

1

pint

broth

(see below)

1

pound

peeled shrimp

5

green onions,

sliced thin

Salt and pepper
Instructions
Heat the coconut oil in a large pot over medium heat. When it's hot, add the curry powder and cook for a couple minutes, stirring often. Add the onion and turn the heat to medium-high. Cook, stirring often, until you get a little bit of browning on the edges of the onions.

Add the garlic, Scotch bonnets and bell peppers, and stir to combine. Sauté for 3 minutes. Stir in the thyme, ginger, allspice, tomato paste and then mix in the coconut milk. Add the broth, bring to a simmer and add salt to taste. You can add more curry powder if you want to at this step.

Let this simmer for 10 minutes, then add the shrimp and green onions. Simmer gently until the shrimp are done, about 5 minutes. Serve with rice.
Notes
If you are using potatoes, yams, or sweet potatoes or green plantains instead of rice, add them in once the curry is simmering but before you add the shrimp. Only add the shrimp once the vegetables are done. 
Keys to Success
Remember you can use a variety of proteins for this curry. 
The broth should match the protein. I buy peel-on shrimp and make a shrimp stock. You could use fish stock, or chicken stock, too. 
One cool tip is to make that shrimp stock not with water, but with coconut water. It adds one more layer of flavor. 
No Scotch bonnets? Use habaneros, which are easy to find. Still can't find them? Use jalapenos, or just add some hot sauce. 
Nutrition
Calories:
355
kcal
|
Carbohydrates:
17
g
|
Protein:
7
g
|
Fat:
32
g
|
Saturated Fat:
27
g
|
Polyunsaturated Fat:
1
g
|
Monounsaturated Fat:
2
g
|
Sodium:
90
mg
|
Potassium:
664
mg
|
Fiber:
6
g
|
Sugar:
7
g
|
Vitamin A:
534
IU
|
Vitamin C:
63
mg
|
Calcium:
70
mg
|
Iron:
4
mg
Nutrition information is automatically calculated, so should only be used as an approximation.