Crab Curry
January 25, 2018 | Updated June 16, 2020
As an Amazon Associate I earn from qualifying purchases.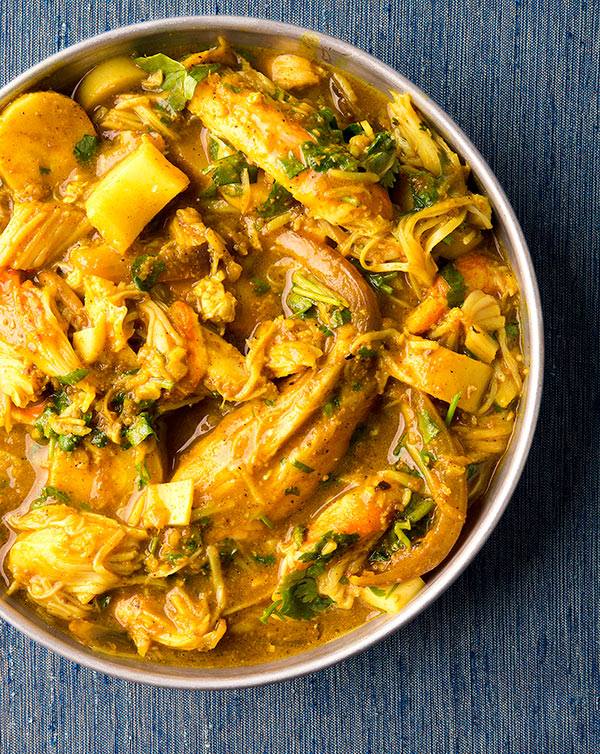 When life gives you crabs, sometimes you need to do something other than make crab cakes or just eat the meat with a little drawn butter, right? How about crab curry?
Years ago, one of the readers of this site suggested I make crab curry, and, casting about for a good version, I settled on the one from Goa, in western India. Goan food is a combination of Indian and Portuguese, and it is one of the more exciting places to go, culinarily speaking.
This curry is so good I've been making it ever since, with Dungeness crab mostly, but also red and rock crabs, snow crab legs, and blue crabs, too. I imagine any crab meat you have on hand will work.
This is a from-scratch curry — no premade curry powders — and while it looks complicated, it's not. Just have everything laid out before you start and you can have this curry done in less than 45 minutes. It is pretty similar to a fish curry I make, so if you have fish, use that recipe.
You do need the tamarind in the recipe, however, as it is a defining feature of Goan curries; you can get tamarind paste in both Asian and Latin markets, and you can buy tamarind paste
online.
How spicy is this? Pretty spicy, although the chile heat can be adjusted depending on how many you put in the curry. I like it hot, so I put in 4 to 5 serranos, but you may want to use less.
Finally, if you don't have lots of crab around, there is no reason on earth not to do this curry with shrimp, lobster, a firm fish, or even chicken or pheasant. It'll be good with all of them.
Goan Crab Curry
I have used Dungeness and snow crab for this curry, but any sort of crab will work. No crab? Use shrimp, lobster or a firm fish. Serve with steamed basmati rice. The tamarind paste is the only hard ingredient to find, and it's always in either Latin or Asian markets, and you can buy it on Amazon.
Ingredients
1

pound

crabmeat

1

tablespoon

coriander seeds

1

tablespoon

black peppercorns

6

cloves

8

cardamom pods,

or 1 teaspoon ground

1

tablespoon

turmeric

1

teaspoon

ground cumin

2

teaspoons

fenugreek

(optional)

1

tablespoon

vegetable oil or clarified butter

2

medium onions,

1 chopped fine and 1 sliced

2

garlic cloves,

minced

2-3

small fresh chiles,

such as serrano or Thai, chopped

2

tablespoons

fresh ginger,

minced

1 14-

ounce

can of coconut milk

1/4

cup

grated coconut,

fresh, if possible

1

heaping tablespoon tamarind paste

Salt

1/3

cup

chopped cilantro
Instructions
Make the curry mix by toasting the coriander, peppercorns, cloves and cardamom pods in a dry skillet until they are fragrant and the coriander just starts popping. Take off the heat and let cool a minute or two and then grind fine in a mortar or spice grinder. Mix well with the turmeric, cumin and fenugreek.

Saute the chopped onion, the ginger, and the chiles in the same pan with the oil or butter until soft. Do not brown. Add the garlic and cook for another 2 minutes, stirring occasionally.

Take the onion mixture off the heat and put it into a blender. Add the curry spice mix to it, then about 1/4 cup of water. Blend into a puree.

Pour the coconut milk into a pot and heat it over medium-high heat until it simmers. Add the sliced onion and grated coconut and let this cook for 3-4 minutes at an active simmer.

Add the curry from the blender and mix well, then add the tamarind paste and mix again. Taste for salt and add some if needed.

Mix in the crab and cook until just heated, maybe 2 to 3 minutes. Stir in the cilantro and serve over rice.
Notes
NOTE: If you use ground versions of the spices, don't toast them. 
Nutrition
Calories:
436
kcal
|
Carbohydrates:
19
g
|
Protein:
26
g
|
Fat:
31
g
|
Saturated Fat:
26
g
|
Cholesterol:
48
mg
|
Sodium:
973
mg
|
Potassium:
751
mg
|
Fiber:
5
g
|
Sugar:
3
g
|
Vitamin A:
149
IU
|
Vitamin C:
19
mg
|
Calcium:
133
mg
|
Iron:
7
mg
Nutrition information is automatically calculated, so should only be used as an approximation.