Coconut Curry Chicken
July 20, 2020 | Updated March 25, 2021
As an Amazon Associate I earn from qualifying purchases.
Many cultures make some sort of coconut curry chicken, but when I hear those words, I immediately translate them in my mind to kuku wa nazi.
Huh? Yeah, that's Swahili for, more or less, coconut curry chicken. Kuku, as you might be able to guess, means chicken, and nazi — pronounced more like "NAH-see" and less like evil Germans — means coconut.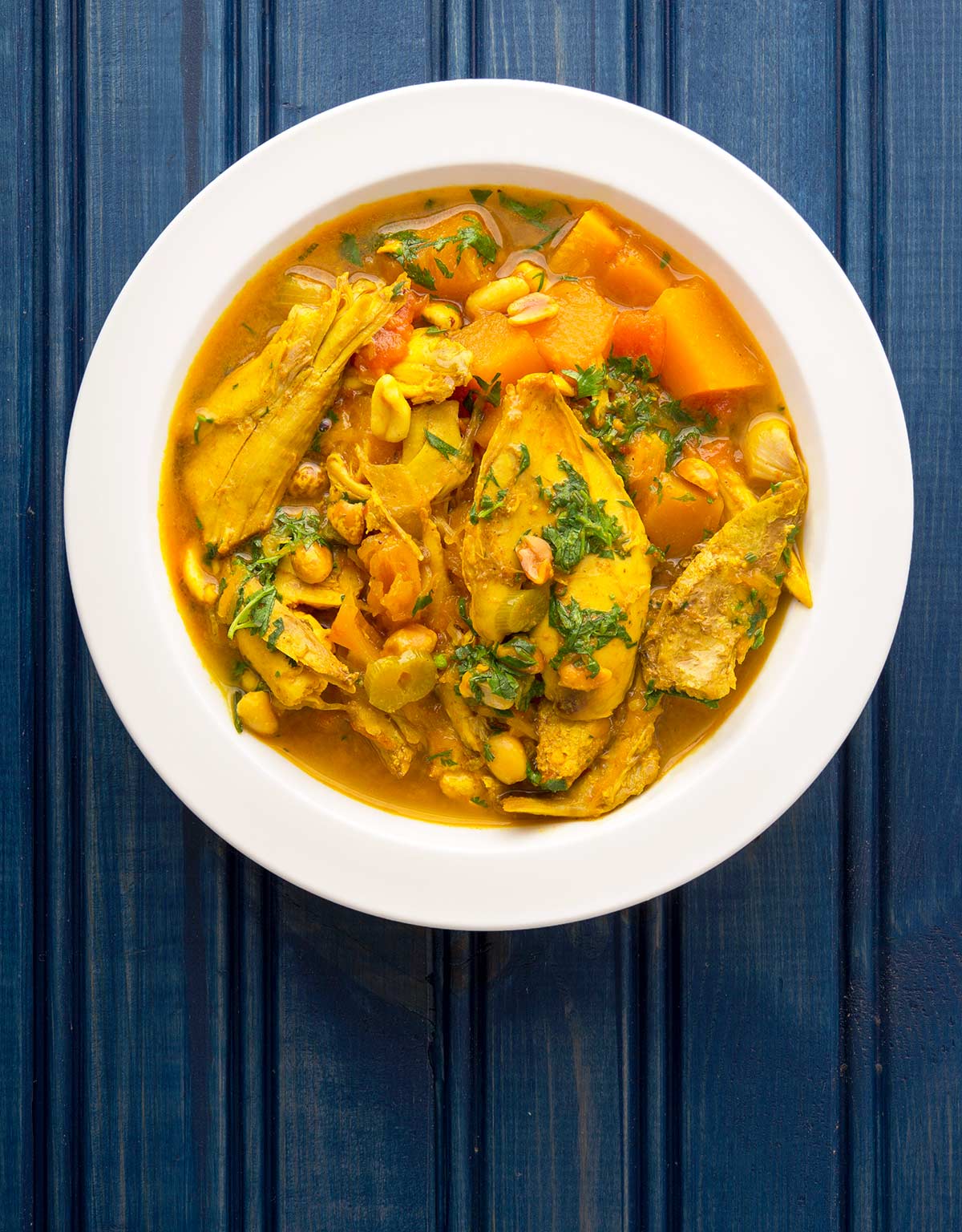 I know this because, it seems like a lifetime ago, I was a graduate student at the University of Wisconsin studying East Africa. And, as in many advanced programs, to graduate you must learn a language relevant to your study. Ergo Swahili, which is spoken from Somalia down to Mozambique.
This recipe is Kenyan, although there are similar versions all over East Africa. We had a professor, whose name escapes me (it was nearly 30 years ago, after all), who made this for us often. Rich, creamy, exotic spicy, as well as hot if you like it that way, and also filling.
As a graduate student, I made very little money, and chicken backs, necks, wings and drumsticks were all I could really afford when it came to meat, other than the occasional goat neck or oxtail; yeah, back then oxtail was a trash cut. Go figure. And this coconut curry chicken works very well with the lesser parts of a chicken.
Nowadays I rarely buy meat, but I do hunt pheasants and other upland game birds. As it happens, a pheasant is an almost perfect representation of the chickens I ate when I was in Africa. No fat fryers there. Nope. The African chickens I encountered worked for a living, often for years, before they became kuku wa nazi or any number of other dishes. So made my curry with pheasant.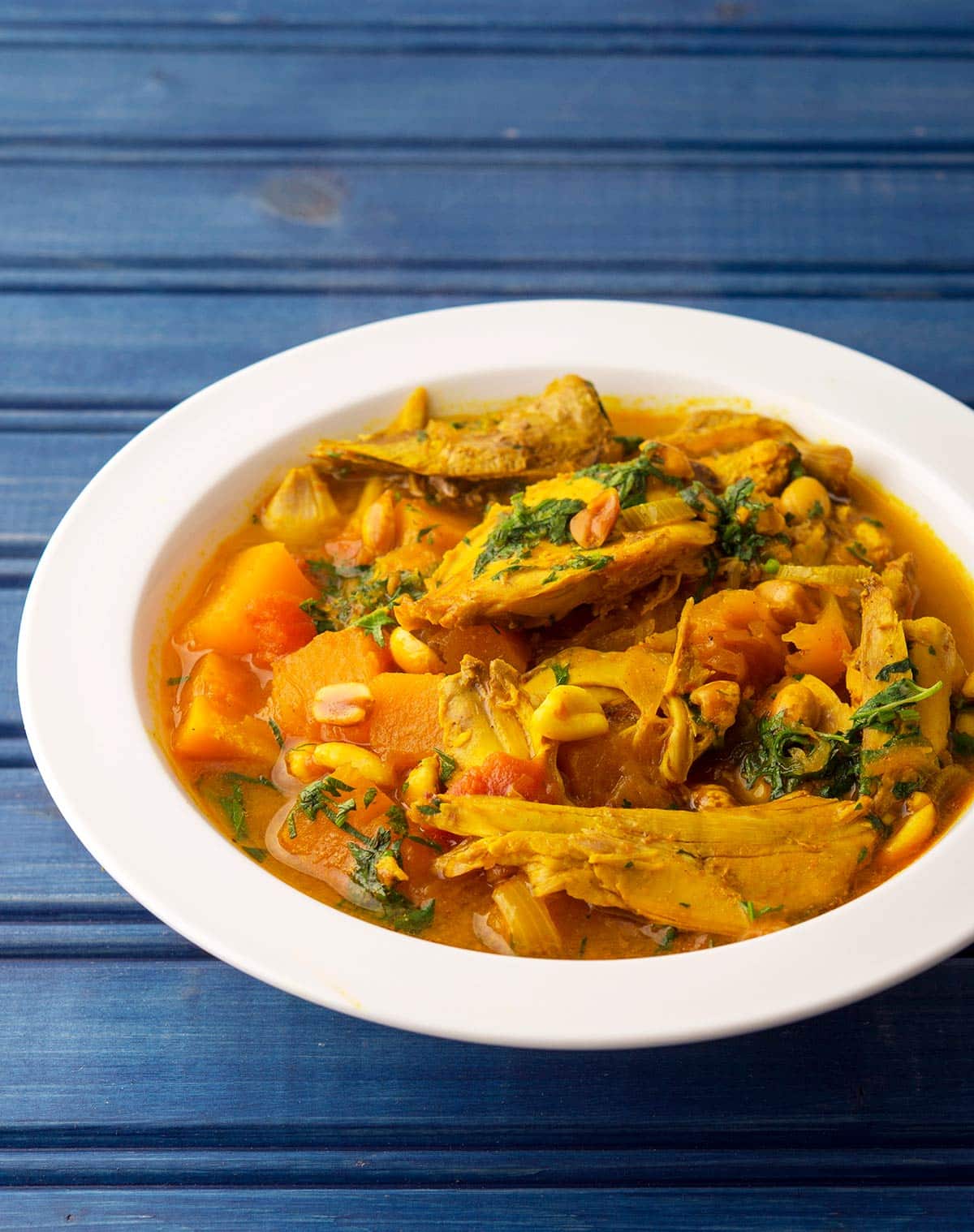 Chukars, partridges, ruffed grouse, blue grouse are all great alternatives, as is rabbit. In fact, if you have my cookbook Pheasant, Quail, Cottontail, you will see a version of this dish called African Rabbit Curry, or, to be precise, sunguru wa nazi.
The procedure is pretty simple. Cook some onions and meat in a pot, add spices, cover with lots of water and coconut milk and simmer gently until the meat is reasonably tender. Then add your starch, cook until that's tender, then finish with herbs and roasted nuts.
I like to fish out anything with bones in it to make the curry easier to eat, but they don't do that in Kenya very often. Potatoes, squash or turnips are all good starches, and if you want, you can add some slices of hearts of palm, too.
You'll want to eat your coconut curry chicken with, of course, coconut rice, which is wali wa nazi in Swahili. All it normally is is basmati rice cooked in half water (or coconut water) and half coconut milk.
Once made, this will keep in the fridge a week, and it freezes well.
I make a few other curries and curry-like dishes from East Africa and its environs, such as a fish stew inspired by one I had in Tanzania, a Goan crab curry from the other side of the Indian Ocean, not to mention the ton of Ethiopian recipes I make. If you like this curry, you might also like my recipes for a similar-tasting Jamaican curry shrimp, a Thai red coconut curry that works with lots of proteins, another Thai green curry for fish, or an Indian crab curry.
Coconut Curry Chicken
This is a Kenyan version of coconut curry chicken, which exists all over the tropical world. It's very simple to prepare and requires no unusual ingredients.
Ingredients
3

tablespoons

coconut oil, clarified butter or vegetable oil

1

whole pheasant or chicken, cut into serving pieces

Salt

2

yellow onions, sliced

4

cloves

garlic, chopped

1

tablespoon

minced fresh ginger

2 to 6

small, hot chiles such as Thai or Scotch bonnet, chopped

2

plum tomatoes, chopped

2 to 4

tablespoons

curry powder

2

quarts

coconut water or regular water

1

pound

peeled butternut squash or potatoes, cut into chunks

1

14-ounce can

coconut milk

1/4

cup

lime juice

1/4

cup

salted, roasted peanuts

1/4

cup

chopped cilantro
Instructions
In a large, lidded pot, heat the coconut oil over medium-high heat. When it's hot, brown the pheasant or chicken pieces, removing them as they brown to a plate. Salt the meat as it cooks.

When all the meat has browned, add the sliced onion, some salt, and stir well. Saute the onion, stirring often, until it wilts and picks up a little browning on the edges. Just a little browning, though. Don't caramelize them.

Mix in the garlic, ginger and chiles and let them cook for 1 minute. Add the tomatoes and curry powder and stir well. My advice is to add 2 tablespoons at first, then check the seasoning in a while. You can always add more.

Pour in the coconut water (or regular water) and stir well. Return the pheasant to the pot. Bring to a simmer and add salt and curry powder as needed. Cover the pot and simmer gently until the drumsticks and wings are tender. If you want, fish out the meat and strip it from the bones and tendons, returning the meat to the pot.

Add the butternut squash and coconut milk and simmer until the squash is tender, about 30 minutes or so.

Finish with the peanuts, cilantro and lime juice. Serve with rice.
Nutrition
Calories:
373
kcal
|
Carbohydrates:
22
g
|
Protein:
22
g
|
Fat:
23
g
|
Saturated Fat:
9
g
|
Cholesterol:
71
mg
|
Sodium:
353
mg
|
Potassium:
1125
mg
|
Fiber:
5
g
|
Sugar:
10
g
|
Vitamin A:
6362
IU
|
Vitamin C:
30
mg
|
Calcium:
115
mg
|
Iron:
3
mg
Nutrition information is automatically calculated, so should only be used as an approximation.