Venison Fajitas
May 07, 2020 | Updated September 10, 2021
As an Amazon Associate I earn from qualifying purchases.
I have no idea why it's taken me this long to post a venison fajitas recipe. Probably because I needed it to be flank steak fajitas — because they are way better than regular steak fajitas — and for that I needed not deer, but elk.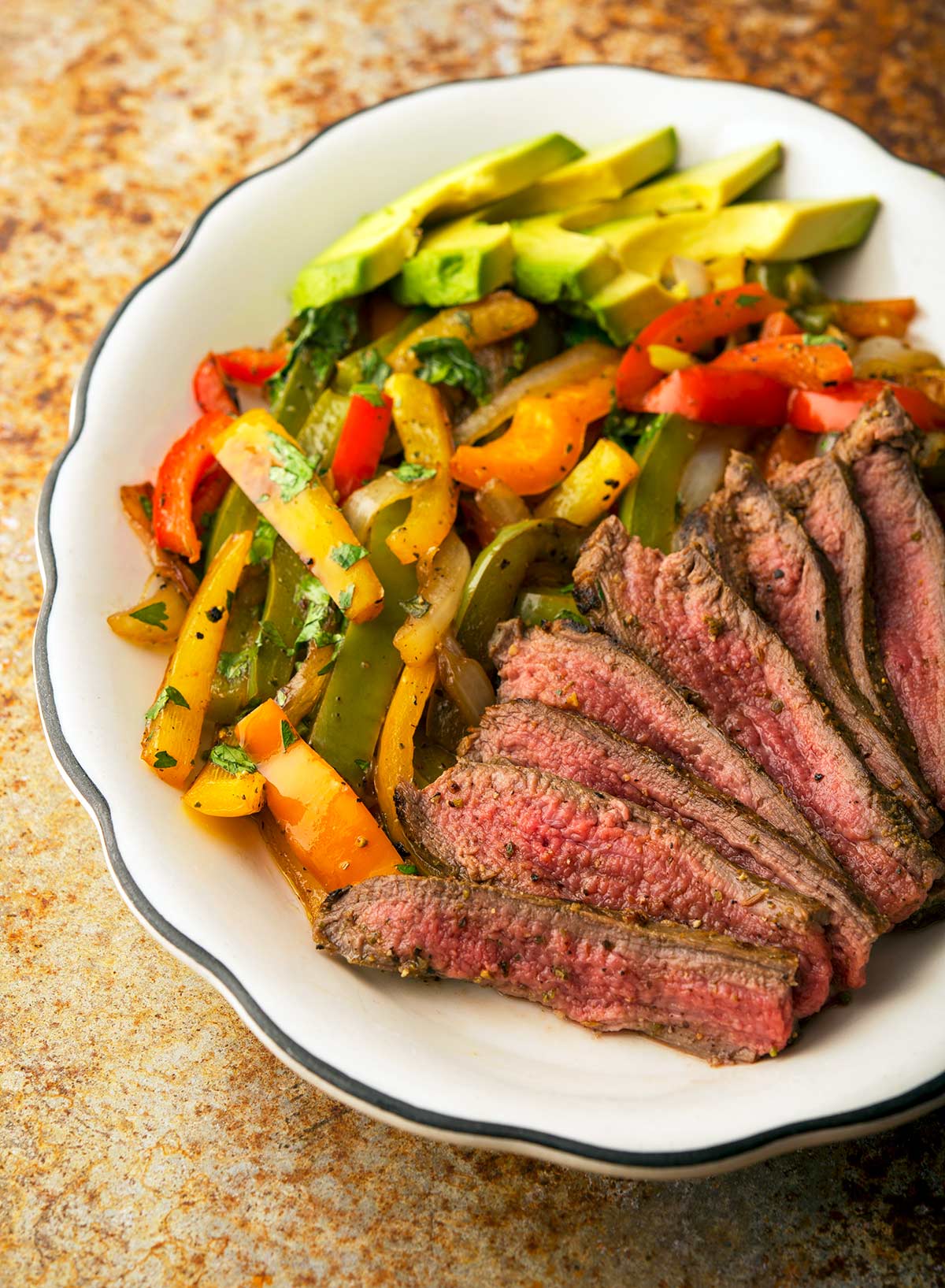 Elk flank steak is about the same size as beef flank steak, and you need that to make proper fajitas. Maybe if you had a bruiser of a buck deer you could pull it off, but your life will be easier with elk, caribou, nilgai or moose flank steak. Not a hunter? Beef flank steak is perfectly fine.
There's another reason why it took me a long time to develop a recipe for venison fajitas: The way everyone wants to see them, the way that you see them in these pictures, is all wrong.
Yes, I said it. Fajitas as we know them are stupid — if we're talking tacos, which is how most people eat fajitas. Why? Think about it. Those strips of meat and peppers? Pack them into a taco and take a bite. Yep, you just pulled out half the meat and a big slab of bell pepper, unless you chomp down hard.
Far better to chop everything up right before it goes into the tortilla, especially for flank steak fajitas. Flank steak is super flavorful, but can be a little tough, which makes it prone to pulling out of a taco.
And since fajitas are much more of a Texas thing than a Mexican thing, flour tortillas are a must. Even where it exists south of the border, you'll mostly see it on flour. You can buy decent flour tortillas in most supermarkets, but if you know how to make flour tortillas, your life will be better.
There are a few tips to making great venison fajitas. First, dry rub your flank steak overnight, then add lime juice a few hours before searing. Second. scrape off most of the marinade, then pat the meat dry before coating it with oil. Wet meat doesn't brown.
You will want your flank steak to be cold, right out of the fridge. Why? It's a thin cut of meat, and by the time you get a nice sear on it, if it were room temperature the center of the flank steak would be overcooked. Slapping it on the pan or grill cold buys you time.
As for the fajita vegetables, multicolored bell peppers are the key — they're sweet and pretty — and you will want to just coat your vegetables with oil rather than oiling the pan. Fajitas are low fat, and you want a bit of char. Too much oil prevents that.
Finally, toss the cooked vegetables with lime juice, cilantro, a little Mexican oregano and/or garlic powder, maybe add some slices of avocado, and you're golden. Venison fajitas: Simple. Easy. Amazing.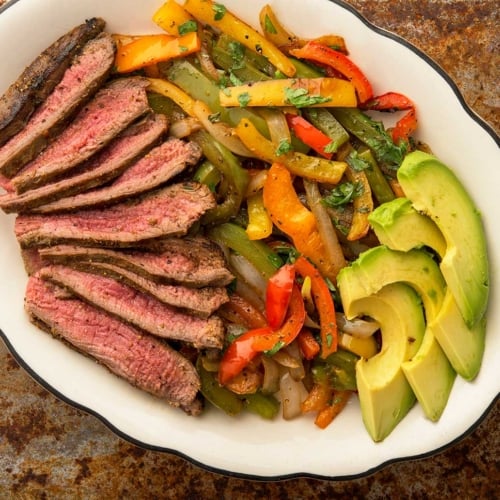 Venison Fajitas
So as a hunter, I am using elk flank steak, but beef flank steak works fine. The main key to cooking great fajitas is super high heat, so use your most powerful burner with your fan on high.
Ingredients
MARINADE
1

teaspoon

garlic powder

1

teaspoon

cayenne

1

teaspoon

ground cumin

1

teaspoon

dried oregano, crumbled

1

teaspoon

salt

Juice of a lime
TO FINISH
1

pound

flank steak

3

tablespoons

canola oil or other high smoke point oil, divided

1

green bell pepper, cut into strips

1

red bell pepper, cut into strips

1

orange or yellow bell pepper, cut into strips

1

onion, sliced

1/4

cup

chopped cilantro or parsley

Juice of a lime

Salt and freshly ground black pepper

8 to 12

Flour tortillas

1

Avocado, sliced
Instructions
Mix all the dry ingredients for the marinade together, then rub them into the flank steak Put this in a bag or plastic container in the fridge for up to a day, and no less than 2 hours. If you are only going to let it marinate 2 hours, add the lime juice right away. If not, add the lime juice with 2 hours to go.

You will need a large frying pan, ideally cast iron. Start getting it hot. Take the meat out of the fridge and wipe it dry with paper towels. You want it pretty dry. Coat it in 1 tablespoon of the canola oil. When the pan is hot, I mean hot as in starting to smoke, about 500°F to 600°F, lay the flank steak in the pan. If you happen to have a bacon press, put it on the meat, If not, no big deal. Let it sit there for 3 minutes. Turn the meat and let it cook another 2 to 4 minutes, depending on how you like your meat. I only give it the 2 minutes because the flank steak will cook a bit more via carryover heat when it's on the cutting board. Move it to the board.

Coat the vegetables in the remaining canola oil and add them to the hot pan. Stir fry a minute, then let them sit a bit to get some char. Move them once a minute for 3 minutes. You want them soft, but not mushy, and with some browned or even blackened bits. Turn off the heat and mix in the lime juice and cilantro, as well as salt and lots of black pepper.

Slice the flank steak against the grain, and serve with the vegetables in tortillas and topped with avocado.
Notes
NOTE: I make my flour tortillas before I even start making the fajitas, keeping them in a plastic tortilla warmer. If you are reheating premade tortillas, you can do that either before you start or while the meat is searing. 
Keys to Success
You will definitely want a variety of colors for your fajitas. It's prettier and the ripe ones add sweetness. 
You can skip bell peppers if you want and use poblanos, Italian frying peppers, Anaheims or really any pepper that isn't super hot. 
The meat must be cold when it hits the pan, otherwise you run a real risk of it overcooking by the time you get some good char -- and char is key for fajitas.
Flour tortillas are traditional, as this is Tex-Mex, but corn are fine, too. 
Guacamole is a good choice for a salsa here. So is my tomatillo-avocado salsa. 
Nutrition
Calories:
470
kcal
|
Carbohydrates:
40
g
|
Protein:
31
g
|
Fat:
21
g
|
Saturated Fat:
4
g
|
Cholesterol:
68
mg
|
Sodium:
1059
mg
|
Potassium:
725
mg
|
Fiber:
4
g
|
Sugar:
6
g
|
Vitamin A:
1377
IU
|
Vitamin C:
119
mg
|
Calcium:
113
mg
|
Iron:
5
mg
Nutrition information is automatically calculated, so should only be used as an approximation.