Elk Tenderloin with Ancho Sauce
March 20, 2017 | Updated August 24, 2022
As an Amazon Associate I earn from qualifying purchases.
This is a simply seared elk tenderloin recipe, served with a rich ancho sauce that's not overly spicy and and easy pico de gallo: Elk tenderloin meets Mexico.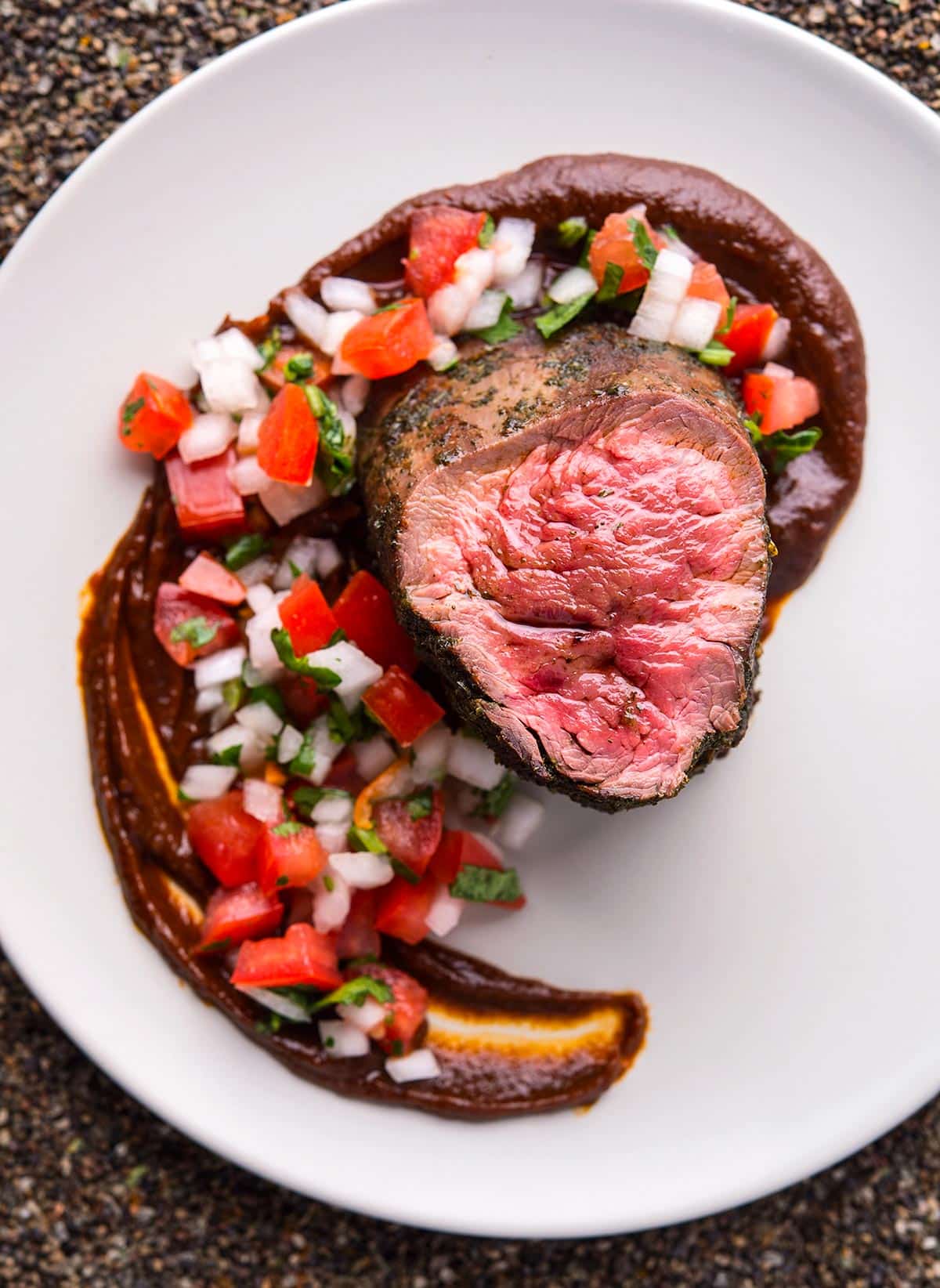 Cooking an elk tenderloin is a special occasion. If you're like most people, you don't shoot an elk every year, and each elk only has two tenderloins, which are the same cut as filet mignon in beef.
Given that, almost everyone just sears or grills their elk tenderloin or backstrap simply. As jazz great Thelonious Monk would say, straight, no chaser. Well, this recipe has a chaser. And it is a good one. No, a great one. It's this ancho sauce.
I do a lot of Mexican cooking, and one thing that strikes me is how reliant Mexican cuisine is on sauces; I daresay even moreso than French cooking. Everything from chunky salsas to smooth dipping sauces and rich, complicated moles. Well there are simpler sauces, too.
This ancho sauce is one of them. I found the recipe in Chef Enrique Olvera's book Mexico from the Inside Out
, which is a beautiful book centered around Chef Olvera's famous Mexico City restaurant Pujol. Most of his dishes are complex, beautiful, white-linen affairs. But if you tease out the components you can find simple jewels. Like this sauce.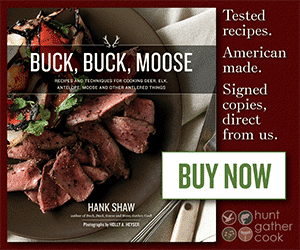 All it consists of are ancho chiles, caramelized onions and garlic. Olvera's version is picante, as he uses the hotter arbol chiles. I wanted a more approachable, mellower base sauce here, and the mild, almost raisiny anchos do the trick; dried ancho chiles are easier to find, too.
Why a sauce at all? Well, let's face it: Both backstrap and elk tenderloin are, as the name suggests, super tender. But they are also fairly light in flavor. Nothing like a ribeye or flatiron steak. The ancho sauce provides some bass in the music on the plate.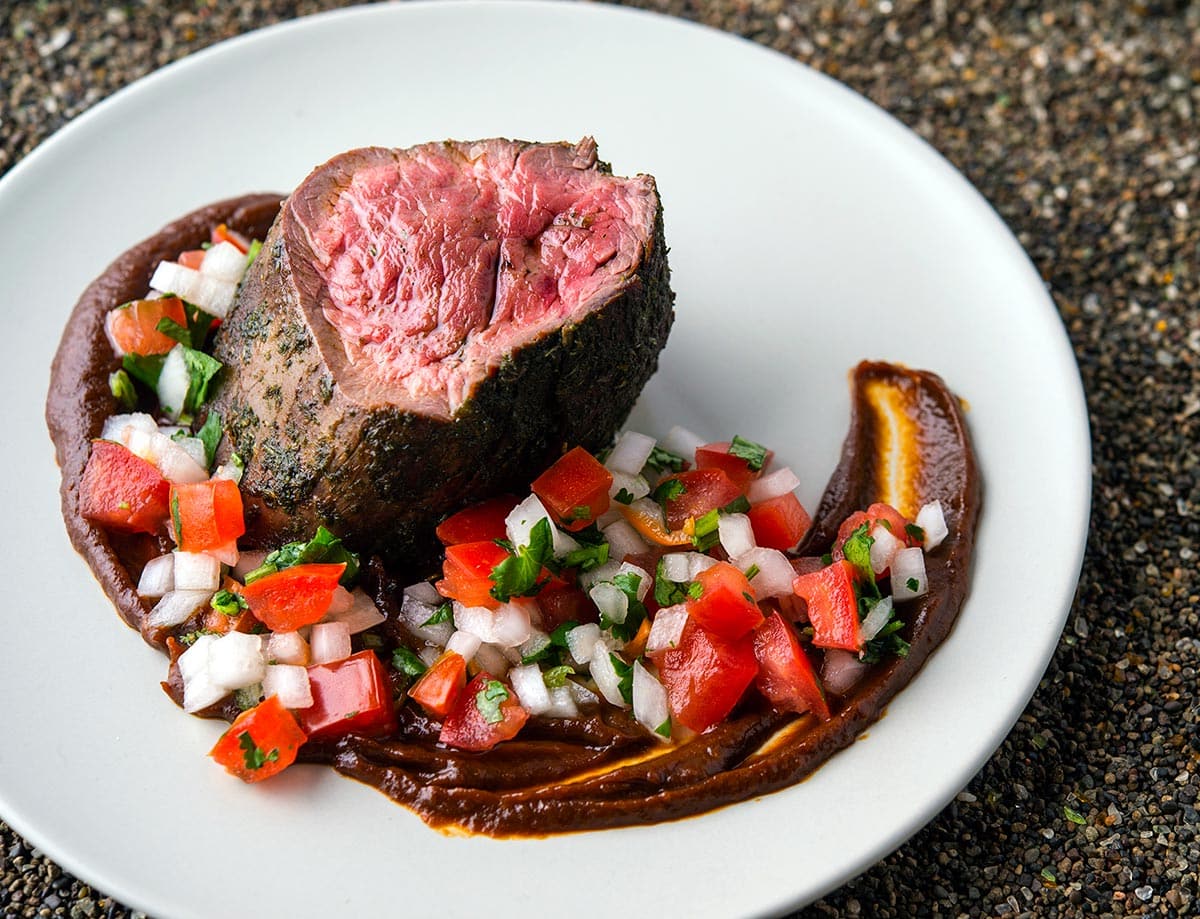 The zippy pico de gallo adds bright, high notes. It's a basic pico — white onion soaked in lime juice, diced tomato, cilantro — only I use habanero chiles instead of serranos. You can use whatever chile you want. But it should be as spicy as you feel comfortable with.
You may notice something on the sides of the tenderloin. That's dried, powdered green onion with some black pepper. It is a cheffy touch I like, as it adds one more layer of flavor. But you can skip that if you want. Porcini powder would be another great option, or just go with black pepper.
No matter whether you like your deer or elk tenderloin simple or not, make this ancho sauce. Serve it alongside any red meat, pork, or turkey. Or hell, dip tortilla chips in it.
Cooking Elk Tenderloin
Elk tenderloin, or really any tenderloin, is not a forgiving cut of meat. It is on the underside of the spine inside the animal, which is why it is so tender — it does little work. A tenderloin has a strong horizontal grain to it, so you almost always want to cook a whole elk tenderloin, not medallions. This makes it easier to achieve that medium-rare doneness you'll want.
Never cook a tenderloin past medium-well, and I prefer medium-rare. If you are unsure, use the finger test for doneness, or a probe thermometer (you're looking for about 120°F before resting). When in doubt, undercook your elk tenderloin. You can always cook it more. You can't uncook something.
Unless you like your elk tenderloin super rare, you will want to rest it about 5 to 10 minutes before slicing into medallions. This is the time to add the porcini powder, black pepper, or whatever spice rub you like.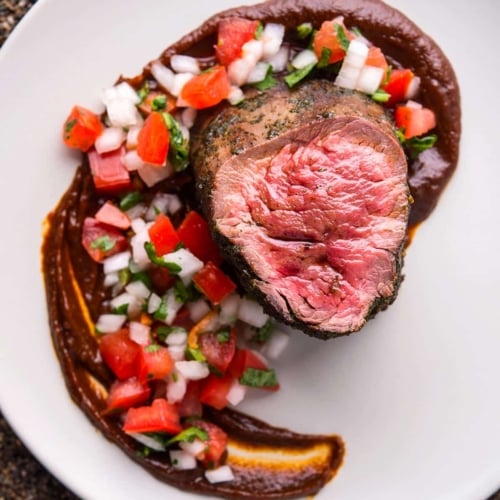 Elk Tenderloin with Ancho Sauce
Obviously I use elk tenderloin here, but any red meat, pork or even turkey would work well with this ancho sauce. Dried ancho chiles are easily found in most large supermarkets, and if yours doesn't have them, look for a Latin market or get them online. The sauce will keep for a week in the fridge, so you can make it ahead or make more for chips later. 
Ingredients
ANCHO SAUCE
1

large white onion,

chopped

3

tablespoons

lard, corn oil or olive oil

3

or 4 dried ancho chiles,

seeded and destemmed

1

large garlic clove,

minced

1

teaspoon

salt
ELK or DEER
2

tablespoons

vegetable, canola or grapeseed oil

(high smoke point)

salt

2

pounds

elk or deer backstrap or tenderloin

1

tablespoon

black pepper,

finely ground

1

tablespoon

dried, powdered green onion

(optional)
Instructions
Make the ancho sauce. Heat the lard in a small pan over medium heat. Add the onion and cook slowly until it caramelizes, about 40 minutes. You may need to cover the pan and/or add a tablespoon of water here and there to keep the onions from burning. Take your time with this step, as it's important to the flavor.

Meanwhile, remove stem and seeds from the anchos and pour boiling water over them. When the onions are ready, tear the anchos into pieces and add to the pan with the garlic and salt. Cook 5 minutes, then pour everything into a blender and puree until smooth. (this step can be done several days ahead.)

Take the tenderloin out of the fridge, salt it well and let it come to room temperature while you make the sauce, about 30 minutes or so. 

Cook the tenderloin. Heat the oil in a pan that will fit the tenderloin over medium-high heat. Pat the elk dry with paper towels and sear on all sides for about 1 to 2 minutes per side. Use the finger test for doneness to determine when it's done. 

Coat the meat in the black pepper and dried onion, if using. Let it rest for 5 minutes. Spread some ancho sauce on a plate, slice the tenderloin into medallions and top with pico de gallo, if using. 
Notes
Pico de gallo doesn't really need a recipe, but if you're lost, dice 4 plum tomatoes, 1 white onion, some cilantro and as much hot chile as you like. Soak the onions in lime juice for 20 minutes, then toss together. 
Nutrition
Calories:
478
kcal
|
Carbohydrates:
22
g
|
Protein:
48
g
|
Fat:
24
g
|
Saturated Fat:
4
g
|
Sodium:
705
mg
|
Potassium:
1383
mg
|
Fiber:
8
g
|
Sugar:
12
g
|
Vitamin A:
6953
IU
|
Vitamin C:
11
mg
|
Calcium:
34
mg
|
Iron:
7
mg
Nutrition information is automatically calculated, so should only be used as an approximation.