As an Amazon Associate I earn from qualifying purchases.
Smoked venison backstrap is something you need in your life.
Sliced thin and served in a sandwich, or as-is with any number of sauces — or au natural — this is one of my favorite ways to celebrate a successful hunt.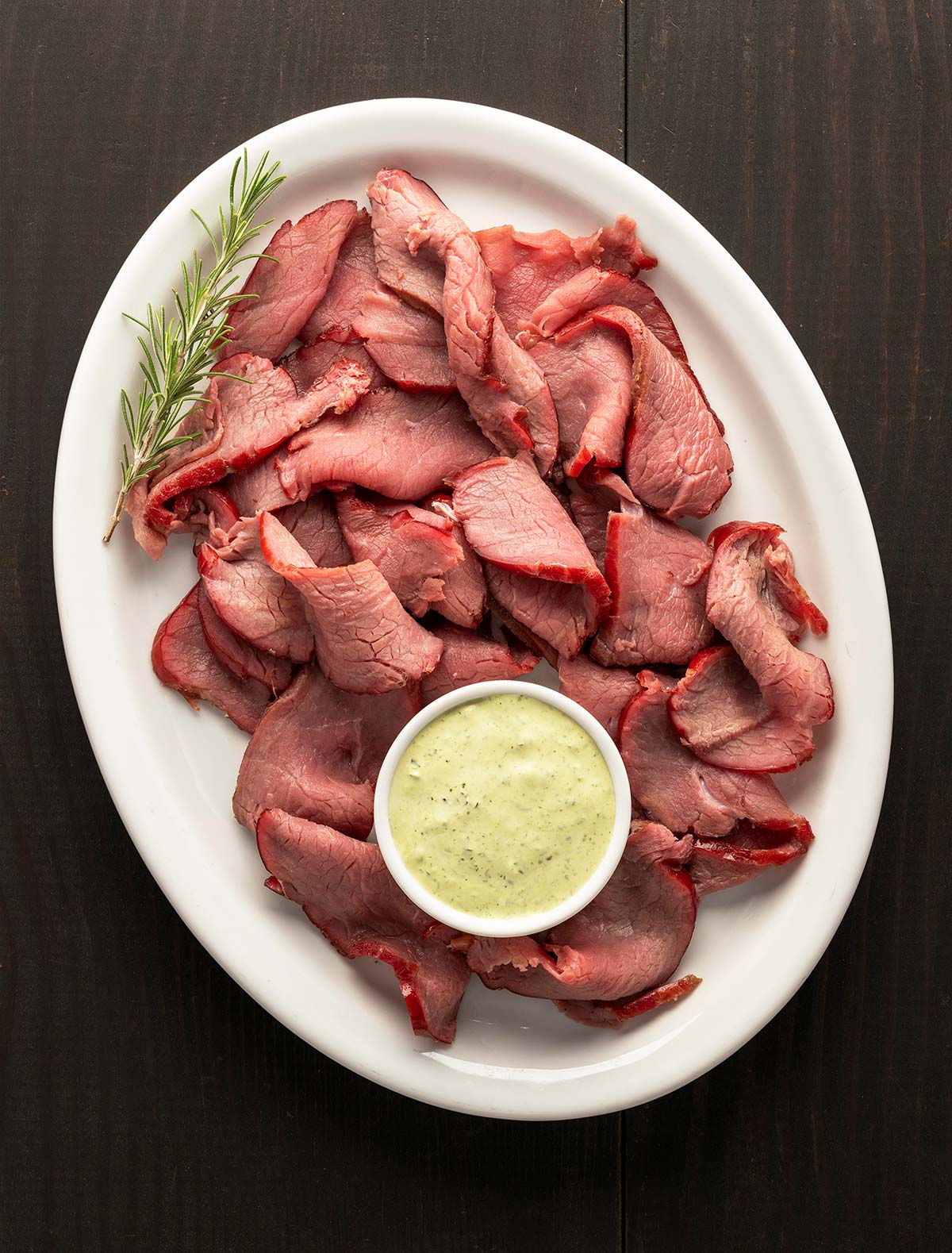 First thing to remember is that you don't smoke venison the way you smoke pork. If you are familiar with my other smoked venison recipe, the one for smoked venison roast or whole leg, you'll know that the secret is to only smoke the meat to medium-rare or medium, no more.
You can use curing salt here, and if you do, use Instacure No. 1, but I rarely do. It's not really needed in this case. If you do want to use it, you will want to weigh out 0.25% of curing salt compared to the weight of the meat; that's one quarter of 1 percent, to be clear.
That gets me to the other trick for smoked venison backstrap, and that's to use what's called an equilibrium cure, or EQ. To do this you weigh the meat first, in grams. Then you add anywhere from 1.5 percent to 2 percent of that weight in salt. Massage that into the meat, and, ideally, vacuum seal it. If you don't have a vac sealer, put it in a freezer bag.
If you do this, you can keep the venison in the fridge for many days. It won't get too salty.
As far as smoking is concerned, you want to smoke slow and low. I prefer to keep the smoker (I use a Traeger here) at 185°F. Wood choice is up to you, but I like mesquite or hickory. Fruit woods are another good option.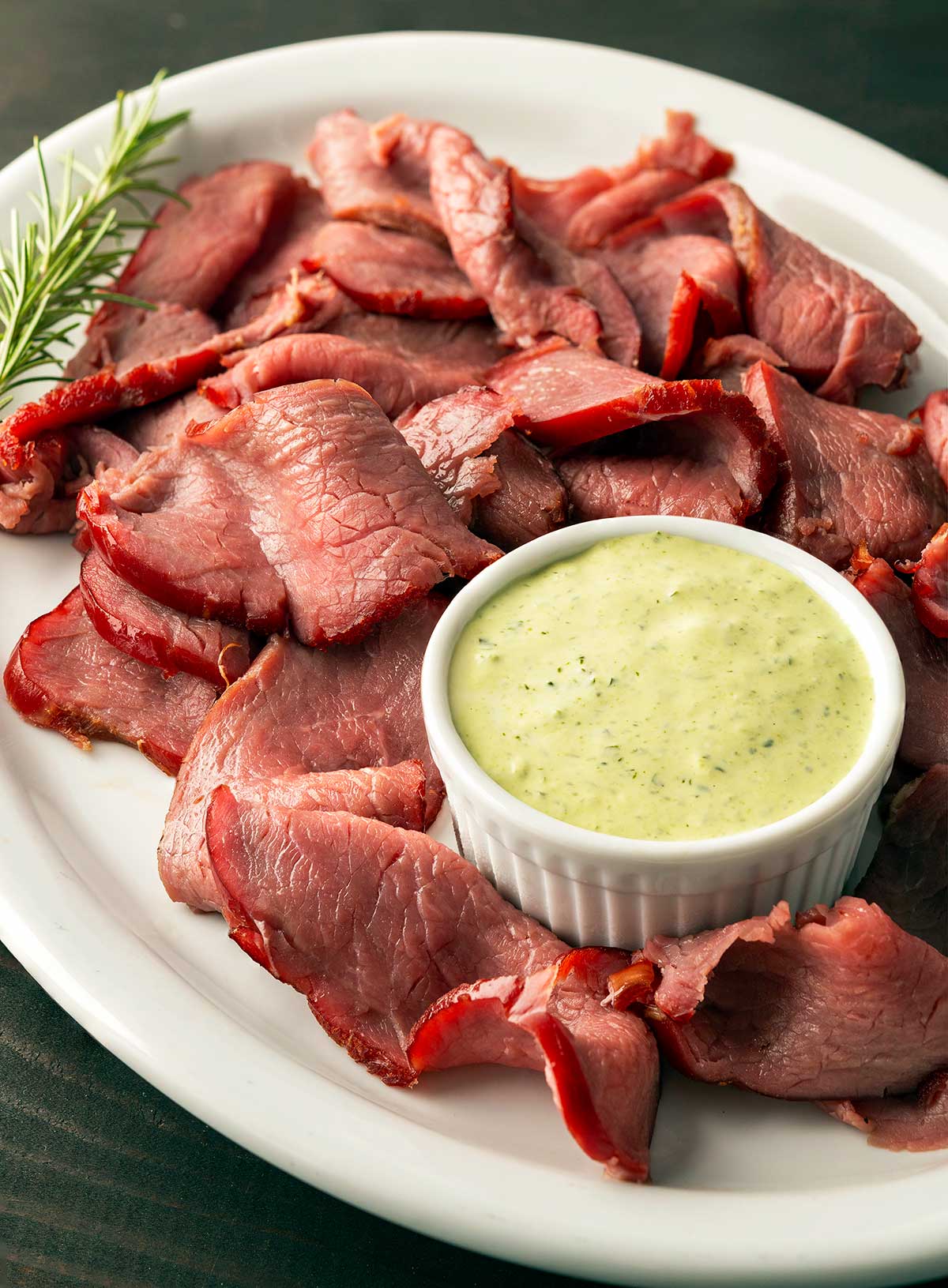 Get the smoker going and have it at the target temperature before you add the meat. To get the best smoke ring on your smoked venison backstrap, you will want to move it right from the fridge to the smoker. Take the meat out of the plastic bag and briefly rinse it, then pat dry with paper towels.
A bit of science: A smoke ring will develop only until the meat hits about 140°F. The slower this happens, the thicker the ring. Now, with this method, you will be pulling the meat before 140°F so it will have been working on that smoke ring the whole time.
I like to insert a probe thermometer into the backstrap so I know when to pull it. However you do it, pull the meat when it hits 130°F to 140°F, or medium-rare. I prefer the low end of this scale. At 185°F, that normally takes about 3 to 4 hours — a good long smoke for a tender cut of meat.
How to eat your smoked venison backstrap? Any way you like. I prefer to slice it thin and eat with sandwiches. The sauce you see in the picture is cilantro and roasted Hatch chiles pureed with mayo, black pepper and smoked salt. Damn sight better than regular mayo, no?
Smoked Venison Backstrap
This method will work with the backstrap (loin) of an red meat animal, from deer, elk, pronghorn, moose and caribou, to sheep, goats, nilgai... and yes, cows. Once made, it will keep a week in the fridge.
Ingredients
2

pounds

venison loin,

in one piece

Salt

(See headnotes)
Instructions
Weigh the meat in grams. Weigh out 1.5% of that weight in salt; you can go as high as 2%. Massage the salt into the meat well. Vacuum seal the meat and set it in the fridge for 2 days, longer if you are using elk or moose or something else thick. You cannot leave this too long -- it won't get too salty, so you can leave the meat in the fridge a week if you wanted to.

Get your smoker going; wood choice is yours. Try to keep it below 200°F. When it's ready, rinse the meat, then pat it dry with paper towels. If you have a probe thermometer, insert it into the thickest part of the backstrap. Smoke until it reaches about 135°F, which should take between 2 and 4 hours. Slice and eat.
Notes
NOTE: The curing time is so long because you want the meat to be salted all the way to the center. You can skip this long salting if you want, but the interior of meat will be bland. 
Nutrition
Calories:
340
kcal
|
Protein:
68
g
|
Fat:
5
g
|
Saturated Fat:
2
g
|
Cholesterol:
179
mg
|
Sodium:
129
mg
|
Potassium:
903
mg
|
Calcium:
14
mg
|
Iron:
9
mg
Nutrition information is automatically calculated, so should only be used as an approximation.