Deep Fried Doves
August 31, 2015 | Updated October 28, 2020
As an Amazon Associate I earn from qualifying purchases.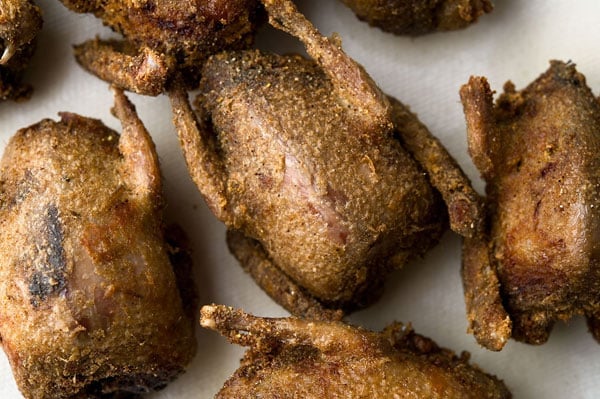 Fried doves? Yes, please!
While it's true I grill most of my doves, frying them is every bit as good and is a nice change of pace.
I initially came up with the idea for this dish after reading a 1940s recipe for deep-fried doves in Roy Wall's Fish And Game Cookery. His recipe is old school, with the doves fried in shortening and served with a Southern milk gravy. Good, but not my style.
I prefer this Cajun style, and as finger food, with no gravy. All that means is you dredge the little birds in corn flour — basically Louisiana fish fry mix — with some Cajun or Creole seasoning, and fry in peanut oil. Damn good.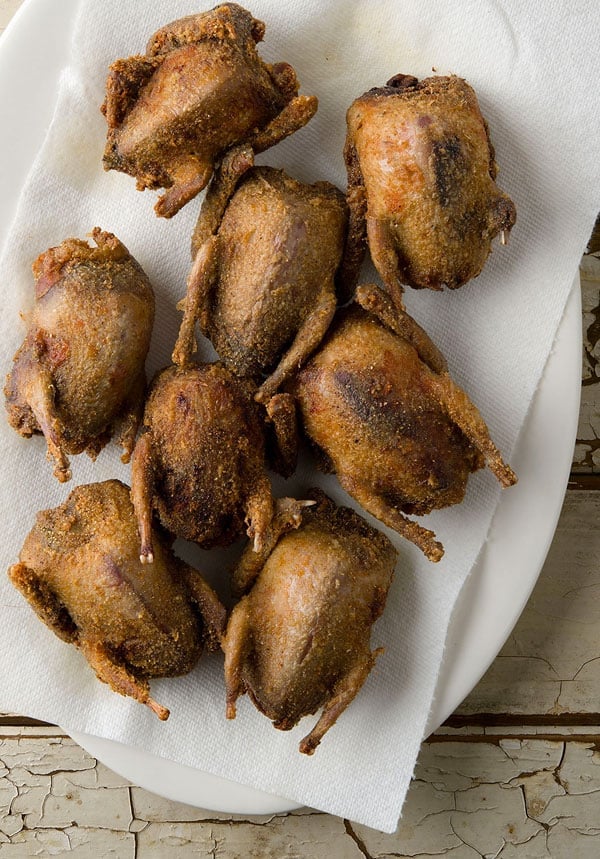 Another alternative is to go Middle Eastern, Turkish, really. I like frying things in chickpea flour, which is available in good supermarkets, Italian and Indian stores. You could substitute in some other earthy-tasting flour: The easiest alternative would be whole wheat. I'll lace the flour with a typical mixture of Middle Eastern spices: garlic, chile, cumin, sumac and fenugreek.
You could do any kind of spice mix you want. Just don't go with a thick batter, which gets in the way of enjoying the doves.
OTHER GREAT DOVE RECIPES
I have 25 dove recipes here on Hunter Angler Gardener Cook, ranging from Moroccan-inspired bacon-wrapped doves to grilled doves Cajun style. Some great Labor Day grilling or barbecue options include: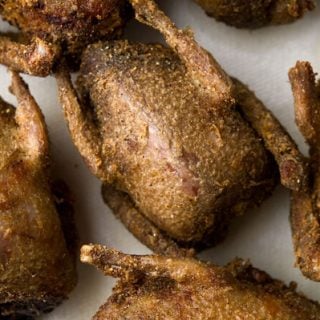 Fried Whole Doves
Doves are my usual bird for this recipe, but any small bird will work. Quail is a great choice, would a partridge or young pigeon. What to serve this with? Rice is nice, like a jambalaya or even just white rice. A salad is another good option, like a tomato salad or one with roasted red peppers. But mostly I just eat these as appetizers for a party.
Ingredients
8

to 12 doves,

plucked and gutted

Salt
CAJUN OPTION
1 1/2

cups

of fine cornmeal

("fish fry" mix)

2

to 3 tablespoons Cajun seasoning

Remoulade,

for Cajun doves
MIDDLE EASTERN OPTION
1 1/2

cups

whole wheat or chickpea flour

1

tablespoon

garlic powder

1

tablespoon

sumac

(optional)

1

tablespoon

cumin

1

tablespoon

cayenne,

or to your taste

1

teaspoon

fenugreek

(optional)

Oil for frying
Instructions
Wash the doves and set aside at room temperature for 30 to 45 minutes.

Pour the oil — I use canola or peanut or cheap olive oil — into a deep-fryer or heavy, high-sided pot like a Dutch oven. A fryer will have a fill line. Pour no more than 2/3 of a pot's depth, and half is better. Don't worry, you can reuse the oil. Heat the oil slowly, over medium heat, to 350°F. If you are using olive oil, keep it at 340°F.

Meanwhile, mix the flour or cornmeal and all the spices together in a bowl and coat the doves. Make sure you get it into the cavity, too.

When the oil is hot, drop in a couple doves at a time and let them fry for 5 to 7 minutes, turning them to be sure they are golden brown all over. Let drain on a wire rack in an oven set to 'warm.' Serve with a bowl for the bones and give your guests plenty of napkins.
Nutrition information is automatically calculated, so should only be used as an approximation.