Fried Doves and What They Eat
September 01, 2017 | Updated June 16, 2020
As an Amazon Associate I earn from qualifying purchases.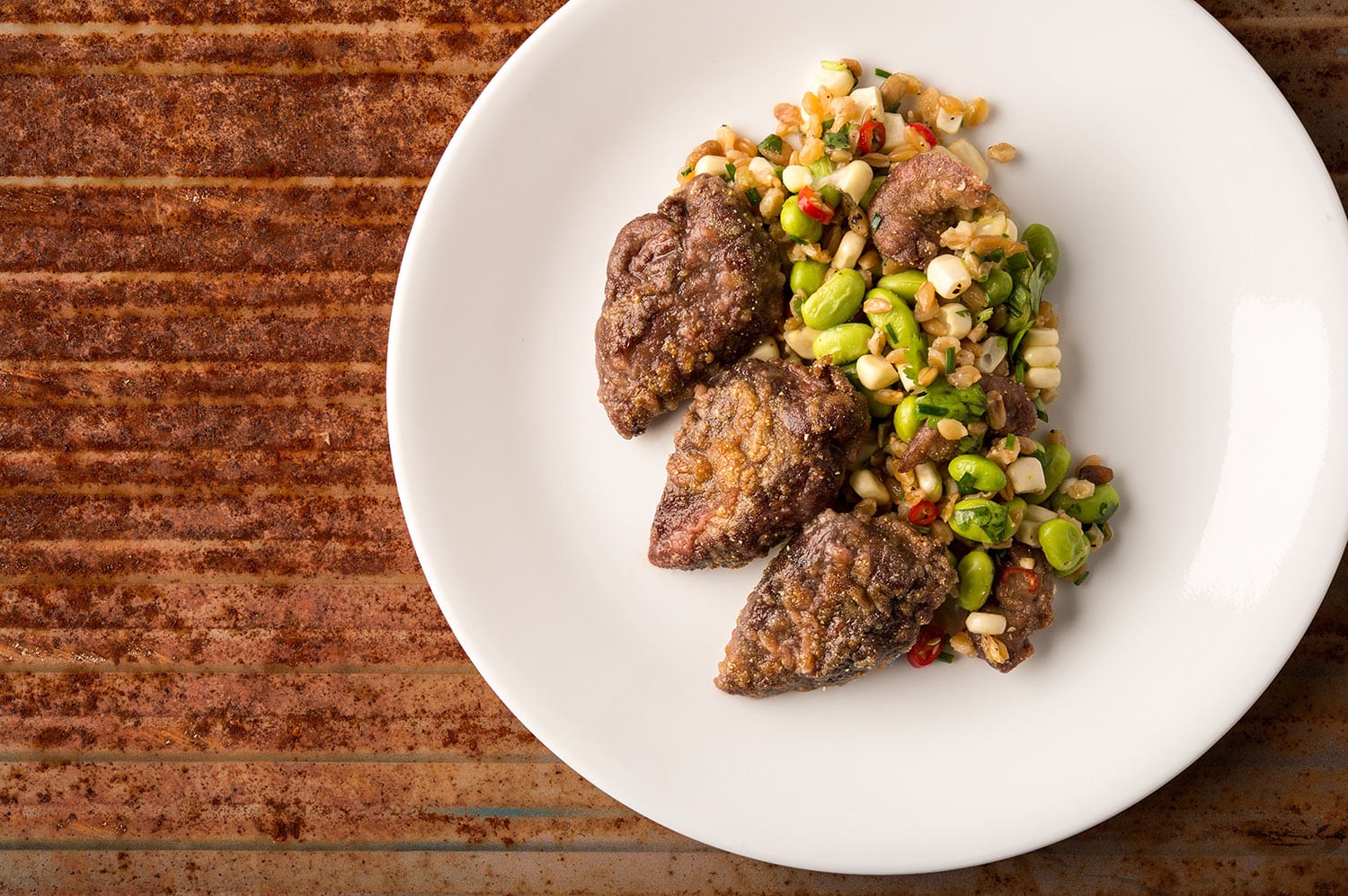 What goes together in life goes together on the plate.
It's a truism in the cooking world, and this maxim has been my guide over many years. Dishes like Partridge Montana, Snow in Winter, and Rockfish with Kelp Pasta all came out of a close observation of what an animal eats, or the environment in which it lives, and translating that observation into a plate of food.
This, ladies and gentlemen, is a plate of dove… and what doves eat.
Doves are seed eaters by and large. And they happen to appreciate our farm country, stuffing their crops with safflower, sunflower, wheat, millet, corn, soybeans and even peanuts. I read a dozen studies of dove food habits dating back 60 years, from all over the country, and these are the main crops doves seem to like best. They're also partial to cowpeas, amaranth, sorghum, millet, Indian ricegrass, as well as lots of other seeds we don't normally eat.
Rolling all this about in the soup of my brain, a dish immediately surfaced. I'd make a quick broth from the carcasses of some doves and use that to cook some wheat berries. You could of course use pre-made broth and just dove breasts. I'd make a pilaf based on the wheat, which seems to be the most common crop doves eat nationwide, and add various other things doves like to eat.
I'd dust the dove breasts in other things doves eat: flour, corn flour (a/k/a fish fry), as well as some peanut flour, which, if you've never used it, is an amazing thing to flour meat or fish with.
The oil to use kinda had to be sunflower oil, as sunflowers are a favorite dove food. I used a refined one to fry the doves, a cold-pressed, unrefined sunflower oil for the pilaf.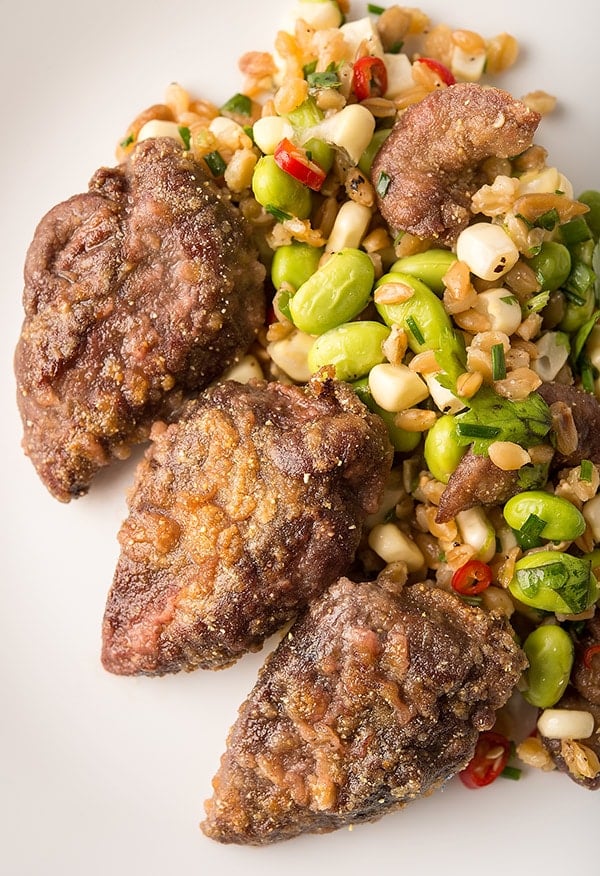 Finally, I added some Southwestern influences to the dish. After all, the Desert Southwest from SoCal to Texas is the hub of dove hunting in this country. So in went limes, cilantro and a little chile.
I have to say, this dish is a knockout. Even better than I'd expected.
Frying the dove breasts in hot sunflower oil kept them pink on the inside, and every bite of the pilaf was exciting: Sweet corn, hot chiles, tart limes, rich sunflowers and sunflower oil, fresh herbs and edamame, chewy wheat berries.
And you know what's even better? This is pretty easy to make. It's just fried dove breasts with a simple grain salad — none of the ingredients except the peanut flour are hard to find, and you can skip the peanut flour if you'd like.
So give this fried dove breast recipe a go this dove season. May you shoot well and eat better!
OTHER GREAT DOVE RECIPES
I have 25 dove recipes here on Hunter Angler Gardener Cook, ranging from Moroccan-inspired bacon-wrapped doves to dove poppers. Some great Labor Day grilling or barbecue options include:
Fried Dove Breasts with Wheat Pilaf
The point of this recipe is to eat doves with what they eat. Most of the ingredients in the pilaf are common food items in a dove's diet, and are pretty easy to find in a market. If you can't find wheat berries, use barley.
Ingredients
PILAF
1

cup

wheat berries

2

cups

dove stock or other stock

Salt

1 1/2

cups

edamame (soy) beans,

fresh or frozen

1 1/2

cups

sweet corn kernels

1/2

cup

roasted, salted sunflower seeds

1 to 3

hot chiles, such as arbol or cayenne,

thinly sliced

1/4

cup

chopped cilantro or parsley

1/4

cup

chopped chives

Zest and juice of 2 limes

1/4

cup

sunflower oil
DOVE
12 to 16

dove breasts

(both halves)

salt,

smoked if you have it

1/2

cup

flour

1/2

cup

corn flour

(fish fry)

3

tablespoons

peanut flour

(optional)

Sunflower or other vegetable oil for frying
Instructions
Pour the stock and another cup or two of water into a small pot and add the wheat berries. Bring to a boil, taste for salt, then drop the heat to a simmer. Simmer the wheat while you prep everything else. It should take about 30 minutes to get tender.

In another pot, bring a few cups of water to a boil and salt it. Boil the edamame for 4 minutes, then drain and rinse under cold water. Put the beans in a large bowl.

Add all the remaining pilaf ingredients to the bowl. When the wheat berries are tender, drain them (discard the stock) and add to the bowl. Mix well and add salt and pepper to taste. Set aside.

Meanwhile, separate the little tenders from the dove breasts. Salt them all on a cutting board and let the salt penetrate for 10 to 20 minutes.

Heat the frying oil in a large, wide pan over medium-high heat. Mix the flour, corn flour and peanut flour together. Dust the dove tenders in this and fry for a minute or two. Move the tenders to the pilaf bowl and mix in.

Make sure the oil is hot, about 350 degrees Fahrenheit. Dust the dove breasts in the flour mixture, shake off the excess and fry in the hot oil. You should only need about 90 seconds to 2 minutes per side. Serve hot alongside the pilaf.
Nutrition information is automatically calculated, so should only be used as an approximation.