Roast Hungarian Partridge
November 09, 2011 | Updated June 23, 2020
As an Amazon Associate I earn from qualifying purchases.
I had high hopes as we walked across the alfalfa field. After all, there were three of us hunting, and two seasoned pointers worked the ground in front of us. This would be the day I'd finally get a Hungarian partridge. It took only a few minutes to find them. Rick! Rick! Rick! Rick! We heard the little birds chattering at us from somewhere up on a knoll, above the cultivated field and well into the scrubby hillside brush. "Up there!" I pointed to where the sound was coming from; while my eyesight is nothing special, I can often hear birds well before anyone else.
We planned our approach, and had the dogs work close to us so they wouldn't flush the covey before we could get in close enough for a shot. Shotguns at the ready, we moved in on the hillside. Brrrrrrrr! A dozen partridges exploded from the grass in all directions, the sound of their wings exciting the dogs. And us. But alas, they were gone.
"What?! They flushed more than 150 yards out?" All of us, dogs and people, stood there wondering. My friends, who live in this stretch of south-central Montana, were perplexed. They hunt partridges around Red Lodge all the time and usually come home with birds. Me? I'd seen this before. It was just what Huns do. In all the years I've seen them, usually somewhere on the vast plains of Montana, I'd never seen a Hun flush at a shootable distance.
So I resigned myself to a tough hunt, where we'd be hiking up and down hillsides and across vast fields of grain and native grasses in a largely vain search for the wily Hungarian partridge. OK, I thought. Forget any absurd notions of shooting a limit of eight birds. Scour from your mind any thoughts of even bagging a quartet of the tasty gallinules. A brace. Hope for a brace of birds. Is a pair too much to ask for?
Apparently it was.
I hunted four days for these birds, walking close to 25 miles, with four other hunters, three excellent pointing dogs, in two separate areas of Montana. What did I come away with? One bird. One. And I did not even shoot it. My friend Todd was the lucky one.
Never, in a decade of hunting, have I ever spent so much time chasing a particular animal with so little success. Now I know four days on a big game hunt is normal, but keep in mind I mostly chase does, not bucks. No bird has eluded me for so long as the Hungarian partridge.
It's not like we never saw any partridges. (If you look closely, you can see them staring at us at the center of this picture.) We saw dozens. In fact, we had decent flushes four times. I even had one legit chance to shoot one, but I whiffed on it. Finding Huns is only the first task. Shooting one is quite another.
Let me back up for a second. Those of you wondering about the name are correct in thinking that this is not a bird native to North America. Perdix perdix is native to the plains of Europe, where it is called the grey partridge. According to Aldo Leopold, the first instance of someone trying to introduce this partridge to America came all the way back in 1790. It failed, largely because at that time we weren't really in control of the part of America that Huns like, i.e., cool, open, largely arid plains.
The real wave of introductions came a century later. Market hunting had already decimated stocks of native game birds, the prairie chicken chief among them, so game managers decided on introducing Eurasian birds to compensate. The pheasant, which hails from the Chinese-Mongolian steppes, is the most famous example. But starting around 1895, Hungarian partridges and chukars (which like life a little more arid and rocky) were set free in as diverse a region as eastern Washington and Oregon, Wisconsin and Iowa, Montana and even Ontario and upstate New York.
This time, the introductions worked. Now Huns can be found all along the northern tier of America, and are concentrated in the high plains of Montana, North Dakota, Alberta and Saskatchewan. I first saw a covey of them while on my inaugural pheasant hunt, a decade ago in South Dakota. They flushed like quail, all at once and off in several directions. I was flummoxed. My friend Chris said, "Yeah, that's what they do. They're really hard to hunt."
No shit, right? In Montana last month, we flushed lots of birds, but because they all flush at once, chattering all the time, they create this wall of sound and flying feathers that requires a tremendous amount of discipline to break through in the second or so you have before they zoom out of shotgun range. I am an experienced wingshooter, but I found myself flock shooting — aiming a the mass instead of one bird — several times.
What's worse, is that, in case you hadn't noticed, it is always windy on the Great Plains. So a covey of flushing Huns can merely tip their wings to the wind and zip off into the next county. All the literature I've read on hunting them says to pursue the covey and flush it several times. By the third of fourth flush they get tired and you can get a better shot. But in our case each flush was a half-mile away, over hillsides and up and down canyons. So there was never really a question about who would get tired first. It was us.
All I can say is thank God we got at least one partridge — and that I will absolutely be back in Montana (or wherever) to chase these crazy birds again. My friend Todd says September is key, so come Labor Day, I know where I'll be.
Partridges in the Kitchen
I left my lone partridge in my truck for three days before I plucked and gutted it. (Read more on hanging game birds here.) The temperature in Montana and Colorado, where I wound up plucking them, was below 55°F in the daytime, and while it got below 32°F at night, the residual warmth of my truck kept the temperature above freezing. And no, neither the partridge nor the pheasant I did manage to shoot during the trip smelled at all.
Plucking a Hungarian partridge is a little easier than a pheasant. (Read more on plucking game birds here.) The skin seems a little stronger, and it responded well to the scalding water treatment.
Once plucked, it looks like a small Cornish game hen, or a big quail. An average Hun will weigh about 14 ounces alive and in the feathers, but this is a single-serving bird at the table — unless you have lots of other dishes to serve, in which case you can get two servings per person.
Flavorwise, Huns are mild. The meat is a little darker than a chicken's or a pheasant's, and Todd either shot a young bird or I got lucky, because the legs were not tough and sinewy like an old pheasant's will be. Imagine a denser, more savory game hen and you get the idea.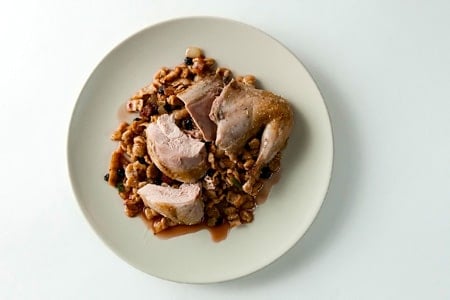 [recipe_name]Hungarian Partridge Montana[/recipe_name]
[summary]Hungarian partridges, chukars and Cornish game hens all cook about the same, so they are all interchangeable in this recipe. Since I only got one partridge, I wanted to make it count — and I also wanted to highlight the wild foods of Montana. It just so happens that wheat, specifically hard winter wheat, makes up the bulk of a Hun's diet. I initially thought about using farro, but I've done that with sharp-tailed grouse already. So I used farro flour to make spätzle, which is also really appropriate because much of Montana's population is of German descent. You could use whole wheat instead.
I tossed the spätzle with some cured pork (guanciale in this case), butter, malt vinegar, sauteed onion, sage (there's a lot of sagebrush in Montana… ) and dried huckleberries. If you can't find dried huckleberries, use Dried Wild Blueberries instead.
For a sauce, I made a simple gastrique — a fancy name for a sweet and sour sauce — of malt vinegar, game bird stock and wild chokecherry syrup I got from Chef Sean Sherman of the Pollard Hotel in Red Lodge, Montana. If you can't find chokecherry syrup, use regular cherry syrup or melt cherry jelly.
Roast Hungarian Partridge
To make the recipe, you roast the partridges whole and then carve them before you serve. You could just cut the birds in half, but then you'd need to negotiate all those bones. Easier, more rustic, but harder to eat. Be sure to rest your partridges after they come out of the oven!
Ingredients
4

Hungarian partridges,

chukars or 2 Cornish game hens

4-5

tablespoons

unsalted butter

Salt
Chokecherry Sauce
1/2

cup

game bird or chicken stock

1/2

cup

chokecherry or cherry syrup

1/3

cup

malt vinegar

Salt to taste
Spätzle
2

cups

farro or whole wheat flour

2

large eggs

1/2

cup

whole milk or half-and-half

1

teaspoon

salt

3

tablespoons

unsalted butter
To Finish
1/4

pound

diced bacon

thick cut or slab, or other fatty cured pork

1

cup

diced onion

1

tablespoon

chopped sage

1/4

cup

dried huckleberries or blueberries

Salt and malt vinegar to taste
Instructions
Start by taking the partridges out of the fridge and trussing them with kitchen twine. (My favorite instructions for trussing a bird are here.) Let them sit at room temperature while you make the spaetzle.

Mix together the farro or whole wheat flour, the eggs, milk and salt into a sticky, semi-loose batter: It should not look like anything you could knead. If it is too tight, add some milk. Cover the batter and let this sit for 30 minutes.

Meanwhile, bring a large pot of water to a simmer. Salt it until it tastes like the sea. Have a large bowl of ice water ready. Once the spaetzle batter has rested, use a spätzle maker or a colander with large holes to drop the spätzle into the simmering water. Once the little dumplings float to the top, skim the spaetzle off and drop into the ice water. When they are all made, drain off the ice water and lay the spätzle flat on a cookie sheet. Toss with a little oil to prevent them from sticking to each other.

Preheat the oven to 425°F while you are making the spaetzle. When the oven is hot, smear butter all over the partridges and salt them well. Arrange them breast side up in an ovenproof pan (I use a cast iron skillet) so they are not touching each other and roast them in the oven for 22-28 minutes. Use a thermometer to gauge doneness: You are looking for about 150-155°F in the thigh area of the bird.

While the birds are roasting, make the chokecherry sauce. Boil the chicken stock down by half, then add the remaining ingredients. Boil this down by half, or until the sauce coats the back of a spoon. Taste for salt and keep warm.

When the partridges are nicely roasted, take them out of the hot pan and let them rest on a cutting board. Pour any melted butter and juices over them and loosely tent with foil.

To finish the spätzle, heat the butter over medium-high heat and saute the bacon and onions for 3-4 minutes. Add the spätzle, sage and huckleberries and toss to combine. Heat until the spätzle are warmed, about 2-3 minutes more. Add salt and malt vinegar to taste.

To serve, put down some spätzle on each plate. Carve the partridges and arrange the meat over the spätzle. Drizzle a little chokecherry sauce around the edges of the dish. Serve at once with a big white wine, like a Cotes du Rhone blend, a buttery Chardonnay or a Viognier, a dry rose or a light red like a Gamay or Pinot Noir, or, if you are a beer drinker, a malty brown ale or Scottish ale.
Nutrition
Calories:
1169
kcal
|
Carbohydrates:
79
g
|
Protein:
98
g
|
Fat:
52
g
|
Saturated Fat:
18
g
|
Cholesterol:
156
mg
|
Sodium:
965
mg
|
Potassium:
1274
mg
|
Fiber:
8
g
|
Sugar:
31
g
|
Vitamin A:
780
IU
|
Vitamin C:
3
mg
|
Calcium:
117
mg
|
Iron:
20
mg
Nutrition information is automatically calculated, so should only be used as an approximation.