Sweet Italian Sausage
March 19, 2014 | Updated June 18, 2020
As an Amazon Associate I earn from qualifying purchases.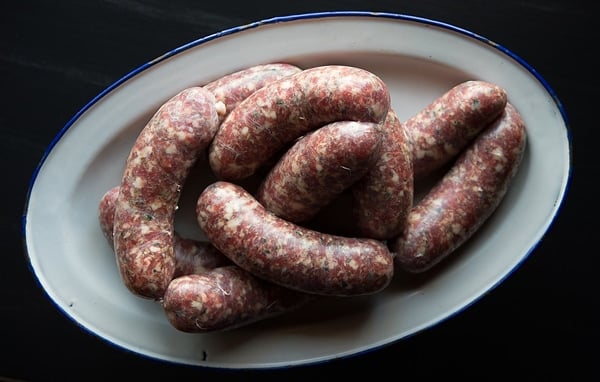 With the possible exception of the hot dog, no sausage looms larger in my mind than does the simple sweet Italian sausage. I've eaten more of this type of link than any other — including hot dogs — and I've been making it, off and on, for nearly 20 years.
This is the sausage swimming in the spaghetti sauce. It's the one you eat with peppers and onions. It's the stuffing for pretty much everything, the base for meat sauces and the star of many a sandwich.
Originally a sausage made by and for Italian immigrants to the United States, according to the Oxford Encyclopedia of Food in America, this style spread in popularity across the country after Word War II, when returning GIs who'd eaten real Italian sausages wanted that flavor back home.
Virtually every supermarket worth its salt makes their own, and virtually every home sausage-maker has his or her own version. This one's mine, developed over the years.
Sweet Italian sausage has a few commonalities no matter who makes it. For starters, "sweet" is a misnomer, although there is sugar in many recipes, including mine. The term sweet is mostly to differentiate this sausage from the hot Italian sausage, which will have lots of red pepper in it.
Fennel is another constant. If a sweet Italian link doesn't have whole fennel seeds in it, something just doesn't seem right to me. Lots of green things, typically chopped parsley, is another constant. Use fresh parsley here, too.
I prefer my Italian sausage a bit coarse, but not so coarse it won't bind. My grinder only does coarse and fine, so I improvise by grinding half the mixture coarse and half fine; I find that this gets me the consistency I grew up with.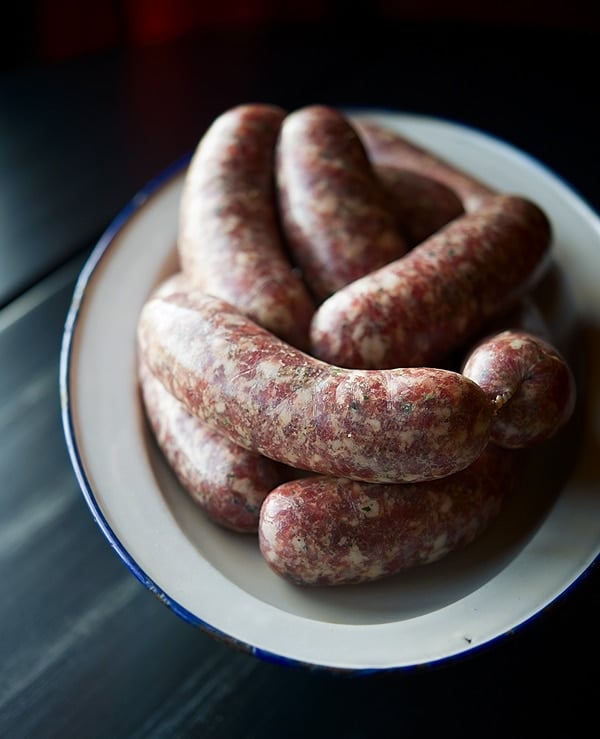 A word on fat. Good Italian sausage is fatty. My recipe below is about the minimum amount of fat-to-meat you want to go. Sometimes I go with 3 1/2 pounds of meat to 1 1/2 pounds of fat. You can also use some really fatty pork shoulder, too: Ask your butcher to give you a five-pound hunk before he's trimmed it.
That's it, really. This is a very simple sausage, a utility link you will find yourself making over and over because while it has great flavor on its own, this sausage goes well with all kinds of dishes (especially my Bolognese sauce).
New to making sausage? You can find my detailed tutorial on how to make sausages at home here.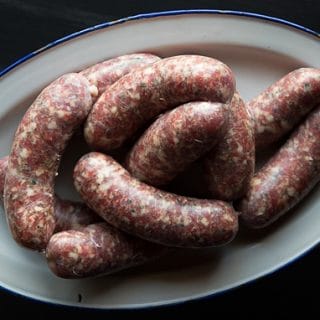 Sweet Italian Sausage
This sausage is really best with some sort of pig, whether it's domesticated pork or wild hogs. I've tried it with other meats and it's not as good. Black bear comes close, but it's a little too red to look right. Keep in mind my recipe is what I like, and it's representative of the typical sweet Italian sausages you will get all over the country. You can vary the seasonings to your taste. If you can get fennel pollen, it really adds a lot to the flavor. All butcher shops carry hog casings, and some supermarkets will sell them to you, too. Or you can buy sausage casings online.
Ingredients
4

pounds

of lean

(ish) pork or wild boar

1

pound

of pork fatback

36

grams

of kosher salt,

about 2 tablespoons plus 1 teaspoon

30

grams

of sugar,

about 3 tablespoons

18

grams

of fennel seeds,

about 2 heaping tablespoons

10

grams

freshly cracked black pepper,

about a heaping teaspoon

1

gram

of nutmeg,

about 1/4 teaspoon

1

teaspoon

dried oregano

1

heaping teaspoon fennel pollen

(optional)

1/2

cup

chopped fresh parsley

1/2

cup

white wine,

chilled

Hog casings

(if you are linking your sausage)
Instructions
Get out about 15 to 20 feet of hog casings and soak them in warm water.

Cut the meat and fat into chunks you can fit into your meat grinder. Mix together the salt, sugar, half the fennel seeds, black pepper, nutmeg, oregano and fennel pollen, then mix this with the meat and fat until every piece has a little on it. Put in the freezer until the meat and fat are between 30°F and 40°F. Put your grinder parts (auger, dies, blades, etc) in the freezer, too, and put a bowl in the fridge.

Grind half of the mixture through the coarse die on your grinder, and half through the fine die. This creates a more interesting texture. If your meat mixture is still at 35°F or colder, you can go right to binding. If it has heated up, you need to chill everything back down. Use this time to clean up the grinder.

Once the meat is cold, put it in a large bin or bowl and add the remaining fennel seeds, white wine and parsley. Mix well with your (very clean) hands for 2 to 3 minutes -- a good indicator of temperature is that your hands should ache with cold when you do this. You want to to mix until the meat binds to itself. You can also do this in a stand mixer set on its lowest setting, but I find you don't get as good a bind as you do when you do this by hand.

You now have Italian sausage. You can leave it loose, form it into patties, or link it. I link mine most of the time. Put the loose sausage into a stuffer and thread a casing onto it. Stuffing sausage is easier with two people, one to fill the links, the other to coil, but I do it solo all the time. Stuff the links well but not super-tight, as you will not be able to tie them off later if they are too full. Don't worry about air pockets yet. Stuff the whole casing, leaving lots of room on either end to tie them off; I leave at least three inches of unstuffed casing on either end of the coil.

To form the individual links, tie off one end of the coil. Now pinch off two links of about six inches long. Rotate the link between your hands forward a few times. (Here's a quick video on making the links) Look for air pockets. To remove them, set a large needle or a sausage pricker into a stovetop burner until it glows (this sterilizes it), then pierce the casing at the air pockets. Twist the links a little and gently compress them until they are nice and tight. Repeat this process with the rest of the sausage.

Hang your links on a wooden clothes drying rack for at least an hour, or up to overnight if you can hang them in a place that doesn't get any warmer than 40°F or so. This lets the links cure a little, filling their casings and developing flavor. Once you've taken the links off the hanger, they can be refrigerated for up to 3 or 4 days, or frozen for up to a year.
Nutrition
Calories:
98
kcal
|
Carbohydrates:
3
g
|
Protein:
11
g
|
Fat:
4
g
|
Saturated Fat:
1
g
|
Cholesterol:
37
mg
|
Sodium:
742
mg
|
Potassium:
223
mg
|
Fiber:
1
g
|
Sugar:
2
g
|
Vitamin A:
130
IU
|
Vitamin C:
2.6
mg
|
Calcium:
25
mg
|
Iron:
1
mg
Nutrition information is automatically calculated, so should only be used as an approximation.