Duck Stir Fry with Scallions
November 10, 2014 | Updated October 28, 2021
As an Amazon Associate I earn from qualifying purchases.
Duck stir fry is the ideal recipe to make with skinless duck breasts, which are something that many hunters tend to have a lot of. But this recipe is still great with store-bought, domesticated duck breasts.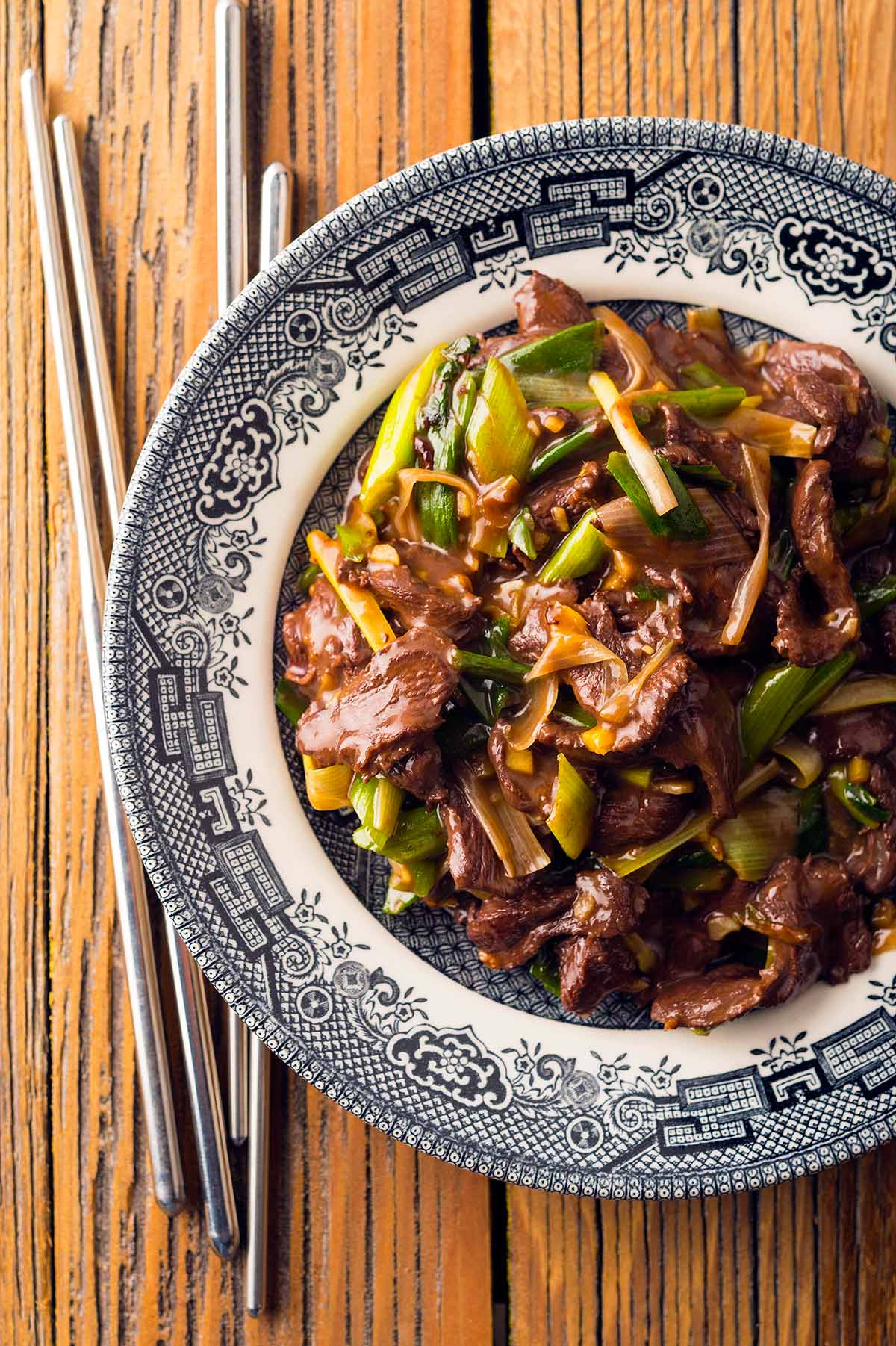 I know a lot of hunters who skin and breast out their ducks and geese. This frustrates me when I see them doing this to a nice pintail, mallard, canvasback or specklebelly goose. These and lots of other waterfowl have lovely, sweet fat that, to me, is every bit as much a part of the enjoyment of duck as the meat itself.
That said, there are ducks that I do skin, although I always use the leg meat, too. Spoonies, snow geese, stinky diver ducks — which can be of any species, as the stink hinges on diet and location — and all sea ducks. (Here are other great ways to cook sea ducks if you are interested.)
Sea ducks get a bad rap. Yes, you do need to remove all the skin and fat from them or they will be unbearably fishy. And no, they will never be as lovely as a pintail or green-winged teal. But they are perfectly good in any recipe where you need skinless meat. This duck stir fry is one of them.
This recipe is a very basic stir fry done in an authentic Chinese way; it's an adaptation from one I found in the excellent book by Eileen Yin-Fei Lo, Mastering the Art of Chinese Cooking. Many Chinese stir fries (other countries stir fry, by the way) do this three-part deal: marinate the meat or seafood, build a sauce and then do the final stir fry.
It might look complex, but it isn't. The things you need to remember are:
Have everything ready when you cook. That's vital. You can't still be cutting onions when they are needed in the wok, because, as you see in the cooking time below, stir fries can literally come together in 3 minutes.
For a really good stir fry, you will also need a wok. The one I just linked to is the one I use; it's cheap and easy to clean. If you're really into Chinese cooking, you'll want a carbon steel wok, but that's another post. That said, I've done stir fries in a regular frying pan and it works, although not quite as well.
Finally, you will want to cook this dish on your strongest burner set all the way to high. You want hot, hot, hot. Chinese cooks call it the "breath of the dragon."
My advice is to make the rice first, and let it rest while you make the duck stir fry. You can have the whole shebang done in 30 minutes. If you extend the marinating time, it creates a better glaze on the pieces of meat, keeping them juicier.
Holly and I ate this dish with gusto. And I'll tell you true: There was not one hint, one iota of nasty fishy flavor. And we used surf scoters for the meat. Give it a go with your next "off" birds and you'll see.
For some other wild game stir fries, try my venison stir fry, kung pao pheasant, wild mushroom stir fry, and ground meat (pork, venison, bear, etc.) stir fry. Hope you like them!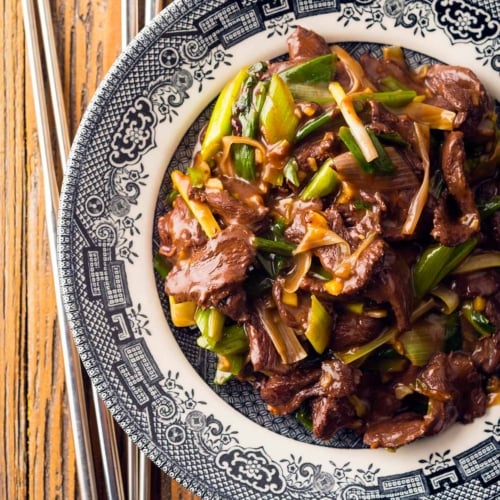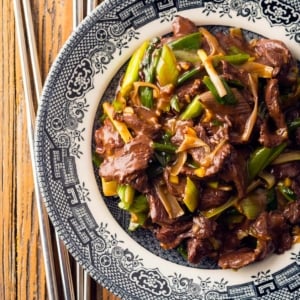 Duck Stir Fry with Green Onions
This recipe is pretty malleable. If you don't like green onions, sub in regular onions, green beans, snow peas, bok choy, Napa cabbage or other greens, asparagus... you get the point.
Ingredients
MEAT
1

pound

skinless duck

or venison, beef, lamb, etc
MARINADE
1/4

cup

soy sauce

1

tablespoon

sesame oil

1

tablespoon

peanut or vegetable oil

1 1/2

teaspoons

rice vinegar

2

teaspoons

corn starch

2

teaspoons

sugar
SAUCE
1/4

cup

chicken stock

1

tablespoon

soy sauce

2

teaspoons

rice vinegar

1

tablespoon

Shaoxing wine or sherry

2

teaspoons

corn starch

2

teaspoons

sugar

A healthy pinch of salt
TO FINISH
3

tablespoons

peanut or vegetable oil

1/2

pound

scallions,

green onions, about 2 bunches, cut into 1 1/2 inch lengths

3

garlic cloves,

minced

A 2-inch piece of ginger,

peeled and minced

1

tablespoon

Shaoxing wine or sherry

Sesame oil to drizzle
Instructions
Slice the duck into thin slivers; you're looking for 1/8 inch thick. Mix all the marinade ingredients together in a bowl and add the slivered duck meat. Mix well with your (very clean) hands so every piece of duck has some of the marinade on it. Cover the bowl and set it in the fridge for 20 minutes.

Mix together all the sauce ingredients and set that in a bowl. Get all your other ingredients ready and set them near your wok. If you don't have a wok, use a large frying pan. Take the duck meat out of the fridge.

Heat 1 tablespoon of the peanut oil in the wok over high heat until it just barely begins to smoke. Add the green onions and stir fry for 30 seconds to 1 minute, or until they're all wilted. Remove them and set them in a bowl for the moment. Wipe out the wok.

Add the remaining peanut oil and stir fry the ginger and garlic over high heat for 30 seconds. Add the duck meat and stir fry until you can't see any pink spots in the meat. Add the Shaoxing wine and stir fry a second or two, then add the sauce -- be sure to stir the sauce before you add it or all the corn starch will have sunk to the bottom. Return the green onions to the wok. Stir fry this for 1 to 2 minutes, until the sauce thickens and turns glossy.

Turn off the heat, drizzle some sesame oil over everything and serve at once with rice.
Notes
Note that prep time includes passive marinating time. 
Nutrition
Calories:
239
kcal
|
Carbohydrates:
13
g
|
Protein:
26
g
|
Fat:
9
g
|
Saturated Fat:
2
g
|
Cholesterol:
88
mg
|
Sodium:
1158
mg
|
Potassium:
525
mg
|
Fiber:
2
g
|
Sugar:
6
g
|
Vitamin A:
625
IU
|
Vitamin C:
18
mg
|
Calcium:
51
mg
|
Iron:
6
mg
Nutrition information is automatically calculated, so should only be used as an approximation.