Ground Pork Stir Fry
August 06, 2020 | Updated September 03, 2021
As an Amazon Associate I earn from qualifying purchases.
Ground pork stir fry is super easy, takes less than 30 minutes, and is damn tasty. What's more? This recipe has a cool name… flies' heads.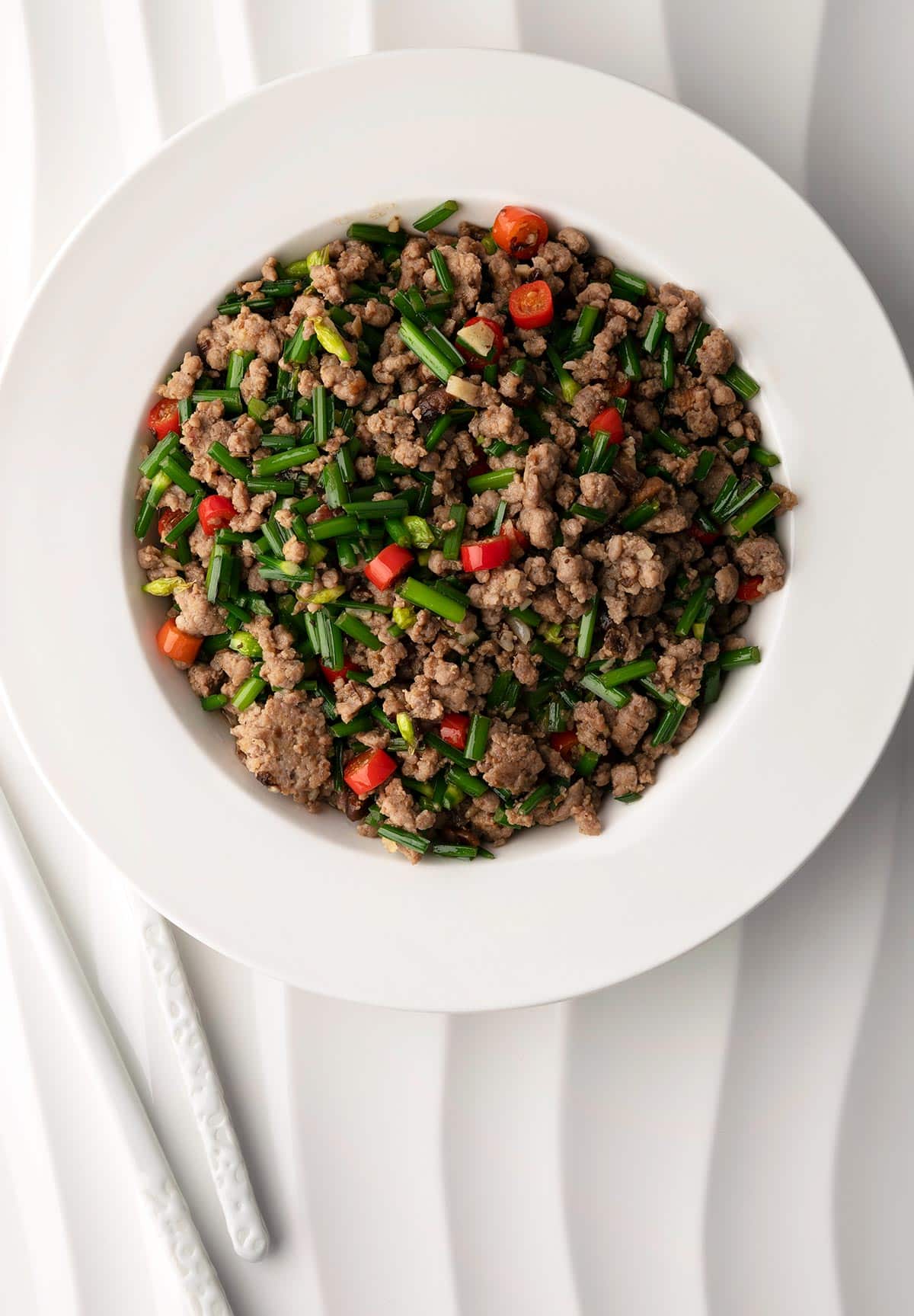 Anyone who's eaten enough Chinese food knows that they have some fun names for their dishes. Phoenix claws? Those would be chicken feet. Lion's head meatballs? No lion involved, these are pork. And who can forget Happy Family? That's a Chinese-American dish in which every disparate ingredient can live happily with one another.
So, um… flies' heads? Ew. Definitely a tongue-in-cheek name, this is really just a simple ground pork stir fry with lots of garlic chives, chiles, and flies' heads — actually fermented black beans.
Apparently the origins of this dish are in Sichuan, but it has become identified with Taiwan. It comes together in minutes, and is pretty as it is tasty, "flies' heads" notwithstanding.
And while most of you will make this a ground pork stir fry, mine is a ground javelina stir fry because that's what I had in my freezer. Javelina are distant relatives of pigs, and the meat is extremely similar.
That said, any ground meat will do here, although I do like it best with porky things. Ground poultry or rabbit would be my next choice.
This particular stir fry hinges on three ingredients besides the ground pork: Garlic chives, ideally the flowering stalks of those chives; fermented black beans; and red chiles. Getting this right makes a difference in the final dish.
Flowering stalks of Chinese chives or garlic chives are pretty much only available in Asian markets. So if that is not an option, my preferred substitution would be to use lots and lots of regular chives — lawn onions are a great choice and are likely in your yard right now. No chives or lawn onions? Regular green onions or scallions will work.
Fermented black beans have no substitute. You need them, or there will be no flies' heads in your ground pork stir fry. And where's the fun in that? They add a deep, funky touch to an otherwise light and clean stir fry, so you will want them. You can buy fermented black beans online if you have no Asian market near you, but very often the "Asian" aisle in mainstream supermarkets will have have something similar: Garlic black bean sauce. That will work in a pinch.
Finally, you need to find a balance with pretty red chiles and heat. I used a semi-hot chile called sinahuisa, which is like a small, mild serrano. Fresh chiles are what you want here, if possible, and they should be smallish and cut into little rings. Thai, serrano or red jalapenos are good options, but the get the closest, I'd look for Fresnos, which are pointy red jalapeno-like chiles in many supermarkets.
If you can't find any of these, cut a red bell pepper in small dice and add some cayenne or chile flakes.
This stir fry comes together in minutes and is a great weeknight dinner served with simple steamed rice. If you're looking for some other cool Chinese stir fries, try my pork stir fry with asparagus, or duck stir fry with scallions, or venison stir fry.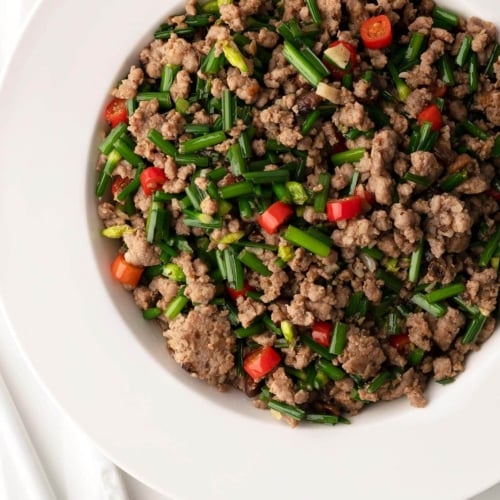 Ground Pork Stir Fry
Classic Taiwanese "flies' heads" stir fry, done with ground pork or something similar. This is a pretty standard recipe that has little variation from cook to cook; mine is based on a rendition in the excellent book Phoenix Claws and Jade Trees by Kian Lam Kho.
Ingredients
1

pound

ground pork

1

tablespoon

soy sauce

1

teaspoon

white pepper

2

tablespoons

peanut or other cooking oil

2

cloves

garlic, minced

2 to 3

cups

garlic chives, cut into 1/4-inch pieces

3

tablespoon

fermented black beans

(see headnotes above)

1/2

cup

red chiles, sliced into small rings

(see headnotes above)

3

tablespoons

Shaoxing wine or sake

Salt to taste
Instructions
Sprinkle the soy sauce and white pepper over the ground meat and mix it in well with your (very clean) hands. Set it aside as you cut the other vegetables.

In a wok or large pan, heat the oil over very high heat until it just barely begins to smoke. Add the ground pork and stir fry until it's no longer pink. Remove the pork from the wok.

If there is no oil left in the wok, add a tablespoon. When it's hot, stir fry the garlic for a few seconds, then the remaining ingredients, including the pork. Stir fry until the chives are a bit wilted and bright green, about 2 minutes. Serve at once with steamed rice.
Notes
I use ground wild pork here, but obviously store-bought ground pork works, too. And really? Any ground meat will be fine. 
Keys to Success
Ideally you can get the fermented black beans, which are the "flies' heads" in this dish. But if not, regular black bean paste you see in many supermarkets will do. 
I grow the little red chiles, which are basically serranos, but red ones can be tough to find. Green serranos are fine, and for added heat use Thai chiles. 
Garlic chives are easy to get in Asian markets, but use regular green onions if you don't have one near you. 
Nutrition
Calories:
433
kcal
|
Carbohydrates:
8
g
|
Protein:
25
g
|
Fat:
33
g
|
Saturated Fat:
10
g
|
Cholesterol:
82
mg
|
Sodium:
769
mg
|
Potassium:
576
mg
|
Fiber:
3
g
|
Sugar:
3
g
|
Vitamin A:
2787
IU
|
Vitamin C:
69
mg
|
Calcium:
74
mg
|
Iron:
2
mg
Nutrition information is automatically calculated, so should only be used as an approximation.