Mushroom Stir Fry
July 09, 2020 | Updated March 29, 2021
As an Amazon Associate I earn from qualifying purchases.
In China, there is no one true mushroom stir fry, but this recipe is as close as it gets to the core idea of it.
I have seen this recipe, with minor variations in any number of cookbooks from Sichuan, Hunan and Yunnan — and Yunnan is a mushroom hotspot in China, home to a very, very close cousin of the mushroom I am using here, the tongue-twistingly named Butyriboletus primiregius, a/k/a the spring butter bolete of the West Coast.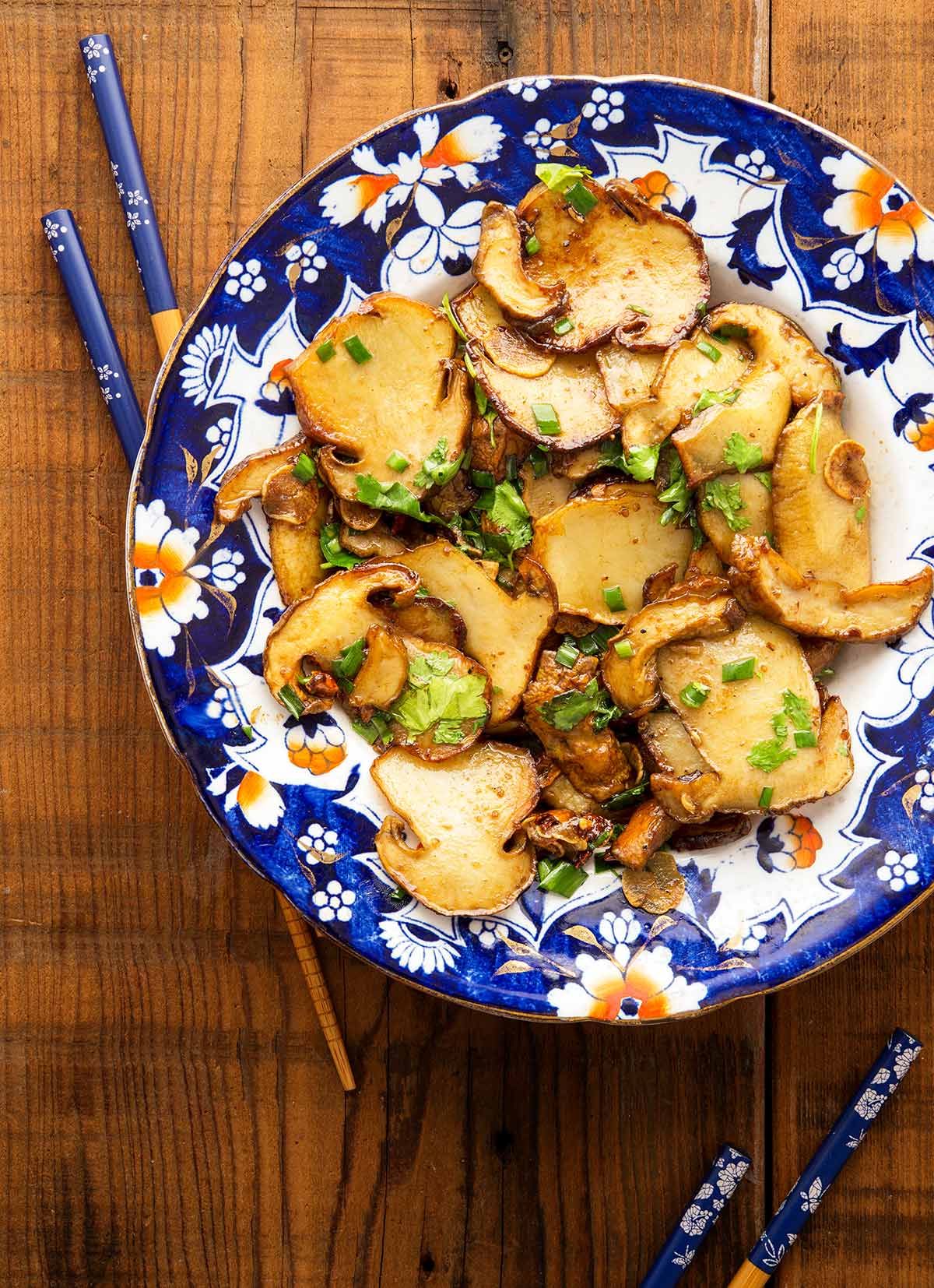 As you can see, this is, more or less, the porcini many of you already know. Butter boletes are denser and much firmer, however, and this makes them especially useful in this mushroom stir fry. If you do use them, remove the spongy bit under the cap if possible.
If you want to be super authentic and make this a Yunnan-style dish, use porcini or butter boletes or something similar. That said, any nice, substantial mushroom will work, from regular button mushrooms to oyster mushrooms, other agaricus like meadow mushrooms, chunky chanterelles (not cinnabars), hedgehogs, and fresh shiitakes.
Avoid wispy or thin mushrooms like enoki, black trumpets and most morels, although a few morel species are meaty enough to work here.
The general method for this mushroom stir fry is, according to my friend Kian Lam Kho (author of the amazing book Phoenix Claws and Jade Trees: Essential Techniques of Authentic Chinese Cooking):
Yes, you can use the "bao" technique to stir-fry. This technique calls for the mushroom to be fried in very hot oil until the mushroom slices are almost dried. Then stir-fried normally with some dried red chili, Sichuan peppercorns, plus garlic and ginger as aromatics. Garnish with generous amount of scallion and cilantro.
And that is exactly what I did.
The only "weird" ingredient you will want here are Sichuan peppercorns, which, if you are not familiar with them, smell wonderful and, well… can make your lips numb. It's pretty cool, actually. You can find them in some supermarkets, but I like to buy my Sichuan peppercorns from Penzey's.
You will need a fair bit of oil to pre-fry the mushrooms, but you can strain it afterwards and use it again several times.
Serve your mushroom stir fry with simple steamed rice, and, if you want to make it part of a larger Chinese meal, try serving this with, say, twice cooked pork belly, or kung pao pheasant, or char siu pork. If you want to keep it vegetarian, serve with some pickled mustard greens alongside the rice.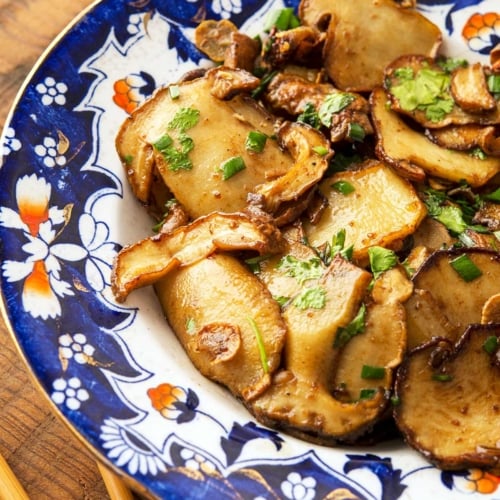 Mushroom Stir Fry
This recipe is a pretty common one in parts of China, notably Yunnan. I use boletes, as they often do, but see the headnotes for alternative mushrooms.
Ingredients
1

pound

mushrooms,

whole if small, sliced if large

2

cups

vegetable oil, for frying

5 to 10

small dried hot chiles,

Thai or Tien Tsin

3

cloves

garlic,

sliced thin

2

teaspoons

minced fresh ginger

A pinch of salt

1

teaspoon

soy sauce

1/2

teaspoon

ground Sichuan peppercorns

1

tablespoon

sesame oil

2

tablespoons

chopped cilantro or chives
Instructions
If you are using wild mushrooms, scrupulously clean them of any grit or dirt. If you are slicing them, cut into roughly 1/4 to 1/8 inch thick slices.

Heat the oil in a wok to 350F. In batches of about one-third, deep fry the mushrooms until almost crispy. They will roar at first as the moisture boils out of them rapidly. You will know they are about ready when they begin to brown, feel firmer when picked up with a chopstick, and there will be far fewer bubbles. Move the finished ones to a tray with paper towels set inside and repeat with the remaining mushrooms.

Drain all but about 2 or 3 tablespoons of oil from the wok and set it over very high heat. When the oil just barely begins to smoke, add the ginger and garlic and chiles and stir fry until fragrant, maybe 30 seconds. Add the mushrooms and toss, salt and Sichuan peppercorn powder, then toss, then soy sauce, then toss again. Stir fry for 2 minutes.

Turn off the heat, add the sesame oil and the cilantro, toss to combine and serve.
Nutrition
Calories:
123
kcal
|
Carbohydrates:
5
g
|
Protein:
4
g
|
Fat:
11
g
|
Saturated Fat:
6
g
|
Sodium:
90
mg
|
Potassium:
382
mg
|
Fiber:
1
g
|
Sugar:
3
g
|
Vitamin A:
58
IU
|
Vitamin C:
12
mg
|
Calcium:
7
mg
|
Iron:
1
mg
Nutrition information is automatically calculated, so should only be used as an approximation.