Cajun Dirty Rice
January 01, 2018 | Updated August 01, 2022
As an Amazon Associate I earn from qualifying purchases.
Dirty rice is a traditional Cajun preparation, and it happens to be one of the best uses for giblets ever — especially to those who think they hate eating them.
I am not too proud to say that this dirty rice recipe is roll-your-eyes-back-in-your-head good! I mean, really, really fantastic. Spicy, meaty, and richly flavored, it is a perfect side dish, or a light supper on its own. It is, effectively, a Cajun take on Chinese fried rice.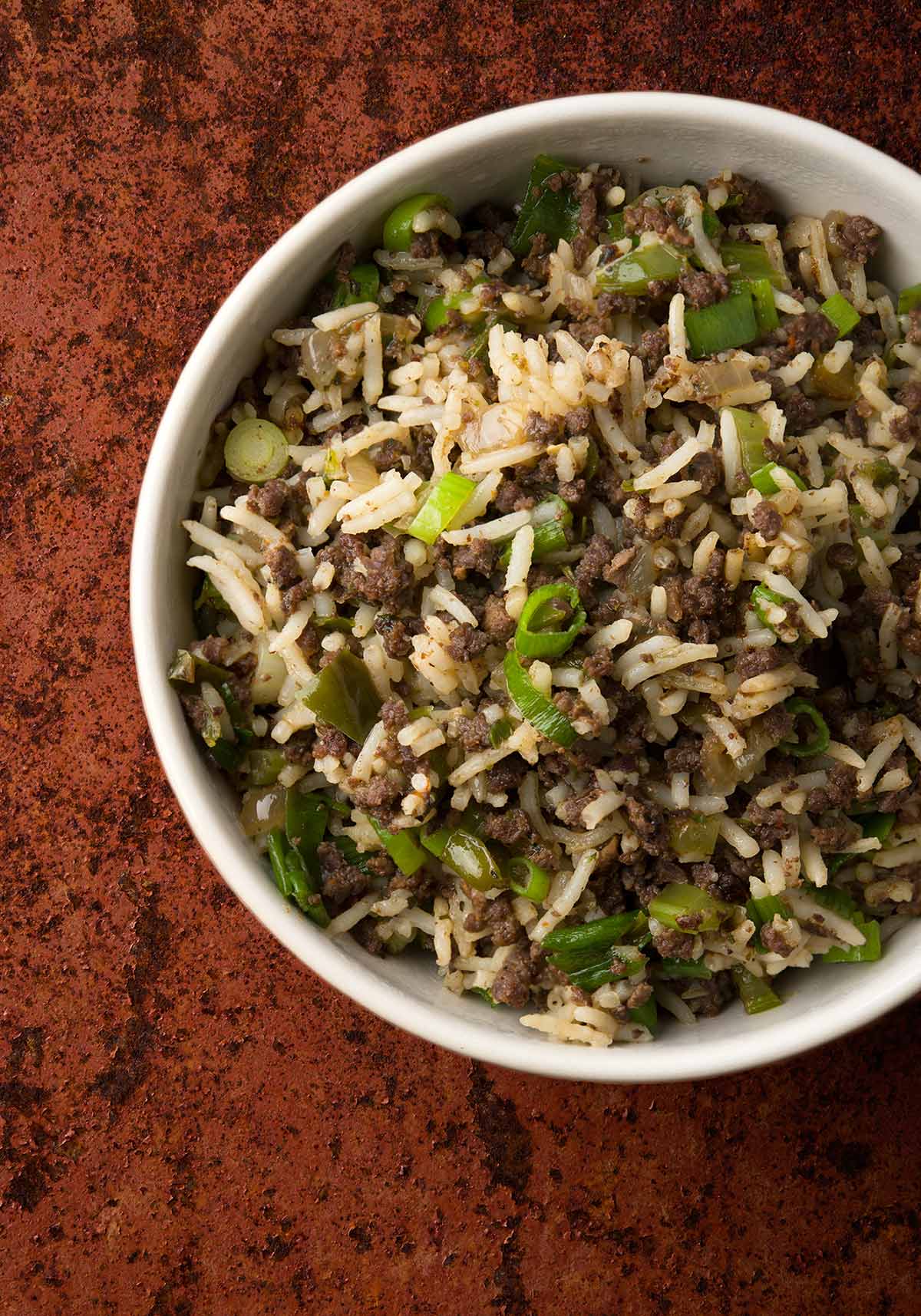 What's Dirty about Dirty Rice?
What makes dirty rice "dirty" is ground up gizzards and minced liver. And when I say "minced," I really mean chopped almost into a puree. You really never know you're eating giblets. Seriously.
If you don't have any wild game giblets — because you didn't save them — make this recipe with regular chicken giblets. Please. Then come back and tell me how sorry you were for not saving the gizzards, hearts and livers of all those ducks or geese or pheasants you shot.
Yes, you will see versions of dirty rice that don't use offal, but they are sanitized, modern takes on the classic, which originated more than a century ago as a way to make thrifty use of the whole animal. So if you are dead set against using giblets, use finely ground meat.
Offal Options
I most often use duck giblets for my dirty rice, but pheasant, grouse, wild turkey or really any game bird will do. You can even use the hearts, livers and kidneys from rabbits or squirrels.
The only caveat is that small birds like teal or quail are really not worth cleaning the gizzards from. I mean you can if you want, but you get only a smidge of meat. Mallards and geese are ideal, as are wild turkeys and pheasants.
And big game works, too. Grind heart meat and some liver and you're in business. Or some leftover braised tongue, or even diced kidneys.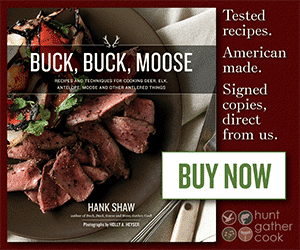 Styles of Dirty Rice
My method for cooking dirty rice is one of two I've seen throughout Cajun Country, which is basically anywhere south of Interstate 10 in Louisiana.
The "fried rice" style, which I think is lighter and fluffier, and method, not unlike Lowcountry chicken bog, where you cook the giblets and vegetables first, add the uncooked rice, and then cook it all together. To me, that method is OK, but feels heavy. You do you.
The main other difference between dirty rice and jambalaya is that the latter almost always uses smoked sausage, and I've never seen sausage in dirty rice. Incidentally, If you like jambalaya, here is my recipe for a wild game jambalaya.
Cajun boudin is a bit like dirty rice stuffed in a sausage casing, and in fact you can use it as a filling for boudin if you want — if you do, use the method where you cook the rice in the other ingredients, so it all sticks together better.
Oh, and if you ever happen to be in New Orleans on a Saturday, make sure to visit Mother's, which, arguably, has the best dirty rice in town. It's legit.
OTHER FRIED RICE RECIPES
Other than Cajun dirty rice, you will find a host of other fried rice recipes here on Hunter Angler Gardener Cook: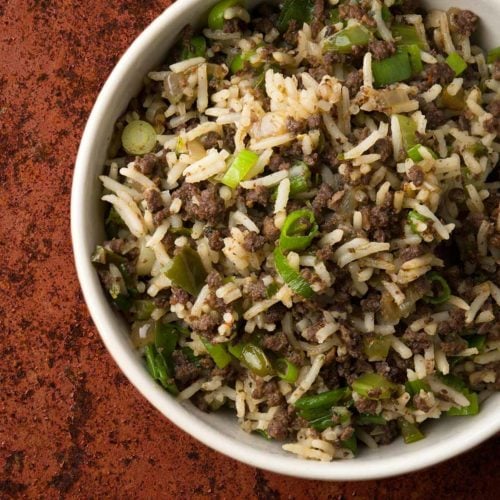 Cajun Dirty Rice
As I mentioned above, any sort of livers and naughty bits will work here. I normally use duck or goose giblets, but upland game bird giblets are excellent, as would ground deer liver and heart.
Ingredients
1 1/2

cups

long-grain rice

3

tablespoons

duck fat,

lard or vegetable oil

1/2

to 1 cup livers from birds,

or about 3 ounces deer liver

1/2

to 1 pound of ground meat

from gizzards and hearts or any other ground meat

Salt

1 1/2

cups

meat broth

1/2

cup

finely chopped onion

2

celery stalks,

finely chopped

1/2

cup

finely chopped green pepper

1

to 3 hot chiles

anywhere from Tabasco to jalapeno, finely chopped

2

garlic cloves,

minced

1

to 2 tablespoons Cajun seasoning

1

teaspoon

dried oregano

4

green onions. chopped
Instructions
Cook the rice as usual. Move the cooked rice to a sheet pan and lay it out to cool. You need to start with cool rice. And yes, you can do this step a day ahead if you want.

If you are using gizzards, clean them of grit and that silver membrane and either chop fine or grind in a meat grinder. A meat grinder is better, but not everyone has one. Alternately, you can use any ground meat. Either finely grind or finely chop the livers.

Heat the duck fat over medium-high heat and, when it is hot, add the ground gizzards and the chopped livers. Toss to coat in the fat and then let them sit a bit to develop a crust on the bottom of the pan. Stir only occasionally, as you want to develop a good crust. If your Cajun seasoning isn't salty, salt the meat now.

Pour about 1/4 cup of the broth into the pan and use it to scrape up the browned bits on the bottom of the pan. Add the onion, peppers, celery and garlic. Mix to combine and Cook for a solid 3 to 5 minutes, until the vegetables are soft.

Sprinkle over the oregano and the Cajun seasoning and let a crust form on the bottom of the pan again. When it does, add the rest of the broth and the rice and mix to combine. Scrape the bottom of the pan again. When the liquid has almost totally evaporated, mix in the green onions. You're ready when the liquid has all evaporated. Serve hot.
Notes
Serve this on its own for a light dinner, or as a side dish to gumbo, or roast birds or venison.
Keys to Success
The trick to good dirty rice, at least to me, is to get a succession of crusts on the bottom of the frying pan that you scrape away with a wooden spoon. Each crust adds a little more flavor; it's a technique you see a lot in Italian sugos, which are long-cooked pasta sauces.

If you absolutely hate offal, fine. Use regular ground meat. 
If you want to do the "jambalaya" method, Follow the recipe as above, except add the uncooked rice and about 2 1/2 cups of water or stock once all the meats and vegetables are cooked. Cover the pot and simmer until the rice is done.  
Nutrition
Calories:
256
kcal
|
Carbohydrates:
41
g
|
Protein:
6
g
|
Fat:
7
g
|
Saturated Fat:
2
g
|
Cholesterol:
20
mg
|
Sodium:
36
mg
|
Potassium:
210
mg
|
Fiber:
2
g
|
Sugar:
2
g
|
Vitamin A:
685
IU
|
Vitamin C:
14.3
mg
|
Calcium:
37
mg
|
Iron:
1.1
mg
Nutrition information is automatically calculated, so should only be used as an approximation.