Classic Duck Ragu
February 09, 2015 | Updated June 12, 2020
As an Amazon Associate I earn from qualifying purchases.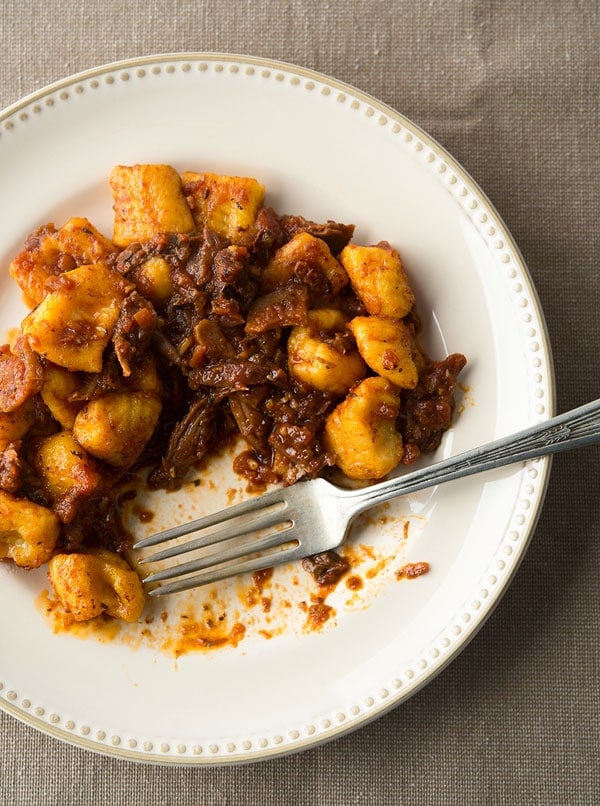 I've been making a version of this pasta sauce for close to a decade, and in that time I've tinkered and refined, simplified and streamlined it to were I finally think I have it where I want it. Sugo d'anatra, or duck ragu, is a classic dish in Italy. Basically it is a long-simmered pasta sauce that is intensely flavorful, so you don't need a ton to get the flavor punch going on.
There are several important keys to the success of this recipe. First, you need a good sear on the meat. Take your time and get your duck or goose bits good and browned — if you have a thick layer of crusty stuff built up on the bottom of the pan, even better.
I used to do this in the pot I cooked the sauce in, but I find I can do it about as fast and a lot cleaner by roasting all the meat in the oven. This is a must if you are making a big batch, or you will be browning duck legs in a pot for almost two hours.
Second, you want as many ducky elements as you can muster: I use home-rendered duck fat and homemade duck broth to go with the duck meat. Of course if you don't have these, use olive oil or butter, and chicken broth.
Finally, you need time. You can't make duck ragu in less than 3 hours, and it's better if it gets a chance to cook lazily all day. Duck legs, especially wild duck legs (and even moreso wild duck wings!) require time to tenderize. Domesticated birds will need only about 90 minutes to 2 hours.
And, like all stews and long-simmered sauces, this ragu is best the day after it's made.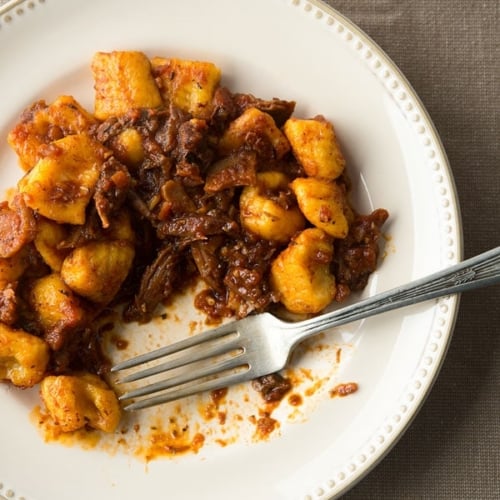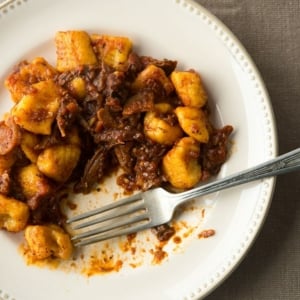 Classic Italian Duck Ragu
This is a Sunday supper sort of sauce, something you make when you have time to hang around the house. This makes a decent amount already, but you can double the recipe for either big groups or to eat all week. As for a pasta choice, really anything goes. Wide, flat pappardelle or the slightly narrower tagliatelle are traditional, but I really like this ragu with short shapes like gemelli or cavatelli. Or you could go the gnocchi route, which is what I did here.
Ingredients
3

pounds

duck or goose legs and/or wings

Salt

1/2

ounce

dried mushrooms,

broken into pieces

3

tablespoons

duck fat,

olive oil or butter

1

cup

chopped onion

2

celery sticks,

minced

2

carrots,

minced

2

tablespoons

tomato paste

1

cup

white wine

1

quart

duck or chicken broth

1

quart

crushed tomatoes or tomato puree

2

bay leaves

2

teaspoons

oregano

1/4

cup

chopped parsley

Grated Pecorino or Pamesan cheese
Instructions
Lay out all the duck legs and wings skin side up on a roasting pan. Sprinkle some salt over them and pop them in the oven. Turn the heat to 400°F. Don't preheat the oven, because you want the fat in the duck to slowly render out. If you happen to be using skinless legs and wings, you will need to coat them all in olive oil before you salt them. Regardless, roast until they are nicely browned, about 45 minutes to 1 hour.

Meanwhile, soak the dried mushrooms in hot water for 30 minutes, then remove and chop. Strain the mushroom water through a paper towel to remove debris and reserve.

When the duck legs have about 15 minutes to go, heat a large Dutch oven over medium-high heat and add the duck fat. When it melts, add the mushrooms, minced onion, celery and carrot and brown them well. Salt the veggies lightly as they cook. When the vegetables are getting brown, add the tomato paste and mix it in well. Cook the mixture until the tomato paste begins to turn brick red, about 5 minutes.

If the duck legs aren't ready, turn the heat off on the Dutch oven. If they are, remove the legs and put them in a bowl or something. If there is a lot of fat in the pan, drain it off. Pour the mushroom water and the white wine into the roasting pan and use a wooden spoon to scrape up the browned bits. Pour this into the pan with the Dutch oven. If the legs aren't ready, hang tight until they are and then do this.

Mix the liquid from the roasting pan into the tomato paste-vegetable mixture and bring to a boil. Cook it down by half. Add the duck legs and any juices that have collected in the bowl to the Dutch oven. Cover with the duck broth and the tomato puree, add the bay leaves and oregano and mix well. Bring to a gentle simmer and let this cook for at least 90 minutes. It will look like duck stew at this point, which is good. You want everything to cook down slowly.

You're ready when the meat wants to fall off the bones. Fish out all the legs and shred the meat off, then return it to the pot. If the "stew" has cooked down into a nice pasta sauce, you're good to go. If it hasn't, turn the heat up and boil it down until it's as thick as you like. Add salt and black pepper to taste when you are ready to serve. At the last minute, stir in the parsley and you're ready to rock. Grate some cheese over everything at the table.
Notes
This sauce will keep a week to 10 days in the fridge and will freeze for a year.
Nutrition
Calories:
519
kcal
|
Carbohydrates:
21
g
|
Protein:
46
g
|
Fat:
25
g
|
Saturated Fat:
7
g
|
Cholesterol:
185
mg
|
Sodium:
1088
mg
|
Potassium:
754
mg
|
Fiber:
5
g
|
Sugar:
10
g
|
Vitamin A:
4039
IU
|
Vitamin C:
25
mg
|
Calcium:
108
mg
|
Iron:
6
mg
Nutrition information is automatically calculated, so should only be used as an approximation.