Jowl Bacon
December 03, 2018 | Updated June 06, 2022
As an Amazon Associate I earn from qualifying purchases.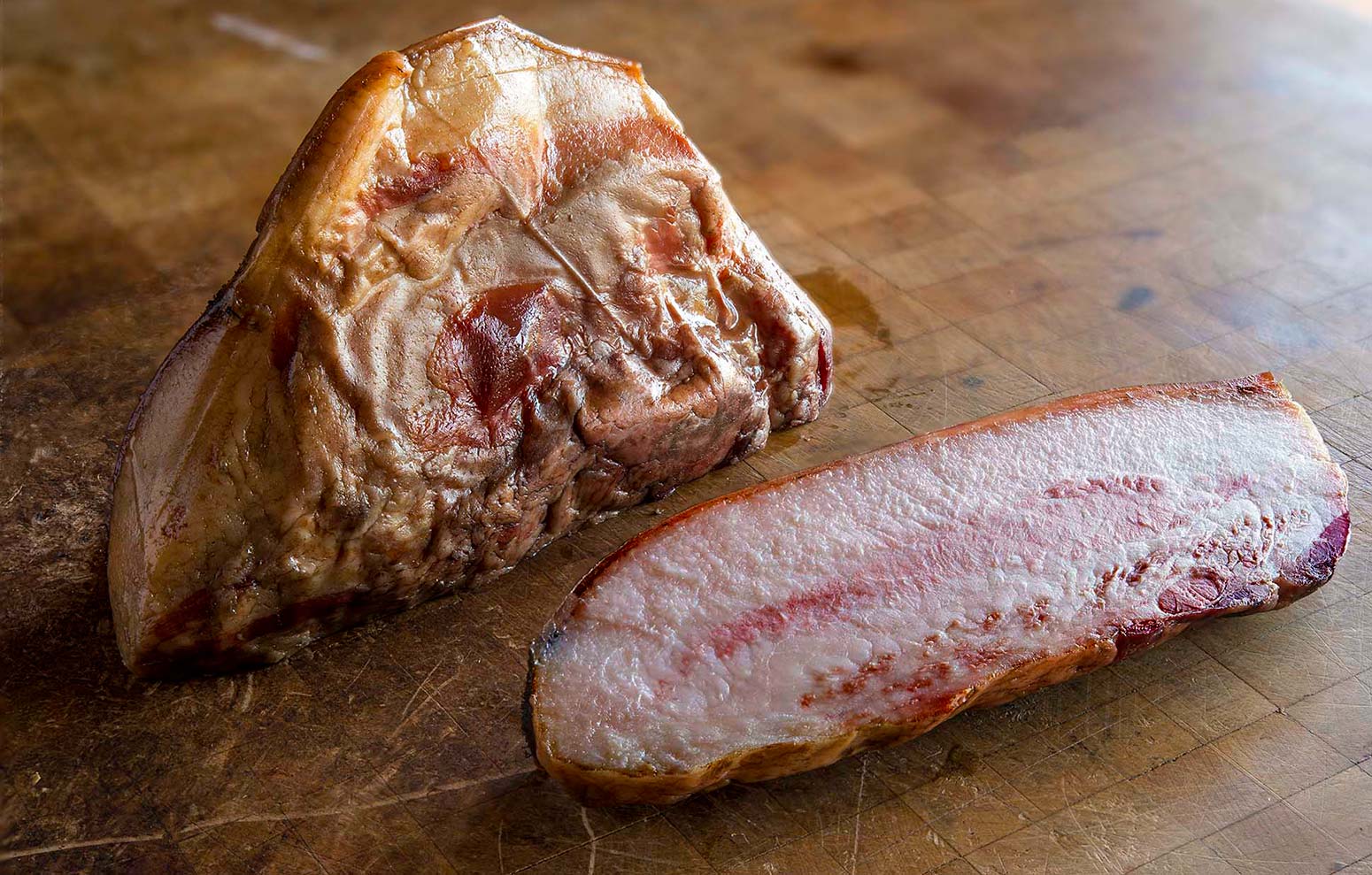 Jowl bacon is to the South what guanciale is to Italy. A fatty, silky chunk of awesome.
It is what you think it is. Bacon, made not from pork belly, but from the cheeks of the hog, known as pork jowl — which you'd understand if you've seen fat pigs in a barnyard.
Well, my friends Christian and Kate Spinillo have lots of fat hogs at their Ham Sweet Farm in Michigan. And they were nice enough to send me home with one the other day. I could have made more guanciale, which is cured and dried pork jowl.
But I wanted to smoke it, and besides, I've been cooking Southern a lot lately, so jowl bacon it is.
The recipe is ridiculously simple: Cure the pork jowl, dry it out overnight, then smoke it cool until you're happy.
In my case, I did what's called an equilibrium cure, which means you weigh out a percentage of salt based on the weight of the meat, seal the meat in a vacuum bag and set it in the fridge for, well, a while. The beauty of this cure is that you can leave the meat longer than you might think and it won't get too salty.
I do use curing salt, and you should, too. I know there are all sorts of people weeping and wailing and gnashing their teeth about nitrite, but they are fooling themselves. "Oh! Use celery powder," they say… perhaps not realizing that celery powder has more nitrite than what I use when I use Instacure No. 1. You can buy curing salt in good butcher shops or online through places like The Sausage Maker.
Incidentally, you will need a gram scale
 to do that properly. If you are making sausages or any cured meats, or baking, for that matter, you should have one.
Can you skip curing salt, celery or otherwise? Yes, you can. But it's a harder process. You need to keep the meat very cold, as in refrigerator temperatures, at all times until you put the meat in the smoker. Then you need to smoke at very cool temperatures, as in less than 80°F, in order to get that specific bacon flavor and that pretty rosy hue we all know and love in bacon.
What wood to smoke on? I prefer a Southern wood, like pecan, which is what I used in the pictures, or you can use oak, hickory, apple or cherry.
Remember you are smoking bacon here, so you need the smoker to be cool-ish. I set my Traeger at 165°F and move the meat right from the fridge to the smoker, then leave it there for 3 to 4 hours. You can go longer if you want.
So how can you use jowl bacon?
Anyway you use regular bacon. Keep in mind most pork jowl has skin on it, which you can of course eat, or slice it off right before or after smoking. I like to slice off the skin and add it to a smoky broth I make with the carcasses of smoked ducks.
The bacon itself is typically fattier than normal bacon, and is excellent as a fat for cooking beans, greens or anything in the cabbage family. Cut the jowl bacon into pieces, fry them crispy, then remove (eat a few pieces) and cook the dish as normal. Return the crispy bits into the final dish at the end.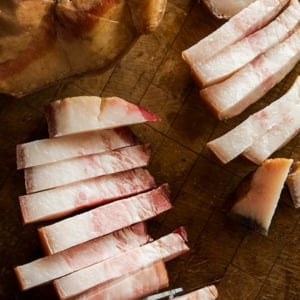 Jowl Bacon
This method is specifically for jowl bacon, not belly bacon. If you want recipes for normal bacon, check these out here. 
Ingredients
1

hog jowl

Salt

(see below)

Instacure No. 1

(see below)
Instructions
Weigh the jowl in grams. Now weigh out 2% of that weight in regular salt, and then 0.25% -- that's a quarter of 1 percent -- of curing salt. Very roughly speaking, this should be about 4 tablespoons of regular salt and a quarter teaspoon of curing salt. Mix these salts together. If you like sugar in your cure, mix this in as well. I like a half cup of brown sugar sometimes.

Massage the salts (and sugar, if using) into the jowl well. Put the jowl in a vacuum bag and add any stray salt. Seal the bag and put in the fridge for a week. If you don't have a vacuum bag, put the jowl in a sealable plastic bag and set that in the fridge for a week. In this case, flip the jowl over every day.

When the jowl has been cured, remove it from the bag, give it a quick rinse and pat dry. Set it on a rack in the fridge overnight.

Get your smoker ready. Set it at as close to 165F as you can, and you can go a little hotter and a lot cooler if you have that ability. Take the jowl out of the fridge and set it in the smoker. Smoke for at least 3 hours, and up to 8 hours if your smoker is below 120F. I like 4 hours at 165F.

Remove the jowl bacon and set in the fridge to cool completely before storing. It will last a few weeks in the fridge, or more than a year vacuum sealed and in the freezer.
Nutrition
Calories:
160
kcal
|
Protein:
3
g
|
Fat:
16
g
|
Saturated Fat:
6
g
|
Cholesterol:
22
mg
|
Sodium:
10
mg
|
Potassium:
57
mg
|
Vitamin C:
1
mg
|
Calcium:
2
mg
|
Iron:
1
mg
Nutrition information is automatically calculated, so should only be used as an approximation.