What on earth is Southwest style barbecued quail? Why it's all that's good about the foods of the Desert Southwest!
Basically it is a barbecue sauce, but it hinges on foods from the Sonoran Desert: chiltepin chiles, sage and either prickly pear syrup or mesquite bean syrup. Oh, and there's a little tequila in there for good measure.
I invented this sauce when I was on book tour for my first book, Hunt, Gather, Cook: Finding the Forgotten Feast, back in 2011. I was in Phoenix and was bumming around one of the food co-ops and saw all these cool products. The idea of a sauce just popped into my head.
I tinkered with it a little once I got back home, and started making it when I was back in Phoenix in 2012 for a sports show. I served  grilled venison loin with this sauce on morning television. Not exactly a normal breakfast, but who cares? It was damn good. My friends at the Arizona Deer Association sure liked it.
Since then I've used this sauce on all sorts of things, ranging from wild hogs to chicken to pheasant, venison, duck and quail. I really like the idea of using it with quail because Arizona is such a great state for quail hunting.
Didn't know that? Well look it up: Arizona has some of the best quail hunting in the country, and they have several unique species to chase, too, like the scaled quail and the Mearns quail.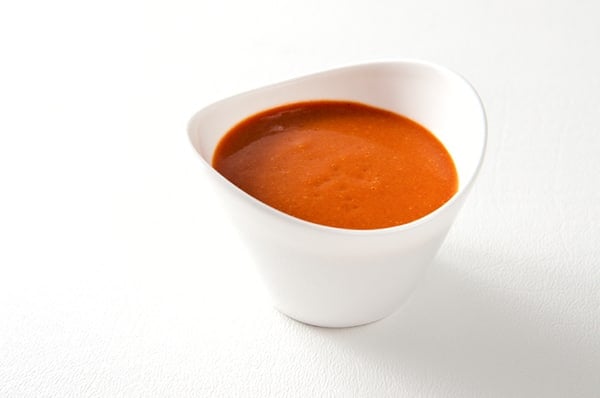 I first designed this particular rendition of barbecued quail with this sauce for Quail Forever, which is the nation's largest organization dedicated to restoring, maintaining and expanding quail habitat — if you're a quail hunter, you ought to join them. I am a Life Member.
This is everything you want in barbecue: Sticky, sweet-and-sour, spicy, savory. It's eat-with-your-hands food, and you will want to make lots and lots of quail for this recipe, as you'll find people fighting over the last one.
And if by some freak of chance you have leftovers, they're great cold, too. Now that's a breakfast I can get behind.\
Barbecued Quail, Southwest Style
It might sound hard to make this sauce if you are not in the desert Southwest, but a lot of the esoteric ingredients are available online, such as the chiltepin chiles and prickly pear syrup, or you can easily substitute for them by using a habanero or other really hot chile and some good honey. It will be a little different, but still good.
Ingredients
QUAIL

8

quail,

backbones removed and flattened

3

tablespoons

vegetable oil

BARBECUE SAUCE

4

tablespoons

unsalted butter or lard

1/2

onion,

grated

2

shots of tequila

1/2

cup

mesquite bean honey,

prickly pear syrup or honey

1/4

cup

cider vinegar

1/2

cup

chicken stock

1

tablespoon

chopped sage

1

to 2 teaspoons ground dried hot chiles,

or hot sauce to taste

Salt to taste
Instructions
Make the sauce first. Heat the butter or lard over medium heat, then add the grated onion and sauté until it turns translucent, about 3 to 4 minutes. Add the remaining sauce ingredients, stir well and simmer slowly for 30 minutes or more. I always pour the sauce into a blender and puree it, but you can serve it chunky if you want.

To flatten the quail, remove the backbones with kitchen shears by cutting along either side of the spine. Put the quail breast side up on a cutting board and press to flatten. If you want to be fancy, carefully snip out the ribs and the curved saber bones near the wishbone. Salt the quail and toss them in the vegetable oil.

Get your grill hot, but leave an open space with no coals, or with one gas burner left off. Lay your quail breast side up on the cool part of the grill and barbecue with the grill lid down for 10 minutes. Paint the breast side with the sauce, and repeat this two more times until you've cooked the quail for 30 minutes. Check the doneness, either by inserting a thermometer into the thickest part of the breast (it should read 155°F to 160°F), or by testing where the legs meet the thighs: They should want to come apart when wiggled, but not fall apart. You might need another 10 or even 20 more minutes to get to this point, depending on how hot your barbecue is.

Turn the quail over and paint the cooked side with sauce. Grill the breast side for 2 minutes with the lid up, then turn over again and paint with the sauce one more time. Cover the grill and cook for a final 2 minutes. Take off the grill and paint with sauce one more time.
You can find lots of recipes for quail and other upland birds here on Hunter Angler Gardener Cook!