Morel Sauce with Venison
March 30, 2012 | Updated May 11, 2022
As an Amazon Associate I earn from qualifying purchases.
Chances are, if you find yourself with more than a few morel mushrooms, at some point you will wind up making a morel sauce. There are lots of variations on morel sauce, many with cream. This isn't that. This is a morel sauce for steak, in this case venison.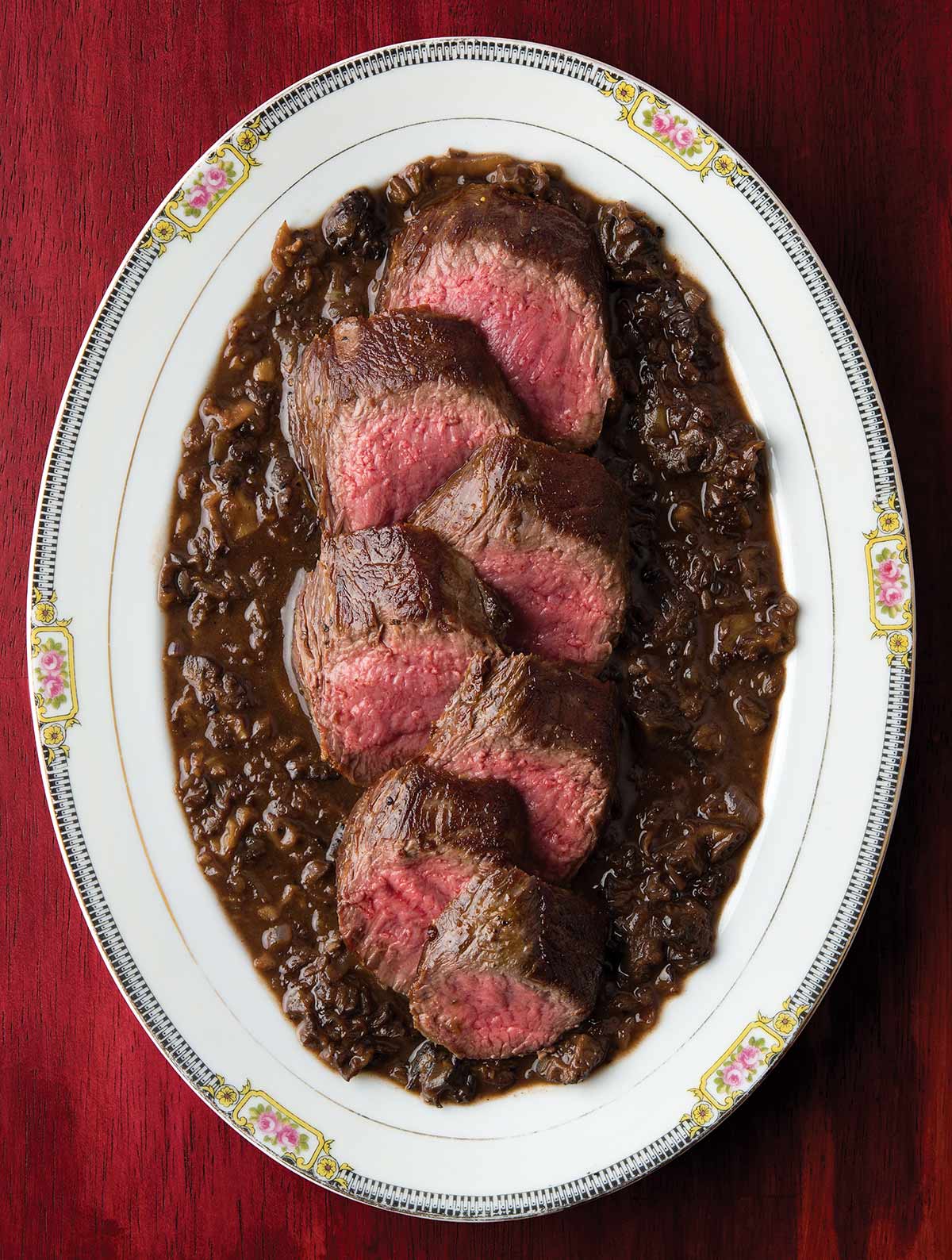 I do have another recipe for a mushroom sauce for steak, and I even did a video for that one, but this is different. A morel sauce, to me, needs to be finely minced because that spreads the morel flavor better than if you kept the mushrooms in large pieces.
Morels are, in my opinion, the best mushroom to pair with a red meat like venison, although porcini are pretty good, too. Morels just smell so… woodsy. That aroma, mixed with the dense richness of medium-rare venison, comes together to make the Cadillac of game dishes. I'd serve this to even the most jaded or discerning palate.
You can use fresh or dried morel mushrooms for the sauce, so you can make it all year long, not just in spring when morels are in season. And any species of morel mushroom will do.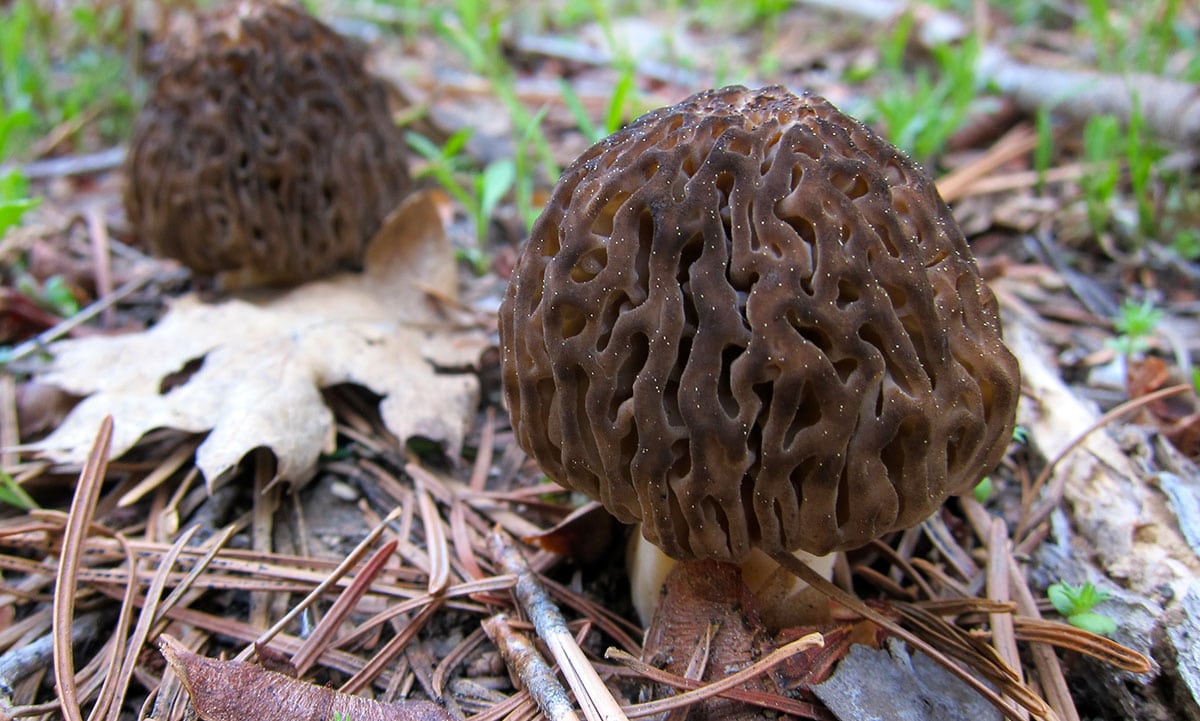 Venison with morel sauce is simple, but not cheap. It's a perfect date-night dish and is a great way to turn someone who might be squeamish about either venison or wild mushrooms.
I always use either the tenderloin or the backstrap of venison for this recipe; I find the leg steaks too tough for such a special dish. It also can be done with filet mignon or a ribeye if you cannot find venison, and hanger steak and even skirt would be nice here, too.
A morel sauce will work well alongside a perfectly cooked duck breast, too.
As for the morels, don't skimp. Use even more than this recipe calls for if you have them. They cook down a lot and their flavor is really what makes this dish. It's one of my favorite recipes for springtime!
If you are looking for morel mushroom side dish to make this a morel feast, try my recipe for morel risotto or morel mushroom tortellini.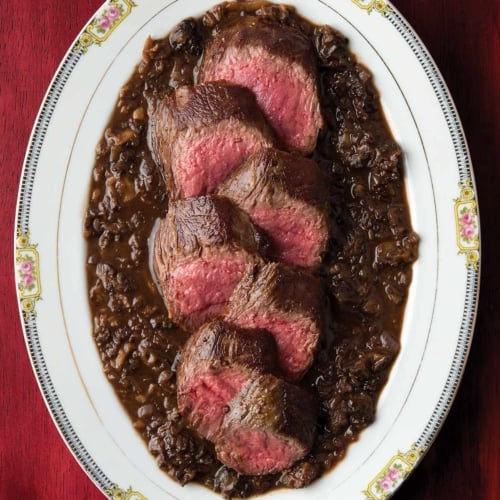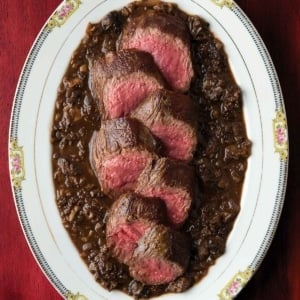 Morel Sauce with Venison
Morel mushrooms and venison, bison, or beef are a marriage far more successful than most pairings between mushrooms and meat. This dish is simple, deep and delicious. But don't skimp on the morels, or the quality of any ingredient: You will notice. You can sometimes find dried morels in supermarkets, or farmer's markets. You could also substitute shiitake mushrooms.
Ingredients
1 1/2

pounds

venison loin

Salt and fresh ground black pepper

2

tablespoons

grapeseed oil or canola oil
MOREL SAUCE
4

tablespoons

unsalted butter

1

tablespoon

flour

1

tablespoon

minced shallot

1

cup

dried morels,

soaked in water for several hours, or about 2 cups chopped fresh morels

1

cup

venison or beef stock or 1/4 cup demi-glace

1/2

cup

Port wine,

or Madeira or Marsala or Amontillado sherry

Salt and freshly ground black pepper to taste
Instructions
In a small saucepan, reduce the stock and the water you soaked the morels in over high heat until you are left with about 1/2 cup of liquid. Turn off the heat and set aside. Obviously skip this step if using fresh morels, and do not include the demi-glace, if using.

Take the venison out of the fridge and salt it liberally. Let it rest at room temperature for 20 to 30 minutes. Chop the morels finely.

Heat a pan over high heat for 2 minutes. Turn the heat down to medium-high and place the fresh morels down on the pan to heat. They will release their water quickly. Let this simmer until the water is almost all gone, then add 3 tablespoons of butter and shallot. sauté for 3 to 4 minutes, stirring often. Remove and set aside. If you are using dried morels, you do not need to dry-cook them first.

Either wipe the pan down or use another one. Heat it over high heat for a minute or two and add the grapeseed oil. Heat this for 1 minute. Pat the venison dry with a paper towel and place it in the pan. Sear it for 3 to 4 minutes on one side, then flip. Let it cook through to your taste on the other side without flipping again. Look for about another 1 to 3 minutes, but I use the finger test for doneness. Remove meat from pan and set aside to rest.

OPTIONAL STEP: Roll the finished venison in morel powder or porcini powder as it rests, and grind some black pepper over it. Give it about 5 to 10 minutes, then slice into medallions.

Meanwhile, add the remaining tablespoon of butter and let it melt over medium heat. Add the flour and stir to combine to make a roux. Cook this for 2 minutes. Add the port wine and stir to combine. It will thicken immediately, and if it turns to a paste add the morel water-stock mix you reduced in step one. If it does not turn into a paste, let the port boil a minute, then add the stock or demi-glace. Add the morels.

Once the morels are heated through, lay the sauce down on the plates, then top with venison. Grind black pepper over all and serve at once.
Notes
You can double the amount of morels in this sauce and it will be even better. 
Nutrition
Calories:
487
kcal
|
Carbohydrates:
8
g
|
Protein:
54
g
|
Fat:
23
g
|
Saturated Fat:
9
g
|
Polyunsaturated Fat:
6
g
|
Monounsaturated Fat:
5
g
|
Trans Fat:
1
g
|
Cholesterol:
164
mg
|
Sodium:
224
mg
|
Potassium:
897
mg
|
Fiber:
1
g
|
Sugar:
3
g
|
Vitamin A:
350
IU
|
Vitamin C:
1
mg
|
Calcium:
29
mg
|
Iron:
9
mg
Nutrition information is automatically calculated, so should only be used as an approximation.