Spicy Tuna Poke
May 16, 2019 | Updated September 27, 2021
As an Amazon Associate I earn from qualifying purchases.
Tuna poke is a specialty of Hawaii, and it is something you need in your life. But, me being me, I make mine spicy tuna poke.
More casual and easier to make than Japanese sashimi, as well as more open to freestyling in the kitchen, poke has very few rules. Pronounced Poe-Kay, poke means "to cut" in Hawaiian, which is the first rule: poke is diced raw fish… although I've seen chopped, cooked octopus, too.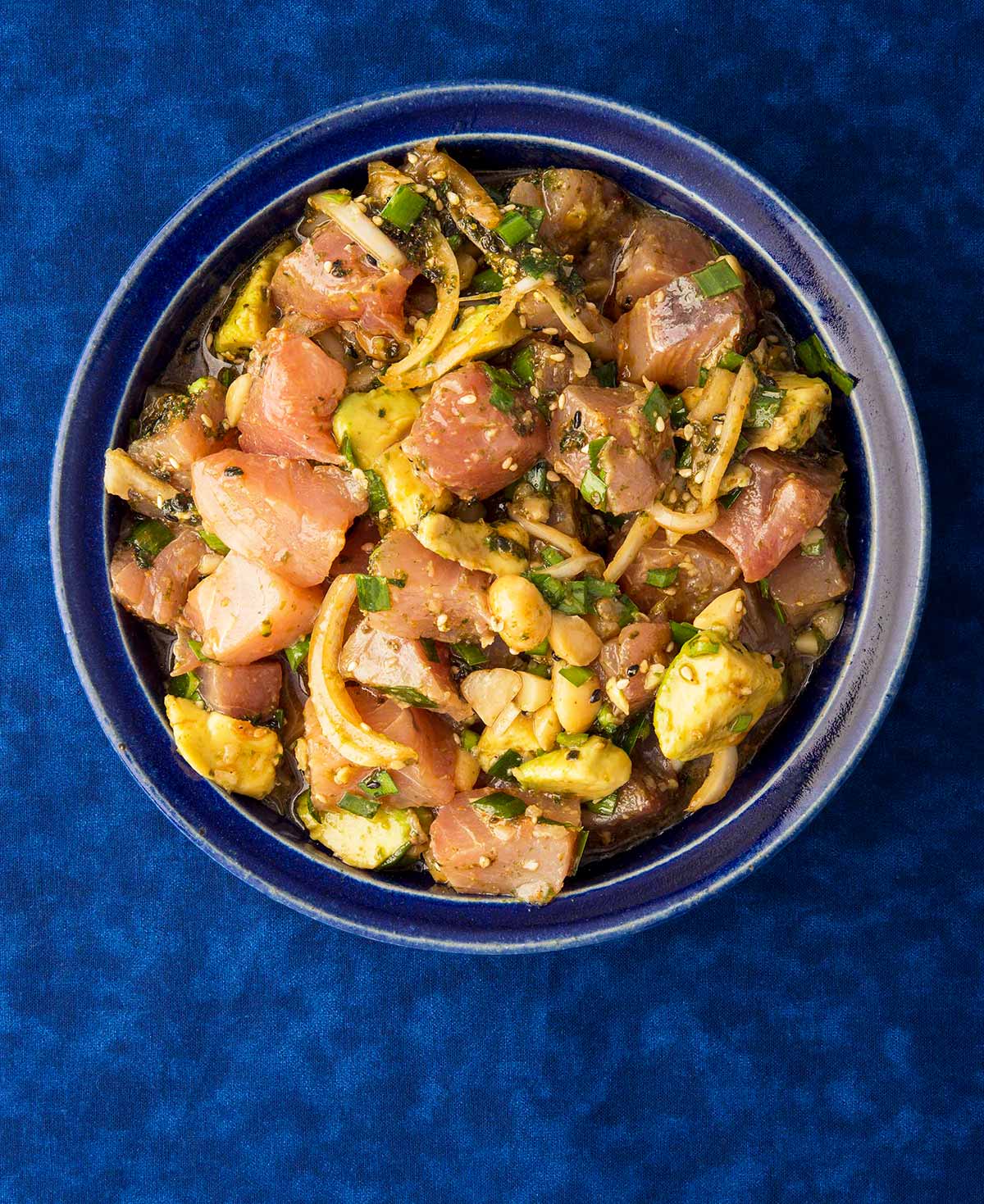 Yes, raw. This is one reason why tuna is very commonly used — tuna poke is safe because these species rarely harbor internal parasites. Here is a run-down on food safety for ceviche and other raw fish dishes, if you are interested.
Poke with most other fish needs to be made with previously frozen fish, and yes, you can use frozen tuna for poke. Proper freezing kills the parasites that can make you sick. Regardless, you want to start with very fresh fish you've either caught yourself or bought as "sushi grade" from a reputable fishmonger.
If I have to buy it, I like to get the vacuum sealed blocks of tuna in the freezer section of Asian markets, which are usually of very high quality.
A basic, traditional Hawaiian poke bowl is tuna, soy sauce, seaweed, Maui onions, often green onions as well, plus either the local candlenuts, or the easier-to-find Macadamia nuts. You will often see sesame oil and avocado, too.
I like to use a healthy shake of either furikake
, a Japanese rice seasoning mix with sesame seeds and dried seaweed, and, for spicy tuna poke, togarashi, which is the Japanese equivalent of Cajun seasoning — a little spicy, very flavorful. You can buy both online, but my local supermarket has both. You can skip them if you want, but you definitely want some heat in there.
Beyond the basics, you can play with tuna poke however you want. Just think about color, texture and flavor. Make every bite fun and interesting.
As for the tuna, yellowfin is most common, but I am using bonito here. Bonito are a smallish tuna very similar to skipjack and blackfin tuna. They are also a species of Least Concern according to the various sustainability organizations, so you can use it as much as you want.
Spicy tuna poke should be served soon after it's made; it is not like ceviche, where you marinate it a while before serving. And it really needs to be cold. That's why poke is such a treat for lunch or dinner on a hot day.
If you want another variation on Hawaiian poke, here is my recipe for halibut poke. I have several other raw fish dishes I like a lot, from Italian tuna crudo to salmon ceviche.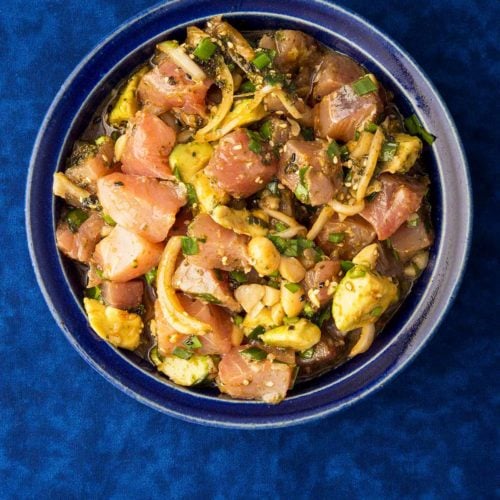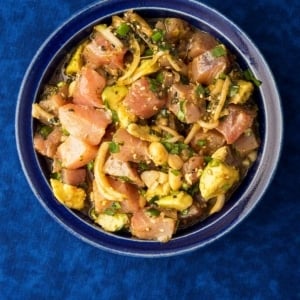 Hawaiian Spicy Tuna Poke
Use this recipe as a guide, not as gospel. One of the best things about tuna poke is your ability to have fun with it. Any high-quality tuna will work here.
Ingredients
1

small sweet onion, like a Maui or Vidalia, sliced thin

3

tablespoons

lime juice

1 to 2

pounds

high-quality tuna, cut into dice

3 to 5

thin green onions, or chives, sliced thin

1/2

cup

Macadamia nuts, roughly chopped

1

avocado (slightly underripe),

cut into chunks

1/4

cup

soy sauce

2 to 3

tablespoons

sesame oil

1

tablespoon

furikake seasoning

(optional)

2

teaspoons

togarashi seasoning,

or 1/2 teaspoon cayenne
Instructions
Slice the onion thinly and soak in the lime juice while you chop and cut everything else. Mix everything together gently in a large bowl, then serve in individual bowls.
Notes
If you can't find togarashi seasoning, cayenne is an easy substitute, but I prefer it with small, hot, fresh chiles like habaneros or Thai chiles or something similar. 
Nutrition
Calories:
467
kcal
|
Carbohydrates:
15
g
|
Protein:
31
g
|
Fat:
33
g
|
Saturated Fat:
6
g
|
Cholesterol:
43
mg
|
Sodium:
867
mg
|
Potassium:
758
mg
|
Fiber:
6
g
|
Sugar:
6
g
|
Vitamin A:
2639
IU
|
Vitamin C:
14
mg
|
Calcium:
55
mg
|
Iron:
3
mg
Nutrition information is automatically calculated, so should only be used as an approximation.