Halibut Poke
July 13, 2017 | Updated March 31, 2022
As an Amazon Associate I earn from qualifying purchases.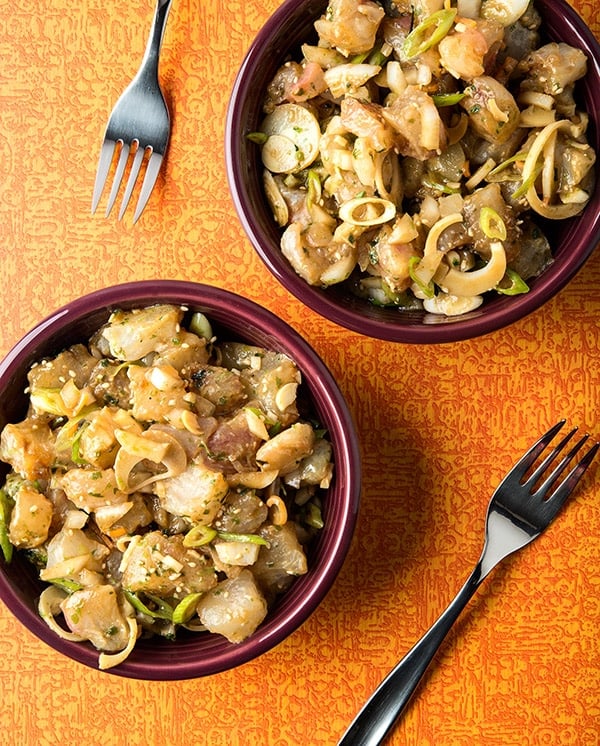 I came late to the poke craze, but I am sure glad I finally got around to it.
Poke, pronounced poh-KAY, is to Hawaii what ceviche is to Latin America. Raw fish, dressed with ingredients characteristic of that region. Hawaii, if you don't know, has quite a lot of residents of Japanese descent, and so you will see echoes of sashimi in most poke recipes.
That said, it is pretty certain (there is some debate) that something like modern poke is as old as human settlement on Hawaii. It is thought that the first Polynesians who showed up on the island chain mixed scraps of fish with seaweed and candlenuts 1600 years ago. "Poke" means "to cut crosswise" in Hawaiian. Japanese immigrants brought the addition of soy sauce and sesame oil.
In general, poke recipes require soy sauce, sesame oil and sweet Maui onions. Beyond that, you can play with green onions, chiles, garlic, citrus, some sort of minced nut like cashews or macadamia nuts, sesame seeds, furikake
(a Japanese rice seasoning mix that has seaweed in it), togarashi
(another Japanese seasoning mix that has chiles in it), any kind of seaweed, and fish roe.
In this recipe, I like the addition of chopped hearts of palm, which I have seen in a few other poke recipes, but is relatively unusual.
For most, poke is ahi poke, or yellowfin tuna poke — just as when you say "burger," you are thinking of beef, not some other meat. But poke can be made with all sorts of other fish, and in this case I use California halibut.
One thing you need to be careful about when eating raw fish is safety; a fair number of parasites can live in fish flesh, and not all can be seen with the naked eye. Your best protection against illness is to freeze the fish for a couple days before making poke. This is especially true with anything freshwater, which can harbor tapeworms — and tapeworms, unlike most marine parasites, can enjoy living off your innards.
If you are wondering which fish are safe, I wrote an article on making ceviche safely you might want to read. It covers the basics, and applies to poke as well.
I highly recommend that you delve into the world of poke. It is a breeze to put together, and is, arguably, better than ceviche — it is lighter and less acidic, and takes less time.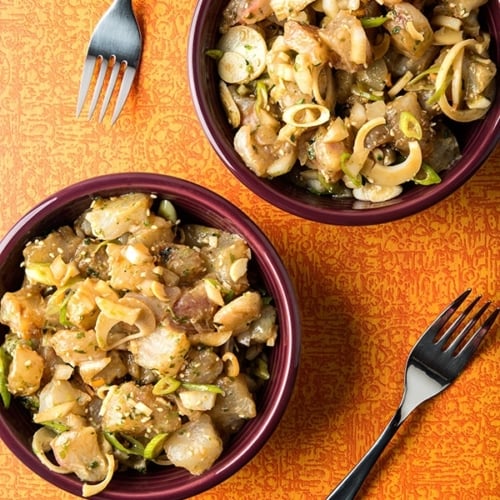 Halibut Poke
I make this with halibut, but tuna would be more traditional. You can also use any fish you can use for sushi, like salmon, yellowtail, fluke, seabass, octopus, shrimp, grouper, snapper, rockfish. Just be sure to freeze the meat a couple days first, just to be safe.
Ingredients
1

pound

boneless, skinless halibut,

cut into cubes

2 or 3

4-inch pieces of hearts of palm,

sliced thin

1

small sweet onion,

diced

3

green onions,

sliced thin

Zest and juice of 2 limes

1

habanero or other small, hot chile,

minced

1

tablespoon

Japanese furikake seasoning

(optional)

2 or 3

tablespoons

sesame oil

2 or 3

tablespoon

soy sauce
Instructions
Mix the lime juice with the chopped sweet onion while you chop and cut all the other ingredients. Once everything is all chopped, mix it all together, and served chilled.
Notes
Poke is best served fresh, but it can hold up to a day in the fridge. 
Nutrition
Calories:
303
kcal
|
Carbohydrates:
9
g
|
Protein:
24
g
|
Fat:
19
g
|
Saturated Fat:
3
g
|
Cholesterol:
56
mg
|
Sodium:
1342
mg
|
Potassium:
687
mg
|
Fiber:
1
g
|
Sugar:
5
g
|
Vitamin A:
190
IU
|
Vitamin C:
9
mg
|
Calcium:
35
mg
|
Iron:
1
mg
Nutrition information is automatically calculated, so should only be used as an approximation.