As an Amazon Associate I earn from qualifying purchases.
A rich, hearty bison stew made "three sisters" style with corn, beans and squash as a hat tip to Native American cooking. And worry not if you're fresh out of bison: Any red meat works here.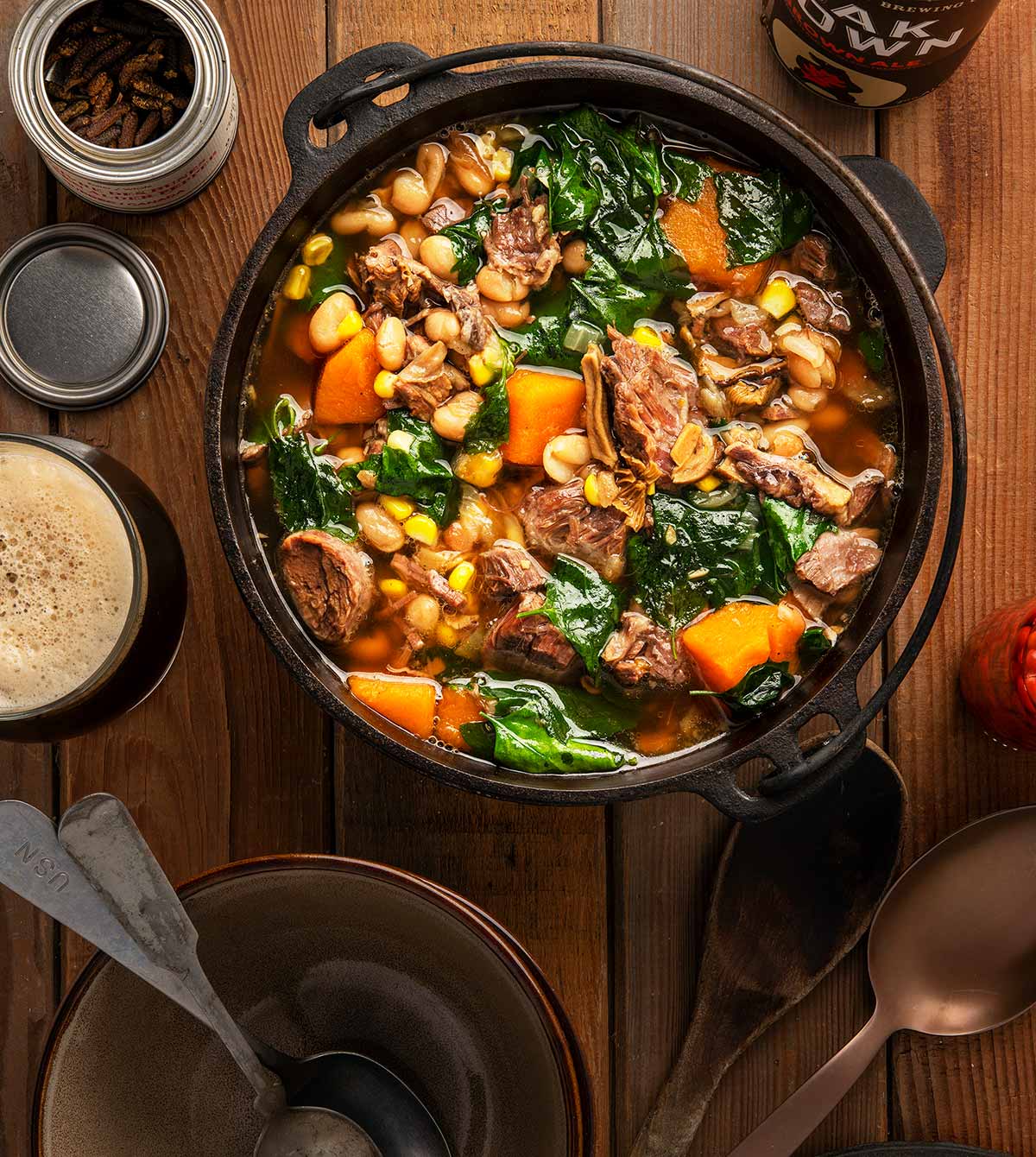 If you've never cooked bison before, it is, essentially, grass-fed beef in flavor. The only other difference is that bison tend to be slaughtered older than cattle, so the meat can be a little tougher. So a bison stew is a great answer to that.
Side note: While bison is the more correct term, lots of people use buffalo. So if you want to call this a buffalo stew, go right ahead.
I really wanted to make this recipe an homage to Native American cooking, using native ingredients wherever possible. So, naturally, I went with a "three sisters" style stew. This bison stew is close to my other recipe for three sisters stew, one I make with grouse or other poultry.
In this one, I used sweet corn and lots of wild lambsquarters and amaranth greens, both of which are native to the United States. You can use whatever green thing makes you happy. Chard, kale or spinach are good alternatives.
You don't see a ton of heavy caramelization in native cooking, so I went with a simple simmer of the bison. There is one trick to this: Barely cover the meat with water, bring to a boil, skim off all the froth you can, and then add more water or stock. This helps keep your stew clean.
If you want, you can sear the meat first if you'd like.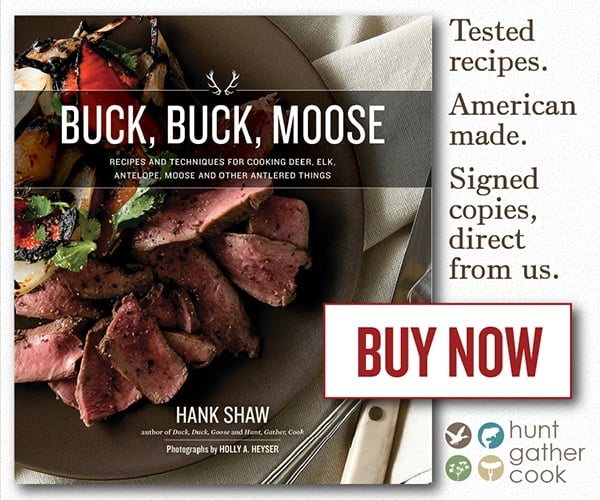 Most of the ingredients are easy to get in any supermarket, especially if you substitute beef or venison for bison. But there is one I use that is admittedly esoteric: green alder pepper.
I first heard about this North American spice through the Quebecois restaurant Au Pied du Cochon. Green alder pepper tastes like a floral black pepper with a little resiny, piney thing going on. You can buy it online in the link above or just skip it.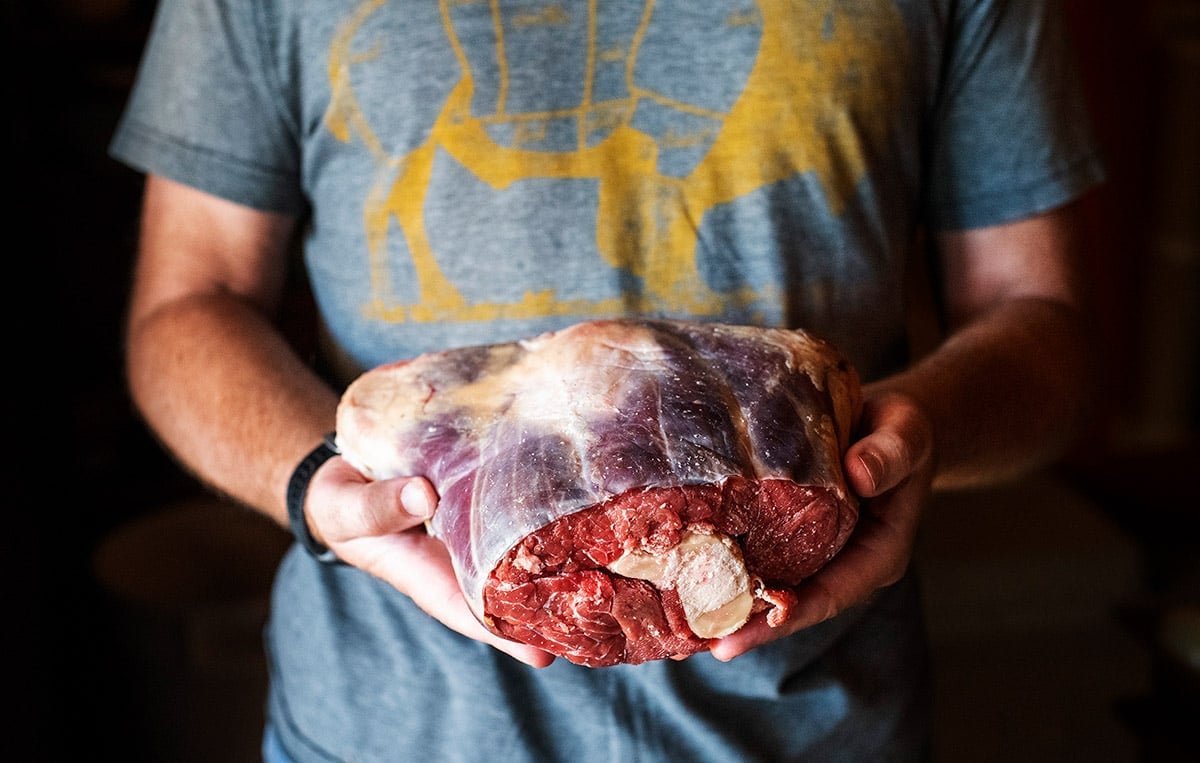 Bison Stew Meat
Really any cut you can stew will work. I used a hunk of bison shank because it was so big I wanted to use it fresh; it would be a giant hunk of meat in my freezer otherwise.
Any shank, neck, shoulder, ribs, oxtail, etc. are good options. And again, any red meat works. Beef, mutton, venison, goat, jackrabbits, goose legs, even wild turkey legs would all do well here.
Storing and Serving
Most of the time I'll serve a bison stew all by itself — it's a complete meal. But bread is a good side, as is a nice salad.
The stew will keep a week in the fridge, and it freezes well.
If you liked this recipe, please leave a ⭐️⭐️⭐️⭐️⭐️ rating and a comment below; I'd love to hear how everything went. If you're on Instagram, share a picture and tag me at huntgathercook.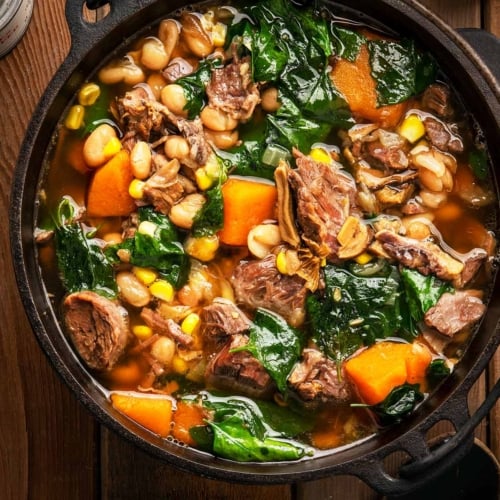 Bison Stew
This is a "three sisters" style stew with corn, beans and squash, plus wild greens like amaranth or lambsquarters. Any greens (chard, kale, spinach, etc.) are fine.
Ingredients
2 to 3

pounds

bison stew meat,

see above for other options

Salt

4

ears of corn

3

bay leaves

1

ounce

dried mushrooms,

crushed roughly

1

pound

dried beans

1 to 2

pounds

winter squash,

cut into chunks

2

tablespoons

bison fat, beef fat, butter or oil

1

large yellow onion,

chopped

3

cloves

garlic,

minced

1

pound

greens,

lambsquarters, amaranth, spinach, etc.

Green alder pepper

(optional)
Instructions
Cut the bison meat into big chunks. Just barely cover with water in a large pot and bring this to a boil. Once the foam collects on the surface after a few minutes, dump the water. Return the meat to the pot, add enough water to cover by several inches and return to a simmer.

Slice the kernels off the ears of corn. Reserve the kernels and cut the cobs in two pieces. Put them in the pot with the meat. Add the bay leaves and salt to taste. Simmer 1 hour.

Meanwhile, heat the butter or bison fat in a pan over medium high heat and brown the onion. When it's mostly browned, add the garlic and cook another minute. Scrape all this into the pot with the bison.

After 1 hour, add the mushrooms and beans and keep simmering. After another hour, add the squash. When the bison is tender, fish it out and cut it against the grain into pieces you'll want to eat in a stew. Discard the corn cobs.

Add the corn kernels and greens and cook 5 minutes. Add more salt if you want, along with the green alder pepper, if using.
Nutrition
Calories:
562
kcal
|
Carbohydrates:
56
g
|
Protein:
38
g
|
Fat:
22
g
|
Saturated Fat:
10
g
|
Polyunsaturated Fat:
2
g
|
Monounsaturated Fat:
8
g
|
Trans Fat:
0.1
g
|
Cholesterol:
87
mg
|
Sodium:
235
mg
|
Potassium:
1735
mg
|
Fiber:
12
g
|
Sugar:
7
g
|
Vitamin A:
9669
IU
|
Vitamin C:
36
mg
|
Calcium:
123
mg
|
Iron:
9
mg
Nutrition information is automatically calculated, so should only be used as an approximation.