Smoked Sturgeon
March 27, 2014 | Updated June 06, 2022
As an Amazon Associate I earn from qualifying purchases.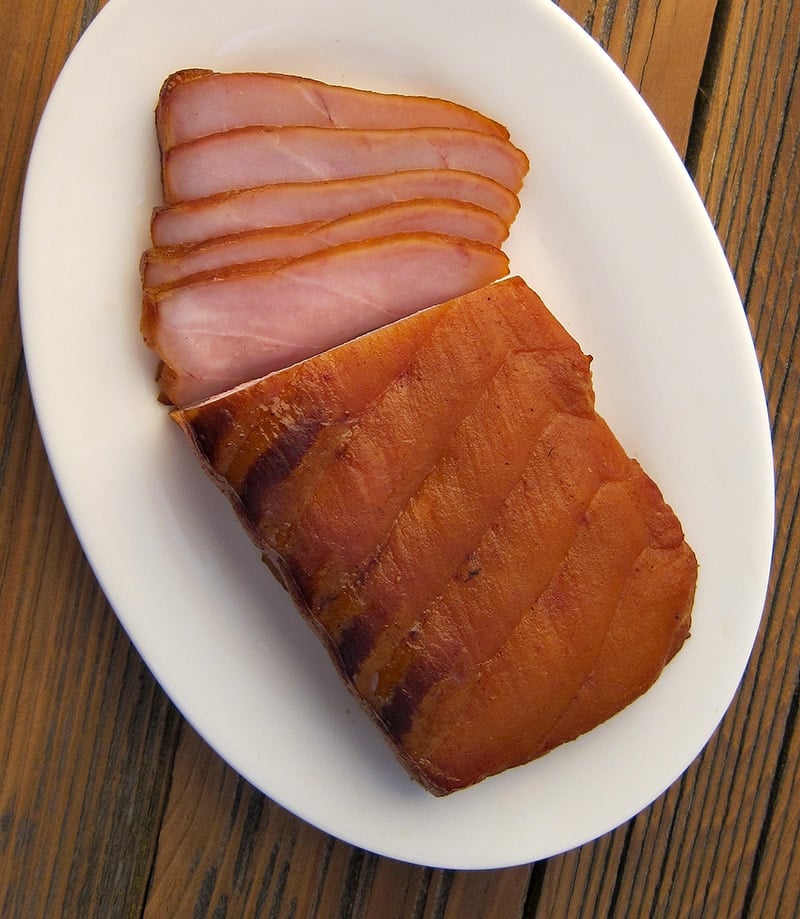 I remember many years ago a trip to a little Jewish deli in Manhattan. It was probably the iconic Russ & Daughters, but I can't be sure. All I can tell you is that I remember a vivid image of a display of smoked fish that I'd never seen before, and have never seen since: There were little chubs, golden and smoked whole.
Smoked sablefish, coated with paprika. Slabs of vermillion salmon, each a different shade depending on whether it was lox or Nova or Scottish or Pacific.
King of them all was the smoked sturgeon. It was in a block, and was sliced like deli meat. Even as a little kid I remember it being expensive. Precious. Mysterious. I was dimly aware that there were no sturgeon anymore, and that this was something truly exotic.
Truth is I was half right. There were no sturgeon anywhere within 1500 miles of me then. The East once had a tremendous sturgeon fishery, but we humans had no inkling of how slow sturgeon grow and as a consequence we fished them out. That was nearly a century ago, and the sturgeon are still not plentiful enough for even a recreational fishery. It's a terrible story of human ignorance and greed.
Here in the West, we have the white sturgeon, which is still plentiful enough for a recreational fishery thanks to heavy regulation. Here in California we are only allowed three fish a year, which everyone agrees was a wise move — except for the poachers, many of whom are recent immigrants from Russia, where caviar poaching is big business. After all, who needs more than three fish a year? Hell, I'd be happy with one.
Until right at the very end of the trip, when the final angler laid into a really nice 56-inch fish. He was generous enough to share it with all of us, so I did get to take home some sturgeon.
I knew I needed to smoke some, so I contacted my colleague Barton Seaver, who is a guru of smoked fish and the author of the book Where There's Smoke: Simple, Sustainable, Delicious Grilling. Barton gave me the rough outlines of this recipe, and I am happy to say it worked like a charm!
The dry cure works fast, and the level of smoke was perfect: I use alder for all my fish, but fruit woods or oak would also work well.
The result is a hybrid cured-smoked fish that is just barely cooked through to the center, pleasantly salty and smoky, with just a hint of the mace I used in the cure. If you've never eaten sturgeon, it's a very meaty fish, dense and easily sliceable once smoked.
Holly and I ate this whole piece in a day, slice by slice. It brought back memories.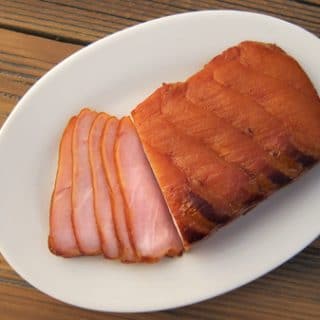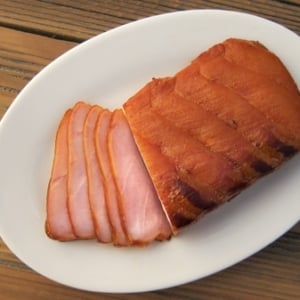 Smoked Sturgeon
This is a dry cure approach to smoking fish, which I like a little better than the brine option: It seems to draw out excess moisture faster. The spices I use are what I like, but you can feel free to alter to your taste. Don't change the salt and sugar, though. If you can't use alcohol, skip that step and just dry the fish without the coating of booze. This method will work with any sort of fish you can cut into blocks: tuna, salmon, white seabass, big redfish or catfish, tilefish, swordfish, shark, marlin, albacore, etc.
Ingredients
3

to 5 pounds sturgeon,

in large blocks

1

cup

kosher salt

1/4

cup

sugar

1

teaspoon

mace

1

tablespoon

garlic powder

Brandy or whisky to coat salmon
Instructions
Trim the sturgeon of any fat or dark meat. Cut the pieces into regular blocks, like rectangles. Mix the salt, sugar and spices together, then coat the fish with it. Put into a covered, non-reactive container (plastic, ceramic, stainless steel) and set in the fridge to cure for as many hours as each block of sturgeon weighs, i.e., if you cut 1 pound blocks, they should be salted for only about 1 hour.

Remove the sturgeon from the cure and rinse. Pat dry with paper towels, then brush brandy or whisky all over the sturgeon. Set on a rack in the fridge uncovered until the next day.

Smoke over very low heat -- about 160°F -- until it's smoked the way you like it. I go for 4 hours.

Allow to cool fully before vacuum sealing and storing. It will keep for a week in the fridge or 6 months in the freezer if it has been vacuum sealed.
Nutrition
Calories:
51
kcal
|
Carbohydrates:
1
g
|
Protein:
7
g
|
Fat:
2
g
|
Saturated Fat:
1
g
|
Cholesterol:
22
mg
|
Sodium:
28
mg
|
Potassium:
148
mg
|
Fiber:
1
g
|
Sugar:
1
g
|
Vitamin A:
41
IU
|
Calcium:
2
mg
|
Iron:
1
mg
Nutrition information is automatically calculated, so should only be used as an approximation.