Smoked Pheasant
November 26, 2012 | Updated February 15, 2021
As an Amazon Associate I earn from qualifying purchases.
Smoked pheasant can be either the best expression of the bird, or it can be a desiccated husk, usable only as a flavoring for broth. I've had it turn out both ways, I am sad to say. After my failures, I got back on the horse and smoked another pheasant. Then another. And another.
Finally, I am able to present to you a method for smoking pheasants — and other upland game birds — that works well consistently.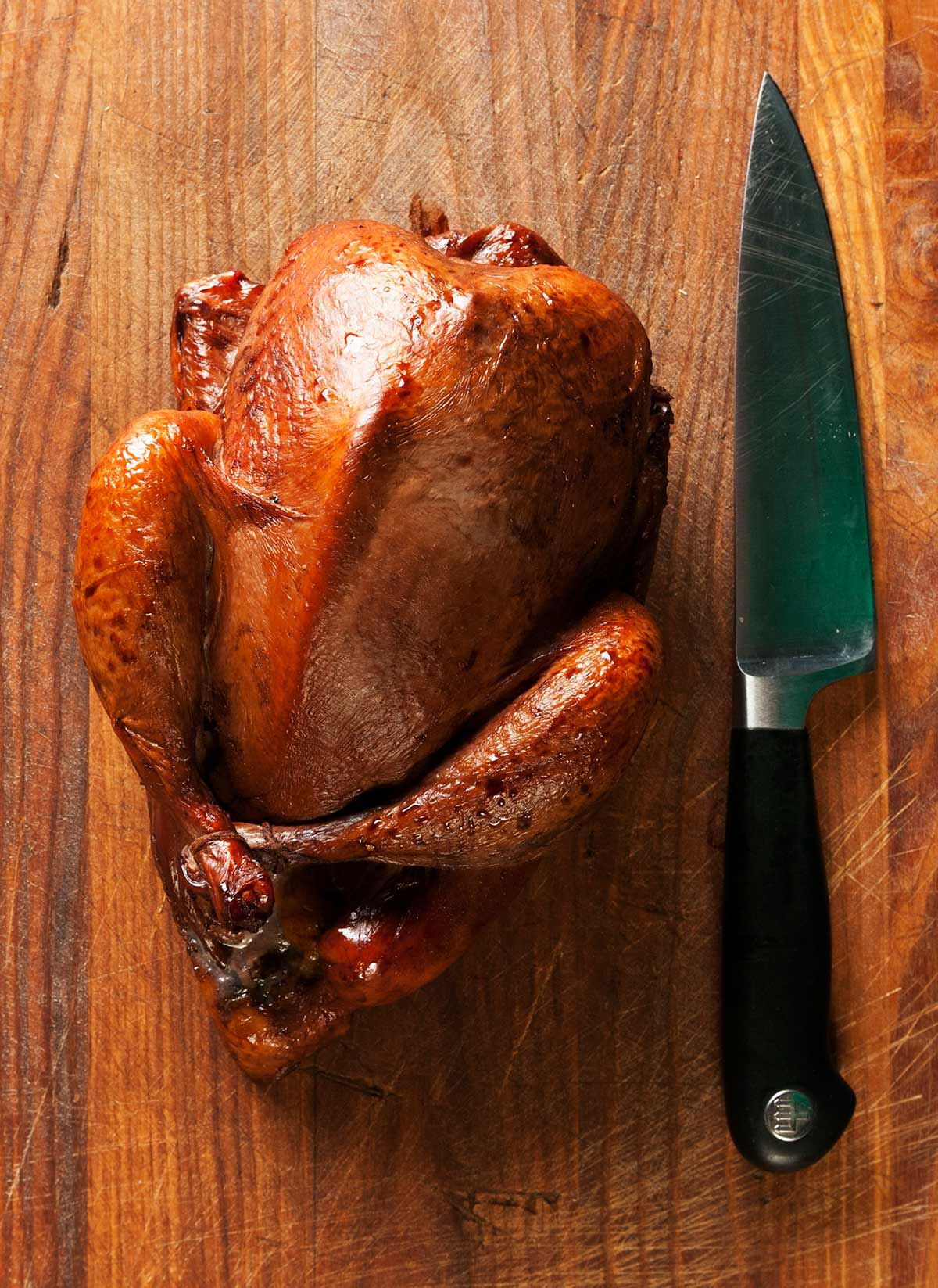 The issue with wild birds like pheasants, chukars and grouse is that they work for a living. They can be old and tough, and smoking doesn't tenderize them.
But brining does. Most experienced smokers know that the brining step is important when you deal with fish or other meats. It is vital with pheasants and similar birds. Skip this, or short it, and you will be sorry.
I brine my pheasants for about 12 hours. This is a long time for a bird that typically weighs somewhere between 2 and 3 pounds plucked and gutted. But the salt brine needs time to work its magic. Brines keep meat moister by allowing it to retain more moisture during cooking. All cooking removes moisture from meat, but brined meat loses less.
A brined bird is a seasoned bird, too.
Brine too little and you get a dry bird. Brine too much and you get a salt lick. In this case, you want to take the brining process to the edge of "too salty." And even here, if you are smoking an old rooster, you will probably want to just shred the drumstick meat when you're done — those sinews are murder.
The reason you want to err a little — not a lot — towards the too salty end of the spectrum is because you normally eat smoked pheasant cold, and our perception of salt dulls with cold foods.
One nerdy trick to a perfect brine? Weigh the pheasant, and the water you intend to brine it in. Do this in grams with a kitchen scale. Then weigh out 2 percent of that total weight in kosher salt, dissolve that in the water, and submerge the pheasant in there for a day or a week. It won't get too salty.
Beyond that, smoked pheasant is pretty easy. Brine, dry, smoke over hardwood. I like a bit of sweet with my smoke, so I use heavy syrup — boiled down maple syrup, in this case. You could use molasses, honey, treacle or thick birch, hickory or sorghum syrup. You just want it to be thick, because regular maple syrup will just bead on the surface of the pheasant.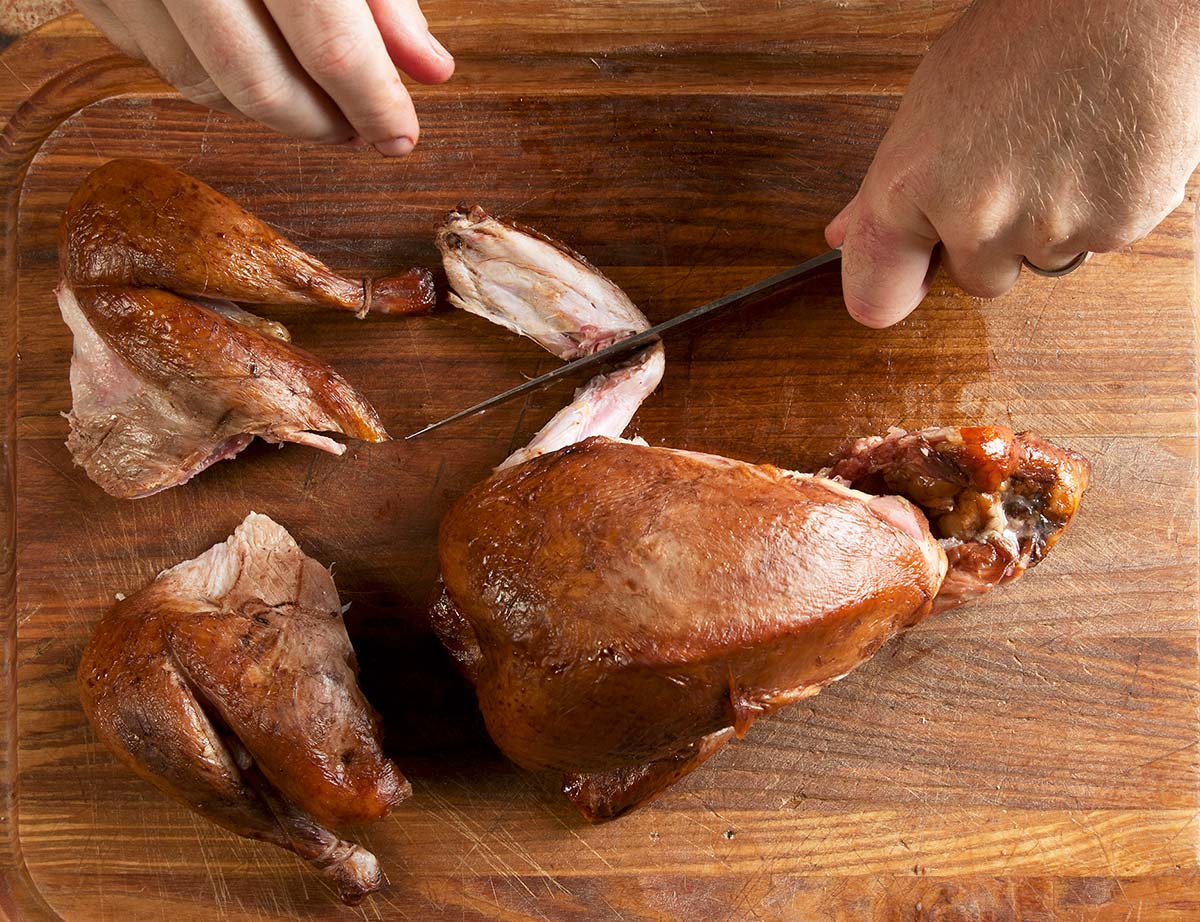 The sweet part is optional, the drying step isn't. Allowing your birds to dry a bit helps the smoke adhere. Smoke won't stick to sopping wet meat, nor will it to bone dry meat.
Another tip: Move your birds from fridge to smoker. Doing this will give you a better smoke ring, that pretty pink layer we all love in smoked meats. It forms only until the interior of meat hits about 140°F, so the slower the meat takes to get there, the better the smoke ring.
If you plan on smoking partridges or grouse, reduce the brining time to 8 hours (or do the weighing trick I mention above), and keep an eye on your smoking time. You still want an internal temperature in the leg meat of 160°F to 165°F, but it will take less time. And if you don't plan on eating the legs (or you want to use them as a base for soup) take the birds out when the breast meat hits 150°F. They will be more tender that way.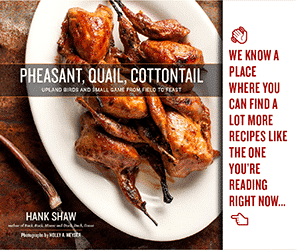 Eat smoked pheasant right off the smoker for dinner, or you can let it cool and slice the breast meat for sandwiches. Gnaw on the thighs for a snack, and shred the drumstick meat for soup, tacos or burritos, in omelets or hash… you get the point.
Don't forget the carcass! use that to make a smoky pheasant broth, or, even better, North Dakota knoephla soup.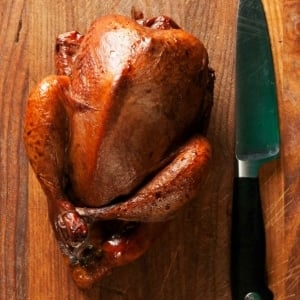 Smoked Pheasant
This is a hot-smoking method, essentially a really slow, smoky barbecue. You must use plucked pheasants for this recipe. It will not work with skinned birds, as they will get too dry. If you are not a hunter but want to make this, you can use a high-quality domestic chicken (regular supermarket ones are too soft and flabby) or you can buy a whole pheasant online or in some supermarkets.
Ingredients
2

whole pheasants

1/4

cup

kosher salt,

about 2 1/4 ounces

1/4

cup

brown sugar

4

cups

water

2

cups

maple syrup,

boiled down to 1 cup
Instructions
Dissolve the salt and sugar in the water. Find a lidded container just about large enough to hold both pheasants. Cover them with the brine and let this sit in the fridge for at least 12 hours and up to 18 hours.

OPTIONAL: Weigh the pheasant and the water you intend to brine it in; you'll have to guess, so err on more water. Now dissolve 2 percent of that total weight -- pheasant + water -- in kosher salt in the water, then brine. This method allows you to brine the bird for days without it getting too salty.

Take the pheasants out of the brine. Set on a cooling rack under a ceiling fan or in a breezy place and let them dry for an hour or so. You can also put the birds in a container uncovered in the fridge overnight. This drying process is an important step. You want the bird damp and tacky on the outside, not soaking wet.

Smoke the pheasants over the wood of your choice – I prefer apple, hickory or pecan – for at least 3 hours, and up to 5 hours. You want a relatively warm smoke, between 200°F and 250°F. Let the pheasants smoke for 1 hour before painting on the maple syrup, then baste with the syrup every 30 minutes afterward.

When the pheasants reach an internal temperature of 160°F in the thigh meat, take them out of the smoker. Put them on a cooling rack and baste them with maple syrup one more time. Wait at least 20 minutes before eating. They are excellent cold, too.
Nutrition
Calories:
823
kcal
|
Protein:
103
g
|
Fat:
42
g
|
Saturated Fat:
12
g
|
Cholesterol:
323
mg
|
Sodium:
182
mg
|
Potassium:
1106
mg
|
Vitamin A:
805
IU
|
Vitamin C:
24
mg
|
Calcium:
55
mg
|
Iron:
5
mg
Nutrition information is automatically calculated, so should only be used as an approximation.