As an Amazon Associate I earn from qualifying purchases.
Chances are you've heard of shrimp scampi, a classic Italian-American dish. Well, this is scallop scampi. What is it? Well, take a little walk with me into what exactly is this "scampi" thing we're talking about and you'll see.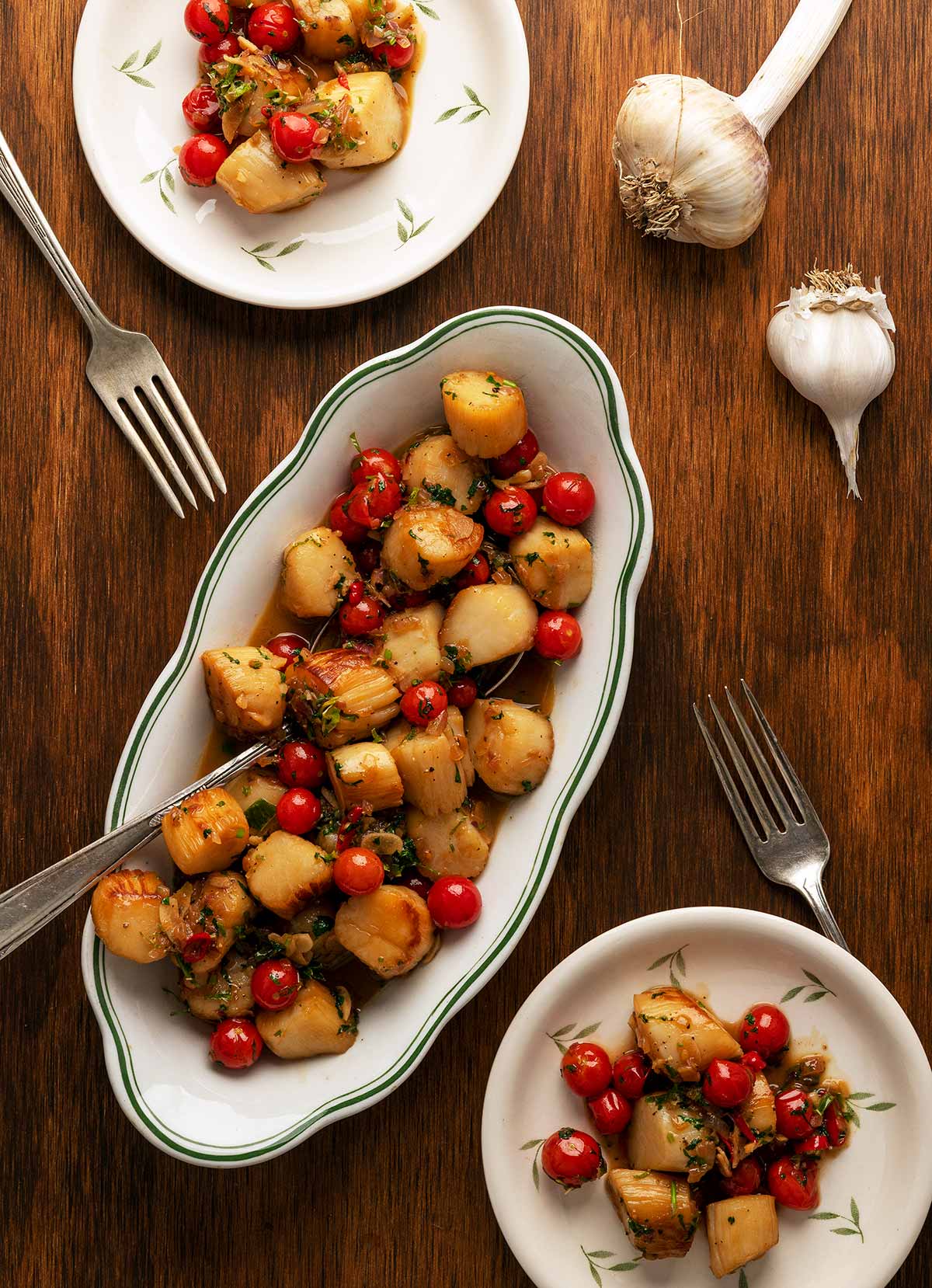 For starters, scampi is the word for a prawn in Italian, and by prawn I mean a shrimp with delicate claws, closely related to a langoustine. So yeah, shrimp scampi more or less means "shrimp shrimp." Weird, but hey.
What people are really talking about when they refer to scampi here in the United States is a buttery, garlicky sauce served with lightly cooked shrimp… or other seafood. Scallops, in this case.
My Mom and stepfather Frank loved scampi when I was growing up, but it was always so heavy on the garlic they had to agree to order it together. Either both got garlic breath, or neither.
And while shrimp scampi was and is the norm, I have eaten scallop scampi, lobster scampi, even clam scampi.
So what is scampi sauce, anyway? After reading dozens of recipes dating back to about 1950, the only constant is garlic. Seriously. That's it. (The New York Times backs me up on this one.) I've seen it with only olive oil, only butter, or both. White wine is a common addition. I've seen a scallop scampi served with little bay scallops over pasta.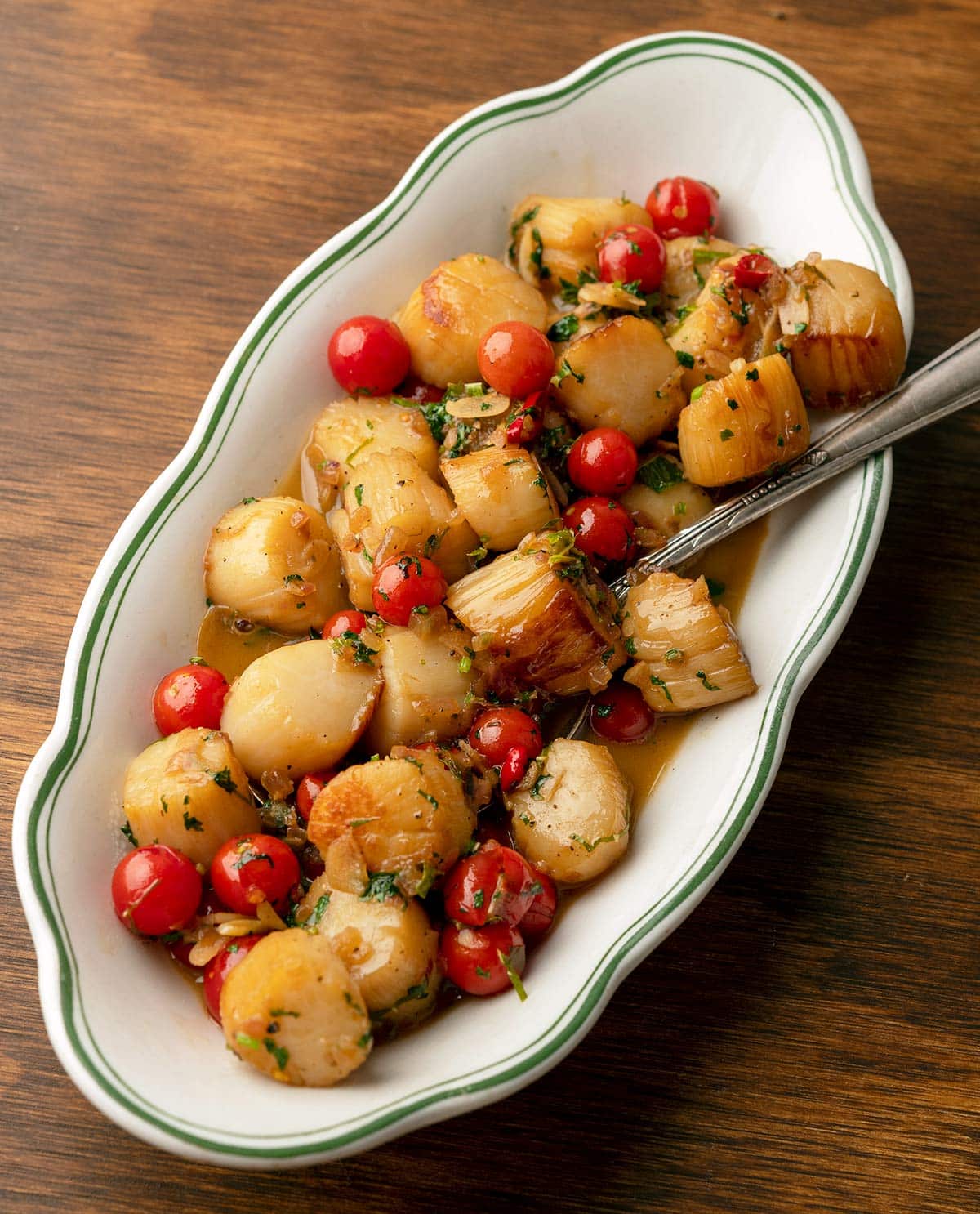 And yes, somewhere around 1980 scampi started being served over pasta. That's not how Mom and Frank ate it, though. For them, it was an appetizer, served with bread.
In some places scampi has tomato sauce with it, which I find weird, and in others, the shrimp, scallops or whatever is breaded. Also weird.
So I decided my scallop scampi would consist of pan seared scallops with a sauce made of garlic, butter, white wine, herbs, and, just because I grow them, cherry tomatoes. They add the perfect amount of acidity to balance out the garlicky, buttery richness. A little lemon juice can up that tartness, too.
Scallop scampi, or shrimp, crawfish, clams or whatever, belongs in the pantheon of iconic Italian-American dishes along with lobster fra diavolo, linguine with white clam sauce, and spaghetti with crab sauce.
Any of these dishes will work as a main course if you make your scallop scampi as I do, or you can serve it over pasta or polenta to make it a main course.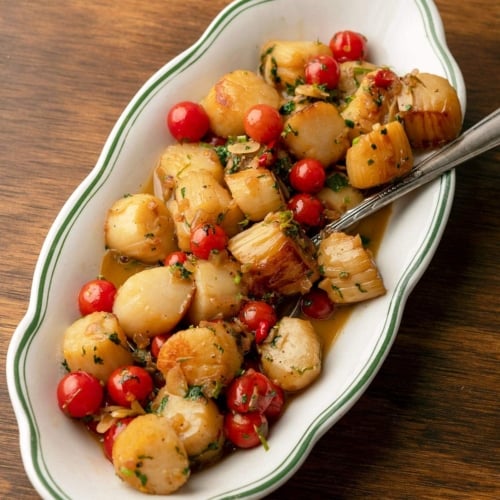 Scallop Scampi
This is my take on the classic scampi recipe, normally done with shrimp. If you don't have scallops, use shrimp, crawfish tails, little clams or chunks of lobster tail. You could also use an ultra firm fish like sturgeon, tuna or shark.
Ingredients
2

tablespoon

canola or grapeseed oil

(or other high smoke point oil)

1

pound

scallops,

preferably large sea scallops

1

tablespoon

olive oil

1

shallot,

minced

6

cloves

garlic,

sliced thin

1

minced Thai chile or 1/2 teaspoon red pepper flakes

(optional)

1/2

cup

white wine

2

tablespoons

lemon juice

1/2

pound

cherry tomatoes

2

tablespoons

chopped parsley

4

tablespoons

unsalted butter

Salt and freshly ground black pepper
Instructions
Heat a large frying pan over high heat. While it's heating, pat the scallops dry with paper towels. Add the canola oil. When you see a wisp of smoke come up from the oil, add the scallops all at once, shaking the pan as you do to coat them with the oil. Let the scallops sear undisturbed over high heat until you see the side touching the pan brown. Toss them once, then move them to a bowl for now.

Add the olive oil to the pan and turn the heat to medium-high. Add the shallot and sauté for a minute or two. Add the garlic and the chile, if you're using it, toss and cook 1 minute.

Pour in the white wine and scrape up any browned bits in the pan with a wooden spoon. Once the white wine has boiled down by half, add the lemon juice and cherry tomatoes and let these cook for 1 minute. Add the parsley, the scallops and any juices back to the pan and toss to combine.

Turn the heat off and add the butter 1 tablespoon at a time, swirling the pan to melt each tablespoon. Once one has emulsified -- that's what the swirling does -- add the next until you're done. Hit the pan with salt and pepper and serve with bread, or over pasta or polenta.
Notes
I use large, dry-pack sea scallops like Alaskan weathervane scallops. But you can use smaller scallops if that's what's available. 
Keys to Success
You want those scallops to be dry when they hit the pan. And you want that pan, and the oil in it, to be screaming hot. Definitely use your range hood fan for this recipe. 
It's OK if the scallops are not 100% cooked after Step 1. They will finish in the pan at the end. 
You can sub in basically any soft herb you like, from cilantro, to lemon verbena, mint, savory, pipicha, thyme, huacatay, etc. 
Don't be tempted to use cut up larger tomatoes here. You want that pop of the little cherry tomatoes, and they won't dissolve into your sauce, either. 
Don't like lemon? Use lime, or verjus, or vinegar. 
Scampi should be garlicky. Go for it. 
Nutrition
Calories:
320
kcal
|
Carbohydrates:
10
g
|
Protein:
15
g
|
Fat:
23
g
|
Saturated Fat:
9
g
|
Polyunsaturated Fat:
6
g
|
Monounsaturated Fat:
7
g
|
Trans Fat:
1
g
|
Cholesterol:
57
mg
|
Sodium:
457
mg
|
Potassium:
441
mg
|
Fiber:
1
g
|
Sugar:
2
g
|
Vitamin A:
809
IU
|
Vitamin C:
22
mg
|
Calcium:
33
mg
|
Iron:
1
mg
Nutrition information is automatically calculated, so should only be used as an approximation.