As an Amazon Associate I earn from qualifying purchases.
To me, lobster fra diavolo has always meant that this would be a special occasion, a special dinner.
Pasta, loaded with lobster and a spicy, garlicky, rich tomato sauce, served with lots of bread and, once I was old enough, red wine — rarely served in fancy French stem ware.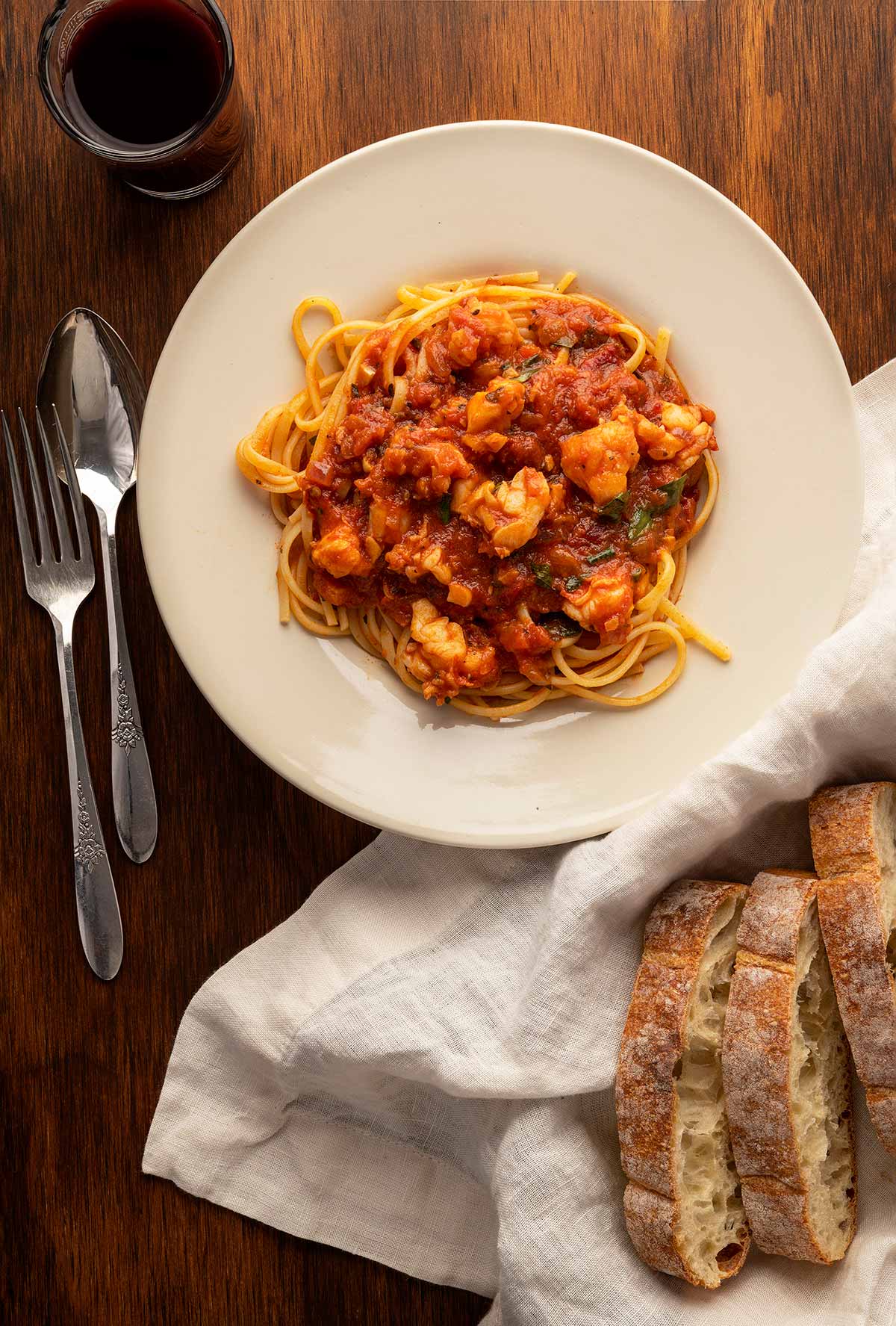 I grew up in New Jersey, close to the spiritual home of lobster fra diavolo, which translates as "Brother Devil's Lobster" for the spicy hot peppers in the sauce. Most people believe that this dish is American in origin, and many point to either Patsy's or La Grotta Azzurra in Manhattan as its birthplace.
Frank Sinatra ate it, as did many high rollers dating back to the 1940s. After all, in its traditional form, lobster fra diavolo includes an entire lobster, kinda-sorta broken into pieces you can kinda-sorta eat at a nice table while wearing a suit… if you have a bib.
As a kid, I'd eat it bent over the plate, inhaling the steamy aroma of tomato, lobster, garlic and pepper, deftly picking out tidbits of lobster from those half-cracked shells. The halves of the tail, the biggest part, I always saved for last even though I think the claw meat is better.
All this said, there are many truly Italian dishes that are similar, and I have several on this site, including puttanesca sauce, and a crab sauce for pasta I love dearly. A really great starter for any of these dishes is shrimp or scallop scampi.
The key with most of them is to use a little seafood stock, preferably homemade, in the sauce itself. That adds a bit of brine to the party. And you want to feel the heat, but not in a serious way. Remember that very little in Italian cooking is truly hot — if you are used to a truly spicy cuisine like Mexican, Vietnamese or Sichuan.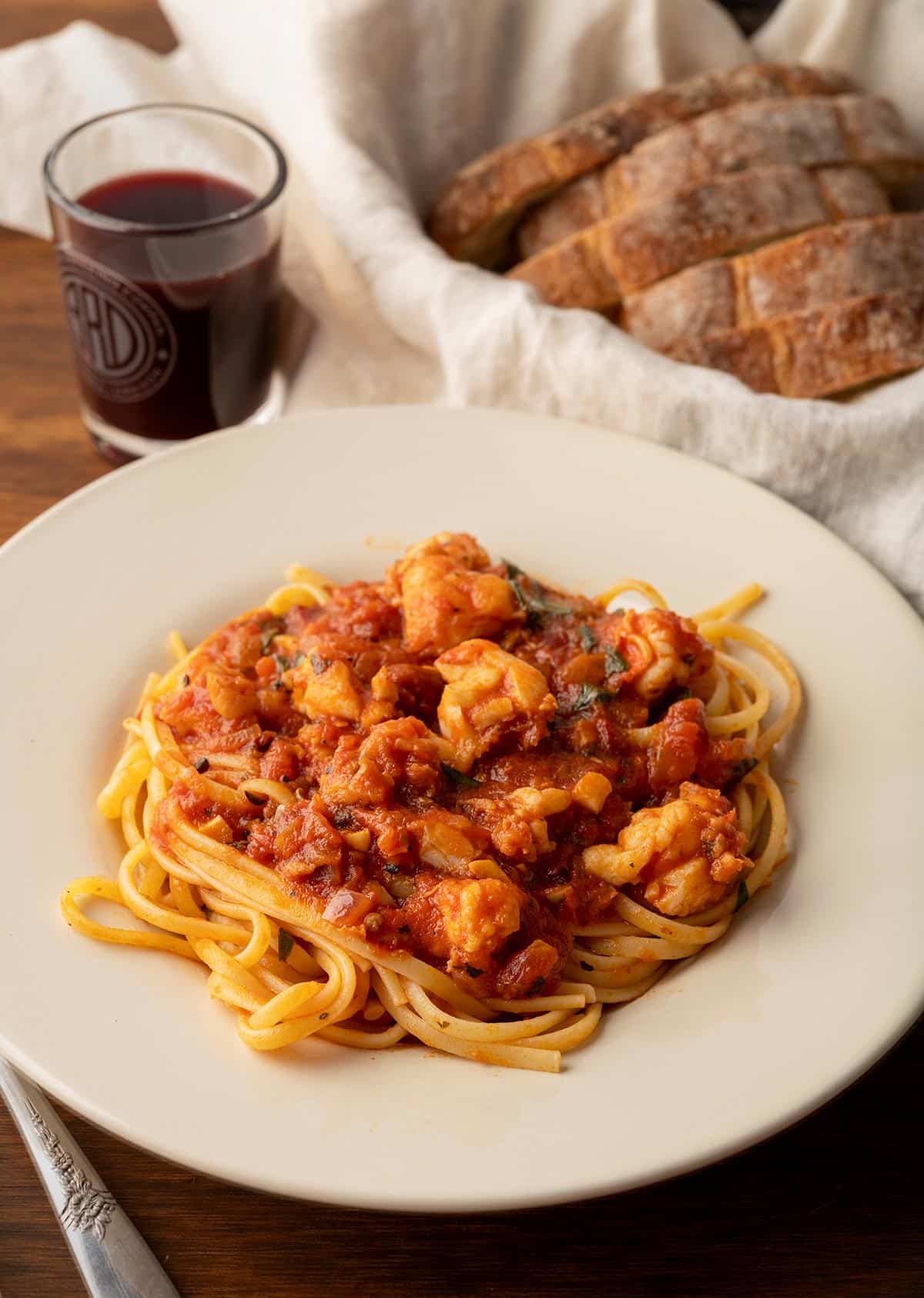 Garlic is up to you. I like using it in immodest amounts, but you can be more like Frank Sinatra and make yours a bit more demure.
Pasta choices are really only two, if you want to be remotely authentic: spaghetti and linguine. Sure, you can use whatever pasta you want, or even polenta. It's a free country. But the real dish uses only these.
And yeah, I shelled the lobster here. Sue me. But the old school lobster fra diavolo ruined so many of my nice shirts that I had to modify the dish at least this much.
OK, so you don't have lobster handy. I understand. Crawfish would by my second choice, followed by shrimp, then scallops. If you have crab, make that crab sauce I link to above.
Once made, this sauce will keep a couple days in the fridge, but it does not freeze very well.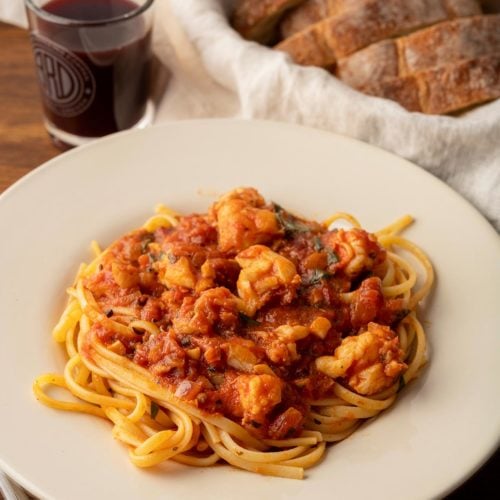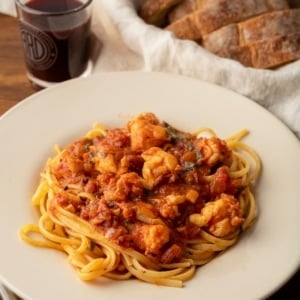 Lobster Fra Diavolo
This is a pretty traditional rendition of the classic, although I do shell the lobster. If you want to make it with the shells, cut the tails in half and crack the claws and knuckles. Fish out all the meat from the body and legs and mix that in the sauce.
Ingredients
OPTIONAL LOBSTER STOCK
Shells from 2 lobsters

3

tablespoons

olive oil

1

yellow onion,

chopped

1/2

fennel bulb,

chopped

2

carrots,

peeled and chopped

2

bay leaves

1

teaspoon

anise seeds

(optional)
SAUCE and PASTA
1/4

cup

extra-virgin olive oil

1

yellow onion,

minced

5

cloves

garlic,

minced

1 to 3

fresh red chiles,

like Fresno or jalapeno, chopped (optional)

1

tablespoon

tomato paste

1/2

cup

vermouth or white wine

2

cups

seafood stock

1

teaspoon

cayenne,

or to taste

1

teaspoon

dried oregano

28

ounce

can of crushed tomatoes

Salt and black pepper to taste

1

pound

lobster meat,

cut into chunks

2

tablespoons

chopped fresh basil or parsley

(or more to taste)

1

pound

spaghetti
Instructions
If you're going to make the optional lobster broth, sauté the onion, carrot and fennel bulb about 5 minutes over medium-high heat, then add the lobster shells. Crush the shells with a potato masher or somesuch while they cook. Let them cook, stirring often, for about 5 minutes. Add the bay leaves and anise seed and cover with about 1 quart of water. Simmer this about 45 minutes, or until reduced by half. Strain and reserve.

Get a large pot of water boiling and add enough salt to make it salty. Drop the heat to a simmer and proceed.

To make the sauce, sauté the onion in the olive oil over medium-high heat until the onion is just starting to brown on the edges, about 6 to 8 minutes. Stir in the garlic and chiles and cook another minute or three.

Stir in the tomato paste and let that cook for 2 minutes, stirring almost constantly. Pour in the vermouth or white wine and use a wooden spoon to scrape up any browned bits in the pan. Add the remaining ingredients (including the reserved stock), except for the lobster and the fresh basil. Bring to a simmer, taste for salt, and let this simmer 20 minutes.

Now you want to boil your pasta. It'll be ready when the sauce is now.

Add the lobster and let this cook about 10 minutes, just until the chunks are cooked through. Stir in the basil or parsley and, if you want, add some lemon. Serve over the pasta.
Nutrition
Calories:
590
kcal
|
Carbohydrates:
76
g
|
Protein:
27
g
|
Fat:
19
g
|
Saturated Fat:
3
g
|
Cholesterol:
96
mg
|
Sodium:
805
mg
|
Potassium:
1020
mg
|
Fiber:
7
g
|
Sugar:
11
g
|
Vitamin A:
3947
IU
|
Vitamin C:
23
mg
|
Calcium:
185
mg
|
Iron:
4
mg
Nutrition information is automatically calculated, so should only be used as an approximation.