How to Make Rillettes
November 16, 2020 | Updated March 30, 2021
As an Amazon Associate I earn from qualifying purchases.
Rillettes are probably my favorite easy charcuterie project: It's versatile in that both the meats and seasonings are up to you, and it is much, much easier to make than pâté or a terrine.
So what are rillettes? Pronounced "ree-yets," it is a French version of what we call potted meat in English. I am pretty sure you will agree that rillettes sound much nicer. Put simply, it is a rough, loose pâté, packed into a jar or ramekin. You normally eat is as a spread on nice bread.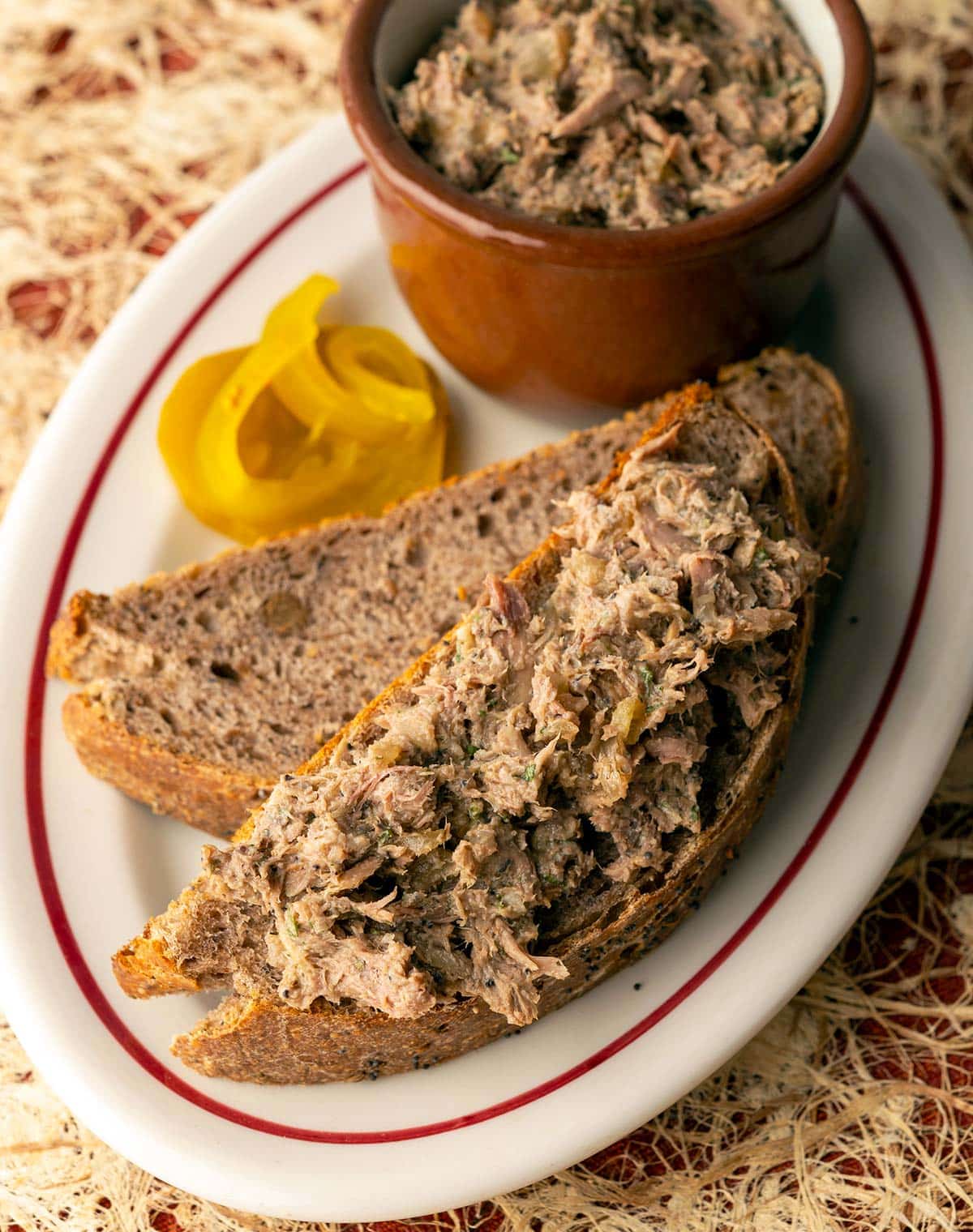 Another way to think of rillettes is as pounded, shredded confit, because that's how you cook whatever the meat is in your rillettes: Salted, then slowly cooked in fat.
When you are working with wild game, you can braise the meats, pull them off the bone and then pound and shred them with a nice fat like fresh lard, duck or goose fat, or butter. It needs to be a fat that is solid, or semi-solid, at room temperature, so in theory you could use coconut oil if you really wanted to.
As for meats, pork and duck (and goose) are traditional. But pretty much anything goes. I've made rillettes from woodcock, pheasant, partridge, venison, rabbit, and grouse, which is what is in the pictures. Here is my recipe for duck rillettes, which is a little different from the recipe below.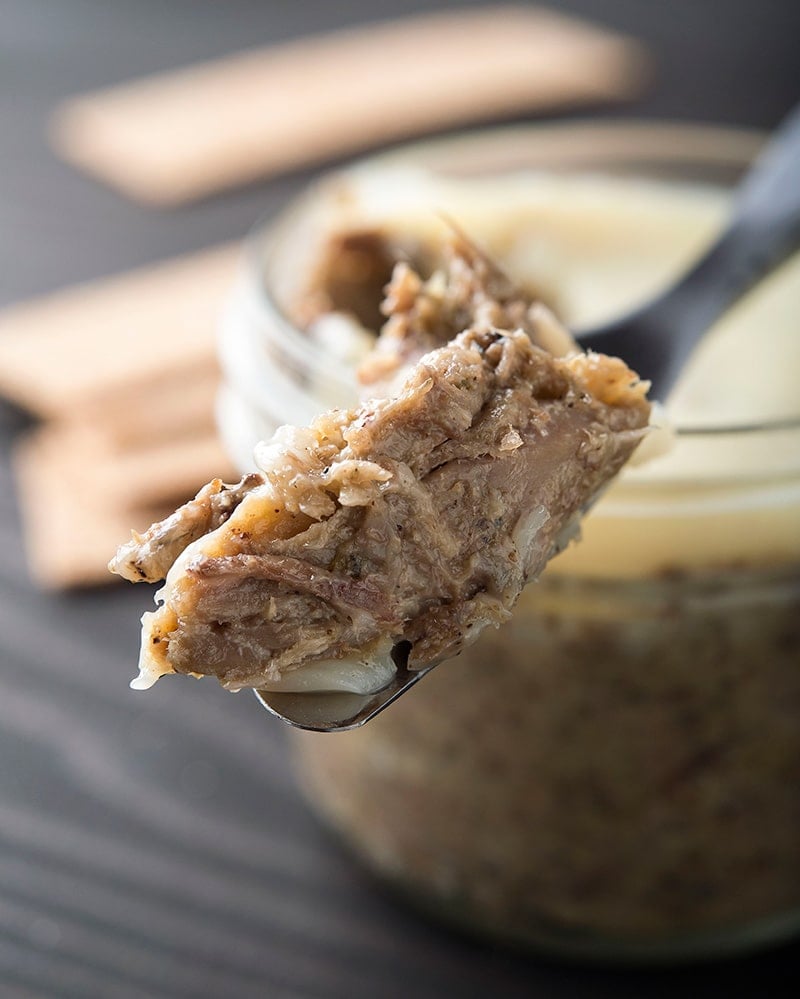 You can also use fish, too. I have a great recipe for salmon rillettes, which is traditional, but you can make it with trout, mackerel, bluefish, or really anything that has a little fat in it. Really lean fish or really firm fish don't work as well.
Historically, rillettes are a preservation method very similar to confit. You salt down the meat the night before — or several days before in the old days before refrigeration — then slowly cook it in fat until it falls apart. You remove any bones or weird bits, then beat your meat [snicker] in a large bowl with seasonings and fat to make the rillettes. Finally, you pack it into a jar and pour clean fat over it to seal. Put the lid on the jar and it will keep for a few months in a cool basement.
Unless you are in a situation with no refrigeration, you don't want to salt your meats for more than about 12 hours, or they will get very salty. And when you cook them, take your time. You want them to cook gently, for a long time, until they fall apart. Ideally you do this in fat, but you can do it in stock or even water, adding the fat in later.
The English potted meat spreads more typically braise in water rather than fat, and they will also often finely grind the cooked meats before potting them up. This, alas, makes the finished product suspiciously like cat food. There is a Scottish variant called potted hough, which relies on gelatin in shanks to set it; I have a recipe for that in my book Buck Buck Moose.
Seasonings in rillettes are a free for all. Traditional is the French quatre epices, which are typically black pepper, cloves, nutmeg and ginger. But whatever flavor profile you want will work. I've done a super Mexican version with Mexican oregano, allspice and various chile powders.
What follows below is a German-inspired sharp-tailed grouse rillettes recipe with flavors of, well, an "everything" bagel: poppy seeds, sesame seeds, onion and garlic, caraway, and, for a wild touch, some yampa seeds, which taste like carrots. You can leave those out of course. Keep in mind you don't have to use grouse; pork shoulder is traditional.
And while it would be grand on a bagel, rillettes are mostly served on good, hearty bread.
Once you make your rillettes, if you seal the jars with butter or lard, they will keep for a month or two in the fridge. After opening them, pop off the fat cap, melt it again, smooth down the remaining rillettes, then pour the melted back back over it all to reseal.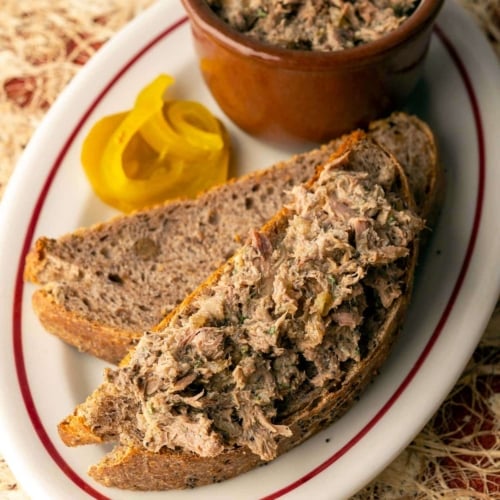 Basic Rillettes
Make this recipe with pork shoulder, duck or goose legs, or cooked, shredded meat from any game animal. I used sharp-tailed grouse here.
Ingredients
2

pounds

pork shoulder or any other meats

(see above)

Salt

3

tablespoons

brandy, bourbon or whisky

(optional)

2

tablespoons

dried marjoram or thyme

2

quarts

stock or broth

1

cup

duck fat, lard or butter

1/2

cup

yellow onion, minced

1

clove

garlic, minced

1/2

teaspoon

toasted sesame seeds

1/2

teaspoon

poppy seeds

1/2

teaspoon

caraway seeds

1/2

teaspoon

yampa or anise seeds

(optional)

1

tablespoon

dried lovage or parsley leaves, crushed

(optional)
Instructions
If you are using pork shoulder, cut it into chunks about 2 inches across. If you are using bird legs and wings, separate drumsticks from thighs. Toss the meat or meats with the brandy in a large bowl. Mix the dried marjoram and a couple tablespoons of salt and toss that with the meats. Let this sit in the fridge overnight, about 8 hours.

Rinse the meats and pat them dry. You can either submerge them in fat to cook, which is traditional -- but which requires a lot of lard, duck fat or butter -- or you can very gently simmer them in the stock, which is what I do. Cook the meats until they are very tender, anything from 2 hours for pork shoulder to 4 hours for, say, wild turkey legs.

Meanwhile, sauté the onion and garlic in a little of the fat you are using until they are soft and translucent, but not browned. Set aside to cool.

Shred the meat into a large bowl. Add the cooked onion and garlic and any fat in the pan you used to cook them. Add all the seeds and the dried herbs. Add a few tablespoons of the stock you cooked the meats in to wet everything. Start beating on it with a potato masher, adding that 1 cup of whatever fat you are using little by little.

Keep doing this until you have a rough mass that will spread. Tinker with the salt and fat to your taste, and if you want, add just a splash of the same kind of brandy you used to soak the meats in. Serve right away over bread, or pack into ramekins and top with melted fat and refrigerate.
Nutrition
Calories:
404
kcal
|
Carbohydrates:
5
g
|
Protein:
26
g
|
Fat:
30
g
|
Saturated Fat:
10
g
|
Cholesterol:
94
mg
|
Sodium:
1010
mg
|
Potassium:
458
mg
|
Fiber:
1
g
|
Sugar:
2
g
|
Vitamin A:
544
IU
|
Vitamin C:
1
mg
|
Calcium:
26
mg
|
Iron:
1
mg
Nutrition information is automatically calculated, so should only be used as an approximation.