As an Amazon Associate I earn from qualifying purchases.
Salmon, especially king salmon, are the pigs of the aquatic world. Large, fatty, with significant differences in flavor from cut to cut, the salmon is, like pork, equally good fresh or cured.
And if there is a fish you can get all nose-to-tail on, it is the chinook. If you are lucky enough to come home with lots of salmon, you can dispense with the fillets (they can go straight into the freezer) and wallow for a week in the "nasty bits." There really aren't any truly nasty bits on a salmon, but what I'm talking about are the pieces many anglers toss into the river: heads, collars, bellies and bones.
These parts are quite possibly the best cuts on a salmon, as they are fattier and have a more interesting texture and flavor than straight-up fillets. The most surprising dish to many may be my salmon head soup. If you bleed your fish immediately after catching them, and then put them on ice — and remove the gills, which will ruin your soup — this is actually a very clean-tasting lovely soup.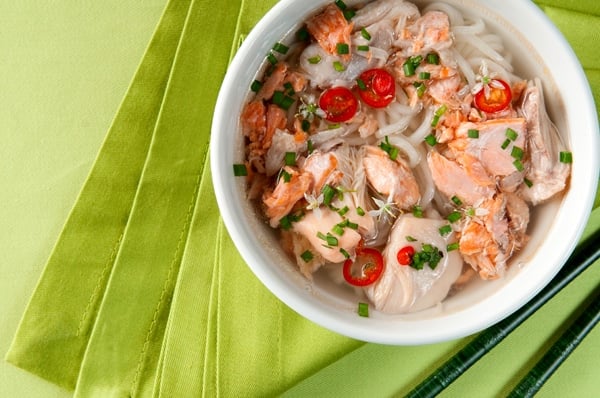 Note that there is no obvious head in your bowl. That's the point: You pick off all the nice meat from the heat, especially the cheeks. So satisfying, even on a hot evening. Holly thinks this soup is almost buttery, with pearls of salmon fat dotting the surface of the broth like constellations. The cheek meat is transcendent, and strangely meaty; it tastes uncannily like the "oyster" in a chicken or pheasant.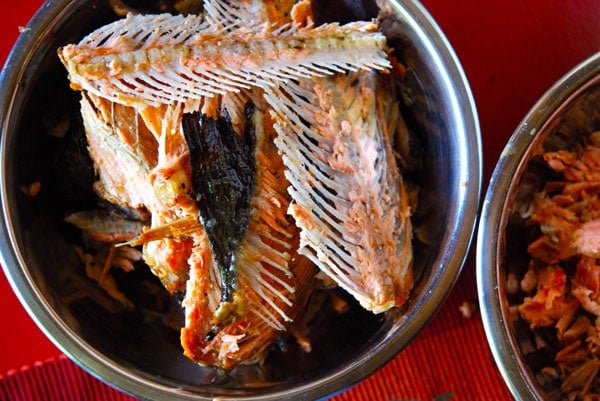 We also grill or roast the bones of salmon and pick off the meat for salmon salad or salmon cakes. Sometimes we won't even cook the bones first. We use a spoon to remove all the meat from the carcass, chop it roughly and use it for salmon burgers or patties.
That leaves the collars and bellies. There simply aren't any better parts of a salmon than these, and there simply isn't any better way to prepare them than grilling or smoking. Why?
You have skin, which is crispy, yet slightly gelatinous from the subcutaneous fat.
You have the meat itself, which is clean and umami-liciously decadent.
You have ALL THAT FAT. Salmon, like the rest of us, store most of their fat in their bellies. And this, friends, is a Mother Lode of those omega-3 fatty acids people are all talking about. I actually got a full-on glob of salmon fat in one bite, which, if you can imagine it, was both alarming and tasty. No need to take fish oil pills after this meal.
You also have collagen from the cartilage around the fins and bones. This partially melts under the heat of the grill and lubricates everything. I feel that my lips are more supple these days…
Finally, there are the fins. The crispy ends of the fins, dipped in whatever sauce you are serving, are nutty little crunchy tidbits that contrast so well with the luxuriant fat, collagen and meat that you'd think Nature herself had created it just for our pleasure. And maybe she did.
We usually get two nights of collar-belly foodgasms. Collars grilled and served Japanese style with sesame oil and a ponzu dipping sauce. A classic teriyaki of soy, mirin, sake and a little sugar, boiled down by half, is another excellent option.
Bellies are either done the same way or smoked to make salmon candy. Belly "candy" is a quantum leap better than salmon candy made from the fillet. Once again, it's a fat thing.
We're always sorry to see those collars and bellies disappear. Now all we're left with is all that pristine salmon fillet in our freezer. Poor us.