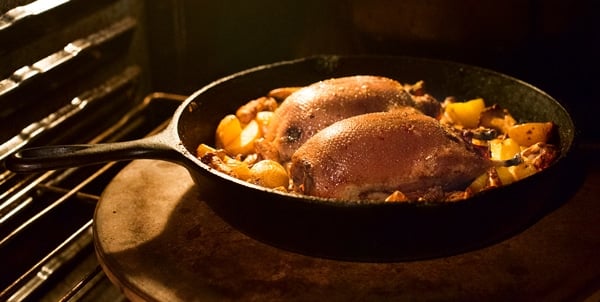 This is an old school, slow roast duck recipe, the way your grandma might have made. If you have a store-bought duck, this is the recipe for you.
But I'll be honest: I normally don't roast my wild ducks this way. On wild ducks, I like my breast meat medium-rare to medium, and this is easily doable by roasting a wild duck over very high heat — up to 500°F. This crisps the skin quickly while leaving the meat rare-to-medium. If you have a normal wild duck, use this method.
But for those of you who are buying domesticated ducks to roast, or when life gives you a really fat wild duck, you want this slow roast duck recipe.
The reason is fat. Fat is an insulator, and in a duck it's all underneath the skin. You need to render that fat or the skin will never get crispy. And rendering fat from an obese duck takes time — so much time that your breast meat will be fully cooked by the time it's ready (The legs and wings will be perfect, though).
Slow roast duck is the way all of Europe has been doing it for a millennium or longer, so there's some history here. I go into it in more detail in my cookbook Duck, Duck, Goose: The Ultimate Guide to Cooking Waterfowl, Both Farmed and Wild, an entire cookbook dedicated to waterfowl.
And it's a great method, except for the fully cooked breast meat. It will still be moist because it's been bathed in its own fat for an hour, but it is nowhere near as good as medium-rare breast meat, at least to my taste.
My advice for when you make your ducks this way is to roast them over the top of lots of root vegetables, the more varied the better. And think about a gravy or a sauce to go with it. I have a large selection of wild game sauces here you can choose from. I might suggest the maple-bourbon gravy for starters…
Print Recipe
Slow Roast Duck
This recipe works with any sort of waterfowl. Domestic ducks typically serve two to four. As for wild birds, a mallard, canvasback, redhead, gadwall or pintail will serve two (if you have other things on the plate), a wild goose four and a wood duck, bluebill, wigeon, ringneck or teal one.
Ingredients
1

domesticated duck or 2 very fat wild ducks

(see above)

1

tablespoon

kosher salt

1

lemon,

cut in half

4

sprigs

sage, rosemary, parsley or thyme
Instructions
Preheat oven to 325°F. Using a needle or a sharp knife point, prick the skin of the duck all over -- but be sure to not pierce the meat itself, only the skin. This lets the fat render out and will help crisp the skin. Pay special attention to the back, the flanks, and the very front of the breast.

Rub the cut lemon all over the duck and stick it inside the cavity. Liberally salt the bird; use a little more salt than you think you need. Stuff the duck with the herbs. Let the bird sit out for about 30 minutes to come to room temperature.

When you are ready to roast, put the duck on an iron frying pan or other ovenproof pan and surround it with root vegetables. Set the pan in the oven. Cook for 1 hour like this. Small ducks (wood ducks, wigeon, teal, ruddies, etc.) only need 40 minutes. If you are roasting a goose, increase the roasting time to 1 hour, 20 minutes. After the allotted time, take the pan out of the oven and set the ducks on a cutting board to rest. Spoon any fat that has accumulated over the vegetables and salt them well. If the veggies are ready to eat, remove them. If there is a lot of excess fat, spoon it off.

Now increase the heat to 450°F. When the oven hits this temperature, roast the birds for up to 30 more minutes, or until the skin is crisp. The reason you take the bird out of the oven is because a) the resting time helps redistribute the juices in the bird midstream, and b) you are crisping skin without totally overcooking the duck by only returning it to the oven when it is hot.

Remove from oven and let the birds rest. Small ducks need 5 minutes resting time, large ducks 10 minutes, geese 15.
Nutrition
Calories:
780
kcal
|
Carbohydrates:
3
g
|
Protein:
22
g
|
Fat:
75
g
|
Saturated Fat:
25
g
|
Cholesterol:
145
mg
|
Sodium:
1866
mg
|
Potassium:
436
mg
|
Fiber:
1
g
|
Sugar:
1
g
|
Vitamin A:
405
IU
|
Vitamin C:
21
mg
|
Calcium:
28
mg
|
Iron:
4.8
mg
You'll find nearly 100 recipes for all varieties of ducks and geese, wild or farmed, here on Hunter Angler Gardener Cook!