As an Amazon Associate I earn from qualifying purchases.
Gallina pinta, "painted hen" in Spanish, is at its core a sort of pozole — a simple stew of hominy (nixtamalized corn) and meat — only this specialty of Sonora, Mexico also adds beans. It's a hearty stew to make when the weather cools.
Beef is the most common meat in gallina pinta, but I've seen recipes that use venison, and that's what I used here. Any red meat will do. Interestingly, gallina pinta, despite its name, never uses chicken. Go figure.
This is one of those recipes that is as good or as average as you want to make it.
Sure, you can make gallina pinta with canned beans, canned hominy and even canned meat. People do, and it's perfectly fine to make it this way if you are busy on a a worknight.
But it will be so much better if you make everything from scratch — even the nixtamal, or hominy.
The corn used in Sonora is always white — if your family makes it with another color, let me know in the comments — and it is pozole corn, which means the kernels are big and starchy. You can't use sweet corn here.
The gold standard of any pozole corn — whether it's for gallina pinta, pozole blanco or pozole rojo — is a Mexican variety called cacahuazintle. You can buy it online from Masienda.
If you choose to nixtamalize your own corn, and I do recommend you trying it at least once, you'll need to start your gallina pinta a day ahead. Here are instructions on how to make nixtamal, which is what Mexicans call hominy.
As for the beans, simple pinto beans are a fine choice, but I prefer tepary beans, which are native to Sonora. They are smaller, meatier and, well, just plain cooler than regular pintos. Any yellow, brown or tan bean will do.
For the meat, it's your call.
Some prefer chunks of stew meat, and that's traditional and normal. I however like to take my gallina pinta to the next level and use a whole smoked venison shoulder that I then braise until it falls off the bone.
You then chop it so the strands of the meat are not too long, so you can get a nice spoonful.
To get there, on Day One, you nixtamalize your corn and smoke your meat. Day Two is when you cook everything.
Know that the venison and the corn will take about the same time to get tender, if you are starting from dried corn. If you are using canned hominy, simply rinse the corn out of the can until it's clean and not sludgy, then add it to the gallina pinta in the last hour.
You will want to wait to add salt to your gallina pinta until the beans and corn are tender, because adding salt to them too soon will toughen their skins.
Top your stew with cilantro and onions that you've soaked in some lime juice. You'll also want some dried chiltepin chiles if you can get them (I grow them), which you crush at the table. If you've never had chiltepins, they are wild chiles that are super spicy at the start, but fade quickly.
Once made, your gallina pinta only gets better in the fridge over the next few days, so make a big batch on a weekend and eat off it all work week.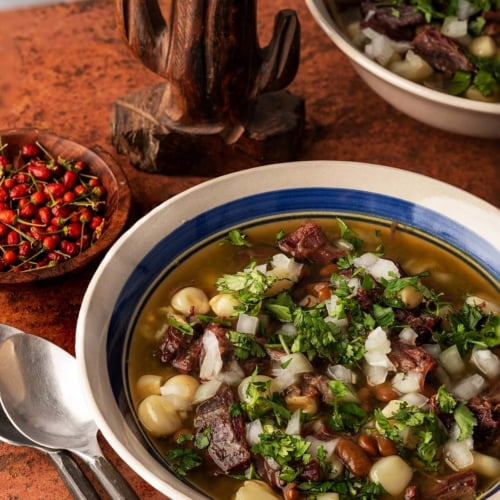 Gallina Pinta Stew
This is a specialty of the Mexican state of Sonora, and it's basically a clear pozole with beans added. See the headnotes for tips and tricks on making this a special Sunday dinner.
Ingredients
1

pound

dried pozole corn,

or 2 pounds canned hominy

Salt

3

pounds

venison neck,

or shoulder or shank, or oxtail or beef stew meat

1

white onion,

quartered

6

cloves

garlic, unpeeled

2

quarts

venison broth or beef stock

2

quarts

water

1

pound

dried pinto or tepary beans,

or 2 pounds canned

3 to 5

green Hatch or Anaheim chiles,

roasted, seeded and chopped coarsely

1/2

cup

chopped cilantro,

for garnish

1/4

cup

lime juice

1/2

white onion, minced

Dried chiltepin chiles,

to taste
Instructions
This assumes you've nixtamalized your corn the previous evening, if not, instructions to do so are here. If you are using canned hominy, simply remove it from the can and rinse well. Hold off on it for now.

If you are smoking your meat before starting the stew, again, I advise doing this the day before, but regardless, you will want to salt the meat well, then smoke it over low heat, about 200°F, for about 3 hours. The goal is just to get it a little smoky. You will definitely need to cut it into hunks small enough to fit into your soup pot.

When you are ready to start the stew, char the cut sides of the quartered onion and the unpeeled garlic cloves on a comal, griddle or cast iron pan until well charred. Peel the garlic, then chop it and the onion small. Add this to a large soup pot.

Add the corn and meat and cover with the stock and the water. Bring to a boil, then drop to a gentle simmer. Cook gently, with the pot mostly covered, until the meat wants to fall off the bone, which should take a couple hours.

About 2 hours into the cooking time, add the dried beans. You'll likely need another hour of gentle simmering. If you are using canned hominy, now is the time to add it. This is the time to soak the chopped white onion in the lime juice, along with a little salt, in a bowl.

Once the meat, corn and beans are nicely cooked, add the chopped roasted green chiles. Fish out the meat and discard the bones. Chop the meat against the grain so there are no long strings of meat. Return it all to the pot.

Serve topped with cilantro, the lime-soaked onion and some hot chiles.
Notes
Note that the prep time and cook time don't include smoking the meat or nixtamalizing the corn, which are added options. 
Keys to Success
To make this the best it can be, do start with dried corn and do smoke your meat. Both steps can be skipped, but your gallina pinta won't be as good. 
Resist the urge to add more stuff to the stew. It should be simple. 
Rinse your canned hominy and beans if that's the route you're going. It will make the stew taste cleaner. 
As with most stews, this one is better the day or two after it's made. It freezes OK, and can be pressure canned, although doing so will be tricky because you won't want the beans or the corn to be fully cooked when you do. 
Nutrition
Calories:
396
kcal
|
Carbohydrates:
42
g
|
Protein:
46
g
|
Fat:
5
g
|
Saturated Fat:
2
g
|
Polyunsaturated Fat:
1
g
|
Monounsaturated Fat:
1
g
|
Cholesterol:
116
mg
|
Sodium:
590
mg
|
Potassium:
1520
mg
|
Fiber:
9
g
|
Sugar:
5
g
|
Vitamin A:
78
IU
|
Vitamin C:
9
mg
|
Calcium:
89
mg
|
Iron:
8
mg
Nutrition information is automatically calculated, so should only be used as an approximation.