As an Amazon Associate I earn from qualifying purchases.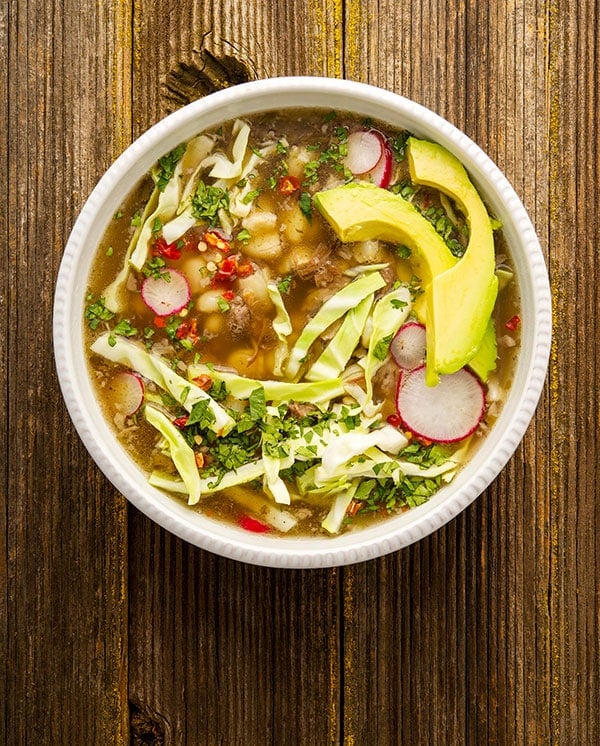 White pozole, pozole blanco, is a specialty of the Mexican state of Guerrero, and is considered by some the purest of all pozoles.
Unlike my recipes for pozole verde and pozole rojo, this version represents the third color of the Mexican flag — and yes, a galaxy of dishes a la bandera, like the flag, exists in Mexico.
The beauty of pozole blanco is its purity: Nothing can distract you from the broth, which is the star here. Yes, it is designed so you can add green or red salsa to your bowl, making this soup something of a dealer's choice, but I prefer it clear, with lots of dried chiltepin chiles crushed into it.
In a perfect world, you would nixtamalize your own corn, nip off the root end of each kernel, and simmer that with a pig's head. This is what I did. Why is this the perfect base for pozole? Because this is how it's been made, more or less, for centuries in Mexico.
The freshly nixtamalized corn (here are my instructions on how to make nixtamal) tastes so much better than either canned hominy or dried, pre-nixtamalized corn, that it's hardly the same soup.
But I get it: Not everyone is going to go for this. Your preferred alternatives would be 1) dried, pre-nixtamalized corn, and 2) canned hominy. The first is available through that link, the second in most supermarkets. Sweet corn is not a substitute.
As for the pig's head, it has meats of varying flavor and color, and there is so much collagen in it that the broth will set up like jello in the fridge; this is a good thing, because that collagen lends heft and body to the broth. You simmer the pig's head with the corn until the meat wants to fall off. You then fish it out and strip the meat off, chopping the weirder bits small and leaving the obviously meaty bits large.
Again, I get it. Not many of you are going to go looking for a pig's head to make pozole blanco. So barring that, buy pork shoulder plus a couple pig's feet, which are available in many markets. If you can't get pig's feet, the world won't end, but your pozole won't be as good. Like the head, you simmer the feet until tender, fish them out and chop the meat and skin up small.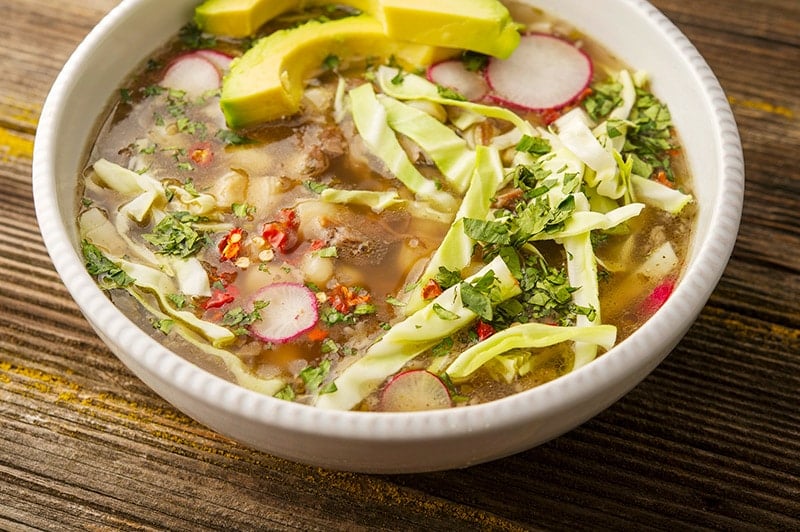 You can of course make pozole blanco with chicken, or any other white meat bird, like pheasants or turkey. If you do, try to get some chicken feet from the market for that collagen. Or, go for poultry + pig's feet.
I am obsessing on the meat and corn here because that is the soul of pozole: Everything else is jazz.
A typical pozole blanco in Guerrero will have onions and garlic, plus bay leaves and Mexican oregano in the broth, and often some allspice berries, cloves and black peppercorns. Super simple.
Then, when you serve it, everyone can add whatever they like to their pozole. Common toppings include: limes, shredded cabbage, sliced radishes, avocado, pickled white onion, cilantro and dried hot chiles.
One other thing. If you want, you can add a salsa to your bowl to make it red or green. If you do, my recommendation is my tomatillo salsa verde.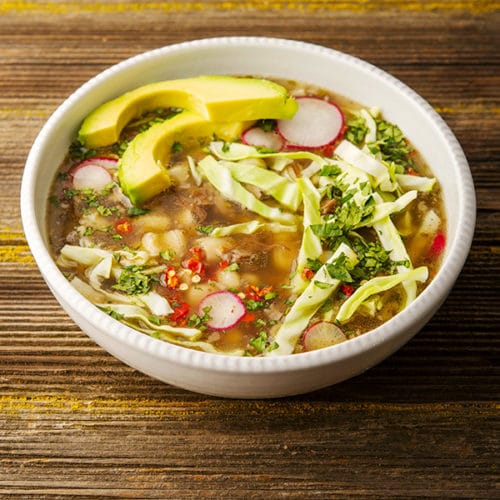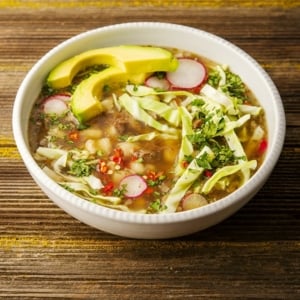 Pozole Blanco
Definitely read the headnotes to this recipe, as you'll get a lot of insight into what makes a good pozole blanco. Once made, it will keep for a week in the fridge, and it freezes well.
Ingredients
POZOLE
2

pounds

dried field corn, nixtamalized

(or two 30-ounce cans of hominy)

1

pig's head,

(or 4 pounds pork shoulder and 2 pig's feet)

1

tablespoon

Mexican oregano

3

bay leaves

6

whole cloves

10

allspice berries

15

whole black peppercorns

1

large white onion, chopped

8

cloves

garlic, sliced thin

Salt
TOPPINGS
6

limes, halved

1/4

head

cabbage, shredded

2

avocados, sliced

6

radishes, sliced

1/2

cup

chopped cilantro

Dried hot chiles to taste
Instructions
Submerge the pig's head in water. If you are using dried corn, add it now. If not, wait a while. Bring this to a simmer, and skim off any froth that accumulates. When the froth subsides, add the remaining pozole ingredients and keep the pot at a simmer. If you are using the pork shoulder and feet, it's the same procedure.

If you are using freshly nixtamalized corn or canned hominy, add it after the pork has been simmering for 1 hour. Continue to simmer everything until the meat wants to fall off, or the shoulder meat can be shredded easily. This will take longer for a head than pork shoulder.

If you are using the head, fish it out and strip off all the meat; discard the skull. If it had its tongue, peel that and chop roughly. The rule of thumb with a head is to chop recognizable meat rough, everything else fine. If you are using the shoulder and feet, fish out the feet and discard the bones, then mince everything fine. Regardless, once it's chopped, return all the meat to the pot.

OPTIONAL: Once the head is out of the broth, I try to pick out the bay leaves, cloves, allspice berries and peppercorns. This makes the soup easier to eat later, but if you miss a few, it's not a big deal.

Once the meat and corn are tender, you are ready to rock. Lay out all the toppings, and let people mix and match as they like.
Notes
NOTE: If you are doing the chicken or other poultry version, you will want the equivalent of 2 chickens, or about 5 to 6 pounds of poultry, plus maybe a pound or two of chicken feet, or 2 pig's feet. 
Nutrition
Calories:
137
kcal
|
Carbohydrates:
20
g
|
Protein:
3
g
|
Fat:
6
g
|
Saturated Fat:
1
g
|
Cholesterol:
1
mg
|
Sodium:
271
mg
|
Potassium:
276
mg
|
Fiber:
6
g
|
Sugar:
3
g
|
Vitamin A:
136
IU
|
Vitamin C:
22
mg
|
Calcium:
43
mg
|
Iron:
1
mg
Nutrition information is automatically calculated, so should only be used as an approximation.