As an Amazon Associate I earn from qualifying purchases.
Pipian verde, a green, pumpkinseed-based sauce, is one of those bedrock dishes in Mexican cuisine that, like chili or gumbo, has as many variations as it has cooks. This is my version.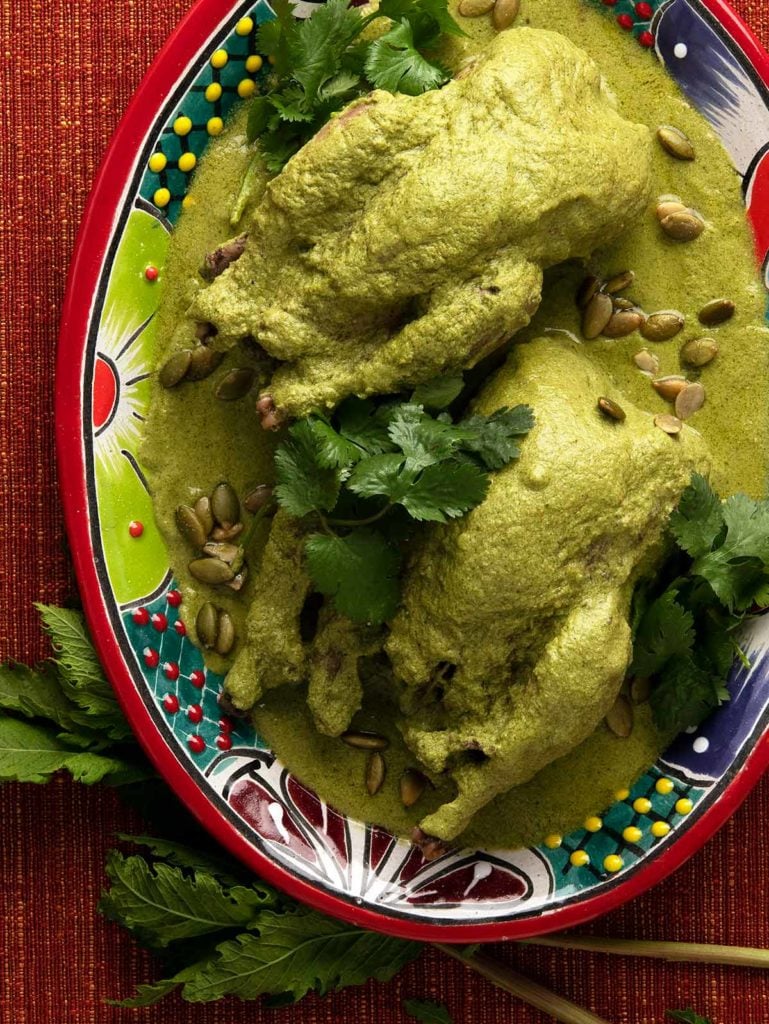 The origins of pipian verde date back well before the arrival of the Spanish in the 1500s, and most of the ingredients are native to Mexico. Variations on this sauce exist in both the Maya and Aztec traditions, which makes sense given how important pumpkins and squash are to New World cooking.
The flavor is smooth, silky from the fat in the pepitas as well as the lard or oil you cook the sauce in, tart from tomatillos, warming but not overly spicy, with varying bright notes depending on which sort of herbs you use.
As I mentioned, a great many versions of pipian exist, in colors ranging from this pretty green, to beige and brown, to a vivid red; I do have a great recipe for pipian rojo, the red variety.
Pipian verde is green not only because it uses pepitas, hulled pumpkinseeds, but also green chiles, tomatillos and lots of green herbs or leafy greens.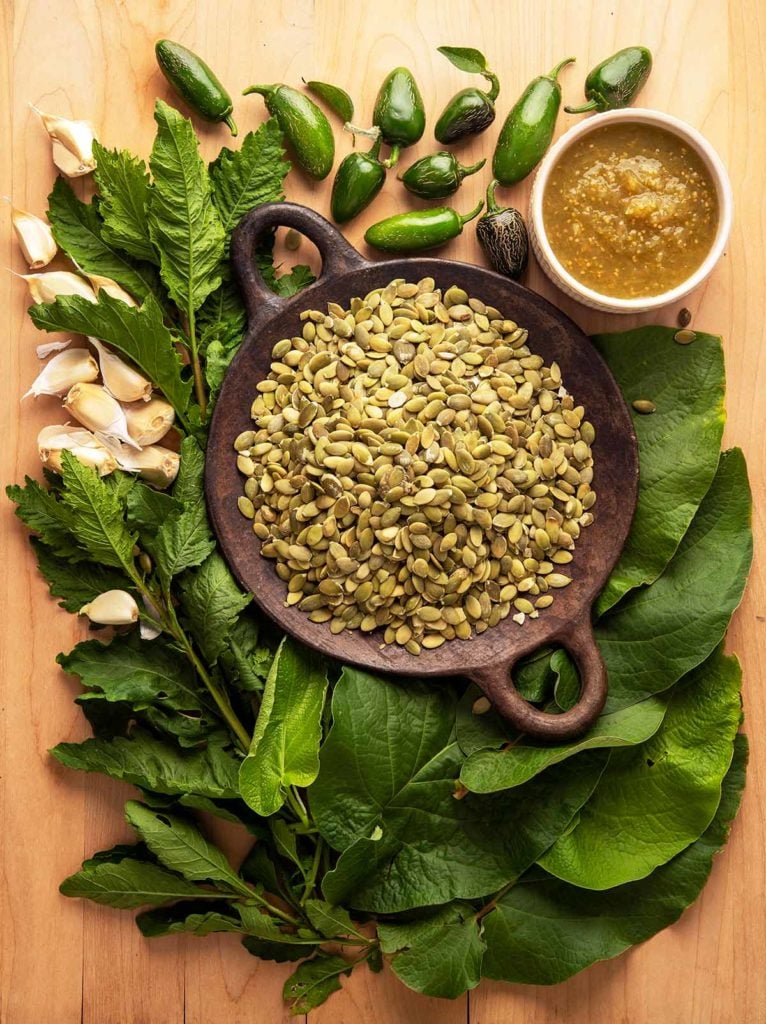 The sauce is never cooked for very long, otherwise it would dull to a drab olive green. But most versions do cook it, to meld and mellow flavors. Lard is the fat of choice, but you can use oil.
Once you look at the ingredients, you might think this is really mole verde, but there is a difference between mole and pipian. Mole verde may or may not have pumpkin or squash seeds, but pipian verde always does — at least in the several dozen recipes in English and Spanish I've read, as well as the renditions I've eaten here and in Mexico.
Other than that, you can play around with the chiles and the green things.
I use jalapenos from my garden as well as either Hatch or poblano chiles. Any combination of reasonably hot and mild green peppers will do. You don't want it mega hot.
The green things are all over the map. I use epazote, cilantro and hoja santa because I grow them in my yard, but I've also used lambsquarters, sorrel, radish leaves or mustard greens, even lettuce.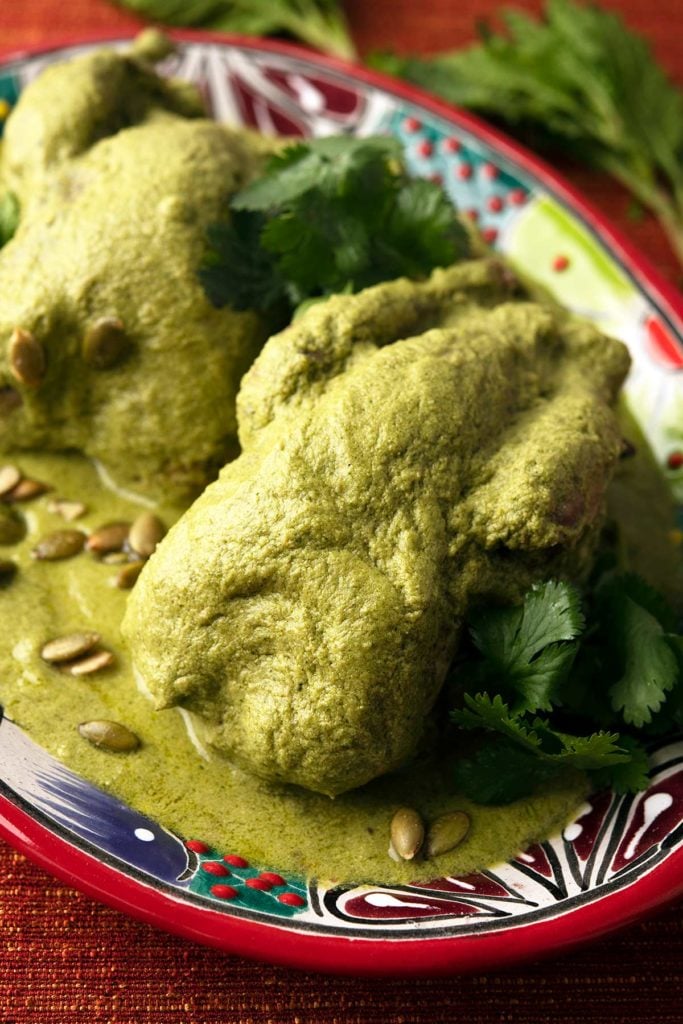 Your liquid can be water, but I prefer to gently poach a pheasant, some quail, grouse or partridges, then use that broth for the pipian verde. Chicken, rabbit or fish are the normal accompaniments in Mexico. (Hungarian partridges are in the photos.)
Like a lot of good Mexican sauces, you char onions, garlic and chiles first, then roughly chop and put in a blender with toasted pepitas as well as the herbs and such. Puree with the aid of the broth until it has the consistency of melted ice cream, then cook in lard or oil just about 15 minutes or so.
Normally the birds or rabbit I poached will get a bath in the pipian verde, but if I am doing fish, I'll still use chicken or poultry broth to make the sauce because later, when you have leftovers, pipian verde made with poultry broth will be more versatile than that made with a fish or shellfish broth.
And you will likely have extra sauce, which can be reheated gently with a little more water or broth, for about 5 days after you make it. Afterwards it will sour and turn ugly. It doesn't freeze well.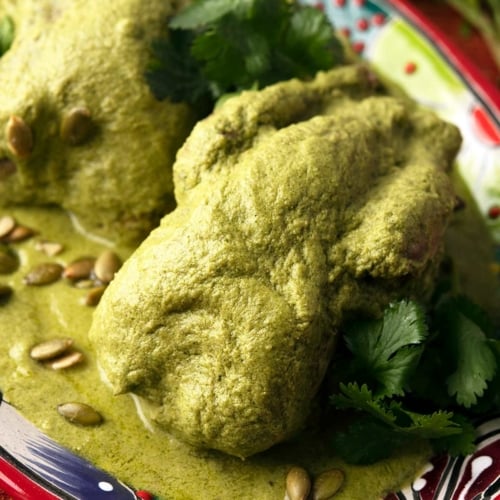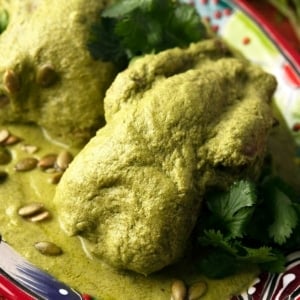 Pipian Verde
This is an easy sauce to make that works very well with chicken or other white meat poultry, rabbit or fish. Once made, it will keep a week or so.
Ingredients
3

poblanos,

roasted, stemmed and seeded

1

small white onion,

quartered

2

cloves

garlic,

unpeeled

4

jalapenos,

roasted and roughly chopped

4

ounces

tomatillos, husked and cut in half

8

ounces

pepitas,

roasted and salted

12

hoja santa leaves,

or 1/2 pound mustard greens

3

sprigs

epazote,

(optional)

1

bunch

cilantro,

roughly chopped

1

cup

chicken broth

(See below)

1/4

cup

lard or vegetable oil

Salt
Instructions
Get a comal or flattop or griddle very hot and sear the skins of the poblanos and jalapenos. You will want to thoroughly blacken the poblano skins, but the jalapenos only need some charring for flavor. When the poblanos are nicely blackened, put them in a plastic bag to steam. Remove the jalapenos, chop and put into a blender

Meanwhile, char the cut sides of the onion on the comal, as well as the garlic. When the onion and the skins of the garlic cloves have blackened, remove from the heat. Peel the garlic and put in a blender. Roughly chop the onion and put that in a blender. If you want to, char the cut sides of the tomatillos, too, although this isn't strictly needed.

Use a butter knife to strip off the skins of the poblanos. Remove the seeds and stems and chop roughly. Add them to the blender.

Chop the hoja santa leaves or mustard greens and add them to the blender. Add the remaining ingredients to the blender except for the lard. Puree well. You want this to be smooth. If you have a small blender you might need to do this in batches.

Heat the lard in a large pan over medium-high heat. When it's hot, scrape the sauce into the pan. It will sputter and spit. Stir constantly until the lard has incorporated, then add water or broth slowly until the mixture has the consistency of melted ice cream. Add salt to taste and cook another 10 minutes or so. Serve poured over your meat or fish with some toasted pepitas and cilantro for garnish.
Notes
Most of the time you will submerge a chicken or pheasant, some quail or partridges, a rabbit or two, or a grouse in water with salt and let this cook gently until the meat is tender. You can make this initial broth as elaborate as you want, but it need not be. This is the broth you use to make the sauce, and the meat that will be sauced. 
Keys to Success
While it looks pretty to pour this over a whole bird, it's easier to eat if you strip the meat off the bone first. This is also a great way to use leftover pipian, in tacos or burritos. 
Really do try to look for epazote, as it adds a lot to the flavor; so does hoja santa, but that can be tougher to find. Look in Latin markets for it. 
Resist the urge to cook your meat in the sauce. It will thicken too much and turn an ugly olive drab. The exception is fish. A fish fillet works well gently cooked in the pipian itself. 
If you want to make this hotter, use serranos or green habaneros. 
Nutrition
Calories:
202
kcal
|
Carbohydrates:
11
g
|
Protein:
12
g
|
Fat:
15
g
|
Saturated Fat:
3
g
|
Polyunsaturated Fat:
6
g
|
Monounsaturated Fat:
5
g
|
Trans Fat:
1
g
|
Sodium:
26
mg
|
Potassium:
642
mg
|
Fiber:
5
g
|
Sugar:
4
g
|
Vitamin A:
2035
IU
|
Vitamin C:
89
mg
|
Calcium:
92
mg
|
Iron:
4
mg
Nutrition information is automatically calculated, so should only be used as an approximation.