Pheasant with Mushrooms and Cream
November 03, 2021 | Updated May 26, 2022
As an Amazon Associate I earn from qualifying purchases.
Pheasant with mushrooms is a perfect combination of fall flavors, is easy to make and comes together in less than an hour.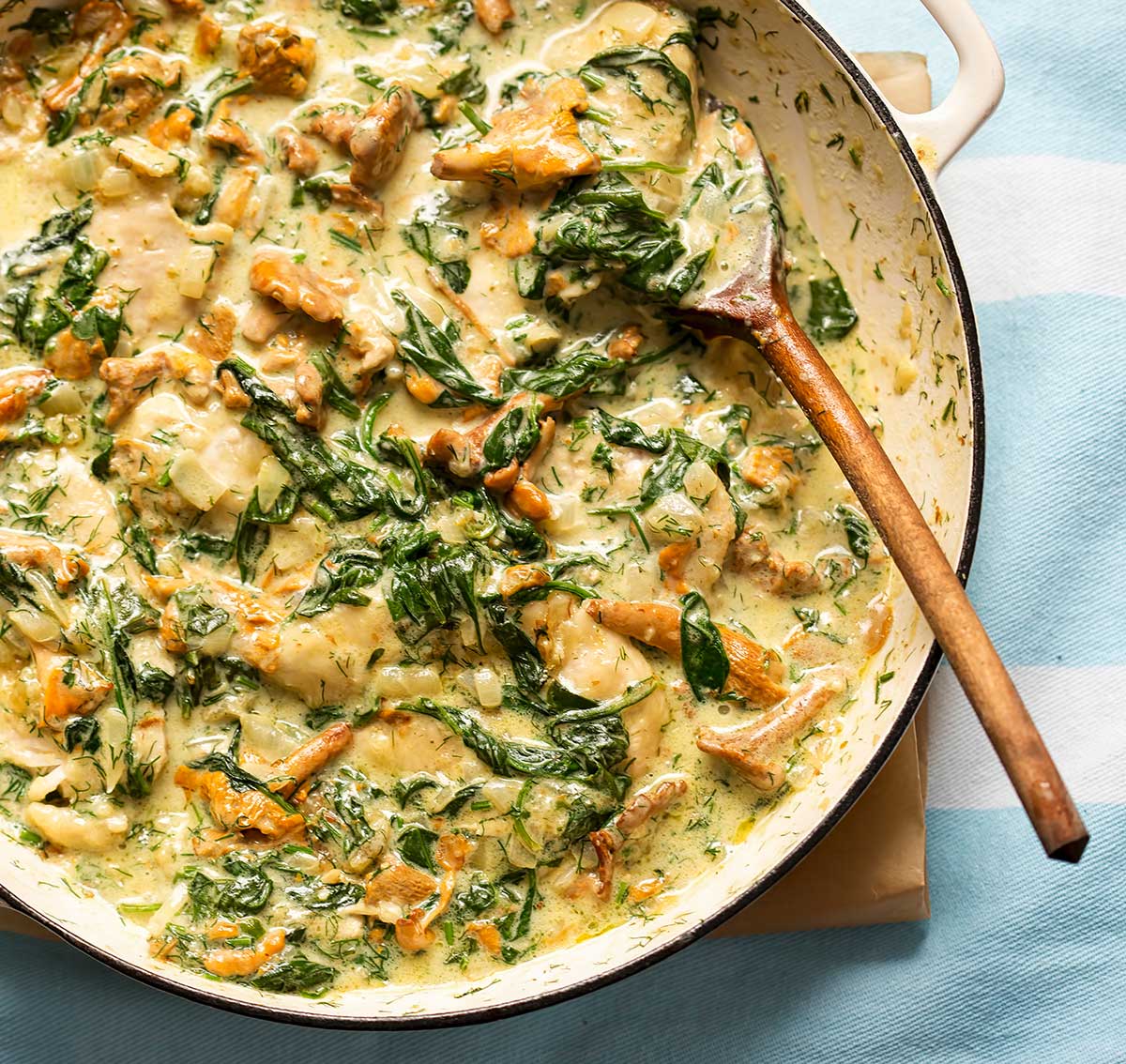 This is a homey recipe that brings together the classic combination of mushrooms, brandy, cream and chicken — only I use pheasant breasts here.
Grouse, quail, partridge, rabbit or chicken also work.
I will always use wild mushrooms when I make pheasant with mushrooms, because, well, they're both wild ingredients. Chanterelles, blewits, morels, porcini — whatever makes you happy. Not a mushroom hunter? Just get some nice store-bought 'shrooms. Maitake would be excellent, as would shiitake.
There is nothing that is not to love in this dish: The sautéed mushrooms have a dense, almost crunchy texture, thyme has a natural affinity for all mushrooms, cream and butter provide richness, brandy a sophisticated aroma and the pheasant sings a hearty, meaty harmony with the mushrooms, which are the star here.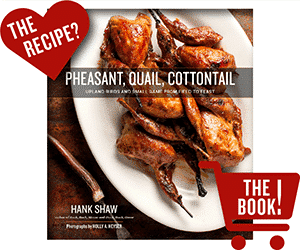 If you happen to have some glace de viande, commonly known as demi-glace, use that instead of boiling down regular pheasant stock.
I use breast meat here because it is the most common meat people keep off pheasants, and because it cooks quickly. You do have to be aware that you can overcook pheasant breast easily. Better for it to be slightly undercooked; it'll still be safe to eat.
You can modify this recipe for legs and thighs by simmering them in salted water — essentially making a basic pheasant stock — then stripping the meat off the bones. Strain that stock, boil it down, and add the meat when you'd add the breast meat in the recipe below.
If you have them around, add some greens to the pot, too. I prefer using lambsquarters, amaranth greens, chard or spinach. Spinach would be your best bet at the supermarket.
Pheasant with mushrooms will keep a couple days in the fridge, but it does not freeze well.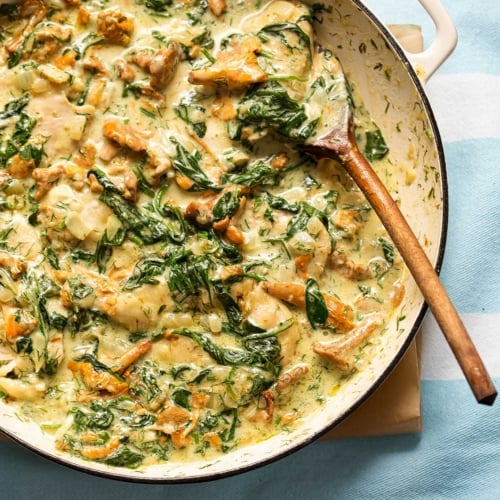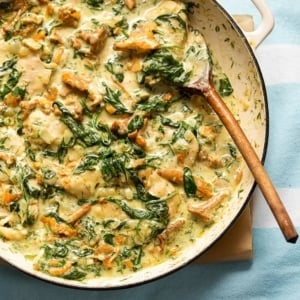 Pheasant with Mushrooms
You can use any sort of white meat poultry here, as well as any sort of mushroom.
Ingredients
1

cup

pheasant stock,

chicken or beef stock

1

pound

fresh mushrooms,

any kind

3

tablespoons

butter

1/2

cup

shallots,

minced

Salt

1

teaspoon

dried thyme

1/4

cup

Armagnac or other brandy

1/2

cup

cream

1

pound

pheasant breasts

(or other white meat poultry)

1

cup

spinach, lambsquarters or amaranth greens,

chopped
Instructions
Pour the stock into a small pot and boil it down until you have about 1/4 cup. Set aside. Cut the pheasant breasts into strips or chunks and salt well.

Slice the mushrooms into large pieces. Heat a large sauté pan over high heat for 2 minutes. Add the mushrooms and shake the pan to keep them from sticking. Dry sauté the mushrooms for several minutes, shaking often, until the mushrooms give up their water. Cook until that water is almost gone.

Add the butter and shallot and toss to combine. Sauté, stirring often, until the shallot is translucent and the mushrooms begin to brown.

Sprinkle the thyme and a little salt over everything and mix well. Pour in the brandy and use it to scrape up any browned bits on the bottom of the pan. Turn the heat down to medium-high and cook until the brandy is almost gone.

Add the reduced stock, the cream and the pheasant strips and toss to combine. Bring this to a gentle simmer, turn the heat to low and cover. Cook like this for 5 minutes, or until the pheasant is just barely cooked through.

Toss the spinach in and serve with crusty bread, egg noodles or mashed potatoes.
Nutrition information is automatically calculated, so should only be used as an approximation.