Char Siu Pork
December 06, 2018 | Updated June 24, 2022
As an Amazon Associate I earn from qualifying purchases.
Ladies and gentlemen, meet China's answer to barbecue: Char siu pork.
You probably have seen glimpses of it, as chopped up bits in fried rice, or those spare ribs many cheapy Chinese takeout places sell. That's char siu pork, but it ain't good char siu pork. That is to real Chinese BBQ what the McRib is to real barbecue.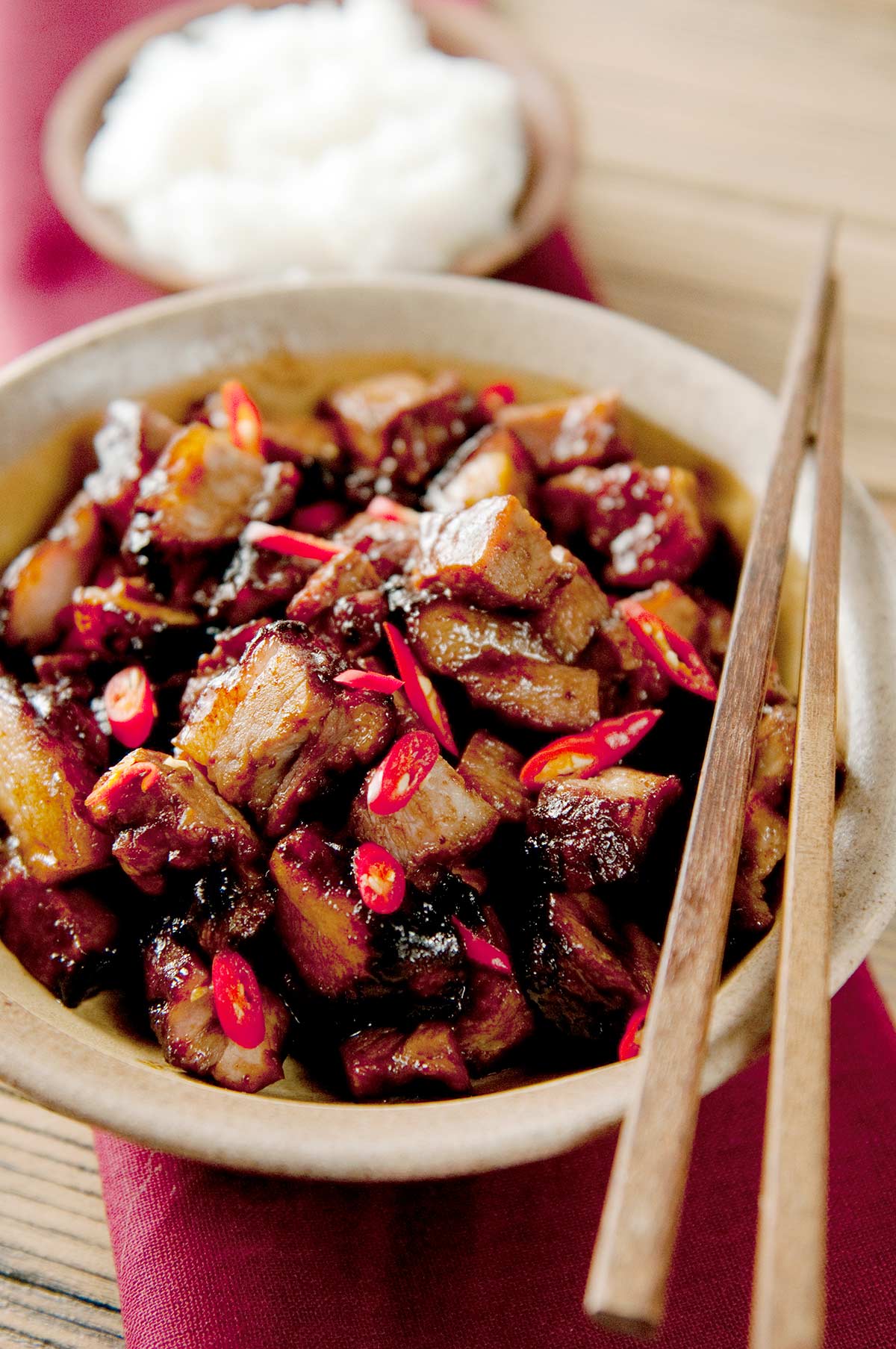 Char siu pork is sweet, smoky silky and spicy — both in the heat sense of the word and because you can definitely detect the Chinese five spice powder in here. You can buy the sauce in stores, and in fact I did. I tried it, and, well, meh. Gloppy, overly sweet, no real heat. Back to the drawing board.
Turns out you can make your own char siu sauce. So I did, and here it is. My recipe is an amalgam of a half-dozen I've read in various Chinese cookbooks, as well as online. I've run it past several Chinese food experts, and they gave this recipe their thumbs up.
You will need a piece of fatty pork, like pork butt, "country ribs" or pork belly. If you're hunting pigs, look for the same cuts. (You could also use bear here, if you are a bear hunter.) While you can make char siu with pork loin, it won't be as lush. Fat helps.
Char siu pork is Cantonese, and mostly is made of hoisin sauce, five spice powder, soy sauce, sometimes honey or sugar, Shaoxing wine or sherry, plus an acidic element, in this case Chinese black vinegar. I add chile bean paste and some fresh chiles, too, since I want heat to balance the sweet.
In many restaurants, you will see this pork even redder than it ought to be: That's because they are using red food coloring. I do not, and it's not necessary.
I also have a recipe for char siu duck legs you might like. And if you don't have a grill or smoker, my Chinese red cooked pork is very similar and can be made on the stovetop.
With the exception of the Shaoxing wine and the black vinegar, all of these ingredients are easily available in most supermarkets, or online. Dry sherry and malt vinegar are decent substitutes for the wine and vinegar.
I typically serve my char siu pork over simple steamed rice, maybe with some pickled mustard greens and an ice cold beer. If you have leftovers, use it in fried rice, added to vegetable stir fries, or if you are adventurous, Chinese bao buns.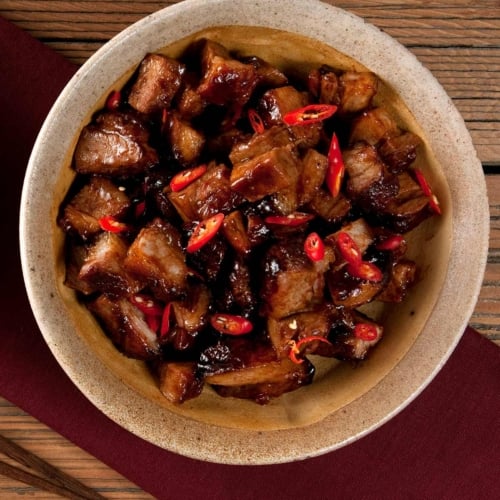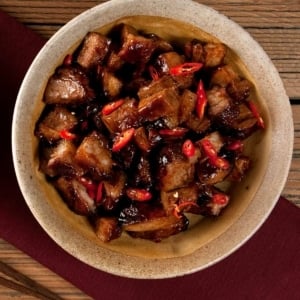 Chinese Char Siu BBQ Pork
This is classic Chinese barbecue, and it is damn good. This char siu sauce works well with any fatty meat. The spices, the heat and the sweetness really cry out for a rich meat to work with, so pork belly, shoulder or duck legs are ideal. My advice? Make a double batch of the sauce, and store it in the fridge. You will want to put it on everything.
Ingredients
1/2

teaspoon

Chinese 5 spice powder

2

tablespoons

honey

2

tablespoons

soy sauce,

preferably dark soy sauce

2

tablespoons

hoisin sauce

4

tablespoons

Chinese Shaoxing wine,

or dry sherry

1

tablespoon

Chinese chile bean paste

(optional)

3

minced garlic cloves

2

tablespoons

grated ginger

2

pounds

pork shoulder or belly

1-2

tablespoons

Chinese black vinegar or malt vinegar

(optional)

1-2

sliced fresh chiles,

for garnish (optional)
Instructions
Make the char siu sauce by mixing all the ingredients except for the pork in a blender and pureeing for 1 minute. Pour into a bowl. Put the pork into a plastic container that will just about fit it, and coat with a little of the char siu sauce. Leave at least 1/2 of the sauce for basting later. Marinate for at least 30 minutes, and up to 2 days.

Get your grill going, leaving some space for indirect heat. If you are using a gas grill, turn off all but one burner. If you are using charcoal, leave an open space on one side of the grill. If you are using a smoker, set it to 225°F. Make a drip pan out of aluminum foil and set that under where the pork will be. You are looking for slow, steady heat here, never hotter than 300°F. Alternately, you can cook the pork in the oven at 225°F

Set the pork on the grill over the drip pan and away from the direct heat. Cover the grill and cook until it's tender, which will take between 2 and 4 hours, depending on how large a piece of pork you started with and whether it's wild or farmed. Baste the pork with the char siu sauce every 45 minutes or so. Turn the pork every hour.

To serve, cut into bite-size pieces and toss with the remaining char siu sauce. A splash of Chinese black vinegar or malt vinegar right at the end is a nice touch. Garnish with sliced fresh chiles and serve with white steamed rice, some pickles or fermented mustard greens and lots of cold beer.
Nutrition
Calories:
295
kcal
|
Carbohydrates:
18
g
|
Protein:
29
g
|
Fat:
10
g
|
Saturated Fat:
3
g
|
Cholesterol:
93
mg
|
Sodium:
740
mg
|
Potassium:
571
mg
|
Fiber:
1
g
|
Sugar:
14
g
|
Vitamin A:
105
IU
|
Vitamin C:
18
mg
|
Calcium:
29
mg
|
Iron:
2.3
mg
Nutrition information is automatically calculated, so should only be used as an approximation.