Sichuan Twice-Cooked Pork
February 06, 2014 | Updated August 25, 2021
As an Amazon Associate I earn from qualifying purchases.
Chinese twice cooked pork belly is one of those little luxuries. It is a Sichuan dish where you first simmer pork, usually pork belly, until it's tender, then you stir-fry the pork with leeks and black beans.
And yes, double cooked pork is fatty. Silky. Lush.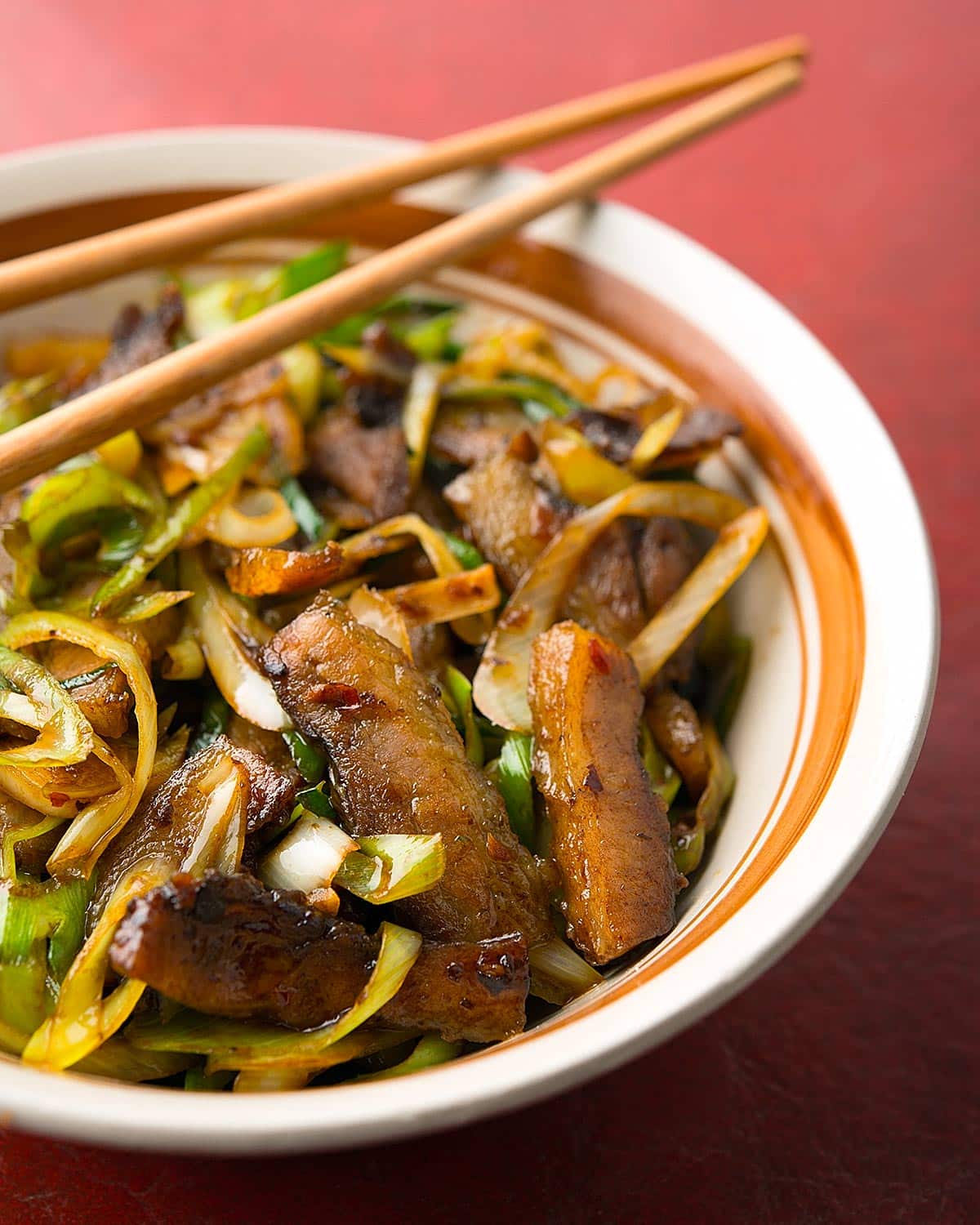 I had never even heard of twice cooked pork belly until about eight years ago, when a new Chinese restaurant opened up down the street. I wandered into the Sichuan Spice House wondering what, if anything might be good there.
When I opened the menu I was astonished: Tripe. Spicy wontons. Lamb with cumin. Crispy fish served whole. And this twice cooked pork belly. Wow. Real Chinese, I thought. When the food came, I was stoked: Real-deal Sichuan cooking in my little neighborhood!
Since then I've eaten their twice-cooked pork belly probably a hundred times. Fatty yet meaty. Super savory from black beans, all brightened by lots and lots of leeks.
What I like the most is that the cook decided to use even the tougher green part of the leek, which most cooks use only for stock; the green parts give the dish a contrast in texture and are stronger in flavor than the white parts, as you might expect.
The process of making double-cooked pork renders out a lot of fat, so even though it's pork belly, it is not as fatty as, say, red cooked pork belly. Plus, you then stir-fry sliced until they are nicely browned.
Mostly you will be using farmed pork belly here, but I have used belly meat from wild hogs and bear, too. If you can't get belly, the fattiest parts of pork shoulder will work in a pinch.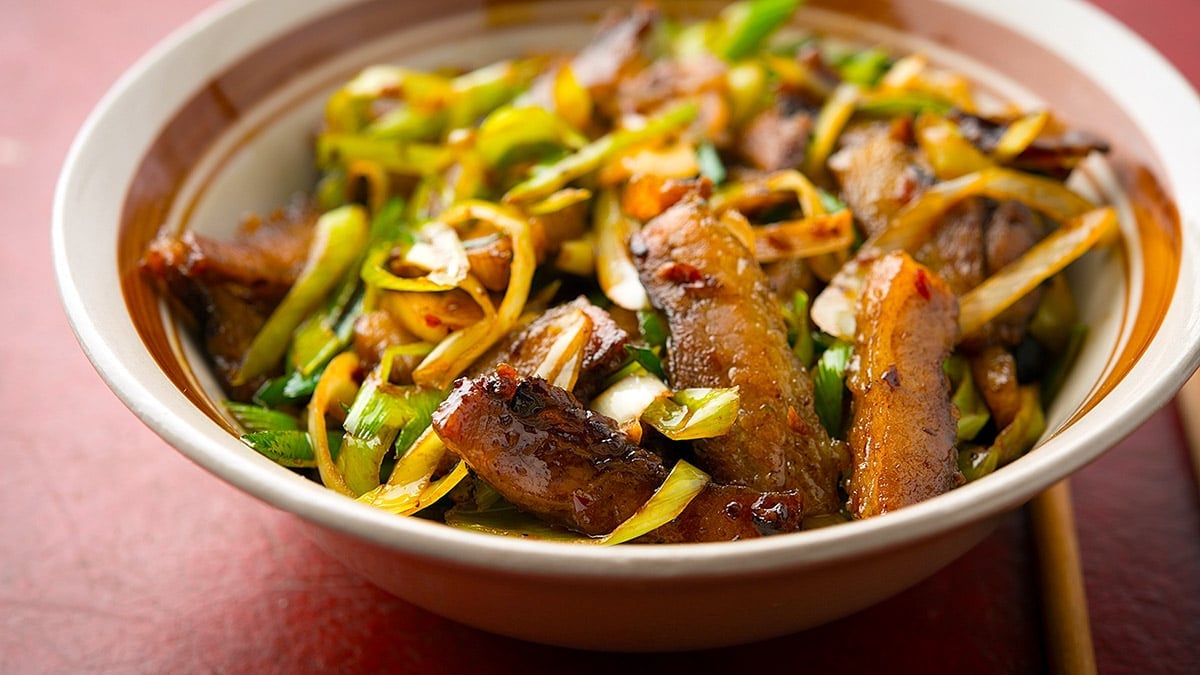 My recipe is an amalgam of several, but I am especially indebted to my friend Kho Kiam Lam over at the Red Cook blog. His website is a treasure trove of real-deal Chinese recipes.
Serve your twice cooked pork belly with steamed rice and a beer. It reheats very well, too, and will last a week in the fridge.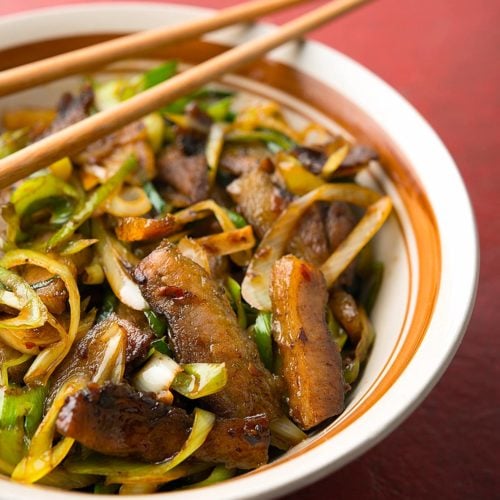 Sichuan Twice-Cooked Pork Belly
Cooking twice-cooked pork belly with a wild pig is a little tougher (literally) than if you use domesticated pork belly. Most recipes call for boiling the pork belly for 20 to 45 minutes, but that won't work with wild pigs. Instead, I cook the boar belly in steaming water -- not boiling -- for 60 to 90 minutes, to help break down the connective tissue in it. Keeping the temperature lower prevents all the fat from boiling out of the belly.
Ingredients
1

to 1 1/2 pounds uncured pork belly

(do not use bacon)

3

medium-sized leeks,

sliced in half then in pieces you can pick up with chopsticks

3

tablespoons

peanut oil or lard,

reduce by 1 tbsp if your pork is very fatty

1

tablespoons

chile bean paste

3

tablespoons

black bean sauce

1

tablespoon

Shaoxing cooking wine,

or dry sherry

2

teaspoons

soy sauce

2

teaspoons

sugar

Salt to taste
Instructions
Bring a large pot of water to a boil and add a healthy pinch of salt to it. Drop the pork belly in it and lower the heat until the water is barely simmering. Cook domesticated pork belly like this for about 45 minutes, or wild pig belly for up to 2 hours; somewhere around 90 minutes is normally about right. Remove the pork belly and set on a plate in the freezer to chill.

When the pork belly has chilled through, which should take 30 to 60 minutes, slice it thinly across the grain. You want thin squares or rectangles you can pick up with chopsticks.

Heat a wok or large sauté pan over high heat until it's good and hot. Add the peanut oil and swirl it around, then add the pork belly. Arrange the pork belly in one layer all around the wok and let it sear like this for a minute or two, until it gets a little browned and starts to release some fat. Toss to flip and use tongs or chopsticks to make sure the pork is cooking on the opposite side. Let this cook for a minute or two. Remove the pork for now.

Add the chile bean paste, black bean paste, cooking wine and leeks. Stir-fry over high heat until the leeks are bright green and glossy, about 2 minutes. Add the pork back and stir-fry another minute. Add the cooking wine, soy and sugar and stir-fry another few seconds. Serve over rice.
Notes
You really need the black bean sauce to make this dish -- many good supermarkets carry it.
Nutrition
Calories:
966
kcal
|
Carbohydrates:
8
g
|
Protein:
17
g
|
Fat:
96
g
|
Saturated Fat:
34
g
|
Cholesterol:
122
mg
|
Sodium:
349
mg
|
Potassium:
375
mg
|
Fiber:
1
g
|
Sugar:
4
g
|
Vitamin A:
573
IU
|
Vitamin C:
5
mg
|
Calcium:
28
mg
|
Iron:
2
mg
Nutrition information is automatically calculated, so should only be used as an approximation.