Catalan Monkfish
April 08, 2021 | Updated May 27, 2021
As an Amazon Associate I earn from qualifying purchases.
If you are looking for a good monkfish recipe, look to Spain. The Spanish eat quite a lot of monkfish, where it is called rape, pronounced "rah-pay."
This dish is from Catalonia, where Spain meets France on the Mediterranean side. It's a wonderful sauce! Roasted garlic, tomatoes, a little saffron — you'll want to make it no matter what fish you happen to have handy.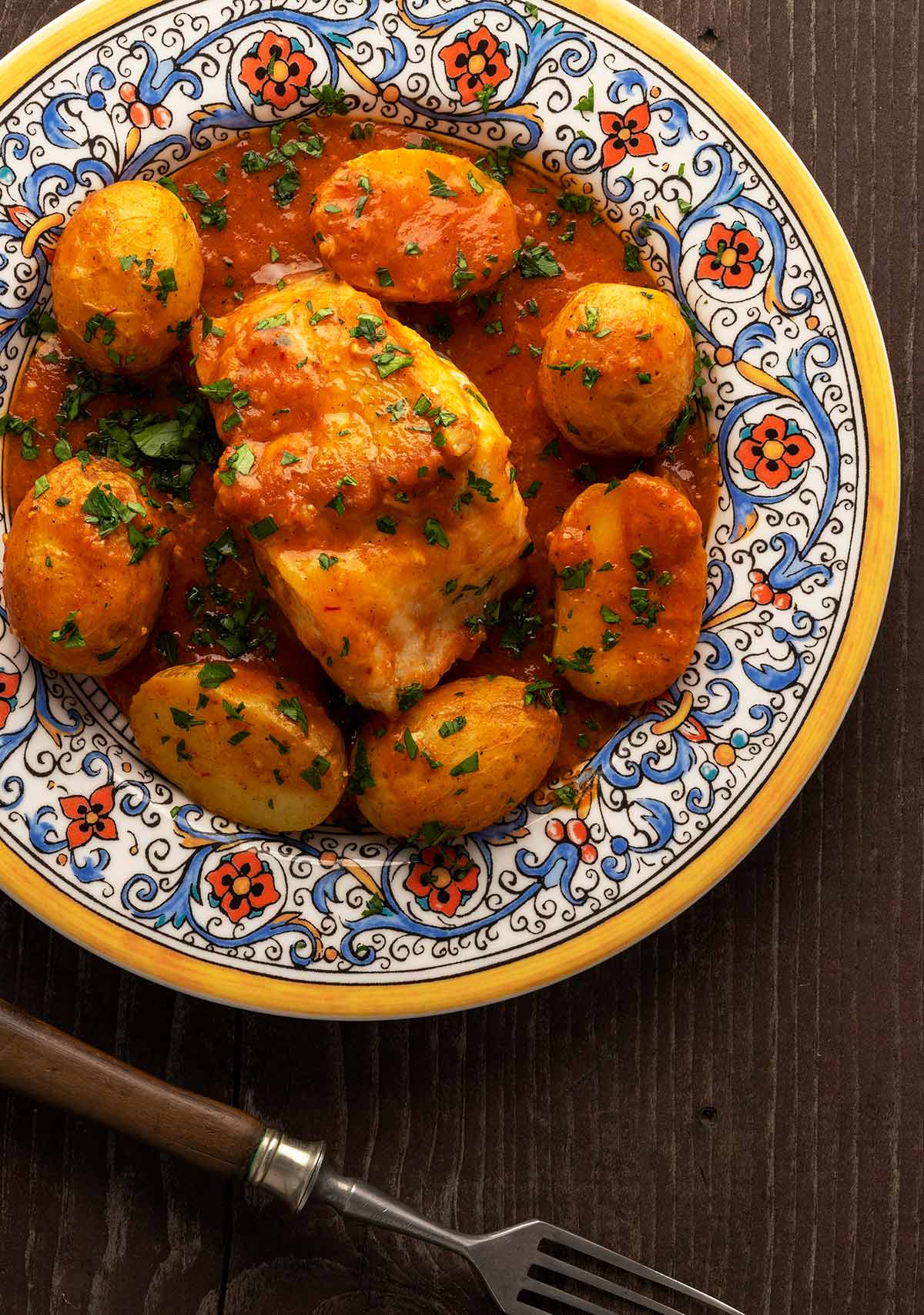 So yeah, don't get all hung up on this being a monkfish recipe, because although it is, you can use whatever firm fish you have on hand. Other great options would be tuna, cobia, lingcod, codfish, cusk, snapper, walleye, smallmouth bass — hell, even chunks of carp would be good here.
I learned about this recipe a while back, when I read Daniel Olivella's great book Catalan Food, which I definitely recommend. There is also a recipe similar to this in one of the late, great Penelope Casas' books. Look her up, too if you like Spanish food.
You may notice that I do a lot of Spanish fish and seafood dishes on this site. It's because they are some of the world's best. Usually simple, but with sufficient twists and turns in either ingredients or technique to make them interesting.
There's codfish pil pil, which uses the fish's own juices to emulsify an olive oil and garlic sauce. Hake with green sauce, a super bright green sauce that is, frankly, good on anything. Tons of recipes for salt cod, of which salt cod fritters are my favorite — and if you don't like salt cod, just make the saffron aioli that goes with it. Serve that on any fried fish and it will please a crowd.
This monkfish recipe follows a little more in the vein of the saffron aioli in that it's a blended sauce using saffron that bathes the fish (or let's be honest, pretty much anything) in goodness. You definitely notice the saffron in there, but the dominant flavors are warm, roasted garlic accented by the sweet tang of the tomatoes.
You can make the sauce up to a day ahead and keep it in the fridge if you want.
The monkfish is simply seared in olive oil. If you're not familiar with monkfish, it is a very firm fish that doesn't flake like most other fishes; some call it poor man's lobster. I don't agree, but monkfish is still very good. I got mine from E-Fish, a company that will ship you fish and seafood directly from the fisherman. This monkfish comes from New England.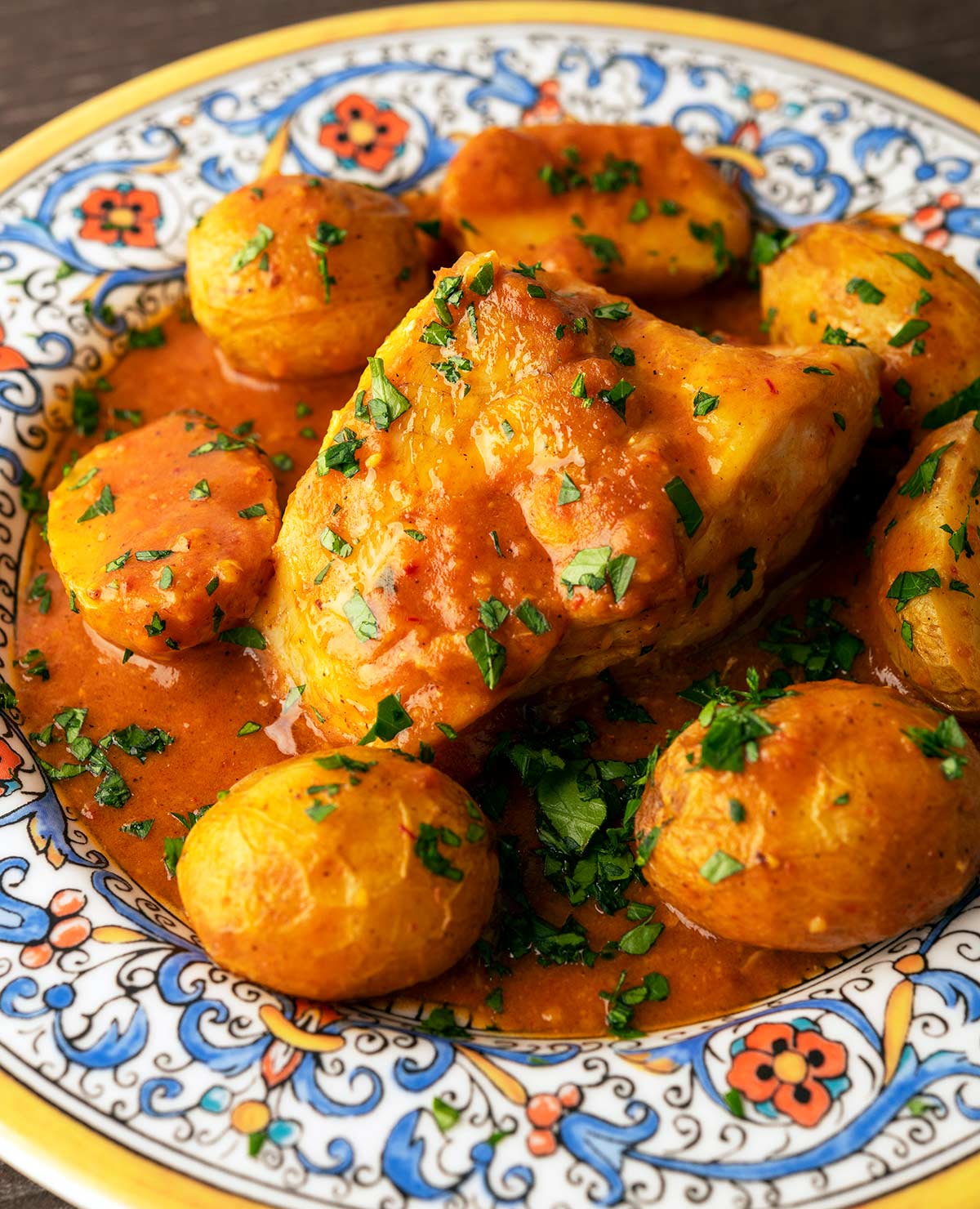 They are the stuff of nightmares to look at, but primarily you will get only the tails; sometimes you can find cheeks, and if you can get them, they are perfect in my recipe for halibut cheeks.
I like to serve this recipe with Spanish wrinkled potatoes, but rice or crusty bread are other good choices. You'll want a light red wine, a dry rose or a big white wine here.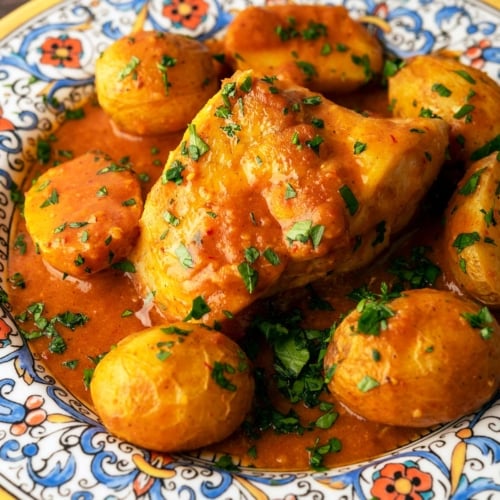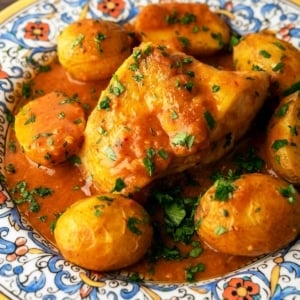 Catalan Monkfish
Keep in mind that this sauce is fantastic with pretty much any fish, and it's also good with chicken, turkey breast, quail or pheasant.
Ingredients
1

large head of garlic

4

tablespoons

olive oil,

divided

Salt

3

tablespoon

pine nuts

A large pinch of saffron

1

cup

tomato puree,

fire-roasted if possible

3

tablespoons

white wine or dry sherry

1

cup

fish or chicken stock

2

tablespoons

parsley,

for garnish

1 to 2

pounds

monkfish tails,

cut into portions
Instructions
Preheat the oven to 350°F. Slice the top quarter off the head of garlic and set it in a nest made of foil pour a little olive oil over the exposed garlic cloves, fold up the foil to cover and set the garlic in the oven to roast. Let this roast 45 minutes or so.

Meanwhile, toast the pine nuts in a dry frying pan over medium-high heat. They're done when they start to brown a little. Move the nuts to a bowl so they don't overcook.

Set the monkfish out and salt it well.

When the garlic is done, open up the foil to let it cool. Add the pine nuts, the saffron and a healthy pinch of salt to a mortar and pestle. Grind them well, then squeeze the garlic cloves out of their papery sheaths and mash all this together until it becomes a paste.

Heat the frying pan over medium-high heat. When the pan is hot, add the remaining olive oil. Pat the fish dry with paper towels, then set it in the hot pan. The moment the fish hits the pan, jiggle the pan a little. Let the fish sear hard for 4 minutes. Turn the fish over and sear another 3 minutes. (Keep in mind this is for thick chunks of monkfish. If your fish is thin, sear only until you get a nice crust on one side.) Put the finished fish on a plate and set it in the oven, which will still be warm.

When all the fish is done, add the tomato puree, wine or sherry and the stock to the pan. Use a wooden spoon to scrape up any browned bits. Boil this furiously until it reduces by half, then drop the heat to a simmer. Stir in the garlic/pine nut mixture with a fork until it is totally combined.

Move the fish (and the cooked potatoes, if you are serving them) to the pan and coat with the sauce. Serve garnished with parsley.
Nutrition
Calories:
306
kcal
|
Carbohydrates:
8
g
|
Protein:
20
g
|
Fat:
21
g
|
Saturated Fat:
3
g
|
Cholesterol:
28
mg
|
Sodium:
235
mg
|
Potassium:
861
mg
|
Fiber:
2
g
|
Sugar:
4
g
|
Vitamin A:
553
IU
|
Vitamin C:
11
mg
|
Calcium:
46
mg
|
Iron:
2
mg
Nutrition information is automatically calculated, so should only be used as an approximation.