Basque Cod al Pil Pil
November 08, 2018 | Updated July 03, 2020
As an Amazon Associate I earn from qualifying purchases.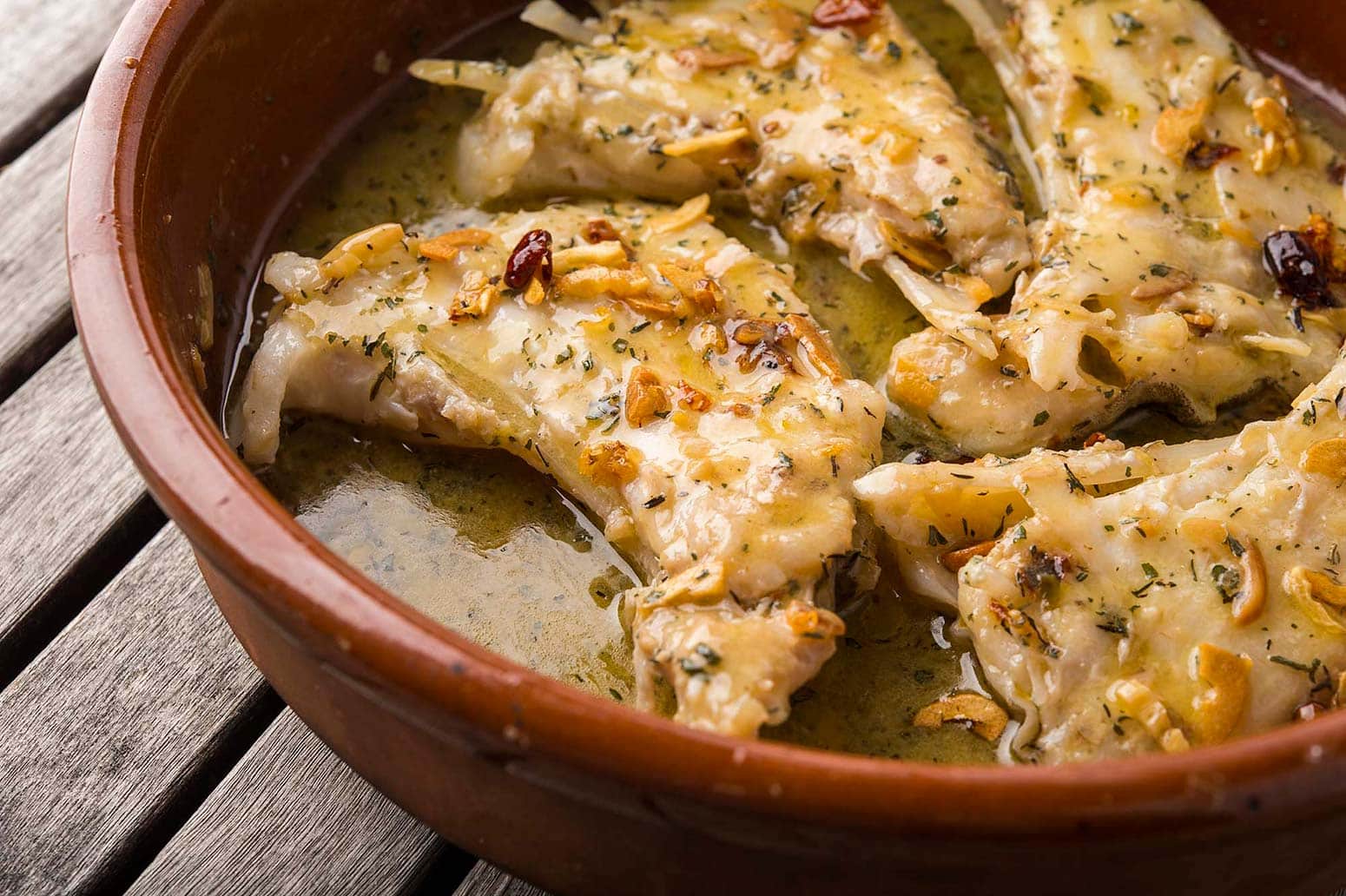 Cod al pil pil (sounds like Al peel-peel) sounds exotic, and while it is from Basque Country, the only thing mystical about this recipe is how the sauce comes together in the pan.
Normally done with reconstituted salt cod, or bacalao, this dish is one of those simple masterpieces: Fish, olive oil, lots of garlic, a few chiles, maybe some parsley or dried oregano.
Why serve fish this way? It's rich, garlicky and slightly spicy from the chile, although some people leave the chile out. And it comes together very quickly. You can use any white fish to do this. I used cod throats or collars because I happen to like them.
If you are using salt cod, you need to freshen it up for 24 to 48 hours before you make this recipe. You do that by soaking the block of salted fish in cold water, changing the water every eight hours or thereabouts. It's just as good with fresh fish, though.
Serve this with potatoes or rice or crusty bread. You want something to sop up that sauce with.
A word on the sauce: It is an emulsion of olive oil, garlic and the juices from the fish, that, when taken all the way, actually makes a bright yellow mayonnaise looking thing. We took our pictures before I stirred the pot a bit more to get that consistency, which is traditional in Spain. I personally like it a bit thinner, as you see in the photo.
Here's a short video of the process you need to do to emulsify the pil pil.
One other tip: I used the codfish collars because they have a lot of collagen in them, which helps emulsify the sauce. Cooks in Basque Country will often leave the skin on their salt cod for the same reason. Then, you can choose to eat it or leave it on the plate when dinner is ready.
Ready to give pil pil a go? Here's how: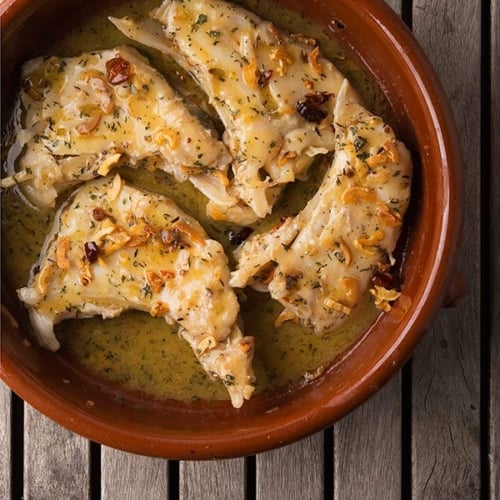 Basque Cod al Pil Pil
You can make this with any white fish. Obviously cod, haddock, pollock and hake, but also bass, walleye, black seabass, Pacific rockfish, lingcod, etc. I bet it would work with catfish, too. Serve with potatoes, bread or rice and a full-bodied white wine or dry cider.
Ingredients
2

pounds

cod or other white fish,

skin on if possible

Salt

1

cup

olive oil

6 to 8

cloves

garlic, sliced thin

1 to 3

small hot, dried chiles, crushed

(optional)

1

teaspoon

dried oregano or parsley, or 1 tablespoon chopped fresh parsley
Instructions
Salt the fish well and set aside for 10 to 20 minutes. Heat the olive oil over medium heat in a large, wide pan that can hold all the pieces of fish.

Saute the garlic slices for a minute or two, until they just start turning golden. Remove them as best you can. It's OK if a few escape you.

Put the fish skin side down in the pan and cook gently over medium-low heat for a minute or two. Turn the fish and cook for another 2 to 4 minutes, or until the fish is mostly cooked. Turn the heat off and remove the fish for now.

Start swirling the pan. You want to gently agitate the olive oil and juices from the fish into an emulsion. This should take about 5 minutes and no more than 10 minutes. One way to help this along is to whisk it with a strainer, as you can see in the video. As the emulsion comes together, add back the garlic as well as the crushed chiles, if using. It will eventually look like a salad dressing, and if you keep stirring it while the whole thing cools, it will set up into a mayonnaise-like sauce. It's up to you if you want it this way. 

When you are ready, pour the sauce over the fish, sprinkle some dried herbs on there and serve.
Notes
NOTE: While not strictly necessary, the skin of fish contains a lot of collagen, which helps the sauce emulsify more easily than skinless fish. 
Nutrition
Calories:
672
kcal
|
Carbohydrates:
2
g
|
Protein:
41
g
|
Fat:
56
g
|
Saturated Fat:
8
g
|
Cholesterol:
98
mg
|
Sodium:
125
mg
|
Potassium:
955
mg
|
Fiber:
1
g
|
Sugar:
1
g
|
Vitamin A:
124
IU
|
Vitamin C:
4
mg
|
Calcium:
52
mg
|
Iron:
1
mg
Nutrition information is automatically calculated, so should only be used as an approximation.