Halibut Cheeks with Saffron Tomato Sauce
March 04, 2021 | Updated September 22, 2021
As an Amazon Associate I earn from qualifying purchases.
Halibut cheeks are the tenderloins of the fish world: Diminutive nuggets of awesome that only get shared with the worthy, like a lover, best friend or child.
They are what you think they are. The cheek muscles of large halibut. But Halibut cheeks are not the only fish with edible cheek meat. Walleyes, codfish, lingcod, cobia, red snapper and grouper — really any large fish or fish that puts a lot of oomph in its bite.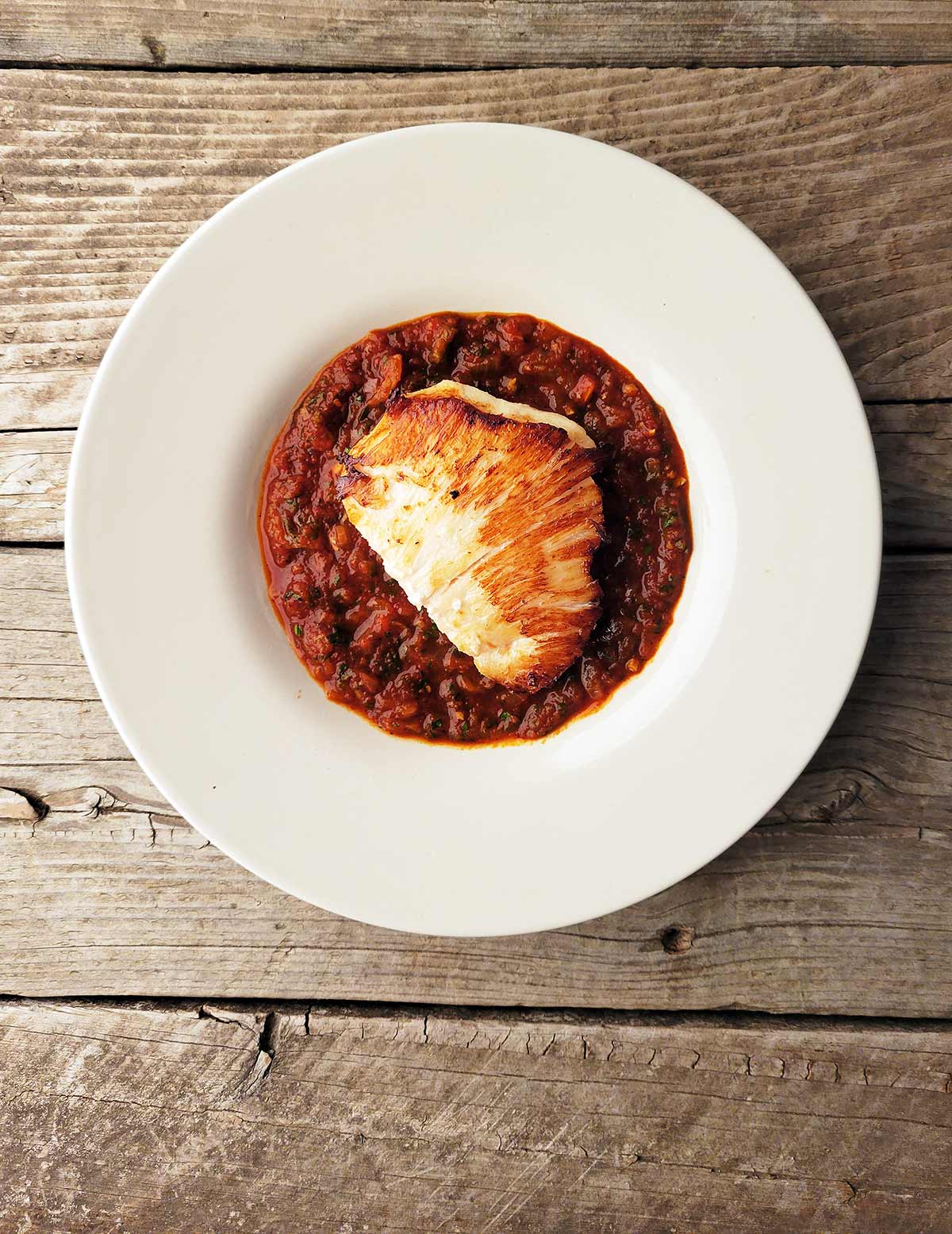 Since you will only get two halibut cheeks per halibut — obviously — you will either have to catch lots of them, save them up, or serve the cheeks as an appetizer. I do all three.
If you are not an angler, you will be able to buy the cheeks from halibut, codfish and sometimes walleye commercially where they are local. I have been known to eat giant plates of fried cod cheeks with French fries and an unholy combination of hot sauce and tartar sauce whenever I am in New England.
But nowhere are they common. Once I was on my flight back from Juneau to California on the Alaska Airlines flight known as the "milk run" because it hits every community from Juneau to Seattle. It's a cheap flight, so I took it. This was after our gilnetting season, and I'd come from the boat to the plane. Yeah, I know, not ideal, but it happens a lot in Alaska.
A woman sat down next to me. It was very clear she was not an indoor cat. Hair in a ponytail, she wore the same sort of weathered face I have. We both were wearing the "uniform" of an Alaskan fisherman: A hoodie, jeans and Xtratuf rubber boots. I said hi.
"You a gilnetter," she asked. How did you know? "Because your hands are all curled up." Picking salmon from nets for 16+ hours a day will do that. I returned the favor, asking: "Are you a long-liner?"
How did I know, she asked me back. "It's all the scars on your forearms from the hooks, the line and the fish's teeth." Touché, she said. We got to talking, and she was a teacher in Washington, who helped her family with their halibut quota in summertime.
I said I was happy with my "home pack" this year, a collection of random tasty Alaskan seafood that would tide me over a couple months. Her? She was only bringing back one thing: Halibut cheeks. Twenty pounds of halibut cheeks. "It's the only part of the halibut I eat."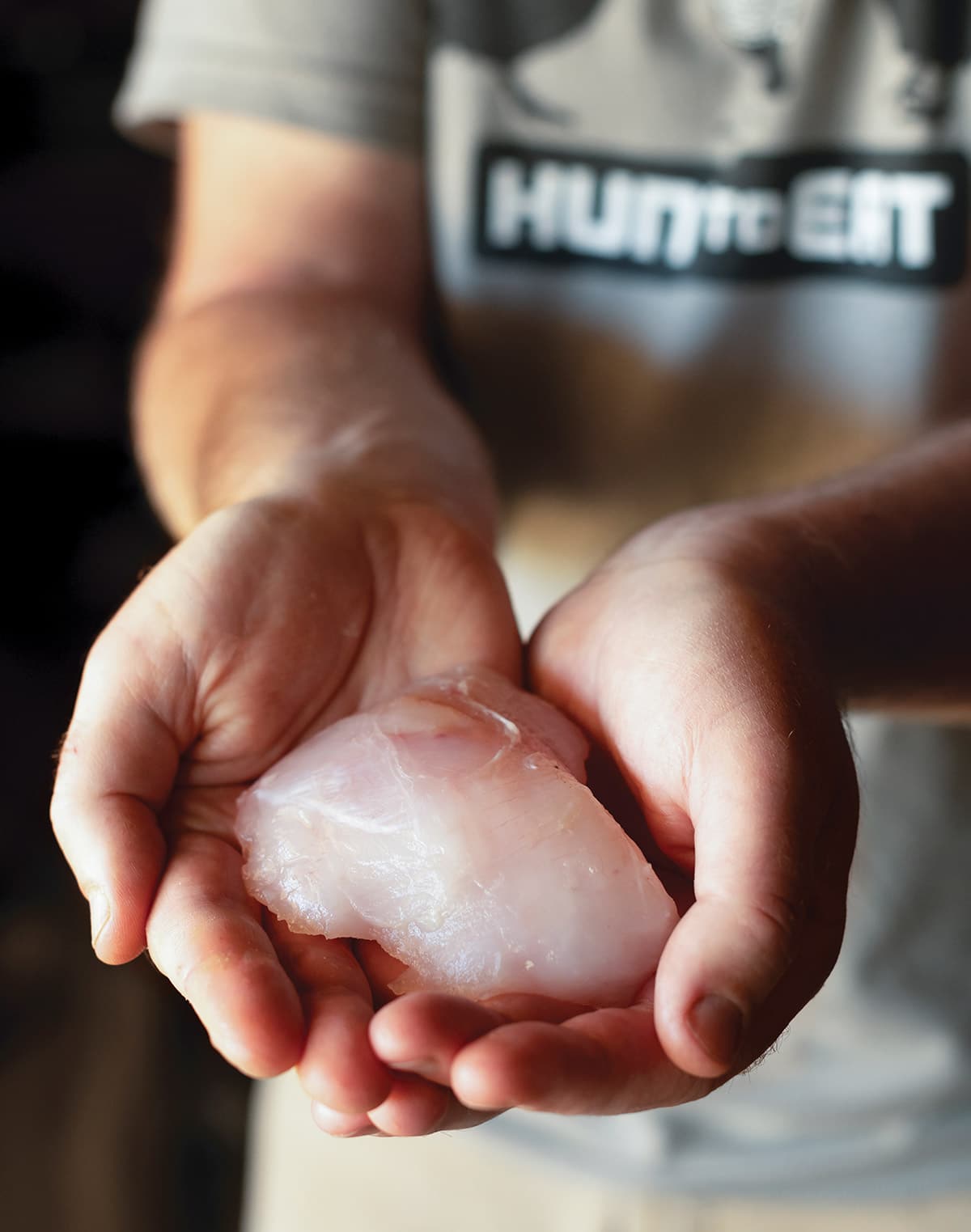 She's not wrong. Halibut cheeks, really most fish cheeks, are nothing like the rest of the animal. In most, they have the texture, firmness, flake and flavor of crab, oddly enough. In salmon, the cheeks are the only meat that isn't orange. They are very, very special.
You can cook them in any number of ways. I am partial to seared hard on one side, like scallops, but dusted in flour and fried is also good. Halibut cheeks are excellent poached in butter or olive oil, too. They are also nice in a Thai fish curry, and do very well in my recipe for halibut puttanesca, as well as Greek honeyed fish with ouzo.
Halibut cheeks are not terribly good batter fried, they are only so-so with a traditional breading, and they will fall apart if you try to stir fry them. Less is more here.
Getting Halibut Cheeks
OK, if you are an angler, you can get your own halibut cheeks, or, well, cheeks from whatever fish you have. With a few exceptions, notably the oyster toadfish of the Atlantic coast, they need to be large fish, or the cheek meat isn't big enough to warrant the effort.
As I mentioned above, lingcod, big codfish, California halibut, yellowtail, cobia, grouper and snapper, a big tautog, tilefish are all good options. In the freshwater world, we are mostly talking walleye here, although if you have a big ole' bass that would work, too.
There is no trick to removing cheek meat. Use a flexible, sharp knife. Slip the point under the skin to remove it. In some fish, like the lingcod, there is a bony protrusion that shields half the cheek; you need to slice under this.
Other than that, simply cut the cheek away. It takes some finesse, but you will get the hang of it. Know that halibut cheeks, like all fish cheeks, are thickest next to the eye, and thinnest closer to the gill plate.
About This Recipe
As I'd mentioned, a simple sear is a great way to go with halibut cheeks. Simply salt them maybe 30 minutes before you cook, and, if you want, give them a good squeeze of lemon while they sit there.
The sauce is a simple tomato sauce with saffron and vermouth; you can use white wine, dry sherry or champagne if you'd like. It's a lighter, zippier tomato sauce that plays very well with any sort of fish, and it likes to be served with pasta, polenta or grits, too. A loaf of crusty bread is another good choice.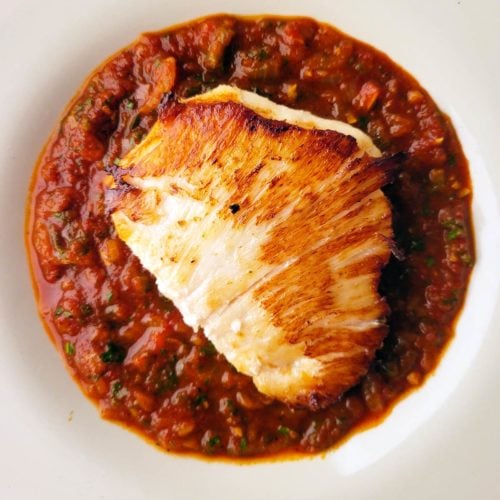 Halibut Cheeks with Saffron Tomato Sauce
This is a great recipe for not only halibut cheeks, but also really any firm fish, and the sauce need not be paired with fish. It works well on its own with pasta or polenta.
Ingredients
1

pound

fish cheeks

Salt

Lemon juice

(optional)

3

tablespoons

canola, grapeseed or other high smoke point oil
SAUCE
2

tablespoons

olive oil

1

small yellow or white onion,

minced

2

cloves

garlic,

minced

1/2

cup

vermouth

A big pinch of saffron

2

cups

fire-roasted tomato puree

(or regular tomato puree)

1/2

teaspoon

cayenne

salt

3

tablespoons

minced parsley
Instructions
Salt the halibut cheeks and set them aside on a cutting board or plate. If you want, squeeze some lemon juice over them.

This would be the moment you'd made polenta, grits or boil the water for pasta. If you are making polenta, you can make it while the sauce is cooking. When it's ready, just put a lid on the pot you cooked the polenta in and set it over low heat on a weak burner. It will be fine.

Make the sauce. Heat the olive oil in a large frying pan over medium high heat. When it's hot, add the onion and sauté until completely translucent, with a little browning around the edges. Add the garlic and cook 1 minute more.

Pour in the vermouth and use a wooden spoon to scrape up any browned bits. Crumble the saffron into the pan. Let this come to a boil, then add the tomato puree and cayenne. Stir well and taste for salt, adding if needed. Let this simmer until it is the consistency you want. I like this dish over grits or polenta, so I want the sauce a touch thinner than a regular spaghetti sauce. Once it's there, sprinkle the parsley on top and turn the heat to very low.

Get another pan hot, then add the oil. Pat the halibut cheeks dry as the oil warms. When it's hot, as in when you can see the slightest wisp of smoke, set the cheeks flat side down in the pan -- this is the side that used to have skin on it. The moment you set them in the pan, give the pan a little jiggle so they don't fuse to the metal.

Let the cheeks sear this way for 2 to 3 minutes. While this is happening, spoon the hot oil over the surface of the cheeks until they are opaque. At some point around 2 to 3 minutes, use a spatula to try to lift the cheeks off the pan. If they come free, they are ready. If they are horribly stuck, give them another minute. If somewhere in between, it's your call: Leave them longer and have slightly overdone fish with a pretty crust, or use the spatula to forcibly remove them and have a marred crust but tastier meat.

Either way, give the sauce a stir and spoon some in everyone's bowls with the starch of your choice. Top with the cheeks.
Nutrition
Calories:
330
kcal
|
Carbohydrates:
16
g
|
Protein:
19
g
|
Fat:
20
g
|
Saturated Fat:
2
g
|
Cholesterol:
28
mg
|
Sodium:
60
mg
|
Potassium:
1097
mg
|
Fiber:
3
g
|
Sugar:
8
g
|
Vitamin A:
1071
IU
|
Vitamin C:
22
mg
|
Calcium:
46
mg
|
Iron:
3
mg
Nutrition information is automatically calculated, so should only be used as an approximation.