As an Amazon Associate I earn from qualifying purchases.
While the word might look odd, German käsespätzle is really just their version of mac and cheese, using spätzle, little pasta dumplings. It's easy to make, versatile and kid friendly.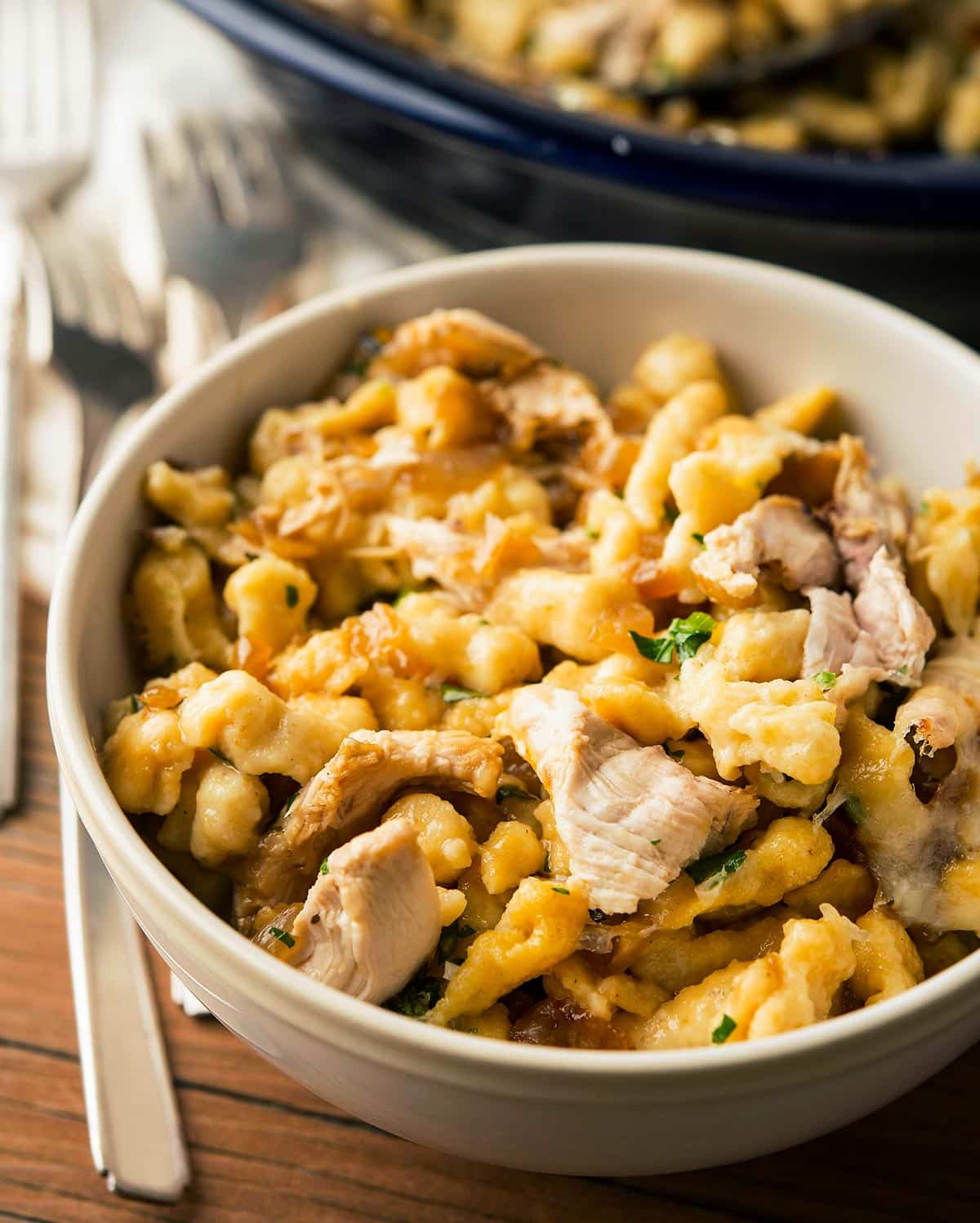 Pronounced something like "KAYS-a-schpet-zleh," käsespätzle is an alpine dish with renditions ranging from Germany to Austria to Switzerland, and there is something similar in alpine Italy, too.
At its core, this is basically a German mac-n-cheese with some pheasant bits tossed in. It's easy, homey, and kids love it. You can serve käsespätzle in a big casserole, or, for a dinner party, in individual ramekins. It reheats well, so you might want to make a big batch on the weekend and eat it for weeknight meals.
Obviously, any boneless light meat works here, not just pheasant breast. Chunks of chicken, wild turkey breast or rabbit are especially good here. It's a good recipe for quail breasts, chukars and partridges, too.
Caramelized or at least well-fried onions are also crucial, and lots of them. When you want to make a batch of käsespätzle, you can make the caramelized onions up to a few days in advance. It's always good policy to have caramelized onions around, anyway.
Most recipes don't include a protein other than cheese, but I really wanted one, and pheasant breast seemed like a perfect fit. Think of this as a German answer to my recipe for green chile mac and cheese, which also uses shredded white meat.
The Spätzle
You can buy premade spätzle in most supermarkets, either in the "Ethnic" section near the Jewish foods, or it will be in with the pasta.
That said, spätzle are easy to make. Here is a basic spätzle recipe (it's in the recipe card), and I have a number of other cool spätzle recipes here on Hunter Angler Gardener Cook, such as acorn spätzle, squash spätzle, spinach spätzle and spätzle made with rye flour. Any of these will work for käsespätzle.
Feel free to substitute flours here. With game, I like using old wheats like emmer, einkorn, or spelt. Rye, barley, or whole-wheat flour are also fun.
Note that if you make your own spätzle, you will want a spätzle maker. They are cheap, and make the process way easier. A perforated pan works well, too.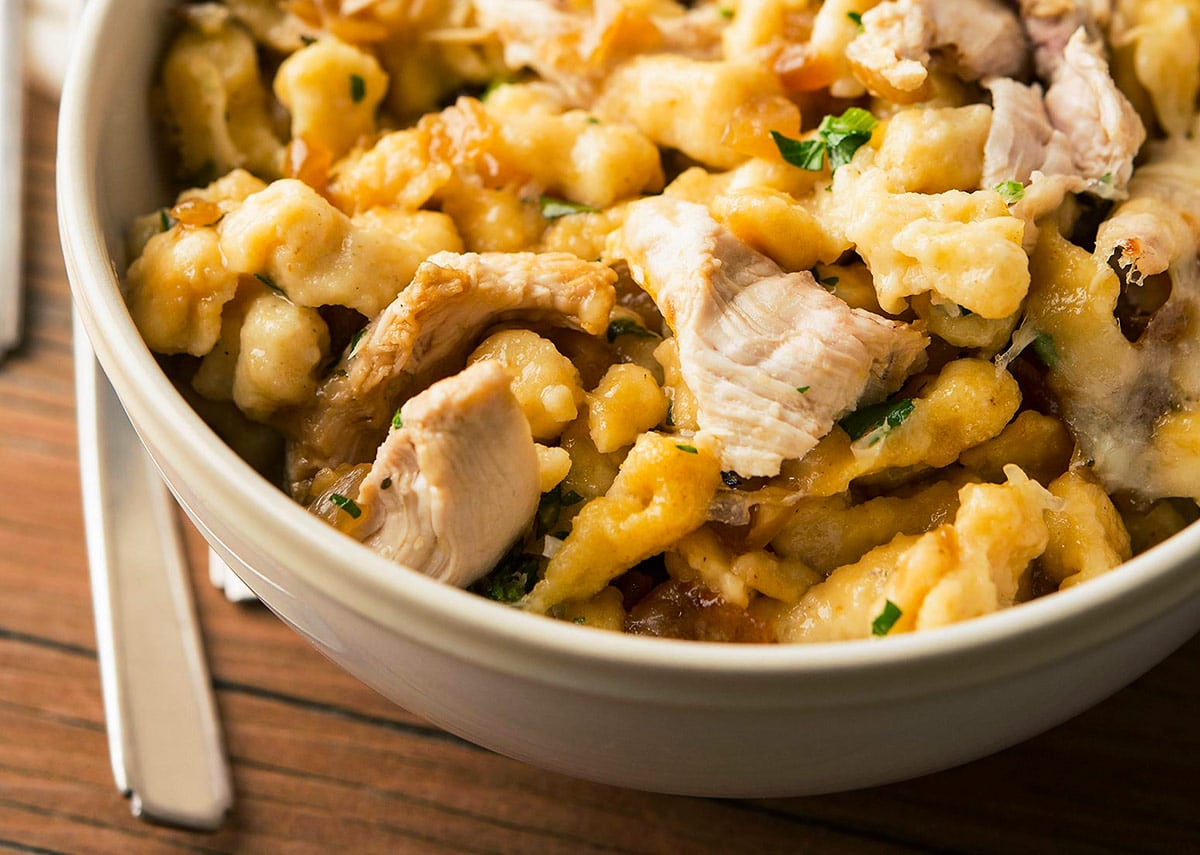 The Cheese
There are two traditional cheeses for kasespatzle, both common in American supermarkets: Gruyere and Emmentaler. Both are great, but I prefer gruyere.
If you can't find either, a white cheddar will work, as will a good Swiss. And you can mix and match. I used a semi-hard provolone once and it was great.
German Käsespätzle
Think if this like German mac and cheese, using spätzle dumplings instead of macaroni. You can add cooked, shredded meat if you want, usually light meats, or skip it. Mushrooms are a great choice for vegetarians.
Ingredients
¾

pound

cooked pheasant or chicken,

shredded

4

cups

onions,

about 2 large, sliced root to tip

3

tablespoons

butter

1/2

teaspoon

dried thyme

2 to 4

teaspoons

honey
SPATZLE
2

cups

flour

A few gratings of nutmeg,

about ¼ teaspoon

2

eggs,

lightly beaten

¼

cup

heavy cream

1

cup

buttermilk

A healthy pinch of salt
TO FINISH
5

ounces

Gruyère or Swiss cheese,

shredded

¼

cup

chopped chives or parsley
Instructions
Preheat the oven to 400°F, and grease a casserole dish or ramekins.

Caramelize the onions. Heat the butter in a large frying pan over medium-high heat and sauté the onions until they begin to brown on the edges. Then turn the heat to low, cover the pan, and cook, stirring occasionally, for about 30 minutes. Toward the end of this time, stir in the thyme and honey. When the onions are pretty and brown, turn off the heat and set aside.

You can make the spätzle while the onions are cooking. Mix all the spätzle ingredients together into a batter that should be a bit thicker than pancake batter. Bring to a boil a large pot of water and salt it well.

To make the spätzle, use a spätzle hopper—easy to get on Amazon.com for less than $20—or use a colander with wide holes. Add the batter to the hopper or the colander, hold it over the simmering water, and drip the batter into the water (if you're using a colander, a rubber spatula will help move the batter through the holes). You'll be making lots of little dumplings. Let them boil on the surface for a minute or two, then scoop the dumplings out with a slotted spoon and arrange them on a baking sheet to cool. Coat them with a little butter or oil to keep them from sticking together.

Make the dish by layering some spätzle, then pheasant meat, then caramelized onions, then a bit of the chopped herbs, then cheese into the casserole dish or ramekins. Shoot for at least two layers—three is better—and be sure that shredded cheese is on top.

Bake for 15 to 20 minutes, until the cheese melts and begins to brown.
Notes
Once made, kasespatzle reheats well. Put portions in an ovenproof container, cover and reheat at 350°F for about 20 minutes. 
Keys to Success
If you don't want to use shredded white meat, cooked mushrooms or chopped, crispy bacon or cooked ham are good options. 
You can mix the spätzle with the pesto of your choice for added color and flavor. My choice would be arugula pesto or parsley pesto. 
Nutrition
Calories:
523
kcal
|
Carbohydrates:
46
g
|
Protein:
34
g
|
Fat:
22
g
|
Saturated Fat:
12
g
|
Polyunsaturated Fat:
2
g
|
Monounsaturated Fat:
7
g
|
Trans Fat:
1
g
|
Cholesterol:
162
mg
|
Sodium:
243
mg
|
Potassium:
455
mg
|
Fiber:
3
g
|
Sugar:
9
g
|
Vitamin A:
780
IU
|
Vitamin C:
9
mg
|
Calcium:
344
mg
|
Iron:
3
mg
Nutrition information is automatically calculated, so should only be used as an approximation.