Spinach Spaetzle
April 01, 2021 | Updated June 06, 2022
As an Amazon Associate I earn from qualifying purchases.
Spaetzle, or, more properly spelled spätzle, are little German or Austrian dumplings that are easy to make and fun to eat. They are also versatile, meaning you can use alternate ingredients to get different flavors, as in this case with spinach spaetzle.
I'll walk you through how to make green spätzle, and I am using that term because pretty much any soft, green, leafy thing can be used to do it.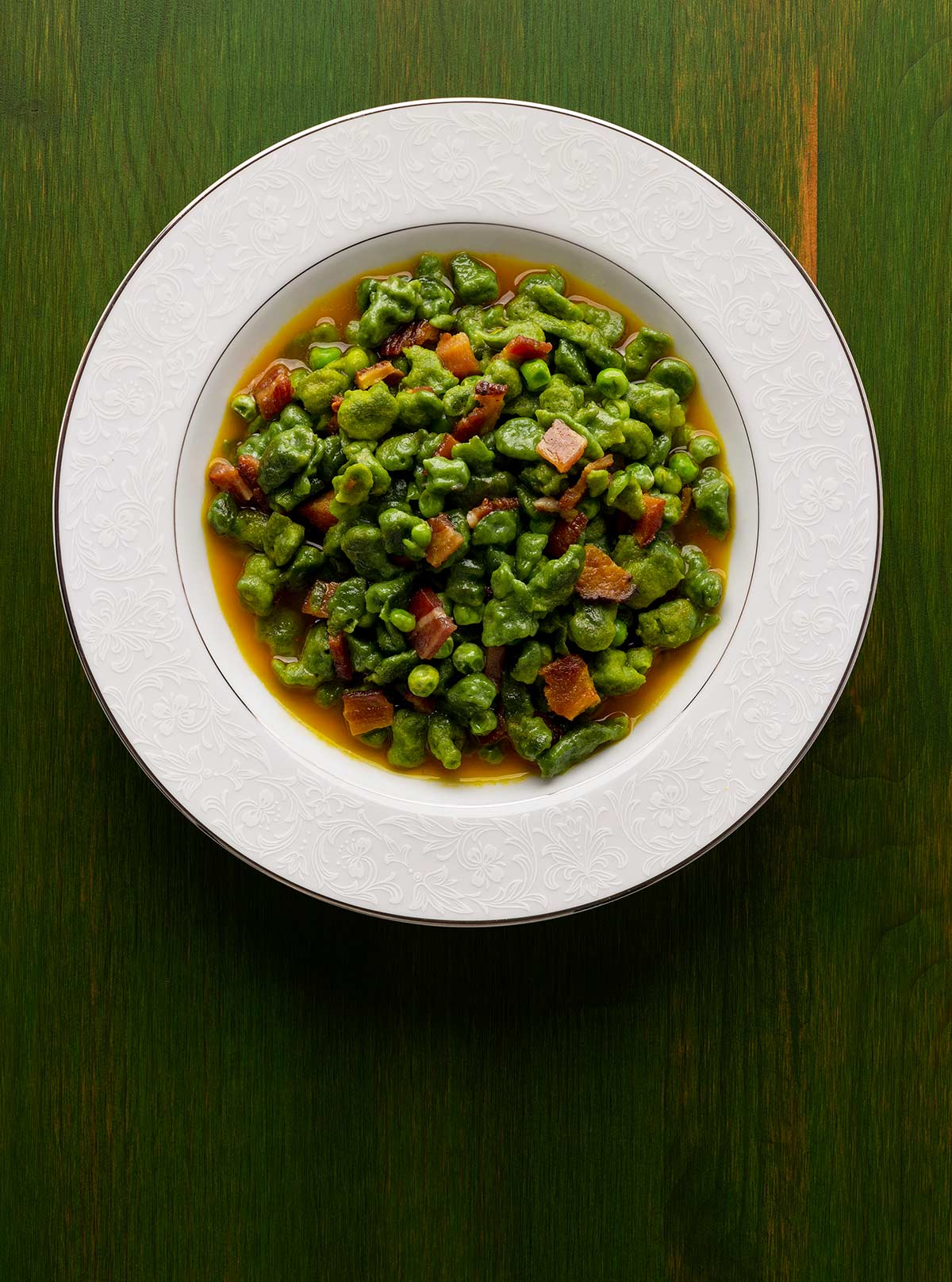 This post is called spinach spaetzle because chances are that is what most of you will use to make this recipe. But I used stinging nettles in the photos. If you are interested in using them, start by reading this tutorial on cooking with nettles. The only differences between spinach spaetzle and these dumplings are that nettle spätzle are slightly briny, and the green with nettles is a touch bluer.
Other than spinach or nettles, good choices to play with would be parsley, chervil, lambsquarters, orache, New Zealand or Malabar spinach, chard, dandelion greens, sorrel, angelica, and dill. Now if you want to take spätzle out of the Northern European tradition, you could get funky and use cilantro, perilla, or even epazote or hoja santa.
Know that chard is about as tough a leaf as you want here. Collards won't work, for example, unless you cook the hell out of them first, which you can certainly do if you want. The reason is because normally, when you make something like spinach spaetzle, you just blanch the greens quickly, shock them in ice water and puree.
The wet, thick, vivid green mass then gets mixed with flour of some sort, plus eggs and some seasoning. You then push the batter — and batter it is, not a dough — through, ideally, a spätzle maker, which costs less than $15, or a perforated pan, or a colander — or you can get all German grandmother and flick little bits off a cutting board into boiling water.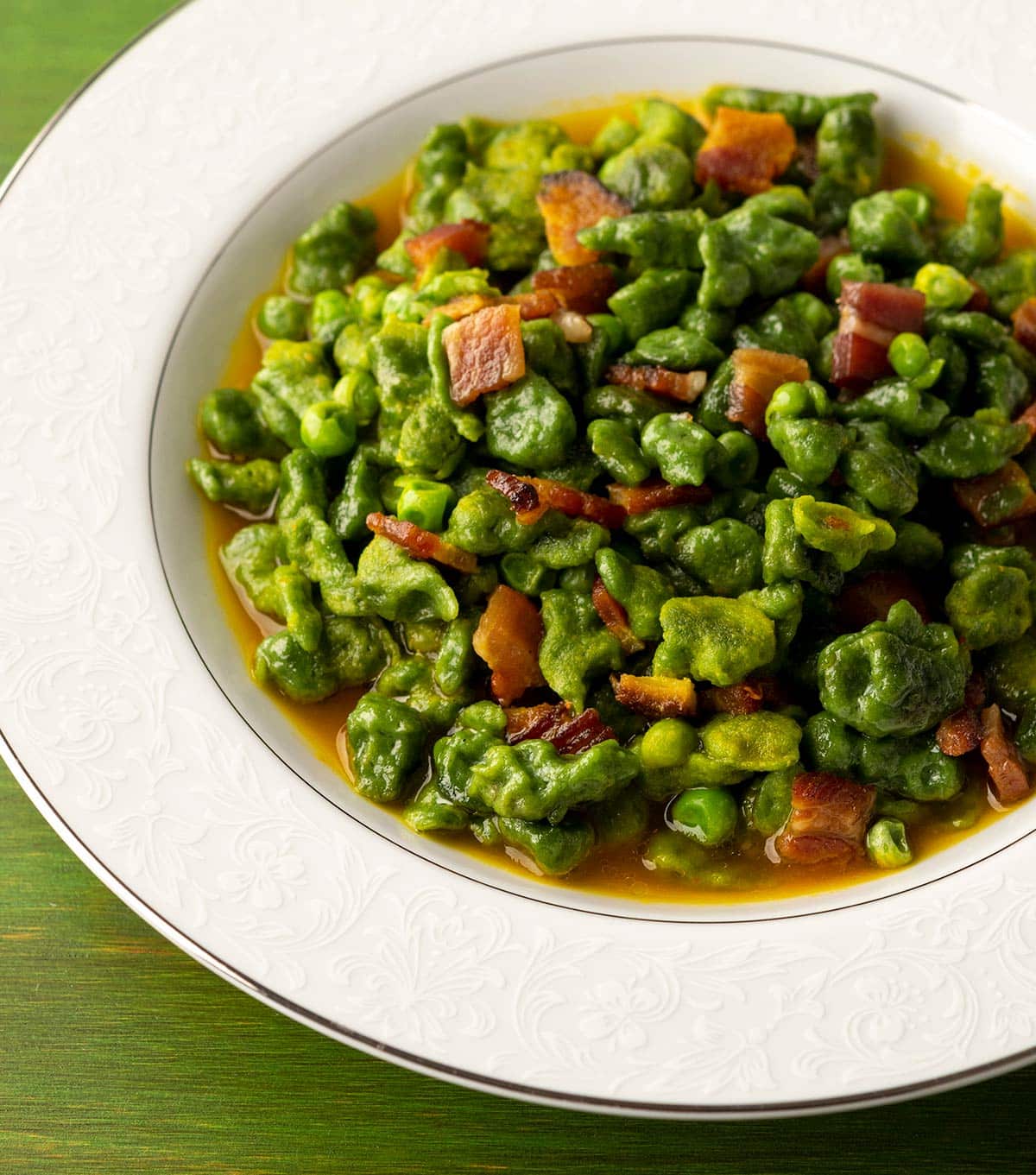 Once the dumplings float, give them another minute, then move them to a baking sheet to cool. Toss with a little oil so they don't all glob together. You can eat spinach spaetzle like this, or, do what I do, and fry them in bacon fat. Yes, you want to do this…
It is common practice to fry spätzle after boiling. This gives the dumplings a little crunch on one side and adds another layer of flavor.
If you want a sauce, keep it simple: Toss some broth and maybe saffron — it's pretty and the yellow contrasts nicely with the vivid green of spinach spaetzle — scrape up any browned bits in the pan, maybe add some peas and another herb, and finish with a touch of vinegar or lemon juice.
This is a damn good meal in and of itself, but it's also a wonderful side dish for all sorts of springtime meals. Give it a go!
Bitten by the spätzle bug? I also make butternut squash spätzle and acorn flour spätzle.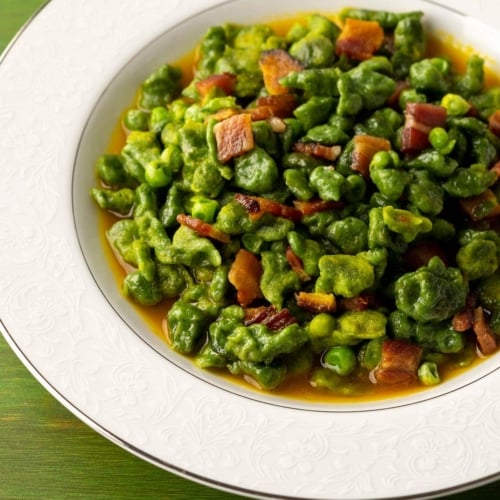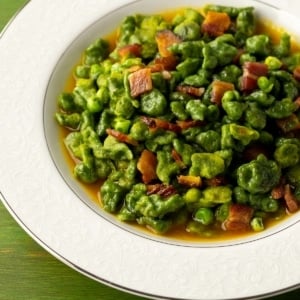 Spinach Spaetzle
Keep in mind this is a recipe that works with any soft, leafy green. See the headnotes for details. Once made and oiled, you can keep spaetzle in the fridge for a few days.
Ingredients
SPAETZLE
8

ounces

baby spinach,

or other, similar green

Salt

2

eggs, lightly beaten

1 1/2

cups

flour

1/2

teaspoon

ground nutmeg

1/4

teaspoon

ground white pepper

2

tablespoons

vegetable oil
TO FINISH
4

ounces

bacon

1

cup

peas

Pinch of saffron

(optional)

1/2

cup

chicken broth
Instructions
Bring a large pot of water to a boil and salt it well; it should tasty quite salty. Get a bowl of ice water ready. Plunge the greens into the water and boil for 1 minute (up to 4 minutes for chard). Move to the ice water to shock.

Chop the greens roughly, leaving them wet. Put into a blender and puree. If you need to add some ice water to get the blades to turn correctly, do that. You want the puree to be as thin as heavy cream.

Add the remaining spätzle ingredients (except the oil) to a bowl. Pour out 1 cup of puree. If you have extra you can use it in some other recipe, but it should be pretty close. Mix well. You want the batter to be slightly thicker than pancake batter. The key to remember is that you want to be able to pour it into a spätzle maker without it flowing through the holes too fast.

Get that pot of water boiling again and make the spätzle. A spätzle maker has a little hook on it to anchor it to the edge of a pot. Rock the hopper of the maker back and forth to make the dumplings. You'll likely need to do this in several batches. When the dumplings float, give them another minute and then move to baking sheet. Toss with a little vegetable oil. When the spätzle are all done. make sure they are slightly oiled so they don't all stick together. In this way, they can be stored in the fridge a few days.

When you are ready to eat, fry the bacon in a large pan. Remove, eat one piece, and chop the rest. Leave as much fat in the pan as you want, at least 2 tablespoons. Add the spätzle to the pan and sear hard for a minute. Shake the pan and keep searing until about 1/3 of the spätzle has some nice browning. Move to a bowl.

Add the broth and bring to a boil, scraping off any browned bits with a wooden spoon. Add the saffron if you're using it. Add back the spätzle, and the peas and bacon. Toss to combine and serve.
Nutrition
Calories:
416
kcal
|
Carbohydrates:
42
g
|
Protein:
14
g
|
Fat:
21
g
|
Saturated Fat:
10
g
|
Trans Fat:
1
g
|
Cholesterol:
101
mg
|
Sodium:
231
mg
|
Potassium:
251
mg
|
Fiber:
3
g
|
Sugar:
2
g
|
Vitamin A:
407
IU
|
Vitamin C:
15
mg
|
Calcium:
32
mg
|
Iron:
3
mg
Nutrition information is automatically calculated, so should only be used as an approximation.