As an Amazon Associate I earn from qualifying purchases.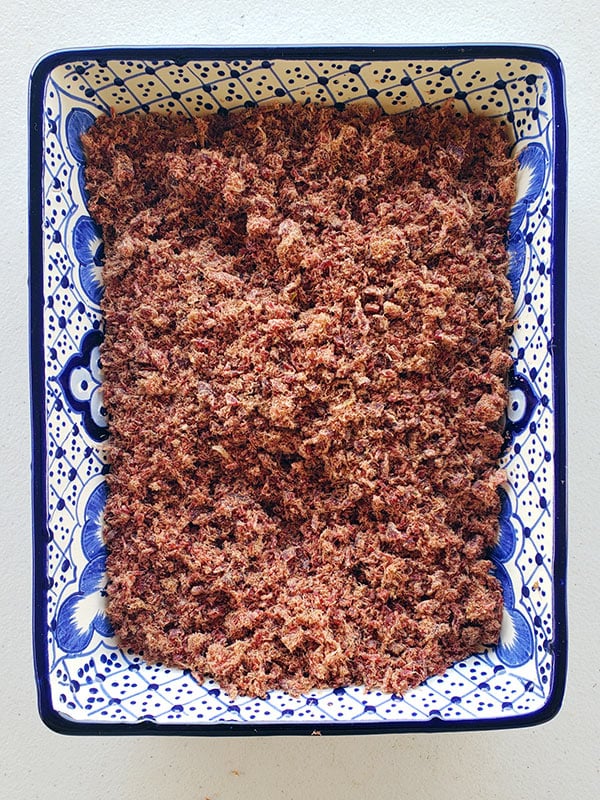 Machaca is one of those seemingly odd Mexican meats that, once you've eaten it, is as addicting as it is tasty. What follows are instructions on how to make machaca at home.
What is machaca? Basically jerky meets cotton candy. It's an ancient way Mexicans have used to easily eat hard dried carne seca, or jerky, that requires no refrigeration. Jerky, pounded into wispy filaments, that are then eaten with eggs, peppers and onions, or however you like it.
Note that there is another, newer version of machaca that involves cooked meat that is then shredded and fried crispy. That's a relatively new thing and not this recipe, which is more traditional.
Let me start by saying that the best machaca is made by literally pounding carne seca with a rock until it has been blasted into filaments. This is how machaca has been made for many thousands of years. But it is very hard work, and requires a large basalt bowl or metate, and a basalt hammer stone. Not normal kitchen items.
There are machaca machines in Mexico that blitz the jerky into machaca instantly, and I might have to get one on my next trip south of the border. Meanwhile, this is an easy way to make machaca at home.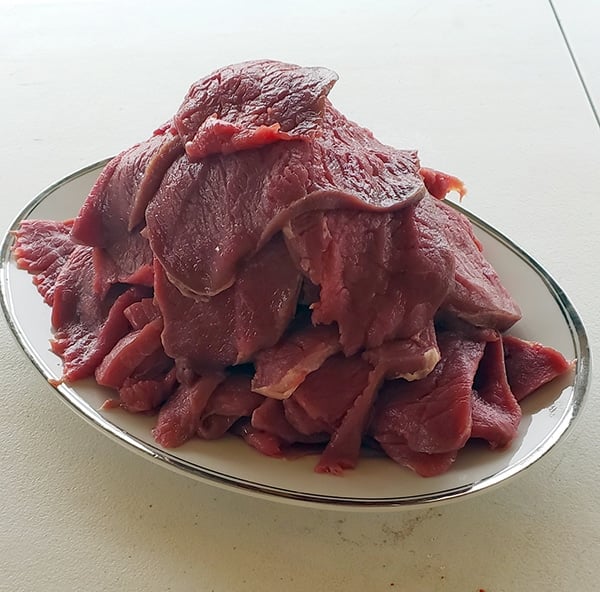 You need to start with thinly sliced meat. In this case, I used nilgai, which is a sort of antelope originally from India brought to Texas a century ago. Beef, deer, elk, moose, etc. are all good choices.
I slice hind leg roasts (chuck roasts), as thin as I can across the grain. Some people slice with the grain, which results in longer filaments, but is harder to process.
Salt them well. No set amount here, just a generous salting on both sides. Let the salted meat sit in the fridge overnight, or at least a few hours. Then you will need to dry it. Here in Sacramento, you can do as they do in Mexico, which is to hang the meat in the hot sun, often with a screen to prevent flies. But only in summer.
In other cases, you will want to dehydrate your meat using, in order of preference, a smoker set to 175°F or thereabouts, a dehydrator, or a convection oven. Unlike my regular recipe for carne seca, you want just salt and you want to dry the meat to the brittle stage.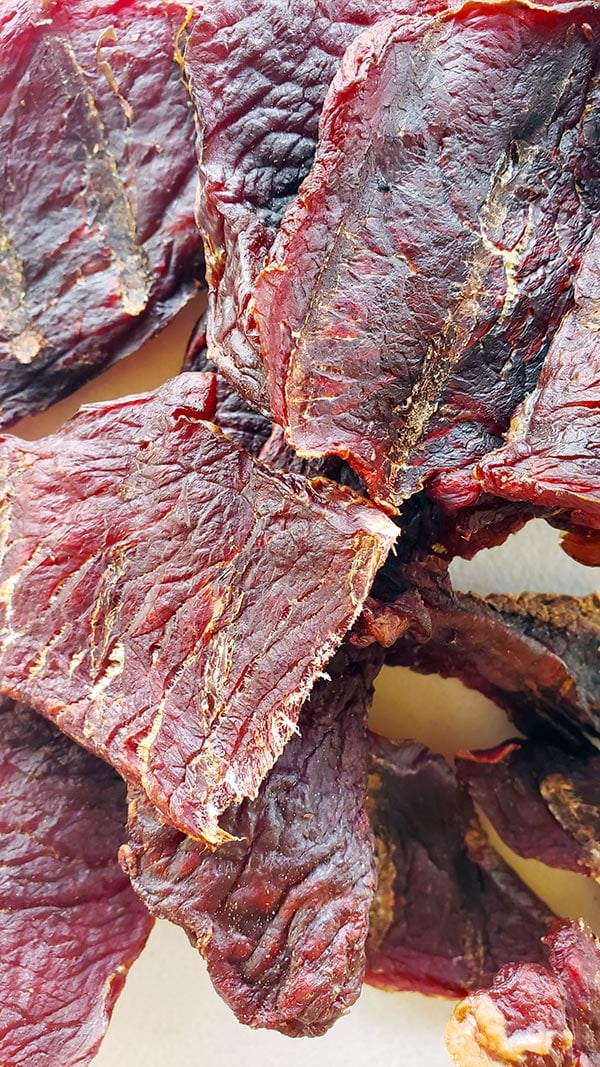 Now you need to break up the jerky, either with your hands or with scissors. Add only a few seasonings — machaca is a beginning to a dish, not a full dish in and of itself — and blitz for a minute or three in a food processor. You can blast the meat until it is completely broken up, or do what I do and leave some small, but still intact, bits of jerky. This makes for a nice texture.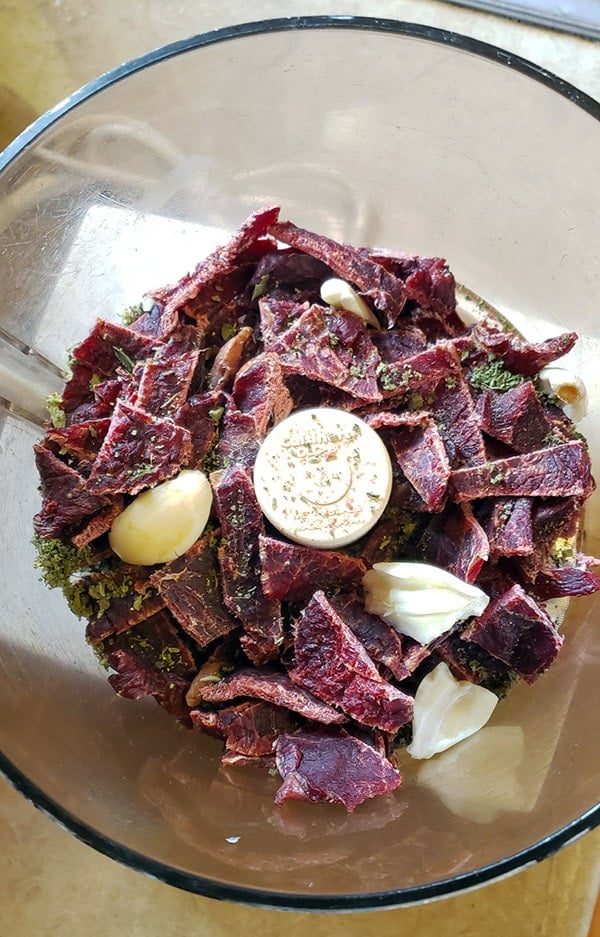 You now have machaca that will keep at room temperature if you are in a dry climate, or in the fridge more or less forever everywhere else.
Most people eat machaca with scrambled eggs, cheese and maybe cooked potatoes in a breakfast burrito, but in Baja, you will see it without eggs, cooked with lots of onions and poblanos, and then served on tortillas as a taco. In Nuevo Leon, you'll see machaca served with refried beans on a flour tortilla.
I also love machaca tossed in with some of my homemade salsa verde, simmered maybe 15 minutes, then stuffed in a burrito or on a taco.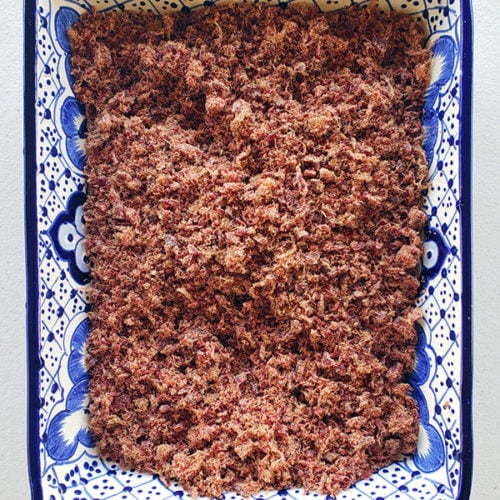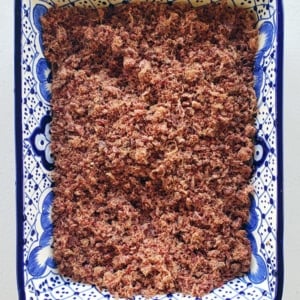 How to Make Machaca
This is a simple way to make machaca at home, using venison, beef or any jerky, really.
Ingredients
4

pounds

chuck roast or beef or venison without much connective tissue

Salt

6

cloves

garlic

1

tablespoon

dried Mexican oregano
Instructions
Slice the meat as thin as you can, either across or with the grain -- your choice. Salt it well and store in the refrigerator overnight.

Dehydrate it. I smoke the meat at 175°F until it is brittle, but you can use the sun if you are in a desert area in summer, or a dehydrator, or even an oven set on low. You want the meat to be very brittle.

Break it into pieces with your hands or scissors, then add the garlic and oregano and blitz it for about 3 minutes in a food processor. You may have to give the machine some breaks in case it gets too hot. Lay out the finished machaca on a baking sheet for the rest of the day to fully dry some more, then it will be stable at room temperature in dry places. If you are in a humid place, keep your machaca in the fridge, where it will last months.
Nutrition
Calories:
222
kcal
|
Carbohydrates:
1
g
|
Protein:
42
g
|
Fat:
4
g
|
Saturated Fat:
2
g
|
Cholesterol:
154
mg
|
Sodium:
93
mg
|
Potassium:
590
mg
|
Fiber:
1
g
|
Sugar:
1
g
|
Vitamin A:
9
IU
|
Vitamin C:
1
mg
|
Calcium:
20
mg
|
Iron:
6
mg
Nutrition information is automatically calculated, so should only be used as an approximation.