As an Amazon Associate I earn from qualifying purchases.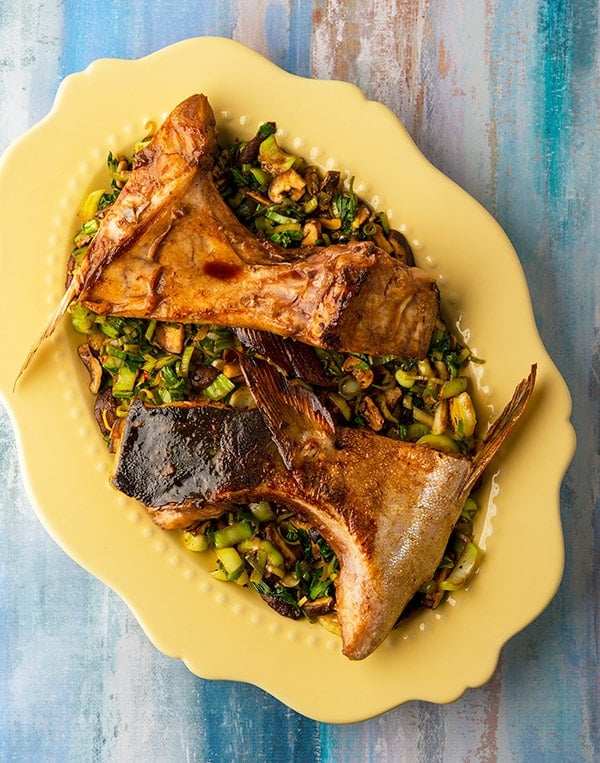 I remember the first time I had hamachi kama. Obviously, it was at a sushi restaurant, because, well, that's pretty much the only place you can find grilled yellowtail collar, which is what hamachi kama happens to be.
It was a little sushi place in Sayville, Long Island, and I had no certain idea what I was ordering. I thought it was tuna at the time — there are no yellowtail in the North Atlantic, but there are certainly yellowfin tuna. And I knew what a fish collar was, having eaten them off the striped bass I'd been catching.
I wasn't prepared for the experience. Striped bass collars are nice, but nothing like the fatty, meaty, charred goodness that hamachi kama was! Not until I moved out West and started grilling salmon collars was I able to sort of replicate that meal.
I still order hamachi kama at restaurants, but, since yellowtail is a Southern California fish, by and large, making it at home was out of the question. Until, finally, after several attempts, I caught a nice yellowtail aboard the Pacific Mistress out of Dana Point.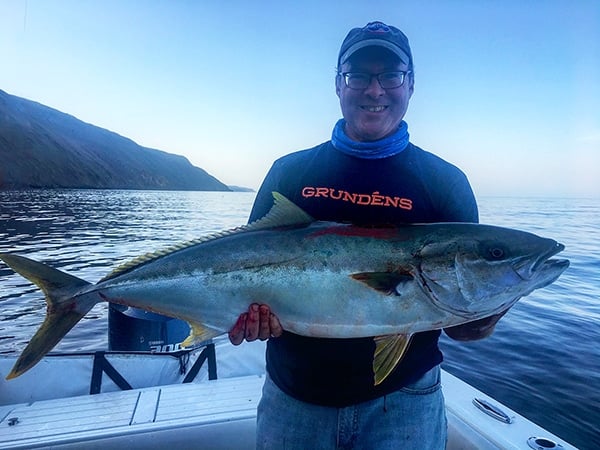 As nice as the guys are aboard that boat, which I can highly recommend, no one touches my fish — especially since I wanted the belly and collar of this yellowtail most of all, and, well, not many people ask for it aboard fishing charters so they didn't have a ton of experience with those cuts. Crazy, eh?
Now keep in mind that the hamachi kama you order in a restaurant won't ever be as glorious as the one you see in the pictures, largely because they never serve the collars off such large yellowtail. Or at least I've never seen one this big.
Do you need to have yellowtail to make hamachi kama? Kinda, yeah. That's what a hamachi is. That said, really good substitutes would be the collars off almaco or amberjacks, small tuna like blackfin or skipjack, as well as wahoo or king mackerel. You want a fish with some fat. (If you have salmon, click that link above for what to do with them.)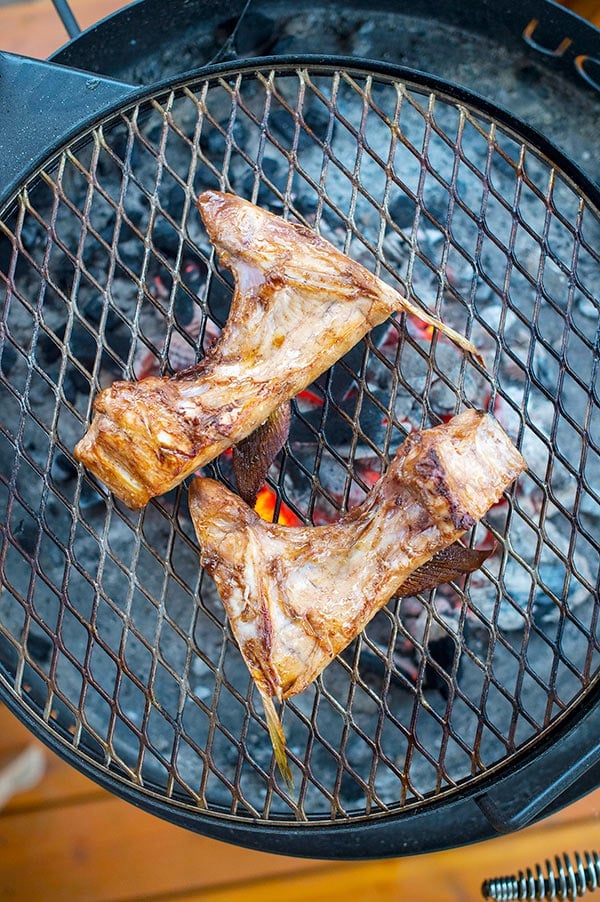 Do you have to grill your collars? I'd say yes, but if you can't, you can broil them. Just keep an eye on the collars so they only burn a little.
You will want to start making hamachi kama a day in advance, so you can have the collars well marinated. I generally use a simple ponzu marinade, which is basically a soy-citrus mixture.
Grill your collars over high heat, painting them with sesame oil, until they are cooked through and a little charred. Generally this is pick-it-up-and-eat-it food, but you can pick at hamachi kama with chopsticks or a fork.
Serve with a salad, steamed rice, and plenty of beer.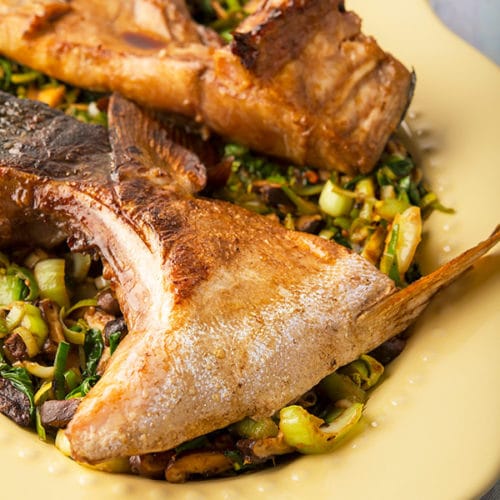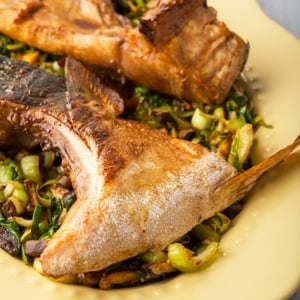 Hamachi Kama
This is the classic grilled yellowtail collar you see in sushi restaurants. Obviously you want a yellowtail collar, but I offer some substitutions above.
Ingredients
MARINADE
1/3

cup

lemon juice

1/3

cup

lime juice

1/3

cup

orange juice

1

cup

soy sauce

1/4

cup

mirin or other rice wine
FISH
4

yellowtail collars

(or substitute, see above)

Sesame oil
Instructions
Mix the marinade ingredients together and put them, along with the yellowtail collars, into a heavy plastic bag or lidded container. Marinate overnight or up to 1 day. If the collars are not submerged, turn them periodically so they get good contact with the marinade.

The next day, pour the marinade into a small pot and bring it to a boil. Reduce it by half, and set it aside.

Pat the collars dry with paper towels and coat with a film of sesame oil. Get your grill nice and hot, and clean the grates.

Grill your collars over high heat, basting with the reduced marinade, for about 10 to 20 minutes, depending on how large your collars are and how hot your fire is. You want them fully cooked and a little charred. Serve with steamed rice and a salad.
Nutrition
Calories:
320
kcal
|
Carbohydrates:
15
g
|
Protein:
46
g
|
Fat:
8
g
|
Saturated Fat:
2
g
|
Cholesterol:
65
mg
|
Sodium:
3420
mg
|
Potassium:
637
mg
|
Fiber:
1
g
|
Sugar:
7
g
|
Vitamin A:
3752
IU
|
Vitamin C:
24
mg
|
Calcium:
28
mg
|
Iron:
3
mg
Nutrition information is automatically calculated, so should only be used as an approximation.