Japanese Seaweed Salad
July 17, 2014 | Updated June 24, 2022
As an Amazon Associate I earn from qualifying purchases.
I can't remember exactly when I had my first Japanese seaweed salad, but I am pretty sure I ordered as some sort of gastronautic feat of bravado, thinking it would be slimy and fishy.
It isn't. A little slippery, yes, but more like cold noodles than the outside of a salmon or a pike. And it was not fishy in the slightest. Not at all, which surprised me. Cool, crunchy and again a bit slippery, seaweed salad has more in common with, say, our familiar crunchy salads of cucumber, corn, tomatoes and red onion than it does with anything oceanic.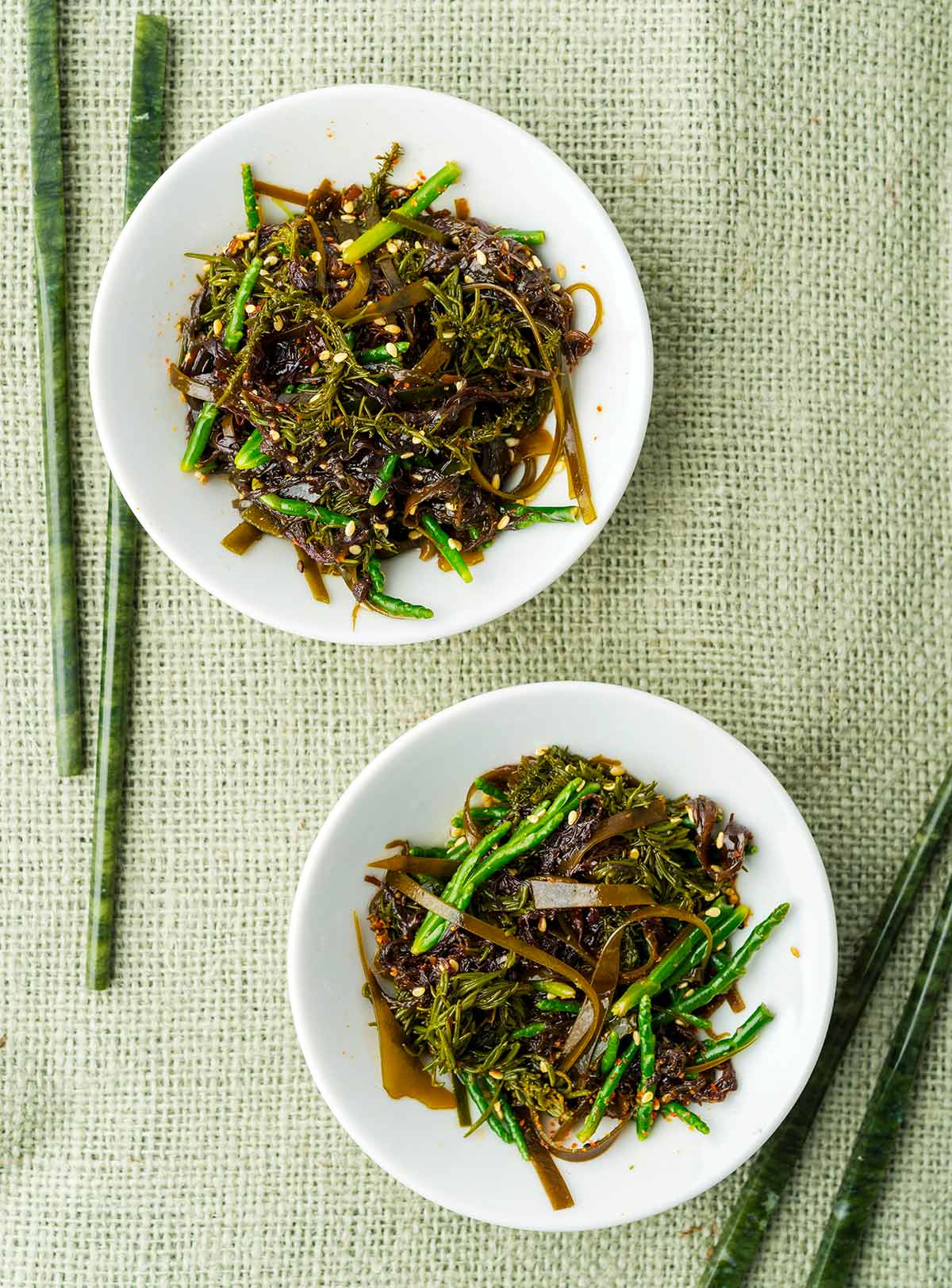 I now order Japanese seaweed salad whenever I get the chance. But could I make it myself?
Turns out the answer is a resounding yes. And here's why: No North American seaweeds are toxic. Yep, some taste better than others, but none will hurt you. That gives a forager license to play. And so one morning I drove out to Bodega Bay at low tide to see what I could find.
I didn't go into the rocks blind, however. I am a voracious reader of books, and I knew there had to be some good seaweed books out there. Turns out there are fewer than you might think, but I am particularly fond of the very idiosyncratic Sea Vegetables by Evelyn McConnaughey. It's a low-budget book with some good line drawings and a lot of murky, black-and-white images, but it gives you the basics and it's a fun read, of only for the bizarre hippy recipes like "alaria soyfood delight."
So, armed with this book, I went seaweeding. First thing I was looking for was kelp. Not bullwhip kelp, mind you, but a Laminaria, or kombu kelp.
One of the things you need to get used to with seaweed is that lots of them don't have common names. This one might be Laminaria saccharina, but more likely it's a young L. longicrurus — not that you need to care. They're all edible, and great in a salad sliced very thin.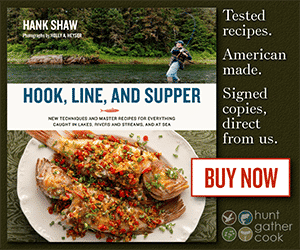 Most Japanese seaweed salads are made primarily of wakame seaweed, which is not native to the United States, but it is here as an invasive species in the Bay Area and Southern California.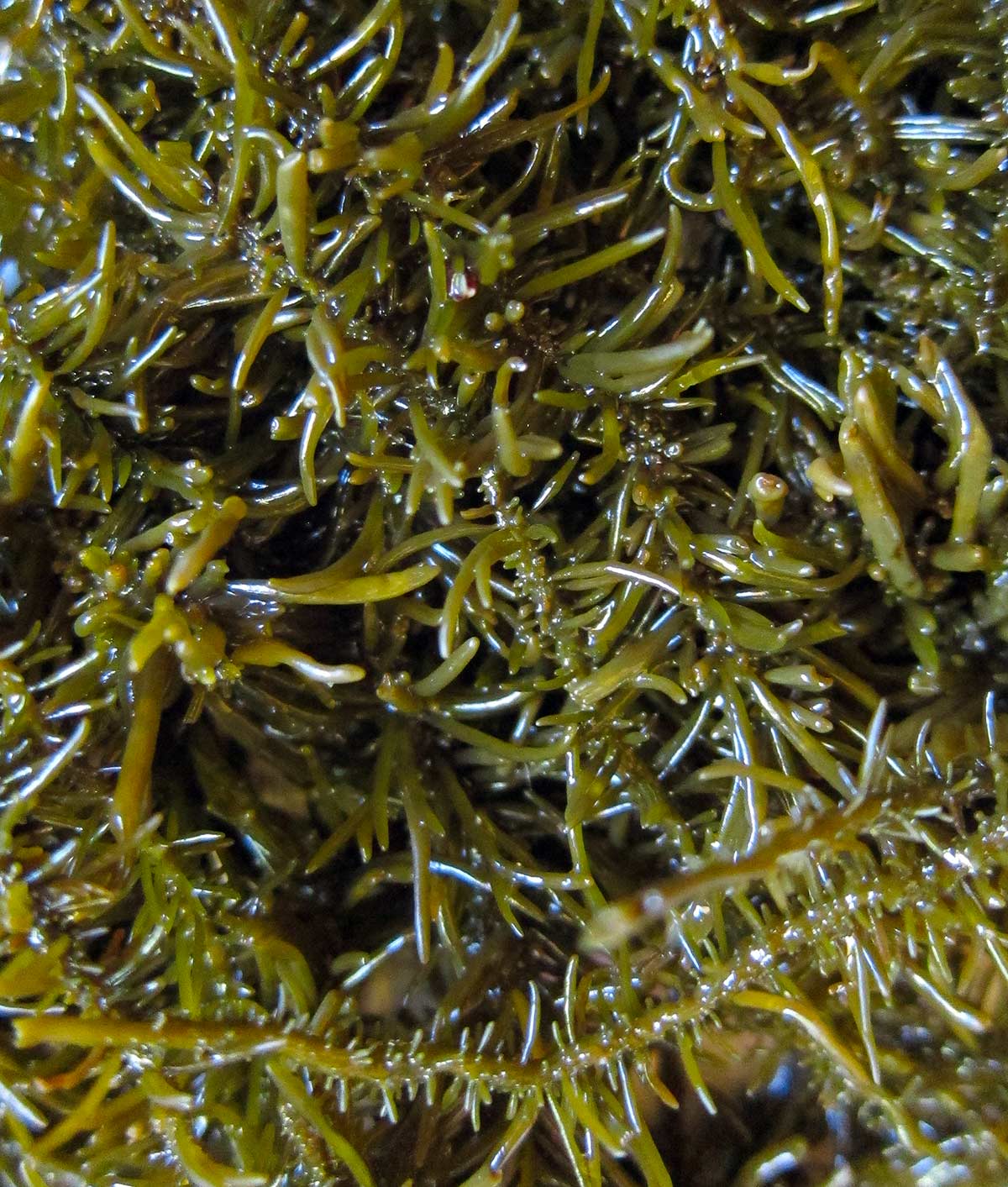 Also on my hit list were fir needle seaweed, Analipus japonicus, which looks like fir needles, as well as a seaweed that looks like red mermaid's hair, which is a Gracilaria species. Why these? They're delicate, pretty to look at and McConnaughey says they're good in salads.
It was a bonanza. I found almost every kind of seaweed Evelyn mentions in the book. Most I dried. Some I pickled. These I ate fresh.
Keep in mind where I collected seaweed it was open to the Pacific Ocean and very clean. I would not recommend picking seaweed in back bays, which can be polluted.
You should also know that by law in most states you must use scissors or a knife to snip off the seaweed, leaving the "holdfast" that attaches the seaweed to the rock; doing this will let the seaweed grow back. in California, your daily limit is 10 pounds, which is a lot of seaweed if you think about it…
Seaweed, being algae, tends to not keep very well. Thus the stink when it begins to rot. At best it will keep only a few days in the fridge without further preservation. After that it begins to get truly slimy and smelly. You can blanch your seaweed rather than eat it raw, and this will buy you a couple more days in the fridge.
Japanese seaweed salad needs to be simple. A little sesame oil and rice vinegar, a touch of shoyu (soy sauce), a bit of sugar.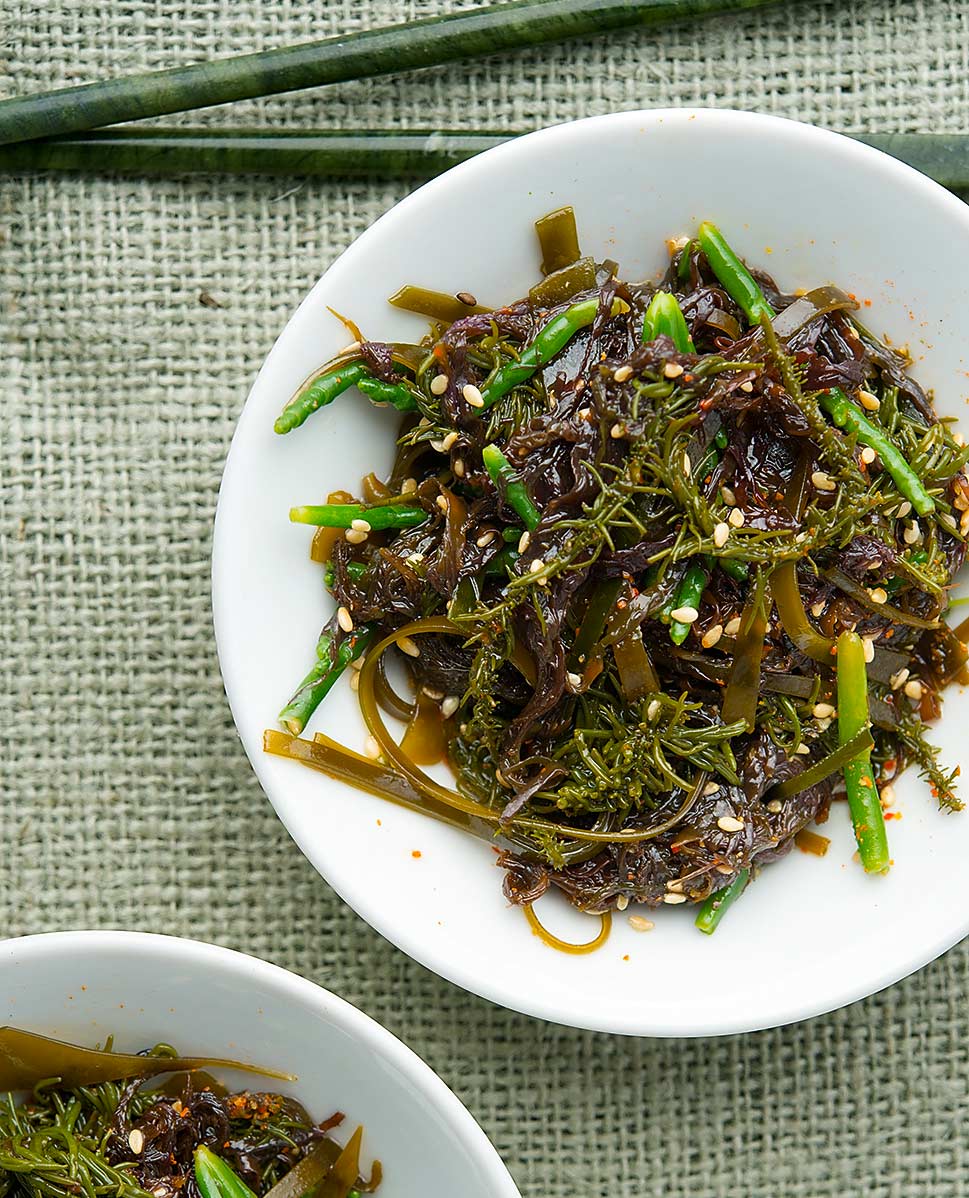 You will notice one ingredient in my Japanese seaweed salad that isn't traditional: Sea beans, also known as samphire, glasswort or pickleweed. (You can read more about sea beans here.) I like the salty crunch of this vegetable, and it grows right near the seaweed, so it seemed like a natural.
When I finally brought everything for my seaweed salad together, I admit to a twinge of nervousness: Yeah, everyone says all seaweeds are edible, but what if I didn't like this combination? Should I have just stuck with store-bought wakame?
If you do use wakame for your seaweed salad, you will most often find it dried. Rehydrate it in cool water for 10 minutes or so. You'll need about 2 ounces dried. It expands a lot.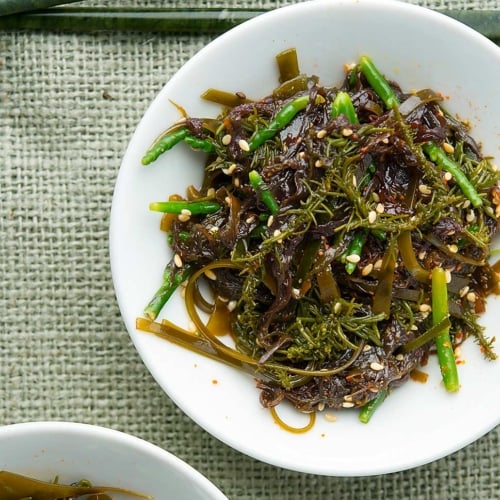 Seaweed Salad
You can make this salad with virtually any kind of seaweed you find in clean waters on any North American shoreline. If you are not in North America, you will need to identify specific seaweeds to your oceans. In the Pacific, avoid the feather boa kelp, Egregia menziesii -- it's just too tough to eat in a salad. You will want to keep your seaweeds cool and moist for the drive home, then wash them in cool running water when you are ready to use them. Blanch if you want. Or eat the little crustaceans that hang onto the seaweed (protein!), whichever.
Ingredients
1

pound

various seaweeds

(see below)

1/3

pound

sea beans,

salicornia, saltwort, pickleweed, glasswort, samphire (optional)

3

green onions, sliced thin

(or chives)

Toasted sesame seeds,

for garnish
DRESSING
2

tablespoons

rice wine vinegar

1

tablespoon

sesame oil

1

tablespoon

soy sauce

1

teaspoon

sugar
Instructions
To make the dressing, whisk all the ingredients together in a small bowl until the sugar dissolves.

Get a large pot of water boiling. Boil the sea beans for 1 minute and then plunge into a bowl of ice water. Boil any seaweed you want to blanch (see post above) for 15 seconds, then plunge into the ice water. Pat the vegetables dry and put into a large bowl with any of the seaweeds you want to eat raw.

Toss the salad with the dressing and chill. You want to eat this salad very cold. When you are ready to serve, mix in the green onions and sprinkle sesame seeds on top.
Notes
You can also buy seaweed. Look for wakame, which is the typical seaweed used in salads. You can find it in many Asian stores. It usually comes dried, and will reconstitute almost like fresh. Virtually every sushi restaurant in America uses the dried stuff, so don't worry. You will need about 2 ounces for this recipe. 
Nutrition
Calories:
98
kcal
|
Carbohydrates:
15
g
|
Protein:
3
g
|
Fat:
4
g
|
Saturated Fat:
1
g
|
Sodium:
517
mg
|
Potassium:
135
mg
|
Fiber:
2
g
|
Sugar:
4
g
|
Vitamin A:
221
IU
|
Vitamin C:
5
mg
|
Calcium:
197
mg
|
Iron:
3
mg
Nutrition information is automatically calculated, so should only be used as an approximation.