Grilled Tuna Steaks Sicilian Style
June 17, 2015 | Updated December 22, 2020
As an Amazon Associate I earn from qualifying purchases.
This is a simple recipe from Sicily for a nicely grilled tuna steak with an easy-to-make, summertime salad.
Tuna is a major part of Mediterranean cuisine, although they've hit their resident tuna populations hard. Fortunately, yellowfin, blackfin, albacore and skipjack are all good choices here in North America — hell, even bonito would work. But whatever species of tuna you choose, slice out the very dark centerline of meat: It is perfectly edible, but has a strong, fishy flavor most people don't like.
Doneness is a personal choice. I love the "black and blue" technique with tuna, where the outside is nicely cooked but the center is still raw, even cool. Many Europeans hate this, however, and if you do too, go ahead and cook the tuna longer over lower heat.
A grill is important here, but you could sear the tuna in a pan if you had to. I just like the flavor that charcoal or wood brings to the dish. It turns humdrum tuna into something special, and the smoky flavor really completes a dish that has it all — this salad is spectacular, folks. Salty, sweet, tart, herby, savory.
What's better is that it requires just a few minutes of stovetop time, so it won't heat up your kitchen.
If you want to make this recipe even easier, you can skip the fresh tuna altogether and flake some high-quality, oil-packed canned tuna into this salad. It's almost as good.
Any sort of tuna will work here; I used yellowfin I caught off San Diego. If you don't have access to good fresh tuna, use another very firm fish. Sturgeon, shark, swordfish and monkfish would all work here. But really? Any fish you can grill will be OK. And as I mentioned in the notes above, even good canned tuna works.
Grilled tuna salad is great as it is, but if you want to freestyle a bit, start by using more or less of anything in it. Other Sicilian touches would be to add some more sweetness here, maybe a few raisins or slices of orange or tangerine. Pine nuts would be a great addition, too, if you have some lying around. (I use all of these in my recipe for Sicilian tuna meatballs.)
OTHER GRILLED FISH IDEAS
If you're interested in grilling other types of fish, you might like my recipes for grilled pompano, simple grilled fish with basil, grilled fish on the half shell, or grilled trout.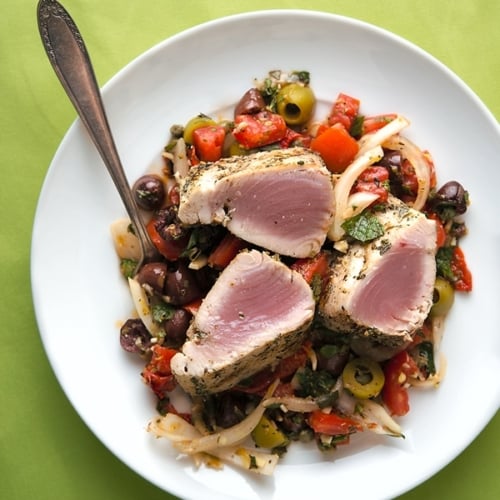 Grilled Tuna Steaks with Sicilian Salad
You definitely want good bread to serve with this, but grilled potatoes would be another option, as would steamed rice. To drink, a big white wine like a Chardonnay would be good, as would the hot-weather whites from the Rhone, like Viognier. Obviously Sicilian whites are a great choice if you can get them. A dry rosé is another great choice. As for beer, this is lager or pilsner food, but a lighter bodied pale ale would be another good choice.
Ingredients
TUNA
1

to 2 pounds tuna steaks

Salt

Olive oil to coat fish
SICILIAN SALAD
1

small onion,

sliced thinly from root to tip

1

minced garlic clove

2

or 3 Roma or plum tomatoes,

diced

10

to 15 black olives,

pitted and halved

10

to 15 green olives,

pitted and halved

2

or 3 roasted red peppers,

diced

1

tablespoon

capers

1/4

cup

olive oil

1

teaspoon

dried oregano,

chopped, or 2 teaspoons fresh

2

tablespoons

chopped fresh basil

2

tablespoons

chopped fresh mint

(optional)
Instructions
Salt the tuna steaks and set aside while you chop the vegetables for the salad.

To make the salad, saute the sliced onion in 2 tablespoons of olive oil over high heat until they blacken a bit on the edges, about 4 minutes or so. Add the garlic, cook another 30 seconds or so, then turn off the heat. Add the tomatoes, olives, capers and roasted red pepper to the pan and toss to combine. Add the remaining olive oil and salt and pepper to taste; you might not need more salt, as the olives and capers are salty. When the salad has cooled a bit toss in the oregano, basil and mint.

When you're ready to cook the fish, get your grill nice and hot, and clean the grates well. Pat the tuna dry and coat with oil. Grind some black pepper over the fish. Using tongs, grab a crumpled piece of paper towel you have dipped in some vegetable oil and wipe down the grill grates.

Grill the tuna for at least 2 minutes per side, depending on how thick the pieces are and how well-done you like your tuna. Slice it crosswise and serve atop the salad with some crusty bread and a good white or rosé wine.
Nutrition
Calories:
234
kcal
|
Carbohydrates:
6
g
|
Protein:
11
g
|
Fat:
19
g
|
Saturated Fat:
3
g
|
Cholesterol:
16
mg
|
Sodium:
640
mg
|
Potassium:
262
mg
|
Fiber:
2
g
|
Sugar:
2
g
|
Vitamin A:
1520
IU
|
Vitamin C:
16
mg
|
Calcium:
45
mg
|
Iron:
1
mg
Nutrition information is automatically calculated, so should only be used as an approximation.