Grilled Redfish on the 'Half Shell'
August 19, 2013 | Updated June 06, 2022
As an Amazon Associate I earn from qualifying purchases.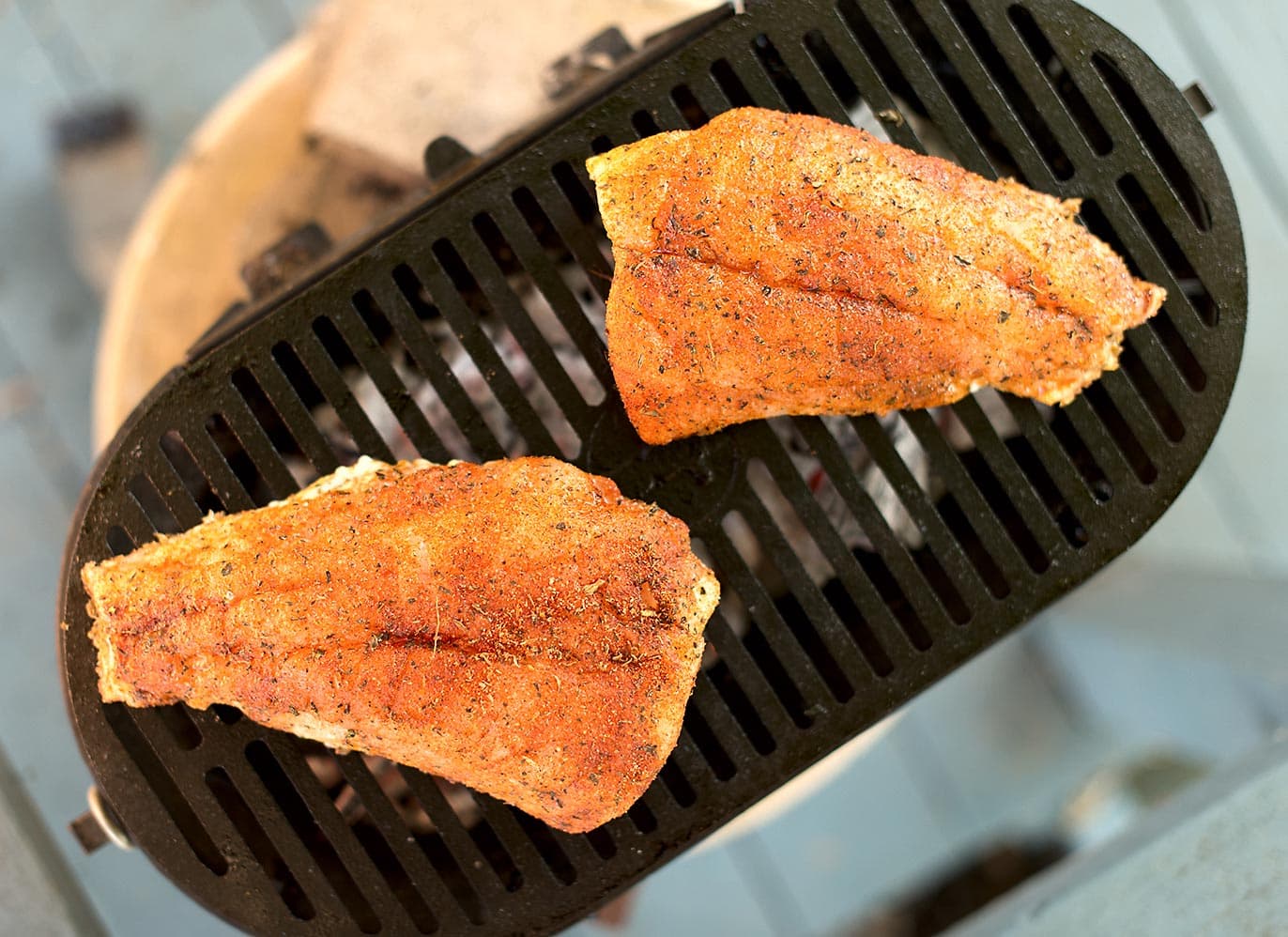 Redfish on the half shell is a classic Gulf Coast dish, and it is easily translatable to many other kinds of fish.
Take Pacific rockfish, for example. I don't often get excited about rockfish. They are tasty enough, but they are usually only a pound or two, are ridiculously easy to catch, and are caught mostly as an afterthought when you are salmon fishing.
Then I went to Alaska, and they grow rockfish big up there.
I can routinely catch 4 pound rockfish there, and often much, much larger. I do this in California, too, but it's a bit rarer. If you happen to catch a giant, like a yelloweye rockfish, S. ruberrimus, you will want to treat it more like a Gulf redfish. Here's why.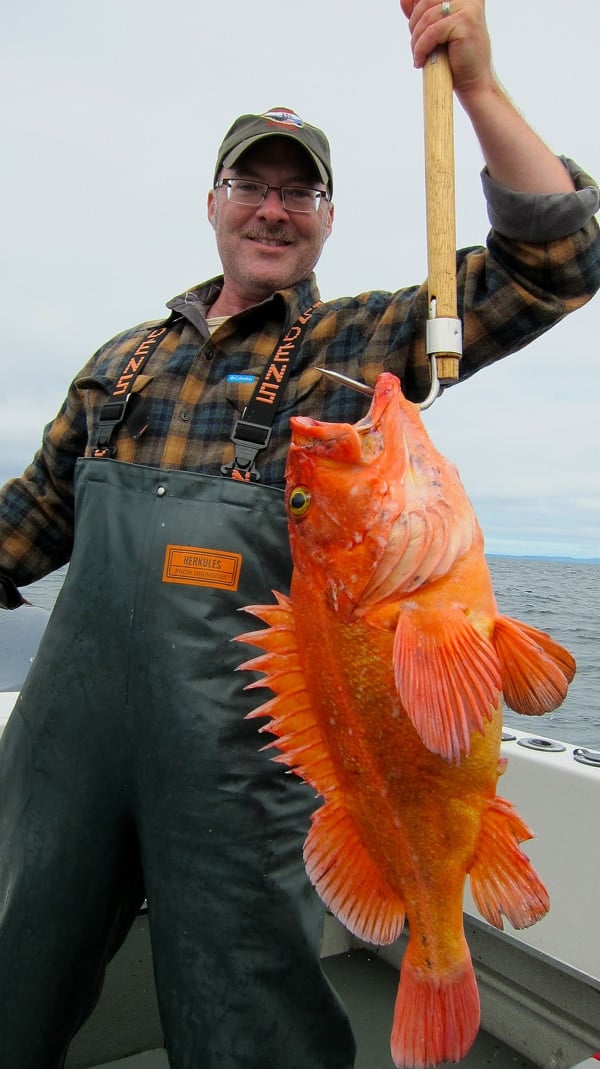 As big, bass-like fish tend to get thick, their meat gets coarse, and their scales get big. Just like a bull red.
This can make them challenging to cook, but the Gulf anglers' technique of redfish on the half shell is the answer. You fillet the fish, but leave the skin and scales on. You do this with redfish because the scales on a drum of any color, red or black, are big and tough.
Why leave the scales on? Because that armor shields the meat, allowing you to set the fish, ideally coated in Cajun seasoning, on a smoky grill and allow it to cook to perfection without destroying the fish. When it's ready, you slide a spatula under the meat but above the skin, and the meat will slip off, leaving the charred skin and scales.
And, since the scales are basically made of the same stuff as your fingernails, they won't stick to your grill, so you can take the whole thing off if you want. It's a genius preparation for big fillets. Try it with any large, bass-like fish: largemouth bass, snapper, grouper, big black seabass or sheepshead, and of course black and red drum.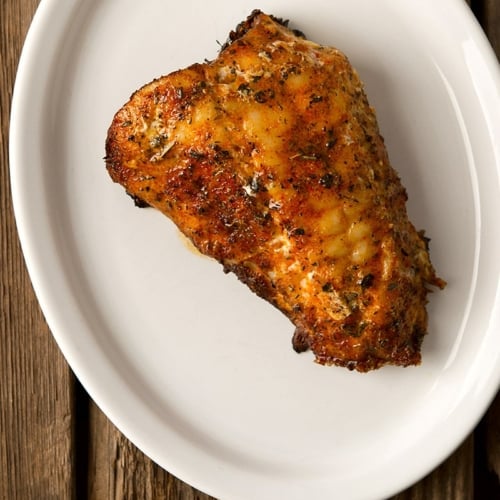 Grilled Fish on the 'Half Shell'
This recipe is designed for large fish, originally the redfish of the Gulf States. Any fish with heavy scales will work, however. In this case I am using a large yelloweye rockfish, but you could also use a California sheepshead, pargo, largemouth or smallmouth bass, grouper, snapper, a big black seabass... you get the point. The one vital thing you need is a piece of fish with the skin and scales left on. If you don't have that, you cannot make this recipe. The scales protect the fish from the high, direct heat of the grill. All you do is slap that puppy on the grill and watch the magic happen. It's super, super easy.
Ingredients
1/4

cup

kosher salt

4

cups

water

2

cups

crushed ice

2

to 3 pounds large fish fillets

with the skin and scales still on

3

tablespoons

vegetable oil

2

to 3 tablespoons Cajun seasoning

3

tablespoons

unsalted butter
CAJUN SEASONING
1

teaspoon

black pepper

1/2

to 1 teaspoon cayenne pepper

1

teaspoon

celery seed

2

tablespoon

sweet paprika

1

tablespoon

garlic powder

1

tablespoon

dried thyme

1

tablespoon

dried oregano
Instructions
Mix the salt and water until the salt dissolves, then add the ice. Brine the fish for 1 hour. Remove, pat dry with paper towels and put on a rack in a cool, breezy place for 30 minutes. While you are doing this, get your grill nice and hot.

When you grill is ready, coat the fish with the vegetable oil, then sprinkle the meat side of the fish with the Cajun seasoning. Lay the fish on the grill with the fat side of the fillet over the hottest part of the fire, and the tail sections out toward the edge where the fire is a bit cooler. Let the fish grill undisturbed until the meat is fully cooked; it will just begin to flake when that happens. This can be done in an uncovered grill if it's a) not too windy, and b) the fillet is less than 2 inches thick. If you are worried about timing, cover the grill, or tent the fish with some heavy-duty foil.

When the fish is done, gently remove it with a large spatula, or two spatulas if you need to. Move it to a platter and dot the top of it with the butter. Serve when the butter melts alongside rice, potato salad, maque choux, etc.
Notes
Serve the fish with grilled vegetables, rice, potato salad or something simple. This is, to me, beer food. Wine? Maybe an off-dry Riesling, an oaky Chardonnay, a decent rose. But nothing too fancy.
Nutrition
Calories:
168
kcal
|
Carbohydrates:
1
g
|
Protein:
1
g
|
Fat:
19
g
|
Saturated Fat:
14
g
|
Cholesterol:
23
mg
|
Sodium:
2
mg
|
Potassium:
11
mg
|
Fiber:
1
g
|
Sugar:
1
g
|
Vitamin A:
509
IU
|
Calcium:
3
mg
|
Iron:
1
mg
Nutrition information is automatically calculated, so should only be used as an approximation.