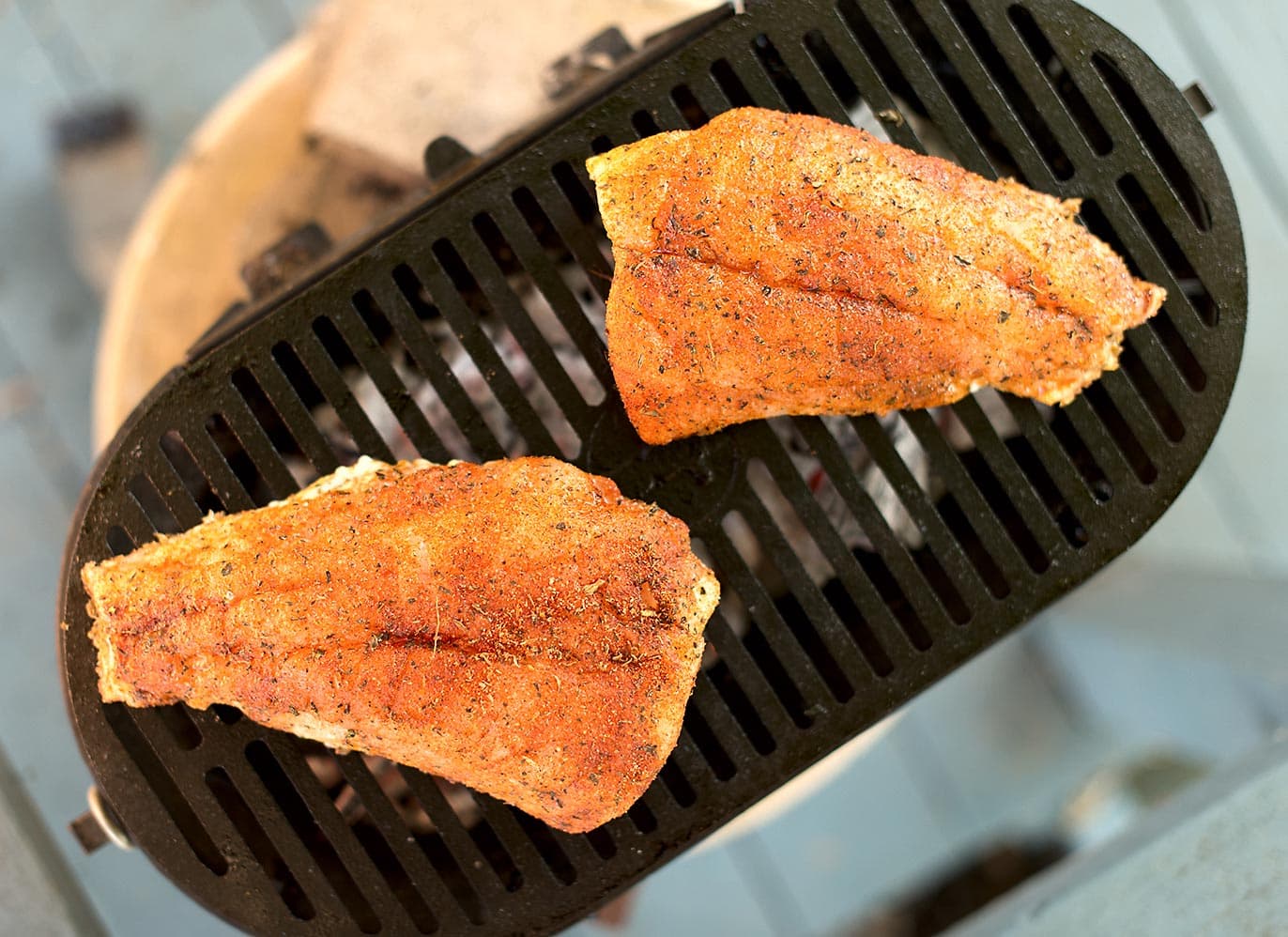 I don't often get excited about rockfish — at least what we call rockfish here on the West Coast, which are more like an East Coast black seabass than a striped bass. Rockfish are tasty enough, but they are usually only a pound or two, are ridiculously easy to catch, and are caught mostly as an afterthought when you are salmon fishing.
Then I went to Alaska, as the guest of Alaska Seafood. Our trip was mainly to get a close-up view of the fisheries there, but it was also to catch as many different species as we could, then cook them aboard the Sikumi, a small tour boat we took from Juneau to Petersburg.
Apparently they grow rockfish big up there.
This was just a typical drop. I sent a high-low rig baited with squid to the bottom, some 250 feet down, jigged a couple times and bang! BANG!! Double headah!!! Reel reel reel reel reel reel… "I see color!" And of course that color was neither yelloweye orange — as we shall see, yelloweyes are the most prized rockfish in Alaska — nor the dirt brown of a halibut.
Nope, this was a double header on quillback rockfish. Each of these fish is about 2 pounds. In California, I'd be jumping up and down. Here, no biggie.
Just as in California and Oregon, the rockfish came hot and heavy. It is the most fun you can have if you just want to catch fish. It does have a serious downside, though. Rockfish, the Sebastes clan, suffer from an evolutionary glitch: They cannot easily equalize pressure on them when pulled up from deep water. Their eyes bulge and their stomach distends out into their mouths. Pretty sad looking, really. Most other fish are just fine when you unhook them and toss them back, but not rockfish.
Rockfish require a special "fish descender," where you clip the fish's lip on a clamp, then gently drop him back to at least 100 feet or so. This revives him and he'll swim off.
All this is especially important when catching yelloweye rockfish, S. ruberrimus.  I've caught many a yelloweye in California, but every one of them had to be sent back to the depths; you cannot keep one here.
The reason is because even among the long-lived rockfish, these bad boys are the grandaddies of them all — they average over 80 years old, and have lived to 147. This means they can easily be overfished, which has happened throughout the Pacific.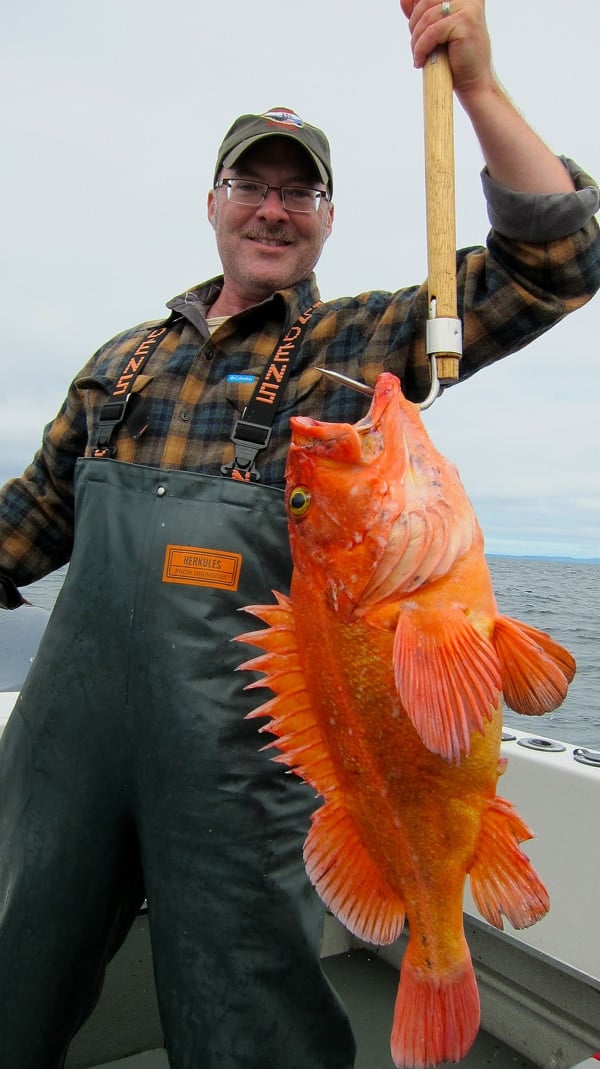 Even in Alaska, where bag limits are über liberal, you can only keep one yelloweye per day, and two for the whole year. Once you catch one, you have to mark it down on your license immediately the way we have to do with sturgeon in California.
Well, I caught not one, but four over the course of the trip (obviously we let three go). And lemme tell ya, they are one bad mamma-jamma rockfish!
Size is the biggest factor. Of the ones I caught, plus the yelloweye Chef Anita Lo caught, plus the one our host Tyson Fick caught, none were less than 8 pounds — and Tyson's was a mammoth fish, easily 20 pounds. Rockfish fight hard, and a 10-pounder caught more than 200 feet deep will stretch your arm out pretty well.
We ate a lot of fish on the trip (as a side note, it was an honor to cook alongside Anita Lo and Barton Seaver.), and when eating the yelloweye, we were struck at meaty it was – far meatier than a normal rockfish. It tastes and looks remarkably like grouper.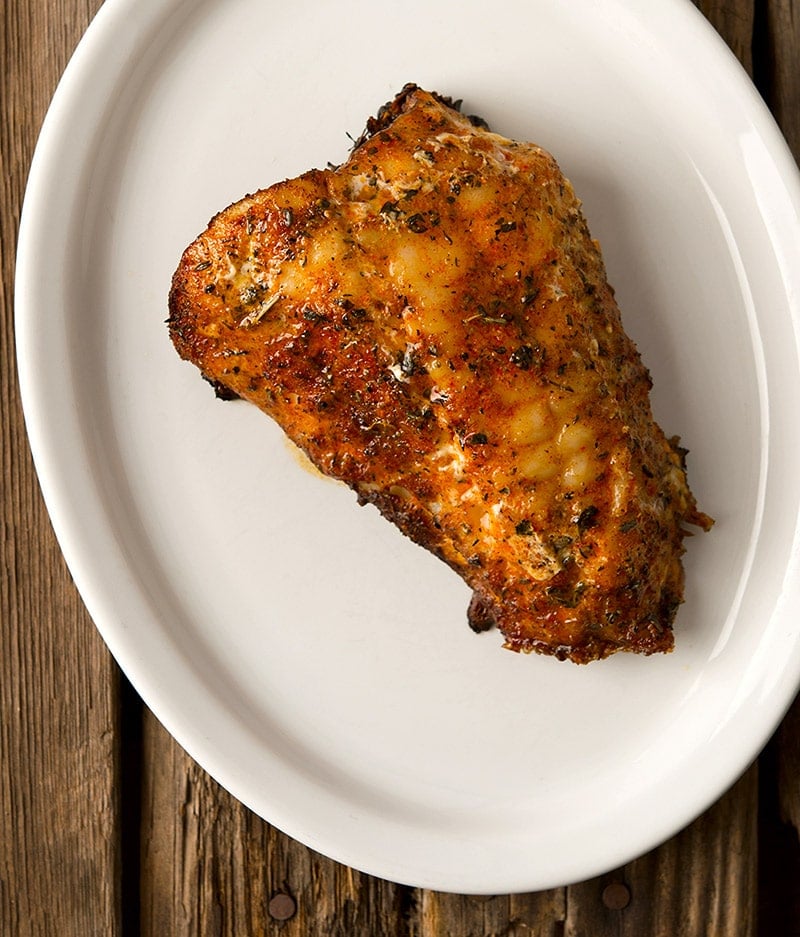 Once I tasted some, I had a particular dish I really wanted to make with yelloweye back home. So I made sure at least some of the fillets made it back to California with the skin and scales still on.
Those of you from the Gulf Coast know where I'm going with this. You know the classic, redfish on the half shell? Well, this is orange fish on the half shell. Leaving the scales on protects the fish on the grill, allowing you to get a maximum amount of grilly, smoky goodness into the fish without overcooking it. It's a genius preparation for big fillets. Try it.
Grilled Fish on the 'Half Shell'
This recipe is designed for large fish, originally the redfish of the Gulf States. Any fish with heavy scales will work, however. In this case I am using a large yelloweye rockfish, but you could also use a California sheepshead, pargo, largemouth or smallmouth bass, grouper, snapper, a big black seabass... you get the point. The one vital thing you need is a piece of fish with the skin and scales left on. If you don't have that, you cannot make this recipe. The scales protect the fish from the high, direct heat of the grill. All you do is slap that puppy on the grill and watch the magic happen. It's super, super easy.
Ingredients
1/4

cup

kosher salt

4

cups

water

2

cups

crushed ice

2

to 3 pounds large fish fillets

with the skin and scales still on

3

tablespoons

vegetable oil

2

to 3 tablespoons Cajun seasoning

3

tablespoons

unsalted butter
CAJUN SEASONING
1

teaspoon

black pepper

1/2

to 1 teaspoon cayenne pepper

1

teaspoon

celery seed

2

tablespoon

sweet paprika

1

tablespoon

garlic powder

1

tablespoon

dried thyme

1

tablespoon

dried oregano
Instructions
Mix the salt and water until the salt dissolves, then add the ice. Brine the fish for 1 hour. Remove, pat dry with paper towels and put on a rack in a cool, breezy place for 30 minutes. While you are doing this, get your grill nice and hot.

When you grill is ready, coat the fish with the vegetable oil, then sprinkle the meat side of the fish with the Cajun seasoning. Lay the fish on the grill with the fat side of the fillet over the hottest part of the fire, and the tail sections out toward the edge where the fire is a bit cooler. Let the fish grill undisturbed until the meat is fully cooked; it will just begin to flake when that happens. This can be done in an uncovered grill if it's a) not too windy, and b) the fillet is less than 2 inches thick. If you are worried about timing, cover the grill, or tent the fish with some heavy-duty foil.

When the fish is done, gently remove it with a large spatula, or two spatulas if you need to. Move it to a platter and dot the top of it with the butter. Serve when the butter melts alongside rice, potato salad,

maque choux

, etc.
Serve the fish with grilled vegetables, rice, potato salad or something simple. This is, to me, beer food. Wine? Maybe an off-dry Riesling, an oaky Chardonnay, a decent rose. But nothing too fancy.