As an Amazon Associate I earn from qualifying purchases.
If there is one pompano recipe you'll want to learn, it's grilled pompano — a perfect method for cooking this tasty fish. No pompano? This recipe works with all similarly shaped fish, such as large crappies or bluegill, pomfret or butterfish.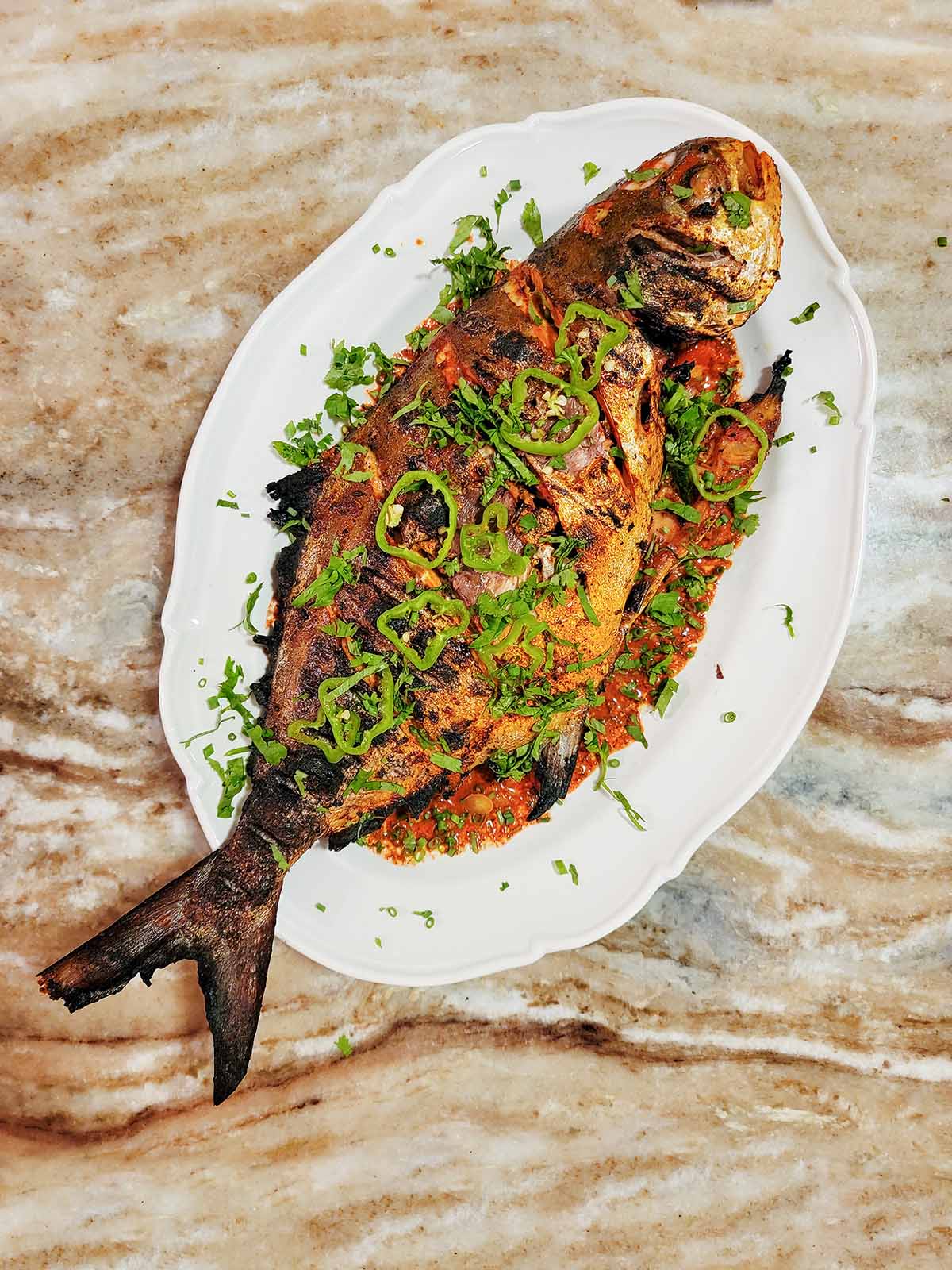 This recipe works because of the shape of the fish: Pompano and similar fish are flattened vertically, so they are skinny on the grill and cook quickly. Even large fish are rarely more than about 2 inches thick total. This makes them perfect for grilling hot and fast.
You'll notice that most pompano recipes are for whole fish. This is because their bone structure is such that filleting them wastes a ton of meat, even on a larger fish. Sure, you can fillet a pompano, or pomfret or bluegill, but they are so good whole you should try it sometime.
The basic grilled pompano recipe goes something like this:
Scale, gut and remove the gills of the fish.
Wash it well in salty water, seawater or a simple brine of 1/4 cup kosher or sea salt to 1 quart of water.
Make a few slashes along the sides of the fish. In this case, don't cross-hatch the cuts because that exposes too much of the meat to the fierce heat of the grill. (Cross hatching is great for fried pompano.)
Rub the fish down with oil. I like olive oil, but you do you.
Salt it well, inside and out.
Get your fire hot. Real hot. Clean those grates!
Using tongs and a paper towel soaked in oil, slick down your grill grates right before you place the fish on the grill. Let them cook a solid 4 to 8 minutes, depending on the heat of your grill, before flipping.
Remove them, and finish with lemon and black pepper.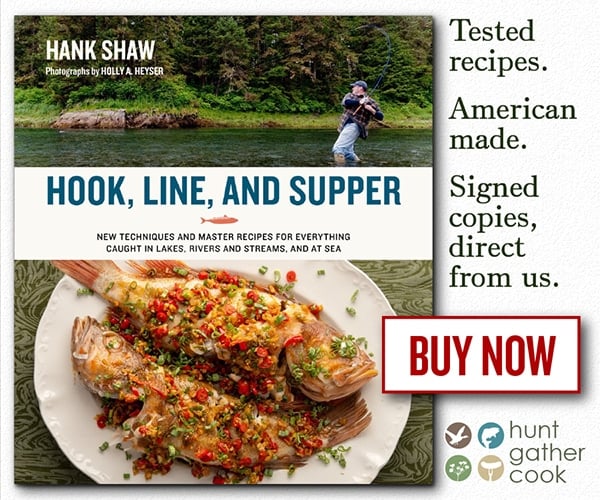 That's grilled pompano in a nutshell. Now we get to play…
You'll notice that the pictures in this post show a more elaborate recipe. That's because marinated, grilled pompano is a popular dish all over the Caribbean, where they are native.
grilled pompano variations
My recipe is based on one from the Mexican state of Campeche. The pompano is marinated in a base of achiote (annatto) paste and sour orange juice, plus spices, then grilled over hardwood coals and topped with cilantro and thinly sliced habaneros.
It's amazeballz. And it's easy to make.
The paste comes premade and is in any Latin market, or on Amazon. The sour orange juice will also be at the Latin market — it's shelf stable — or you can sub in 1 part lime juice, one part grapefruit juice and 2 parts orange juice.
other grilled fish ideas
Grilled pompano are an ideal fish for this, and remember this method works well with crappie, pomfret, small sheepshead, porgies, big bluegill and such.
If you're interested in grilling other types of fish, you might like my recipes for simple grilled fish with basil, grilled fish on the half shell, grilled trout or grilled tuna steaks.
how to get meat off grilled fish
If you're wondering how to serve a grilled pompano or other fish, you will want to use a knife to cut along the center line of the fish, from the gill plate back to the tail.
Now use a fork or spatula to lift meat off the top of the fish, lifting back toward the tail. It should lift off easily. Now lift the meat off the bottom of the fish behind the rib cage; that should lift off easily, too.
The meat over the ribs is a little trickier. Run the fork over the ribs and lift it away; this takes a little practice.
Now pull the backbone up and away from the tail to the head, then lift out the other ribs. Discard the skeleton.
If you liked this recipe, please leave a ⭐️⭐️⭐️⭐️⭐️ rating and a comment below; I'd love to hear how everything went. If you're on Instagram, share a picture and tag me at huntgathercook.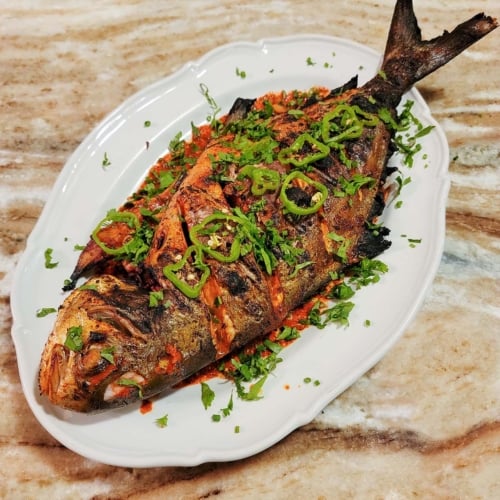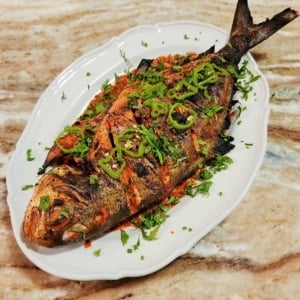 Grilled Pompano
This is a simple pompano recipe with a kicked up, Mexican variation I like a lot: a simple marinade that adds a lot of flavor and color to the fish. The ingredients can all be found in any Latin market or online.
Ingredients
MARINADE
3

tablespoons

achiote paste

2

cups

sour orange juice

(see below for substitutes)

1/2

teaspoon

ground cumin

1

teaspoon

dried Mexican oregano

1

teaspoon

garlic powder

2

teaspoons

salt

1/4

cup

olive oil
FISH
2 to 4

whole pompano,

scaled and gutted (see below for other fish)

1/2

cup

chopped cilantro

1 to 3

habanero chiles,

sliced thin
Instructions
Blend the marinade ingredients together until smooth.

Wash the fish in salty water, then slash them a few times on each side to the backbone; this opens the meat up to the marinade, and allows it to cook faster. Soak in the marinade in the refrigerator for at least 1 hour, and up to a day.

Get your grill hot. Take the fish out of the fridge to come to room temperature. Clean the grates, then, using tongs, grab a paper towel and soak it in vegetable oil. Wipe the grates down with this, then set the pompano on the grill.

Grill the pompano until it's slightly charred, about 4 to 8 minutes, depending on how hot your grill is. (If your grill isn't super hot, cover the grill. If it's raging, keep it open.) Using a spatula, carefully try to lift the fish; they should not stick to the grill. Flip the fish and cook for 4 to 8 minutes on the other side. Paint the fish with the remaining marinade.

Serve the pompano with the cilantro and chile garnish, along with some simple rice and beans, or flake it off into tacos.
Notes
Other fish that work well for this are large crappies or bluegill, butterfish, small sheepshead or porgies, or pomfret.
If you can't find sour orange juice, which is sold in shelf stable bottles in Latin markets as jugo de naranja agria, mix the juice of 2 limes, 1/2 grapefruit and 2 oranges together. 
Achiote paste comes in blocks in Latin markets. There is no real substitute. 
Regular oregano works fine in this recipe, but Mexican oregano is better. 
Nutrition
Calories:
182
kcal
|
Carbohydrates:
14
g
|
Protein:
1
g
|
Fat:
14
g
|
Saturated Fat:
2
g
|
Polyunsaturated Fat:
1
g
|
Monounsaturated Fat:
10
g
|
Sodium:
1166
mg
|
Potassium:
287
mg
|
Fiber:
1
g
|
Sugar:
11
g
|
Vitamin A:
418
IU
|
Vitamin C:
66
mg
|
Calcium:
28
mg
|
Iron:
1
mg
Nutrition information is automatically calculated, so should only be used as an approximation.