I've been fishing for more than 40 years. I've fished the Atlantic, the Pacific, the Gulf and most of the nation's great rivers and lakes. I've had my good days, and I've been skunked more than once. I remember the good days as a warm haze in my fishing memory, one bonanza bleeding into the next.
Only a few fishing trips punch through the fog. Those trips I can recount minute for minute, even decades later. These are special days. A tuna trip off the North Carolina coast in 2011 has become one of them.
That I found myself on a tuna boat, the Stormy Petrel II, 40 miles out of Oregon Inlet on a warm Saturday morning in September is in itself a story. One of the greatest, most rewarding parts of doing this blog is that I get to interact with so many interesting people. I am constantly emailing back and forth with readers about random topics such as how to make turtle soup or the best way to sous vide venison shanks. Over time, some readers become friends, even though we've never met. Jamie Cameron and Brian Degan are two of them.
Jamie and Brian live in North Carolina, and when I started planning my tour for my first book, Hunt, Gather, Cook: Finding the Forgotten Feast, they said I should come to North Carolina in fall so I could join them for their annual offshore fishing trip, Killboxapalooza. Uh, wha? Killboxapalooza is what they call their big fishing trip, the one where they do their best to catch as many fish as they can to freeze for winter. Sounded like fun, and when they said we might be fishing for tuna, I was in.
Ever catch a tuna? They are perfectly designed to swim far, and fast. They are footballs with fins, swimming that perfect spiral toward their prey, the equally well designed mackerel. Hooking one is not hard if you have the right baits, and the crew of the Stormy Petrel knew what they were doing. An array of ballyhoo baits awaited us in the cooler.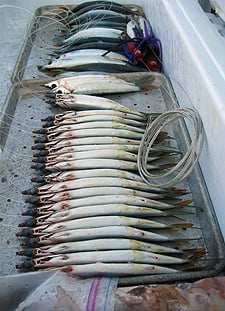 Landing a tuna, however, can be a little harder. When I was in college, I once landed a 443-pound bluefin tuna that took me more than an hour to bring to the boat; it was the largest animal I'd ever killed until I shot an elk in 2006. Tuna are powerful, fast and willful: Even a small one can simply stop your reel cold. All you can do is wait for it to give an inch, then you reel in that inch and wait again. Whoever is more determined wins. And it's not always you.
Getting to the tuna grounds takes time. Tuna in the Atlantic cruise the Gulf Stream, which is about 30 to 50 miles offshore, depending on where you start. You steam for hours through a dead zone with no birds and little sea life until all of a sudden, birds and fish and whales and dolphins are all around you. It is miraculous.
In short order we saw dolphins, beaked whales, a leatherback turtle, a green turtle, an ocean sunfish, a hammerhead shark, endless mahi mahi (we caught tons of them, but that's another story), flying fish, scores of odd seabirds like jaegers and petrels and shearwaters, as well as several huge packs of pilot whales that seemed overly interested in our boat.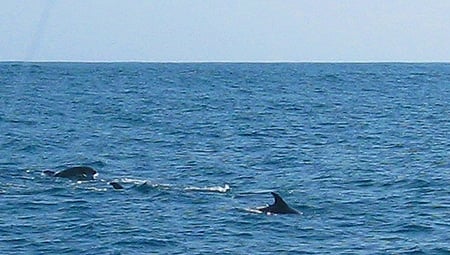 Normally, tuna fishing is a matter of trolling baits and waiting. You sit back, drink a beer and wait for a tuna to hit a line. Then someone gets up and fights the fish, hopefully bringing it to the boat. Everyone takes a turn at the reel as you get more and more hookups. If you're lucky, everyone gets a tuna. But this was not a normal day. The first tuna hit before the mate had even finished setting the lines. Fish on!
I took the reel and felt the fish: Not very large. A bonito? Yeah, probably a bonito or skipjack tuna. I like eating them, so I was perfectly happy to have him in the boat. A pretty little tuna, many anglers spurn them because they can be fishy. The secret is to cut out the chocolate-colored blood line that runs down the center of each fillet. It is indeed terribly fishy. Once that is gone, however, these little tuna taste just as good as any other.
Not five minutes after my fish came aboard, the lines bent again. This time the fish were larger. Blackfin tuna? Yellowfin tuna? Definitely not a bonito. I felt that churlish pressure on the end of my line. "I'm not budging," it said. Oh yes you will.
I bent down to give the rod momentary slack, reeled, than bent back to drag the fish closer to me. Over and over, bend-reel-bend, until the fish saw the boat. Zzzzzzzzzzz! It freaked out, tearing the line off the reel that I'd just fought so hard for. Back to the bend-reel-bend again.
This time the fish was tired. Definitely not a giant, which would not tire so easily. "We got color!" Jamie shouted. He'd seen the flash from the tuna's side as I brought it closer to the boat. One more bend and the mate had the fish gaffed. A yellowfin!
Not a big one, but it'll do. As I rested the rods bent over and over and over again. It was mayhem. Tuna were so eager for our baits they lept through the air to snatch them, an awesome sight. In four decades of fishing, I've only seen tuna come over the rail like that a few times. It was epic. We had to stop fishing because we literally ran out of space — and ice — in our coolers. In the end, I'd caught three yellowfin and three bonito, and the 10 of us on the boat had caught 32 yellowfin and 12 bonito.
Each of us brought home so much tuna that it could feed us for months. I think my bag weighed close to 30 pounds of pure meat. I gave a bunch of it to my friend Mike, who was putting me up in North Carolina. It was cool to be able to cook some tuna for Mike. We've been friends for a powerful long time and I jumped at the chance to make something for him to say thanks.
Not wanting to waste any precious tuna, I use some of the trimmings from the tuna loins to make Sicilian-style tuna meatballs with lots of mint, pistachio nuts, breadcrumbs and a little bit of chile. I cooked the meatballs in my fennel-tomato sauce, which I use a lot with seafood.
I am happy to say the dish was a winner. Unless you ate a meatball with no sauce and concentrated on the flavor, you couldn't tell that the meatballs were made from tuna. It was bizarre. I totally expected to get a fishy flavor, which was fine, as these things were primarily ground tuna, but there wasn't one. All you got was meatiness, a hit of mint and occasionally a burst of pistachio flavor.
I miss North Carolina. I got to see Mike, one of my oldest friends, as well as Jamie and Brian, whom I felt like I've known for years but had only just met in person. And, I got to experience one of the great fishing days of my life.
Sicilian Tuna Meatballs
Tuna is a staple in the Mediterranean diet, and, just as with other meats, little is wasted. Meatballs made from scraps of tuna appear in several cultures, but the Sicilians seem to eat them the most. This recipe is an amalgam of about a dozen I've read, and it works well either as a stand-alone dish or, American-style, with tomato sauce and spaghetti. If you can't get fresh tuna (you cannot use canned tuna here), use amberjack, mackerel, bluefish, king mackerel, wahoo or any dark, meaty fish.
Ingredients
1 1/2

pounds

tuna

2/3

cup

breadcrumbs

1/3

cup

shelled pistachios or almonds,

chopped

1

cup

minced onion

1/2

cup

chopped fresh mint

Zest of a lemon

1

tablespoon

salt

1

egg

Flour for dusting

Olive oil for frying

1

recipe,

fennel-tomato sauce
Instructions
Chop the tuna into 1/2 inch pieces. Put the tuna, mint, pistachios and the chopped onion in a food processor and pulse to combine. You want a rough mixture, not a smooth paste. Put the tuna mixture into a large bowl with the breadcrumbs, salt, lemon zest and egg and mix well with your clean hands for a minute or so. You want everything combined well and you want the proteins in the egg and tuna to bind the mixture.

Using an ice cream scoop or large spoon to scoop out the meat, roll into meatballs. You should be able to make about 20 golf ball-sized meatballs. Roll each meatball in flour and fry in enough olive oil to come half way up the sides of a large frying pan. You will probably need about 1/2 cup. Fry gently until browned over medium heat, about 15 to 20 minutes, and set each finished meatball on paper towels to drain.

To finish, stew the meatballs in the tomato sauce (you can use any tomato sauce you want, if you'd rather not make the tomato-fennel sauce ) until heated through, about 5 to 10 minutes, and serve alone or with pasta.
Notes
The meatballs can be made a day ahead, and, once cooked, will store in the fridge for a couple days or in the freezer for a couple months.
Nutrition
Calories:
207
kcal
|
Carbohydrates:
14
g
|
Protein:
26
g
|
Fat:
6
g
|
Saturated Fat:
1
g
|
Cholesterol:
68
mg
|
Sodium:
1544
mg
|
Potassium:
366
mg
|
Fiber:
2
g
|
Sugar:
2
g
|
Vitamin A:
281
IU
|
Vitamin C:
3
mg
|
Calcium:
68
mg
|
Iron:
3
mg