Shrimp Mac and Cheese
November 04, 2019 | Updated August 02, 2022
As an Amazon Associate I earn from qualifying purchases.
Rare is the day that I mix cheese and seafood, but shrimp mac and cheese is an exception.
These flavors work as well together as the more expensive lobster mac and cheese do: buttery, hearty, savory, with a crunchy breadcrumb crust, bound together in a homemade cheese sauce. And it all comes together in less than an hour.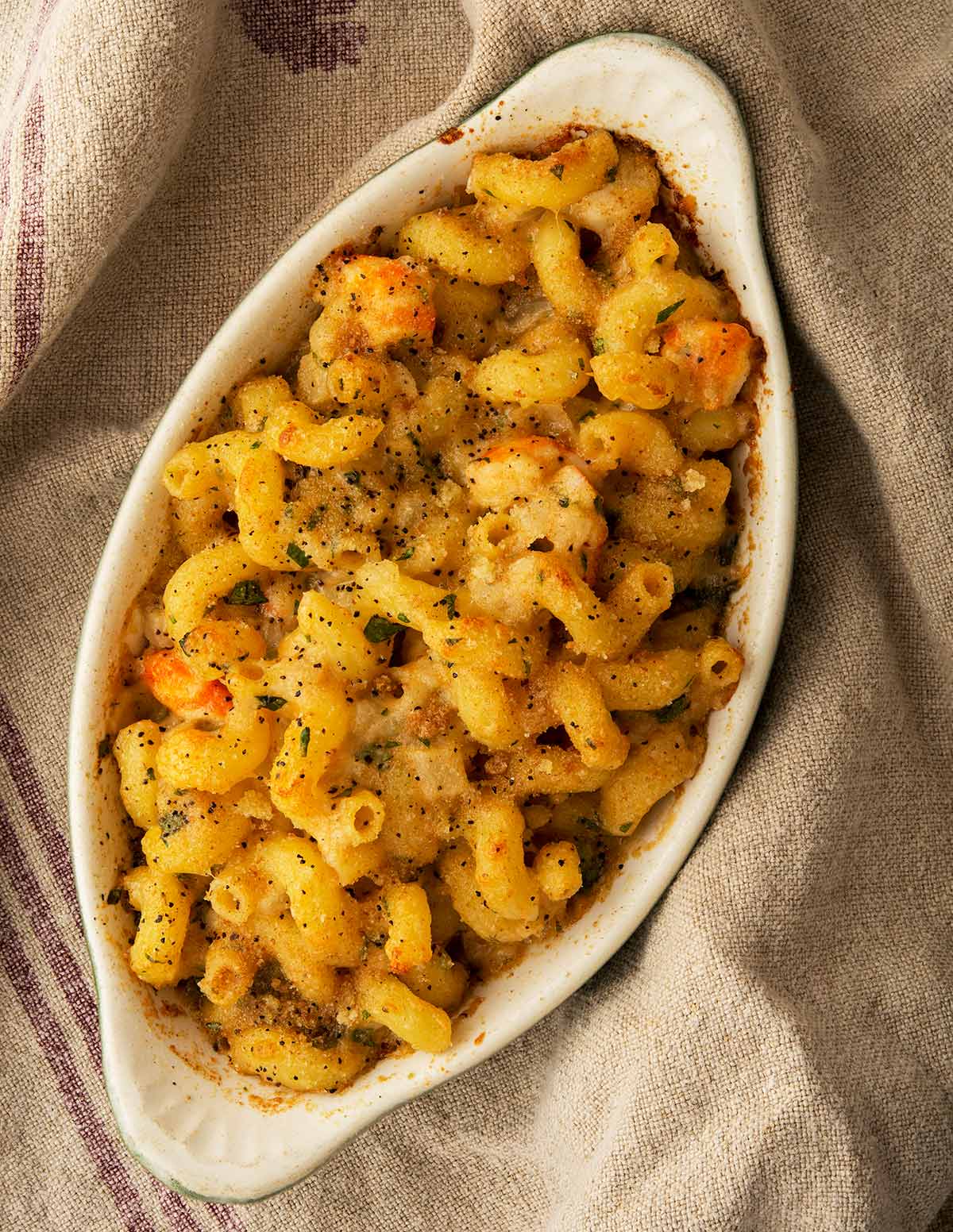 The taboo against mixing cheese and fish or seafood is largely an Italian one, and I absorbed it growing up in a heavily Italian American-influenced New Jersey. Few other cultures observe this prohibition, and Americans of all stripes love lobster mac and cheese. Well, shrimp mac and cheese is more accessible, less expensive, and almost as good as the luxe original.
I used spot prawns I caught while in Alaska, but really any shrimp will work, as will crawfish, crab and yes, lobster. Shrimp mac is especially good with those little pink boreal shrimp from the northern oceans; those shrimp are also sustainably caught.
The key to any good mac and cheese is the cheese sauce, called a mornay in French cooking. It's easy to make. You start with a flour-and-butter roux, cook it until it's a beige, then mix in milk, half-and-half or, in this case, cream. Yes, cream is richer than milk, but with milk you risk it curdling if your pot is too hot. Cream is sturdier. If you do choose milk, it must be whole milk.
You then stir in shredded cheese, little by little, adding more when the previous handful has been incorporated into the sauce. What sort of cheese? I'm partial to a 50-50 mix of freshly grated cheddar and gruyere, plus a little grated pecorino or parmesan. I once used that pre-shredded "Mexican blend" of four cheeses and it was pretty good.
Whatever you use, make it a mix of cheeses, which tastes better.
How much sauce and how thick it is will be your call. I like enough to coat everything, but not so much that my shrimp mac and cheese is swimming in the sauce, the way Kraft mac and cheese turns out. If you want things saucy, add an additional cup of milk (or cream) to the sauce.
Traditional pasta is of course elbow macaroni, but any short pasta is fine; I used cavatappi. Do not mix different pastas, however, because many cook at different rates, and you want your pasta uniformly cooked. Err on the side of undercooking your pasta, since it will be baked, too.
This recipe makes a fair bit of shrimp mac and cheese, so if you have leftovers, reheat them in a microwave, or oven at 350°F until warmed through. It does not freeze well.
Looking for variations? Once fun way to switch things up would be to follow my recipe for green chile mac and cheese, and add shrimp.
Shrimp Mac and Cheese
This is an easy dinner that is a great riff of the classic lobster mac and cheese. It keeps well in the fridge for a few days, but doesn't freeze well.
Ingredients
1

pound

elbows or other short pasta,

cooked and drained

5

tablespoons

unsalted butter

1

large onion, chopped

2

cloves

garlic, minced

1

small hot green chile (serrano), minced

(optional)

5

tablespoons

all-purpose flour

2

cups

cream

2

cups

shredded gruyere cheese,

loosely packed

1 1/2

cups

shredded cheddar,

loosely packed

1/2

cup

grated pecorino or parmesan cheese

Salt and black pepper

12

ounces

shrimp, peeled

1/2

cup

breadcrumbs

4

tablespoons

fresh parsley, chopped
Instructions
Heat the butter in a large pan over medium-high heat. When it's hot, add the onion and sauté, stirring often, until soft and translucent, about 4 minutes. Add the chile and garlic and sauté another minute. Preheat the oven to 350°F.

Add the flour to the pan and mix it in well. Cook this, stirring often, for 5 minutes, until it browns a bit. Pour in the cream about 1/2 cup at a time, mixing after each time so that it's fully incorporated.

Do the same with all the cheeses, adding about 1/2 cup at a time, and stirring it in before adding more. Add salt and black pepper to taste, then mix in the cooked pasta and shrimp.

Move all this to a casserole dish; I like to grease mine with butter, but this is not strictly necessary. Pat the mac and cheese into the casserole and sprinkle the breadcrumbs and parsley over it all. If you feel like adding some other seasonings, like Cajun or Cavender's or somesuch, sprinkle maybe a teaspoon or two over everything now.

Bake uncovered for 15 to 20 minutes, until the top browns. Remove and let it sit 5 minutes before serving.
Notes
NOTE: If you are using large shrimp, cut them into small pieces, and as I mentioned above, crawfish tails, crab or chopped lobster are all excellent alternatives. 
Nutrition
Calories:
1091
kcal
|
Carbohydrates:
73
g
|
Protein:
48
g
|
Fat:
67
g
|
Saturated Fat:
40
g
|
Cholesterol:
363
mg
|
Sodium:
968
mg
|
Potassium:
410
mg
|
Fiber:
3
g
|
Sugar:
4
g
|
Vitamin A:
2427
IU
|
Vitamin C:
8
mg
|
Calcium:
916
mg
|
Iron:
3
mg
Nutrition information is automatically calculated, so should only be used as an approximation.