As an Amazon Associate I earn from qualifying purchases.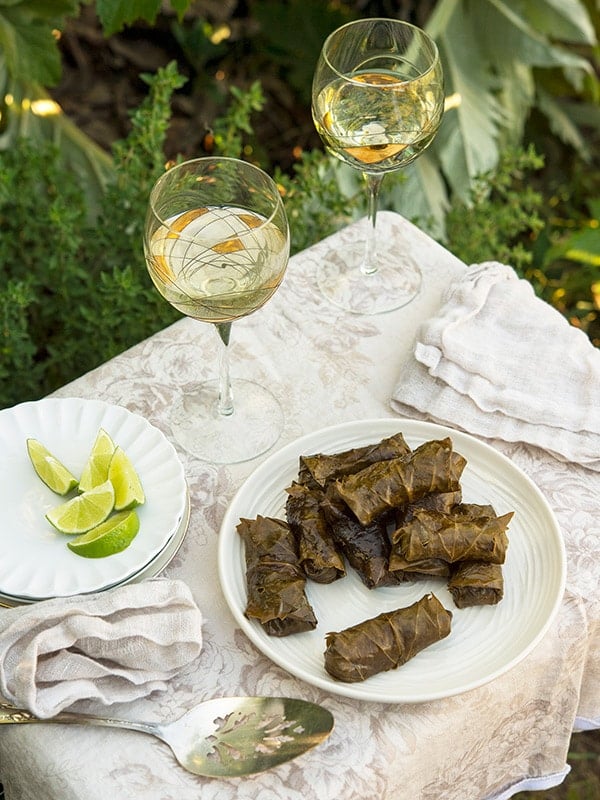 Not sure exactly how the idea to make grape leaf tamales entered into my head. Maybe it was while making traditional stuffed grape leaves, maybe while making traditional tamales.
Maybe it came to me in a fevered dream after drinking too much mezcal? No se. But I do know that after the notion wormed its way into my head, I did a very thorough internet search in English and Spanish, and then checked my library of Mexican cookbooks, also in English and Spanish, and found no hay nada sobre esta cosa.
Lord knows there has to be someone, likely in Baja California's Valle de Guadaloupe, which is their wine country, who has done this. But maybe not?
Bottom line is, whether grape leaf tamales are my invention or not, they are damn good. Little morsels of awesome, perfect for a dinner party as an appetizer, or as a snack anytime.
Obviously the inspiration is the traditional Mediterranean dolma or stuffed grape leaf. Those are normally stuffed with rice or ground meat. This version is  stuffed with a very rich, herby masa. And since they are so small, you have to be careful about what to stuff them with, if anything.
It has to be flavorful and petite. It could be something like chopped, roasted pepitas or peanuts. Maybe a morsel of crab, or chicken. I chose my preserved garlic cloves, which are sweet, rich, warm and soft. Fresh garlic roasted for a little less than usual, so they stay vaguely cohesive, will work, too.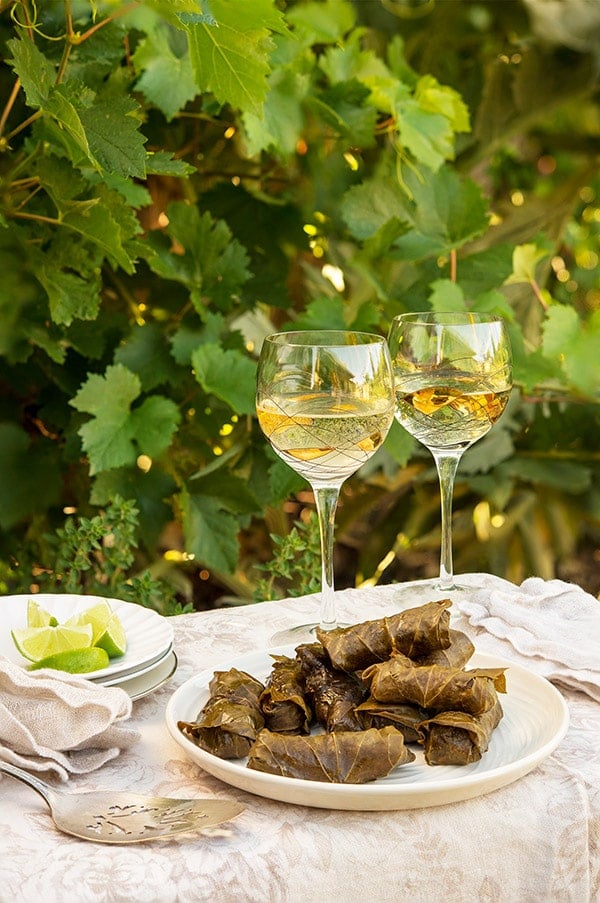 You will want more fat in your masa than normal, and quite a lot of fresh herbs, to add interest and flavor. Cilantro or epazote would be obvious choices, but I chose pipicha, which is a wonderfully floral and pungent wild herb from Mexico that I grow in my garden. If you hate all these, go with minced basil or parsley or some other soft herb. Nothing hard like rosemary.
For the masa, you can either go to your nearest Latin market and pick up premade masa for tamales — be sure to say that, or they could give you tortilla masa, which has no fat in it — make masa from masa harina, which is the "masa flour" you see in the stores, or you can do what I do and make it totally from scratch. If you do get fresh masa for tamales from a store, don't add more fat to it in the recipe.
If you want to go about making masa from dried corn, read my article on how to make nixtamal first.
You can either use fresh grape leaves if you happen to have them around, or buy preserved grape leaves, which are in most supermarkets. Remember they are edible, so no need to unwrap a grape leaf tamal… and yes, tamal is one, tamales are many.
Pretty much the only tricky thing about making grape leaf tamales is folding them. And even that is not difficult. It's best to show, rather than tell, so watch this video of me folding traditional grape leaves and you will see how to do it. Only difference is you will sub in the masa for the rice.
You steam your grape leaf tamales as you would regular tamales, which is to say in a big pot with a steamer basket in it, that is lined with grape leaves.
Once made, they keep for a week or so in the fridge. Oh, and to reheat them, skip steaming them again. Instead, put your little tamales directly on a hot comal or cast iron pan, or grill them.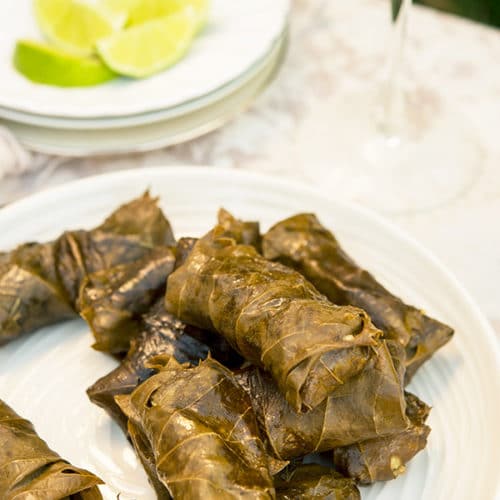 Grape Leaf Tamales
Think of this recipe as more of a structure and something exact. Feel free to play with the ingredients and the amounts, as I went over above.
Ingredients
MASA
1

cup

fresh lard, or unsalted butter

chilled

1

tablespoon

baking powder

1

tablespoon

salt

2

pounds

masa dough,

fresh or rehydrated from masa harina

1

cup

minced cilantro, epazote, pipicha, etc.

1/2

cup

chicken stock,

or some other light stock
TAMALES
50

preserved garlic cloves

(See note below)

50

grape leaves
Instructions
Put the lard into the bowl of a stand-mixer fitted with the sturdy paddle and start whipping it on medium-high. Add the salt and baking powder. When the masa starts to look like whipped cream, add knobs of masa one at a time until everything is incorporated. Add the minced herbs and allow to incorporate. Finally, add half the chicken stock. Turn off the mixer.

The masa dough should be spreadable, like smooth peanut butter. Add more stock if you need to get it to that consistency. If it somehow gets too wet, add more masa or masa harina.

To make your tamales, lay a grape leaf out in front of you, veins pointing upwards. Place about a tablespoon of the masa perpendicular to where the stem was. Make a little indentation in it, then place a preserved garlic clove, or whatever it is you are filling your tamales with. Or remember, they are good with no filling, too. Close the masa around the filling.

Fold up the bottom of the grape leaf, while tucking in the two sides -- this is exactly like folding a burrito. Tightly roll up the tamal. Set them in a tray seam side down to rest. Repeat with the remaining leaves and filling.

When you have made all your tamales, steam them. Put a steamer tray in a large, lidded pot and line the tray with spare grape leaves, or corn husks if you'd rather. Arrange the grape leaves in the steamer tray, always seam side down. It's a bit like tetris or a jenga game, stacking them all up. Cover the pot and steam them for 1 hour.

Remove the tamales, and serve hot, or at room temperature, with some lime juice, and maybe a bit of hot salsa.
Notes
NOTE: If you don't want to go with the preserved or roasted garlic cloves as I do, substitute something small and flavorful, like a bit of crab or chicken or shredded brisket, or nuts or seeds. 
Nutrition
Calories:
347
kcal
|
Carbohydrates:
50
g
|
Protein:
7
g
|
Fat:
15
g
|
Saturated Fat:
8
g
|
Cholesterol:
33
mg
|
Sodium:
484
mg
|
Potassium:
298
mg
|
Fiber:
5
g
|
Sugar:
1
g
|
Vitamin A:
3332
IU
|
Vitamin C:
2
mg
|
Calcium:
164
mg
|
Iron:
5
mg
Nutrition information is automatically calculated, so should only be used as an approximation.